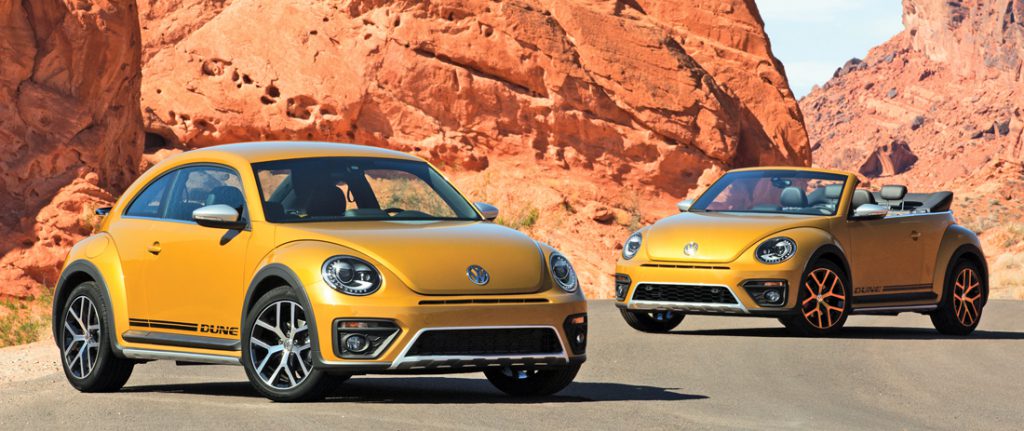 by Don Sikora II
Note: The following story was excerpted from the February 2018 issue of Collectible Automobile magazine.
Since news of "dieselgate" broke in September 2015, Volkswagen's TDI diesel engines and the software that enabled emissions-test cheats have received tremendous attention. It's probably an understatement that the resulting avalanche of bad press has overshadowed the company's new-product news.
Only a few months after the scandal surfaced, the gasoline-powered Beetle Dune arrived at Volkswagen dealers. We think it's a pretty compelling variant of VW's latest take on the iconic Beetle, enough so to choose it for this installment of Future Collectibles. 
Volkswagen's first Dune Concept was based on the New Beetle, and debuted at the 2000 Los Angeles Auto Show. After a redesigned Beetle arrived for the 2012 model year, a second Dune Concept appeared at Detroit's North American International Auto Show in early 2014. The 2000 Dune was more of a dream car with all-wheel drive and an elaborately trimmed interior. VW talked up the second Dune Concept as showing the potential for a production version, presumably with few changes from the show car.
This was not a bluff. The production Beetle Dune appeared early in 2016 at a base price of $23,995. Volkswagen said the Dune was inspired by classic Baja Bugs, the rear-engine Beetles of the Sixties and Seventies that enthusiasts customized with cut-down body parts and raised suspensions to increase off-road ability. Unique styling touches on the production car included Dune-specific front and rear fascias and black-finished fender flares that resulted in a body 0.6 inch wider than the standard Beetle. There was also a tweaked suspension that raised the ride height by 0.4 inch.
The lower bodysides wore the silver-and-black trim that Volkswagen claimed recalled the original Beetle's running boards, and there were stripes and Dune call-outs too. Other styling tweaks included 18-inch alloy wheels, LED taillights, and silver-and-black-finished door mirrors. An extra-cost Lighting Package added Bi-Xenon headlamps and LED daytime running lights.
Dune was available in three exterior colors: Dune-exclusive Sandstorm Yellow (a brassy-gold metallic that was a $250 option), Pure White, or Deep Black Pearl. The interior was trimmed in black leatherette with gray cloth inserts and highlighted with contrasting "Curry" yellow stitching and piping. Sandstorm Yellow cars added body-color interior trim on the dash and door panels.
The only powertrain was VW's 170-hp 1.8-liter turbocharged four-cylinder "TSI" engine mated to a six-speed automatic transmission. Like other Beetles, Dune used front-wheel drive.
Our office mates at Consumer Guide® were generally positive in their evaluation of the Dune. The car's appearance, peppy performance, and agreeable ride and handling were highlights. A low point was the tight back seat, but that's true of any period Beetle.
Dune was initially only offered as a hatchback, but for 2017 VW added a convertible. The hatchback still priced from $23,995, and the droptop started at $29,395.
For 2018, the Dune continues in both body styles. The most significant change is a new-generation 2.0-liter turbocharged four-cylinder TSI engine. It's rated at 174 hp and 184 pound-feet of torque, and offers better EPA-estimated fuel economy (26 mpg city, 34 mpg highway) than the outgoing 1.8-liter four. Dune's previously optional Lighting and Technology Packages are now standard. There's also a longer new-car warranty. Base prices are up to $26,790 for the hatch and $32,090 for the convertible.
Test Drive: 2018 Volkswagen Beetle Dune
Pros:
Vaguely off-road styling touches work well on this heritage-styled small car.
There's nothing else quite like it.
Choice of two-door hatchback or convertible versions.
Dunes are not caught up in VW's diesel mess.
Cons:
Limited color palette.
More stylish street cruiser than off-road runabout.
Previously optional equipment that's now standard helps explain 2018's price bump.
Final Drive:
Builders of the original Baja Bugs concentrated on removing items VW originally installed on their Beetles to achieve the desired appearance and performance improvements. For the Beetle Dune, Volkswagen went in the opposite direction and created eye-catching style with some carefully considered add-ons. These relatively modest tweaks result in a surprisingly unique take on the Beetle without introducing any obvious tradeoffs.
Future Collectibles: 2017 Land Rover Range Rover Evoque Convertible