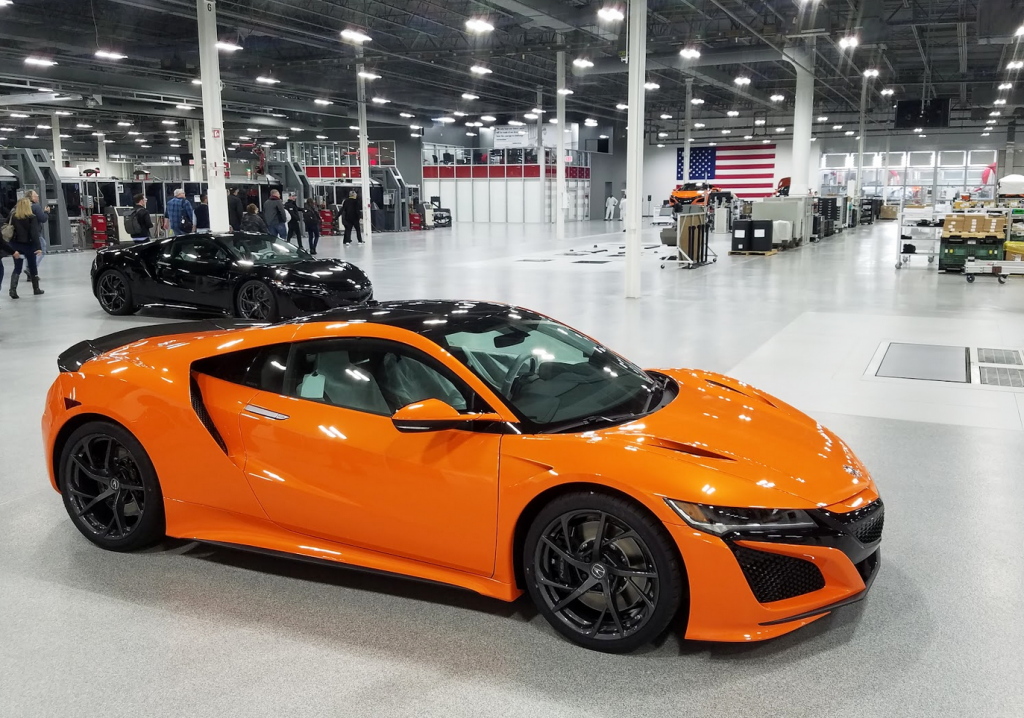 Acura's 573-hp, mid-engine, all-wheel-drive hybrid NSX is no ordinary car, and the place where it is built—Honda's Performance Manufacturing Center (PMC) in Marysville, Ohio—is no ordinary assembly plant.
It takes a finely tuned mix of high-tech automated assembly techniques and highly skilled human workers to bring this cutting-edge supercar to life, and the PMC has both. The plant employs about 70 "cream-of-the-crop" manufacturing technicians out of a total staff of around 100 associates, and it houses sophisticated facilities for body construction, painting, assembly, and quality confirmation. Though some of the NSX's components are manufactured elsewhere—for example, the twin-turbo 3.6-liter V6 engine is built in Honda's Anna Engine Plant in Anna, Ohio, and the hybrid-system components are built in Japan—the fabrication and assembly of the car itself is entirely contained under the roof of the Performance Manufacturing Center.
About the only way you can get the opportunity to tour the PMC as a civilian is to purchase a new NSX. Acura offers an NSX Insider Experience for buyers, which includes a general plant tour and can also include observing the final assembly process of your own NSX. They'll even let you do the honors of applying the exterior Acura badges to your car.
However, if you don't have $165,000 or so to drop on an NSX and the owner experience package, you can still take a nickel tour of the PMC right here. Along with a group of auto journalists, we got a walk-through of the facility during Acura's recent 2019 full-line press event—check out our pics and videos below.
What is the NSX Insider Experience?
Each NSX space frame undergoes an elaborate "e-coat" process that includes immersion in 10 process tanks. Here, the space frame is dipped in a pre-treatment "bath" in preparation for a corrosion-resistant, zirconium-based primer coating.
Inside FCA's Belvidere Factory
Halifax: Volvo's Forgotten North American Factory
Robot painting guns ensure uniform coverage.
 Review Flashback! 1982 Honda Accord
The NSX's engine is installed from below… a hydraulic lift is used to lower the body over the awaiting powerplant.
Test Drive: 2019 Acura RDX A-Spec
Each freshly completed NSX undergoes a rigorous "shakedown" session.
A few dynamometer runs are part of the quality control process.