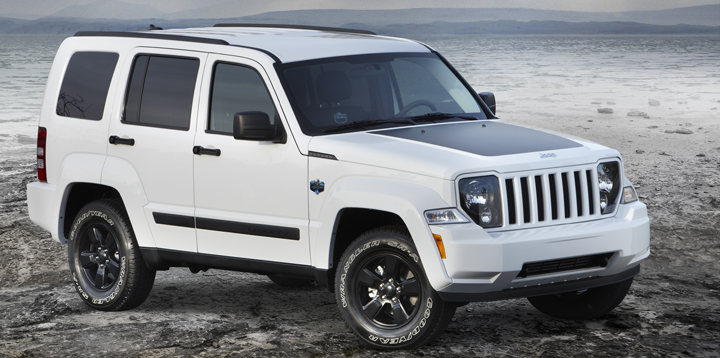 In the whole scheme of things, 2008 wasn't that long ago. Well, maybe it was in terms of electronics technology (last month I found an old 128MB SD card I'd lost—gigantic at the time I bought it; pathetically small today), but typically not so much in cars.
Jeep Liberty
Yet that's when Jeep last redesigned the Liberty, and it really feels old. Part of that might be due to its body-on-frame construction that underpins very few SUVs today—most having switched over to a carlike unibody design—but other factors are involved as well: some good, some bad, some both.
Take the control layout . . . please. (Apologies to Henny Youngman.) While the audio is nicely placed, the three rotary knobs that control the climate system are mounted very low and—worse—recessed deeply into the dashboard, which demands both an awkward bend forward and a long look from the road to adjust. This arrangement used to be all too common, but it was excised from most vehicles five to 10 years ago. On the plus side: When I had to reset the trip odometer for the next driver, I was able to do so by simply pressing a little stalk that projected from the instrument cluster right next to the speedometer—simple and logical, yet a procedure many "modern" cars make much more complicated.
Then there's the fuel economy—or lack of same. Averaging 14.2 mpg in a compact sport ute usually means you're either towing a trailer or letting your teenager drive. But I was just tooling around Chicago in light traffic with some highway stretches. We've done slightly better in past test Libertys, but only by 1-2 mpg in similar use. Still pretty bad.
Much of that dismal showing is due to weight. The body-on-frame construction is a major contributing factor here, not only because of its own heft, but also to the heavier components and bigger engine needed to compensate. For instance, a 4WD V6-powered Liberty tips the scales at about 4,290 pounds. By contrast, Jeep's similar-size, car-based 4-cylinder Patriot weighs in at a comparatively svelte 3,273 pounds. However, it's worthwhile to note that the Liberty boasts a 5,000-pound towing capacity, whereas the Patriot is limited to 2,000 pounds. So it's kind of a give-and-take. But more buyers take the Patriot.
First Spin: 2019 Jeep Cherokee
The Liberty's powertrain is also a blast from the past. Many modern 3.7-liter V6s put out upwards of 300 horsepower, but the one in the Liberty isn't so prolific. Dating from the automotive equivalent of the Mesozoic Era, the Liberty's 3.7 wheezes out 210 horsepower, largely due to eschewing such current technologies as direct injection, variable valve timing, and double-overhead cams. In its defense, however, it does produce a fair amount of low-end torque, just the thing for moving a 4,300-pound SUV away from a light and making it feel fairly responsive in traffic . . . while eating lots of fuel in the process.
And then there's the transmission. While most automatics today boast at least 5 speeds and some as many as 8, the Liberty makes due with a good old 4-speed . . .  emphasis on "old." Truth be told, I'm not among those who automatically think more is better in this regard, though "more" does tend to provide a greater degree of gear-ratio flexibility and thus better fuel economy. But like the engine, there is a bright spot here: The transmission shifts smoothly and downshifts quickly when needed for more passing power, even if the power it transfers isn't all that much. (See prior paragraph.)
Another throwback is the availability of a part-time 4WD system. Part-time systems are not to be left engaged on dry roads, making them rather a nuisance in many cases—which is why virtually every other sport ute has either a full-time system or all-wheel drive. This isn't just for snow, as a rain-slicked street can also make you thankful for 4-wheel drive. A full-time system is offered on the Liberty, but it costs more and wasn't on our test vehicle.
But there are some good things about being "Old Skool" as well. It's an aerodynamic nightmare to be sure, but I rather like the Liberty's boxy profile and near-vertical roof pillars. For one thing, there's not an acre of dashtop between you and the windshield, which I guess is only a practical consideration if you have to wipe off fog, attach a device with a suction cup, or clean off fingerprints.
Perhaps due to cost considerations, not many SUVs anymore have a separate-opening liftgate glass. But the Jeep Liberty does, and I find it extremely handy—not just for loading light shopping bags and such without having to hoist the heavy liftgate, but also for carrying long items. And with the Liberty's fold-flat front passenger seat, you can haul very long items already.
Whether you like the Jeep Liberty or not, it's due to be redesigned in the next year or two, and current speculation is that it will be moved from its body-on-frame architecture to a unibody platform. That will certainly alter its aura, though there's reason to believe it will remain as close as possible to its rudimentary roots. Why? The market is virtually hemorrhaging "modern" SUVs, yet the Liberty still sells quite well even in an era of $4-a-gallon gas. So apparently, its dated design still has some appeal, perhaps among those who have become rather "Old Skool" themselves.
10 Cool Things about the 2018 Jeep Wrangler
Listen to the Very Entertaining Consumer Guide Car Stuff Podcast
Jeep Liberty