We're now about three months into our long-term test of the Kia Soul EV, and right in the middle of some seriously sweltering summer temperatures. As we mentioned in our previous update, the hot, humid weather hasn't hurt our driving range quite as much as we were expecting. Here's an update on the Kia Soul EV in Summer.

My own round-trip workday commute is a little less than 20 miles of urban surface streets, so I'm usually not sweating any minor fluctuations in range. In fact, I can easily go three days of normal driving to and from work without plugging in at all.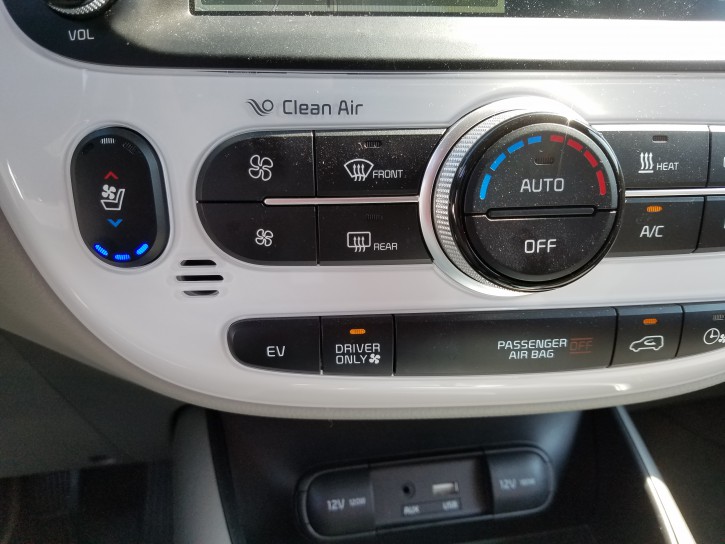 The main thing our recent 85-degree-plus days have made me appreciate is our tester's ventilated front seats, which are standard on the Soul+ trim level. The seats can get quite toasty after sitting all day in the sun, but turning on the ventilated seats to "high" (there are three settings) does a great job of cooling the ol' backside. I'm already spoiled by these seats; the ventilated-seat switch is the first button I press after turning the Soul EV on. I also suspect that they have a negligible effect on driving range, and might even help it. Unless it's especially hot, I typically have the ventilated seats on high for only a few minutes… they cool well enough that I usually switch them to the middle or low setting—or even off altogether—after five or 10 minutes of driving. Having the ventilated seats means that the air-conditioning system doesn't have to work quite as hard to keep me comfortable in the driver's seat. Another neat Soul EV feature from the "every little bit helps" department is the "driver only" button, which turns off the passenger-side HVAC vents… no need to cool (or heat) an empty seat.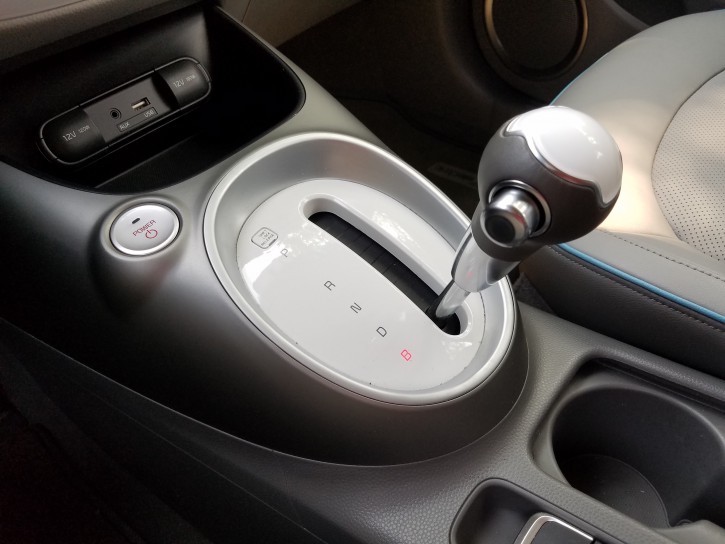 Speaking of handy features, I've found myself using the Soul EV's Brake Mode function more than I thought I would. Drop the shifter down to "B" from "D", and the Soul EV dials in a more-aggressive regenerative-braking setting. When Brake Mode is activated, lifting off the throttle pedal causes significant deceleration, because the battery is being recharged by the vehicle's forward momentum. Even though the vehicle's brakes aren't being used, the deceleration is pronounced enough that the brake lights come on.
Livin' Electric: Welcome Extended-Use Kia Soul EV
Similar regenerative braking systems are used in most every current electric vehicle (and most gas-electric hybrids), but not all EVs offer the driver an option on the level of regen. I prefer the traditional "coasting" feel of a typical gas-engine vehicle when I lift off the throttle pedal, but I've gotten into the habit of bumping the shifter into "B" when I am approaching a stoplight or slow-moving traffic so I can slow down efficiently while minimizing (or avoiding altogether) the use of the brake pedal. In future test drives, I'll try keeping the shifter in Brake mode to see if it has any effect on my range.
My daily commute is in city traffic—sometimes heavy city traffic—and it's here that the Soul EV might be most in its element. The snappy, linear throttle response enables me to easily zip into temporary openings in traffic, or accelerate to catch a traffic light that's about to go yellow. And since there's no transmission or gears to deal with, the throttle pedal is especially easy to modulate to dial in precisely how much "go" I want.
Kia Soul EV Long-term Update #2: Warmer Weather Brings a Modest Drop in Range
However, I've also found the throttle response to be a bit persnickety in low-speed parking maneuvers. My home parking spot is in rather tight quarters that require a lot of forward/reverse maneuvering, and getting the Soul EV smoothly rolling from a stop can be a little tricky. There is often a bit of a delay between pressing the throttle and the vehicle responding… and I've found it difficult to dial in a "just right" amount of go when inching forward or backward into my parking spot. Maybe I'll acclimate to it eventually. Also, the Parking Assist system is a bit too sensitive for my taste… I often end up turning it off.
Despite a few minor quibbles, the Soul EV is winning over our test-driving staff. Stay tuned to see if our enthusiasm continues….
Tested vehicle: 2015 Kia Soul EV
Base price: $35,700 (Before federal or state incentives)
Price as tested: $36,625, including floormats ($125) and destination ($800)    
EPA city/highway/combined ratings: 120/92/105 (MPGe)

EPA estimated range: 93 miles
Steve and Johnnie Road Test: 2015 Kia Soul EV
Kia Soul EV in Summer