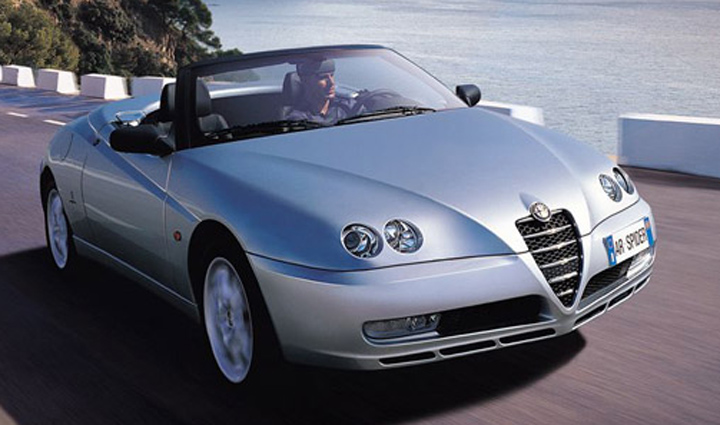 Mazda and Fiat Auto are teaming up to develop a small rear-wheel-drive sports car that will be sold as the next-generation MX-5 Miata and as the first new Alfa Romeo Spider since the 1996-2010 model. The project was announced in late May 2012 with a joint statement by Fiat-Chrysler CEO Sergio Marchionne and Mazda Chairman Takashi Yamanouchi. The plan is to develop "two differentiated, distinctly styled, iconic, and brand-specific lightweight roadsters. . . . The Mazda and Alfa Romeo variants will each be powered by specific proprietary engines unique to each brand."
Future Collectibles: 2017 Fiat 124 Spider
Mazda Miata and Alfa Romeo Spider
Both versions will be based on the next-generation Miata architecture and will be built in Mazda's hometown, Hiroshima, Japan. The Miata is expected to begin production in 2014, which could mean a 2015-model U.S. intro. Alfa says its new Spider will start rolling out in 2015 and will spearhead the brand's long-awaited return to the U.S. market, making it a possible 2016 debut.
The two automakers have signed a memorandum of understanding and say they expect to hash out project details by the end of 2012. That suggests development work won't be underway in earnest before 2013. The venture involves no exchange of capital or stock, but the companies say they are talking about further cooperation in Europe. Japan's NHK public-broadcasting network reports that the pair are considering a partnership to expand distribution outside their home markets.
Like many automotive joint ventures, this one is born of adversity. Fiat sales in Europe have taken a big hit in the sovereign-debt crisis, especially in Italy, which remains the brand's largest single market. In fact, the Fiat-Chrysler alliance now stays in the black mainly on the strength of sales and earnings from a resurgent Chrysler.
Mazda has been fighting market headwinds all over, competing as an independent David against multibrand Goliaths that can design and build vehicles far more efficiently and economically. Though Mazda recently signed a deal with Toyota involving hybrid powertrain technology and supplies a Nissan-badged Mazda 5 mini minivan for sale in Japan, neither makes up for losing access to the huge resources of longtime partner Ford Motor Company, which has sold all but 2 percent of its controlling 33-percent stake. As a result, Mazda must export or die, yet exports are not going well. Indeed, as trade weekly Automotive News observes, the company "is facing a fourth straight year of losses. In March [2012], for the second time in just over two years, Mazda resorted to a massive equity share sale to raise the money to fix its structural problems and fund advanced technologies."
Despite its gloomy financials, Mazda is clearly the lead player in the new sports-car project. For starters, its array of "SkyActiv" powertrain and architecture technologies were already expected to make the next Miata lighter, stronger, and more fuel efficient without compromising performance or roadability. The reborn Alfa Spider should benefit from some of those innovations, as well as Mazda's high-quality manufacturing, even as it adds sales volume that should allow the Hiroshima factory to operate at a profit instead of a loss.
Fiat, for its part, gets a new sports car for far less money than it would spend on its own design, not to mention a star headliner for Alfa Romeo's U.S.-market relaunch. And in a sense, that car will already be a well-known, well-loved quantity. Though U.S. Miata sales have lately plunged from a steady 20,000 a year to below 6,000, the winsome roadster remains the world's best-selling sports car ever, and it retains a large and loyal fan base thanks to its long history (since 1989) and simply for being what it is. Alfa, of course, has many devoted fans too, so the new Spider will need plenty of Italian style and dynamic brio to be accepted as something more than just a reformatted Miata. That could be a major challenge for Fiat designers and engineers, though their Mazda counterparts will have an equally tough job in reimaginating their own heritage-rich sports car.
That and a lack of money may explain why the next-gen Miata is not yet ready to replace today's seven-year-old design. Various reports over the last two years had suggested that work was fairly far along on a "SkyActiv-ized" Miata that would match the original for size and weight, carry a new 1.3-liter turbocharged 4-cylinder engine, and blend traditional styling cues with Mazda's swoopy new "soul of motion" look. Will any of that survive in the final next-gen Miata or, for that matter, the new Alfa? Wish we knew. Our hunch is that all those plans are still on but have been back-burnered to conserve cash. That view is partly supported by UBS auto analyst Tatsuo Yoshida, who told Automotive News that "developing the next [Miata] for Mazda alone would have been difficult to justify, and [the Fiat linkup] allows them to do that."
An intriguing aspect of this project is whether it might lead to significant technology sharing. The partners haven't mentioned it, at least so far, and may not intend to swap more secrets than necessary on this particular car. Still, it's hard to believe that each company won't learn from the other. Fiat, of course, has its innovative Multi-Air valve-control system that would seem to complement Mazda's SkyActiv engine concepts. The Italian company is also strong on diesel technology and has developed some cost-effective, quality-focused manufacturing techniques that also might benefit Mazda. We don't doubt that Fiat could make good use of SkyActiv principles in a wide range of future products, including Chryslers, Dodges, Jeeps, and Ram trucks. We're not saying that any of this will happen, but at least the door is open, so who knows?
In the meantime, sports-car lovers are undoubtedly cheered to know that the Miata lives and that the Alfa Spider will be reborn with Mazda reliability and quality. They may be a long two to three years away but, as far as we can tell, they should be well worth the wait.

Test Drive: 2017 Mazda MX-5 Miata RF