Note: This article is reprinted from the June 2013 issue of Collectible Automobile.
In the "baby boom" '50s, Americans came to embrace the station wagon in a big way. It was just the right kind of motor vehicle for families expanding both in size and in number. But it was a friendship that took time to grow.
Prior to World War II, the station wagon was a little harder to like. Almost uniformly constructed with wood bodies, early wagons needed to be serviced as much as they served. Still, their ranks grew steadily throughout the '30s as, one by one, automakers began adding them to their factory-cataloged rosters.
Even the smallest of manufacturers eventually felt compelled to enter the field. Among them was Willys-Overland of Toledo, Ohio. In 1940, Willys added an $830 wagon to its 440 DeLuxe line with a U.S. Body and Forging Company body manufactured in Frankfort, Indiana.
More Collectible Automobile Photo Feature posts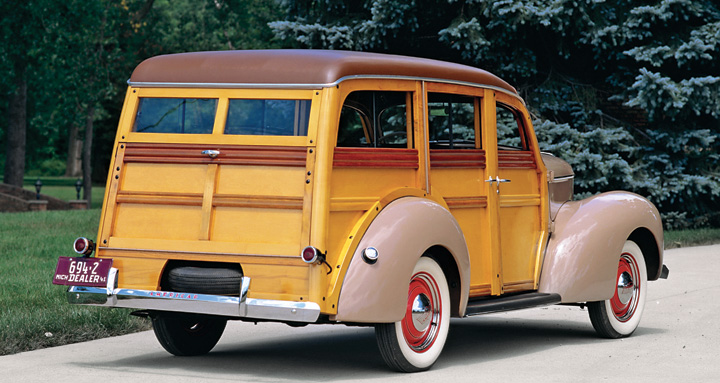 The following year, the wagon came back bigger and better than before because the compact 4-cylinder
Willys was bigger and better than ever. For starters, wheelbase grew to 104 inches, a gain of 2 inches. Frontal styling was revised with cleaner hood decoration and a low, uninterrupted vertical-bar grille, a change from 1940's divided unit. Teardrop-shaped bezels held new sealed-beam headlights (Willys switched to the improved lights a year after most other American makes) and integrated the parking lights. Horsepower from the 134.2-cid L-head engine was nudged up to 63 (from 61), and a hypoid axle was adopted.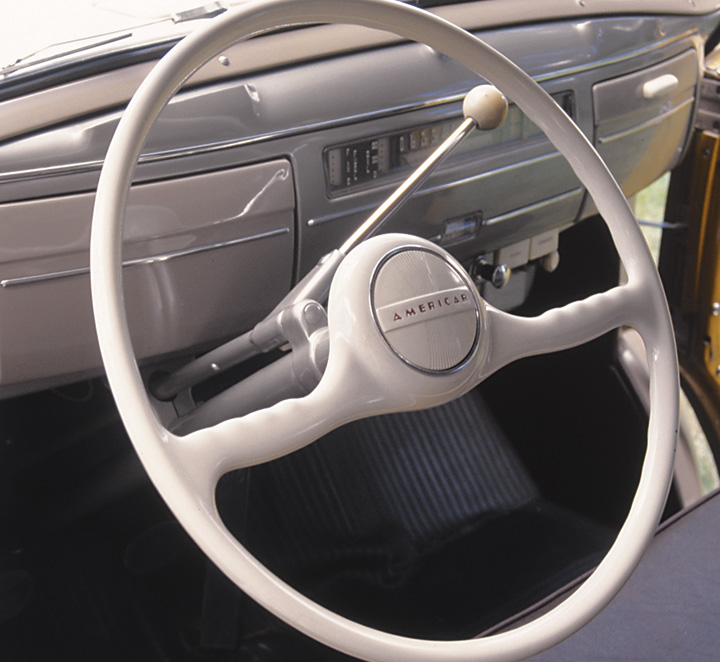 Willys began marketing its Series 441 as the Americar. Body-style offerings remained the same—business coupe, 4-door sedan, and wagon—but a new Plainsman level with overdrive and a finned high-compression head was added above the continued Speedway and DeLuxe lines.
The 6-passenger station wagon continued to be offered only at the DeLuxe level. Willys promoted it as "the answer to the need for a fine low cost estate wagon," and added, "This fine car is beautifully appointed, has large roomy interiors, a powerful thrifty engine, speed, power, easy handling, easy riding and dependability." The price was boosted to $916 for '41.
The example displayed on these pages belonged to Al Maynard (since deceased) of Clinton Township, Michigan. When photographed, it was believed to be one of only two in existence.
A synchronized 3-speed transmission, with the column shifter that was made standard throughout the Willys line for '41, is hooked to the undersquare four. Accessories include a heater, wheel trim rings, and 5.5 x 16 four-ply whitewall tires.
The car rests on an "X"-braced frame that was widened and strengthened for 1941. Leaf springs are used at all four corners, with a semifloating axle in back and a reverse-Elliott-type I-beam axle in front.
According to Mr. Maynard, the car's user history traced back to Long Island, New York. He bought the car in 1982 from John Bokeeno of Norristown, Pennsylvania. Mr. Maynard, Bokeeno, and several other men then undertook a complete restoration.
The Willys "woody" wagon made its final appearance in 1942, when it sold for $978 to start. Buoyed by the battlefield success of the little four-wheel-drive "jeep" that it built by the hundreds of thousands during the war, Willys would use it to inspire a new kind of station wagon—one with an easy-to-care-for steel body—in 1946. For the new postwar baby boom families, the modern station wagon couldn't have come along at a better moment.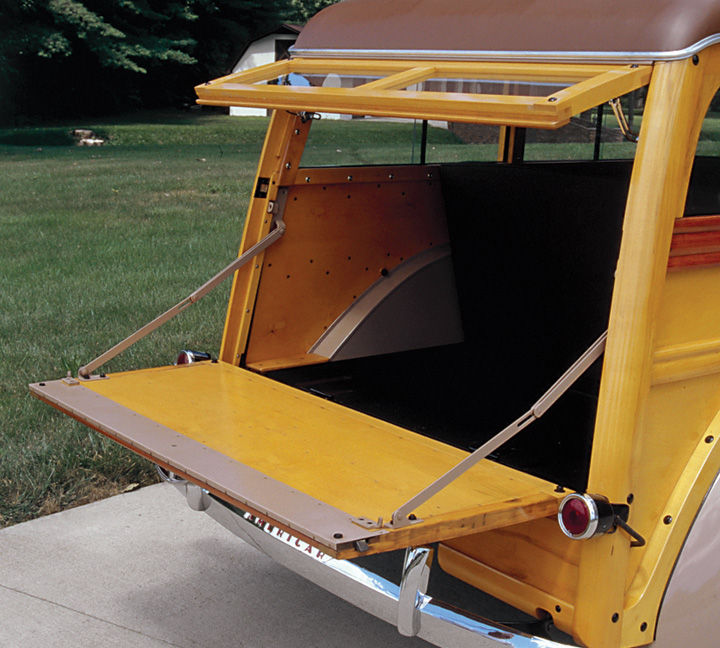 Photo Feature: 1952 Crosley Pickup