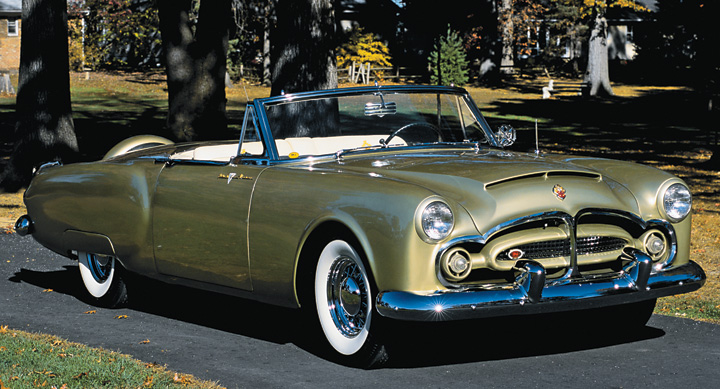 Note: This article is reprinted from the February 2013 issue of Collectible Automobile.
Longtime Collectible Automobile readers may recall the 1952 Packard Pan American from an October 1986 story and from an October 1992 Personality Profile on its designer, Richard Arbib. So why this encore? Well, aside from the pleasure of seeing an old friend still hale and hearty, this Pan American is the first of only six built—and the only one built without its intended folding top.
As noted historian George Hamlin recounted in the Arbib profile, the Pan American was one of several "sports car" ideas that the styling consultant doodled up for the Henney Body Company of Freeport, Illinois, long a supplier of Packard-based hearses, ambulances, and other professional cars. A successful industrial designer since the late 1930s, Arbib had also worked for General Motors and, after the war, the Harley Earl Corporation. When a falling out with Earl prompted him to go freelance in 1949, Arbib contacted a previous employer, industrialist Charles Russell Feldmann. As it happened, Feldmann had just purchased Henney (for a second time) and needed help with redesigning its professional coachwork to match Packard's new 1951 "high pockets" styling. Arbib duly signed on as a Henney consultant and de facto one-man styling staff.
Feldmann wanted to expand Henney's business, in part by "doing something in the sports car area," as the designer later recalled. Encouraged to let his imagination roam with hopes of winning more Packard contracts, Arbib drew up a two-seat sports convertible based on John Reinhart's 1951 production design.
This concept, which Arbib named the Pan American, so impressed Feldmann that he ordered a car to be built at a reported cost of some $10,000.
It was basically a detrimmed Series 250 convertible with a rakishly sectioned body accentuated by a jaunty "continental kit," modest chrome fins above special round taillamps, a wide hood scoop, and an extended rear deck (Arbib had removed the back seat, deeming it unsuitable for a sports car).
Headlamp bezels and the inner grille section were predictively color-matched to striking gold-green paintwork. Chrome wire wheels provided an appropriate finishing touch. The interior was basically stock except for different upholstery and a repositioned steering column.
As an obvious promotional tool for both Henney and Packard, the Pan American was booked for the March 1952 International Motor Sports Show in New York, for which Arbib moonlighted as art director. The hasty scheduling left no time to fit the planned hideaway cloth top, but nobody noticed. In fact, public reaction was so positive that Packard briefly hinted at a limited run for retail sale, only to demur after ordering just five copies, which Henney supplied with tops included.
Noted Packard collector Ralph Marano of Westfield, New Jersey, has kept the Pan American in all its show-stand glory. He reports that four other Pan Americans are known to exist in similar condition.
Photo Feature: 1953 Plymouth Cranbrook Convertible Coupe
1952 Packard Pan American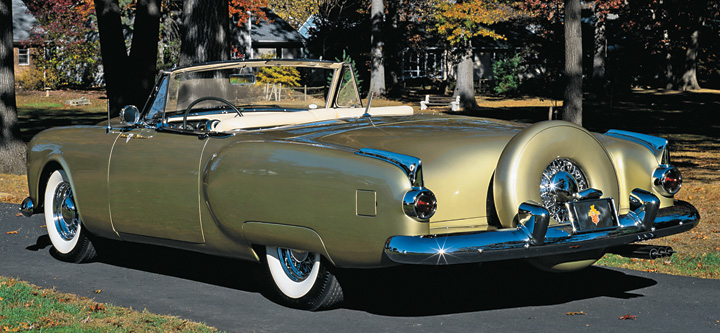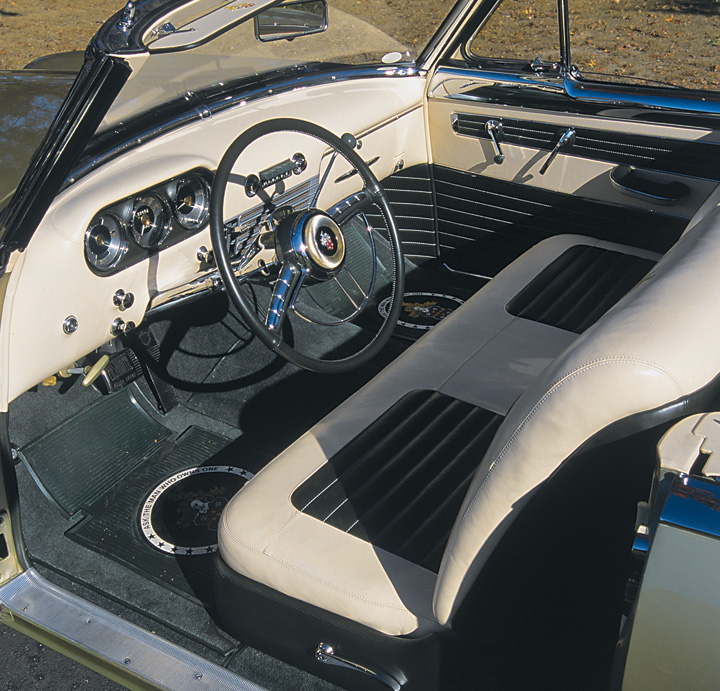 More Collectible Automobile Photo Features
What if Lincoln, Chrysler, Cadillac, and AMC Had Designed the 1957 Packard?