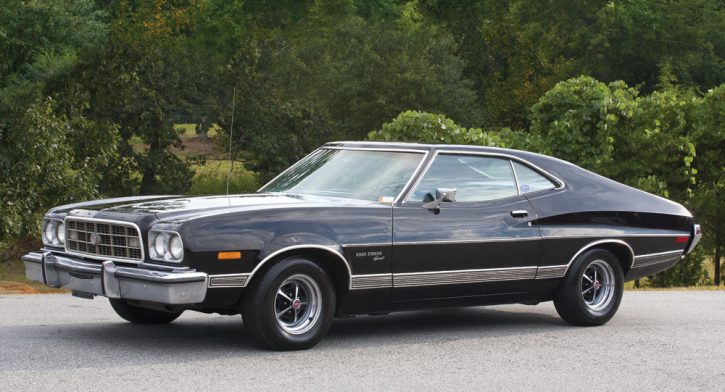 Note: This article is reprinted from the October 2016 issue of Collectible Automobile
By Jack Stewart
Ramona and Mike Wilson knew that their 1973 Ford Gran Torino Sport fastback coupe was special when they bought it new. The Madison, North Carolina, couple liked it so much that they still have it 44 years later.
Despite the Wilsons' attachment to the car, don't think that they babied it, by the way. Ramona, a schoolteacher, drove it to work for 10 years. Then Mike used it to get to his job. Today, though, it's no longer a daily driver, and it can be seen at car shows. The Torino has always been garaged, which helps explain its excellent condition. The engine and automatic transmission have been rebuilt; otherwise, Mike Wilson says, "It's original down to the bone."  He adds that the Torino is great to drive, and has more than 240,000 miles on the odometer.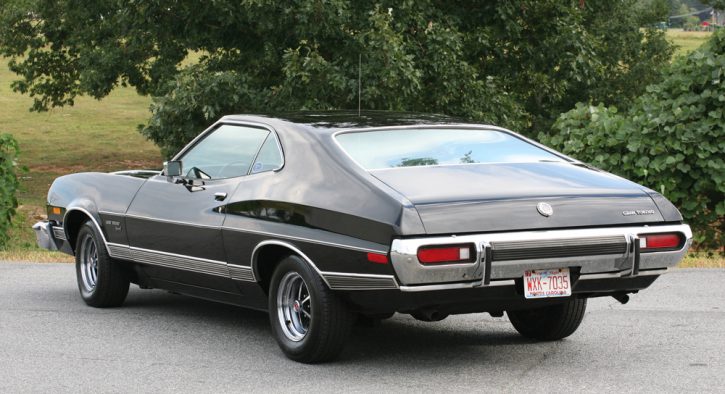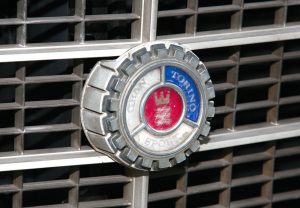 The engine is a "Cleveland" 351-cid V-8 with a four-barrel carburetor rated at 246 net hp. The Wilsons' Torino is well equipped with air conditioning, AM/FM radio, Rim Blow deluxe steering wheel, rally instrument group, and Magnum 500 sports wheels. Most Gran Torino Sports were ordered with bucket seats, but the featured car has a front bench seat. Also unusual is its black paint, which was a rarely seen optional color for '73 Torinos. Another unusual feature is the single flat mirror with a chromed base and body. Gran Torino Sports should have dual aerodynamic body-colored "sport" mirrors, but this car is an early production example built before the sport mirrors were available from the supplier.
Photo Feature: 1963 Ford Mustang II Concept Car
Among intermediate-class cars, the Torino had been running second in sales to Chevrolet's Chevelle prior to 1972. The redesigned '72 Torino was larger and more like full-sized Fords than the previous generation. A traditional perimeter frame isolated from the separate body by rubber body mounts replaced unibody construction. This, plus a redesigned suspension, resulted in a smoother ride. All Torinos had standard front disc brakes—a rarity in the early Seventies.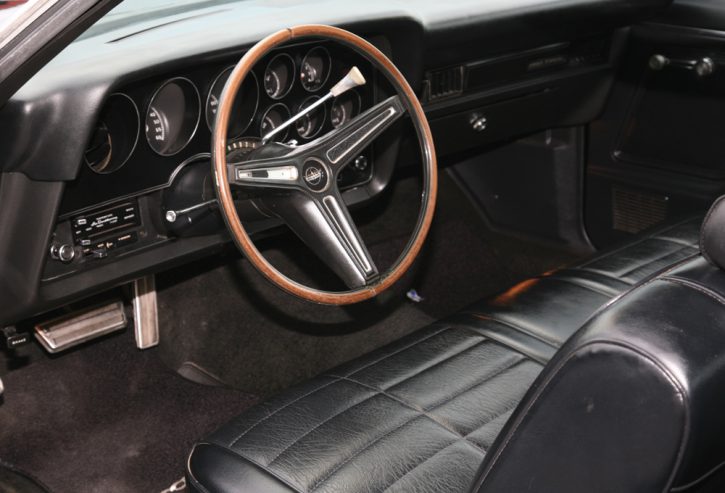 The Torino buyer could choose a hardtop coupe, four-door sedan, or station wagon in base or Gran Torino trims. Gran Torinos had nicer interiors and a more distinctive grille. The Gran Torino Sport was the performance line, offered as a notchback hardtop coupe or as a "SportsRoof" fastback that was unique to the Sport series. All Gran Torino Sports were V-8 powered. The bigger, better-riding Torino with attractive new styling was a hit and production increased by 52 percent over 1971—more than enough to put Torino well ahead of archrival Chevelle.
Photo Feature: 1966 Mercury Monterey Two-Door Sedan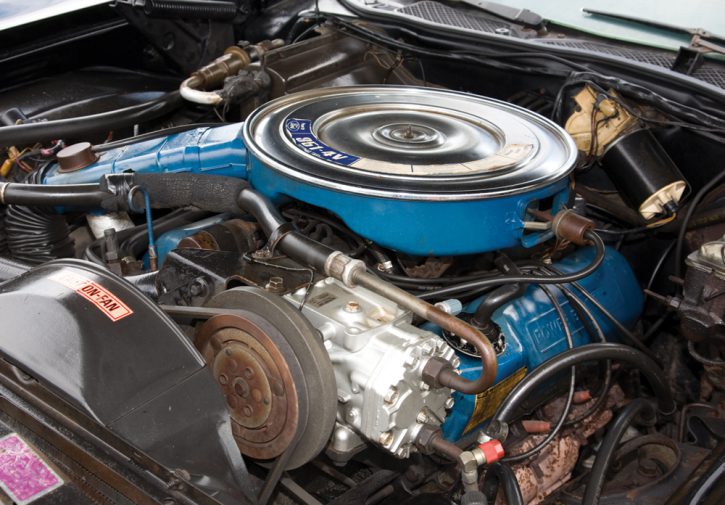 The biggest change for 1973 was a new front end designed to meet the federal requirement that cars withstand a five-mph crash without damage. A flat front end with a girderlike bumper replaced Torino's sculpted sheetmetal. Engines lost power as emissions standards tightened. The engine choices for the Gran Torino Sport ranged in size from a 302-cid V-8 with 137 hp up to a 219-hp 460 V-8 that was added midyear. The most powerful engine was the four-barrel Cleveland 351 with free-flowing heads that allowed it to produce more horsepower than the larger V-8s. The Sport came in the same two body styles, but the SportsRoof, of which 51,853 of the '73s were made, put in its final appearance.
In spite of federal restrictions and competition from a wholly redesigned Chevelle, Torino sales for 1973 were almost the same as the previous year, and Ford remained the midsize leader. Clearly, Ramona and Mike Wilson weren't the only ones attracted to the '73 Torino.