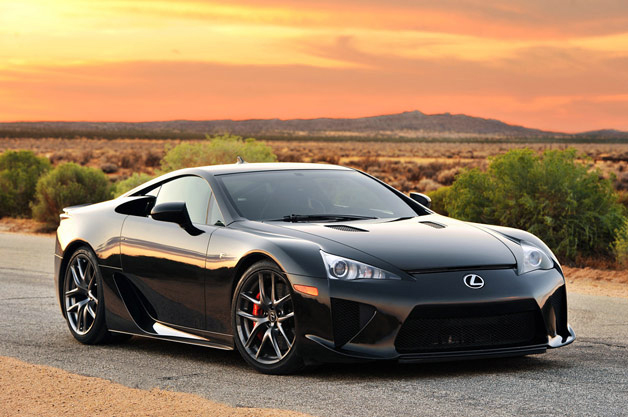 Lexus sold just over 1200 of its LC 500 and LC 500h grand-touring coupes in 2019. Relative to the popular Lexus RX crossover SUV, which racked up more than 110,000 sales, the LC may seem rare and exclusive. But all things are relative. If you think the LC is a rare sight—and it sort of is–then you've probably forgotten about the Lexus LFA.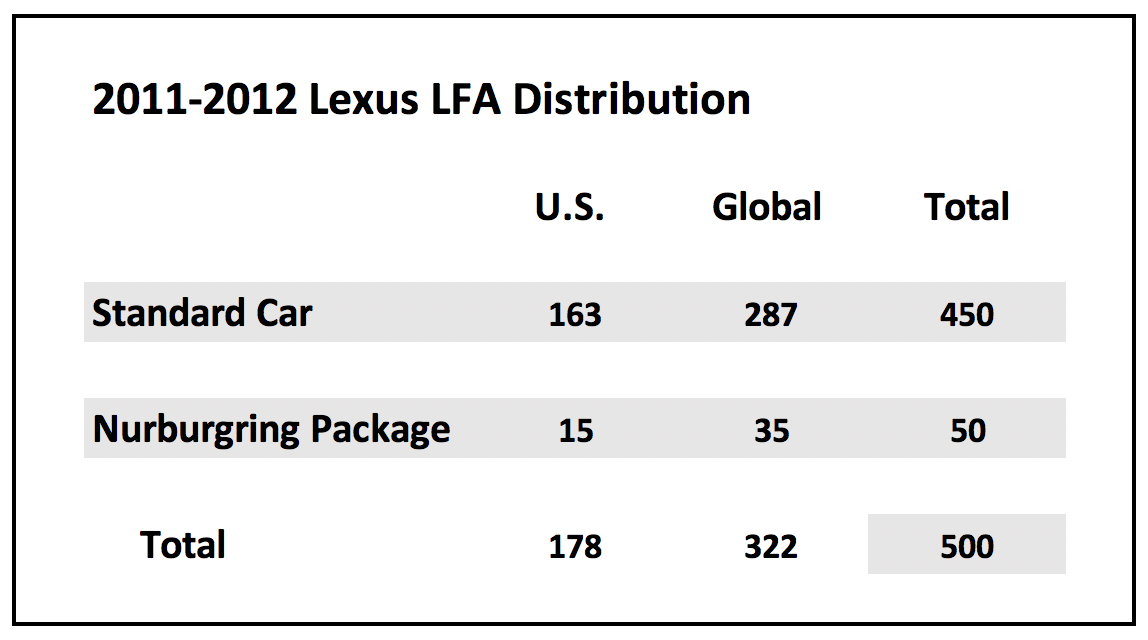 The Japanese luxury brand's first—and to date only—super car, the LFA was produced for just two years, and it featured a number of significant firsts for Lexus. Featuring a V10 engine and carbon-fiber body panels, the 2-seat sports car boasted 553 horsepower and a reported top speed of just over 200 mph.
Lexus built only 500 examples of the LFA, and had planned for a roughly even distribution of 2011 and 2012 models. A magnitude-9.0 earthquake that rocked northern Japan in March 2011 temporarily halted LFA production, however, pushing much of that year's build allocation into 2012.
All told, 178 LFAs were imported to the U.S., 15 of which included the desirable Nurburgring Package. The package, which added a stout $70,000 to the LFA's $375,000 bottom line, included a front diffuser, unique rear spoiler, track-tuned suspension, and a 10-horsepower bump (to 563 hp).
Precise production numbers are hard to come by, but at least a few LFAs were built with right-hand drive.
Presented here is Consumer Guide's original review of the 2012 LFA without the Nurburgring Package.
2012 Lexus LFA Review
Overview
The 2012 Lexus LFA is a new 2-seat, front-engine, rear-wheel-drive exotic sports car built in limited quantities by Toyota's luxury division. Power comes from a 552-horsepower 4.8-liter V10 mated to a 6-speed automated-manual transmission that behaves much like an automatic. Much of the body and chassis structure is made of a lightweight composite material. Standard safety features include ABS, traction control, an antiskid system, a driver knee airbag, and airbags in the shoulder harnesses. This evaluation is based on a brief race-track drive.

Review Flashback! 2006 Ford GT
Acceleration
Certainly among the quickest and fastest cars available today. Lexus quotes a 0-60-mph time of 3.6 seconds, which seems plausible based on our test. However, there's not a lot of power available in normal street driving, as torque peaks at 6800 rpm and maximum horsepower is reached at a dizzying 8700 rpm. The automated-manual transmission includes steering-column-mounted paddle shifters, four shift modes, and seven shift speeds that vary shift "feel" from slow and smooth to quick and neck-snapping.
Fuel Economy
No opportunity to measure, but the EPA ratings of 11 city, 16 highway suggest an average of about 13 mpg. Premium-grade gas is required.
Ride Quality
Hard to tell on the smooth track surface of our test drive, but even small surface irregularities were transmitted into the cabin, which doesn't bode well for the car's reaction to bumps found on a typical urban street.
Handling
It doesn't get much better than this. The LFA is race-track born and bred, with razor-sharp steering reactions, virtually no body lean in fast turns, and incredible stopping power from its carbon-ceramic brakes.
Quietness
The LFA's V10 engine is fairly muted at lower revs and under cruise conditions, but it sings prominently and then shrieks at higher rpms thanks to a two-stage exhaust system. It's thus loud under any kind of acceleration, but the sound is pure music. Wind noise at highway speeds was hard to judge, as only brief moments were spent at 60 mph.
Controls
Audio and climate controls are close at hand, but they aren't conventional and take some study.
Details
The cabin design is very businesslike, but the materials are first-rate, and buyers are offered their choice of 12 interior colors.
Review Flashback! 2002 Chrysler Prowler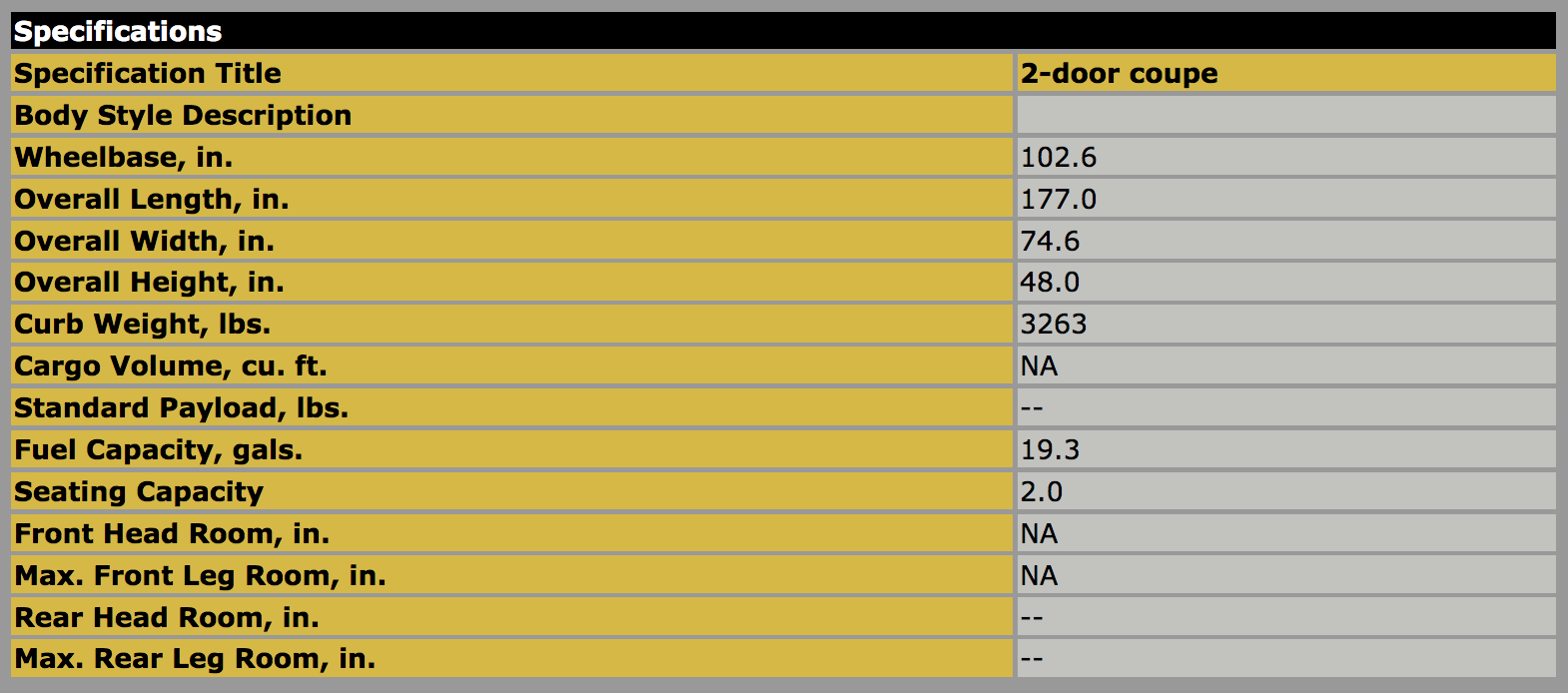 Comfort
Settling into the LFA's low-set seat might take some gyrations, particularly for taller folks, but it's comfortable and fairly roomy once there.
Cargo Room
There's enough room for a weekend's worth of (preferably soft) luggage in back, but precious little cockpit storage space.
Photo Feature: 1970 Shelby GT-500 Fastback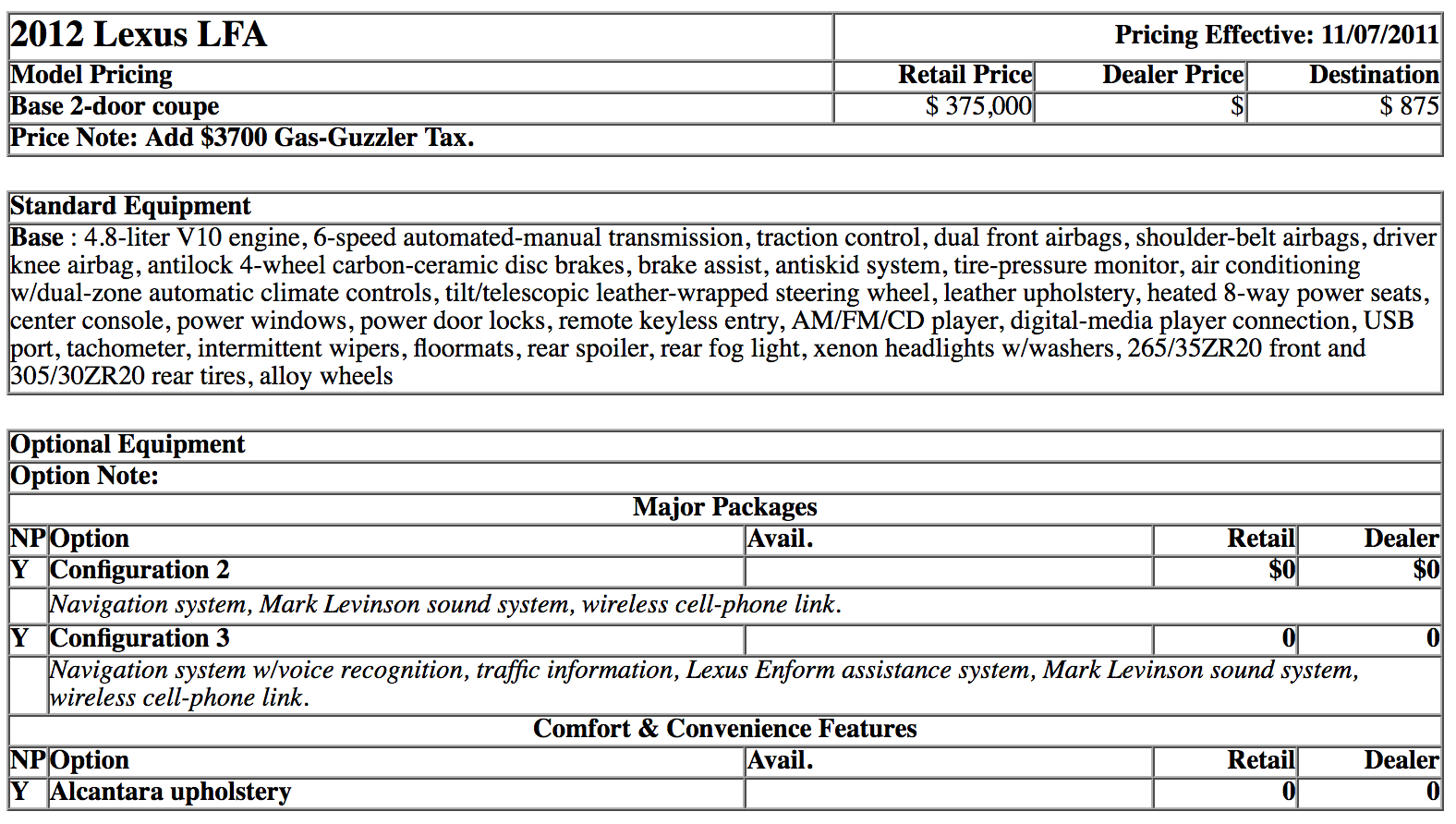 Value
A number of cars can match or beat the LFA's lofty performance figures at a fraction of the price, and some of them boast more exotic surnames. But for those who assign value to exclusivity (only 500 are to be built), refinement, and high-tech sophistication, the LFA would be a prized addition to their garage.
Future Collectibles: 2017 Dodge Viper
2012 Lexus LFA