What comes of a car like the Prowler? Despite a long list of credentials–including its striking open-wheel design, the fact that it survived the death of of its original brand, and a spate of cool special-edition colors–the Prowler doesn't seem to engender the kind of present-day enthusiast interest one might think it should.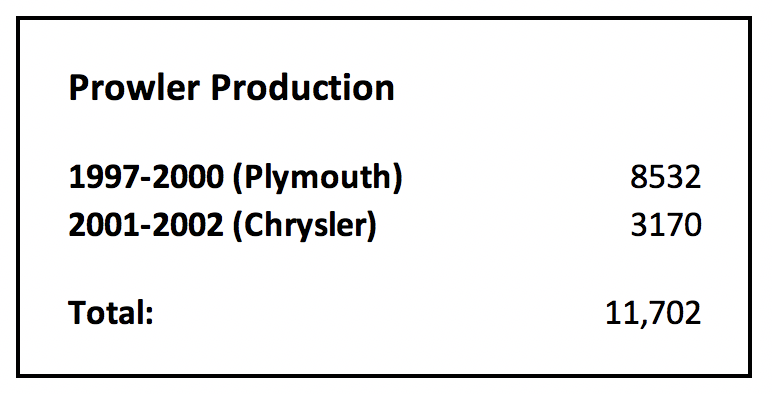 As most auto enthusiasts know, the Prowler began life in 1997 as a Plymouth, but became a Chrysler model when the Plymouth brand was phased out after the 2000 model year. Chrysler-branded examples are less common, accounting for fewer than half of all the Prowlers produced.
As for collectability, first-year Prowlers go pretty much unloved. This is likely because the 1997 Prowler was fitted with an off-the-shelf version of Chrysler's corporate 3.5-liter V6, which was good for a passable (if not particularly exciting) 215 horsepower. For 1998, the engine was beefed up substantially, cranking out 253 horses in Prowler tune.
Special-edition color packages may be of interest to Prowler enthusiasts and would-be collectors. Over the vehicle's run, it was available with several extra-cost color options, such as the Woodward Edition (two-tone black and red), Black Tie Edition (two-tone black and silver), Mulholland Edition (Midnight Blue Pearl Coat), Copperhead Edition (Copper), and the one-off Conner Avenue Edition (which was painted High Voltage Blue and auctioned off for charity).
Today, Prowlers typically sell in the $30,000-$40,000 range, which indicates there's at least some interest in the cars as long-term collectibles. Those prices generally reflect values roughly a third below the original list price, which is well above what any common used car of the same vintage usually sells for.
Chrysler is to be commended for bringing a car as radical as the Prowler to market. Time will tell if collectors eventually decide that it was radical enough to hold on to. Of course, with more than 10,000 examples produced, the Prowler isn't really all that rare, for all its idiosyncrasies.
What follows is Consumer Guide's original review of the swan-song 2002 Chrysler Prowler.
2002 Chrysler Prowler
Overview
A new color is the only change of note for the 2002 edition of Chrysler's retro hot rod. This limited-production, rear-wheel-drive 2-seat convertible has a manual folding cloth top with heated glass rear window. The only engine is a 253-hp 3.5-liter V6 shared with the division's full-size cars. It's linked to an automatic transmission with Chrysler's AutoStick, which has a separate gate for manual shifting. Four-wheel disc brakes are standard. ABS, traction control, and side airbags are unavailable. As for color selection, Inca Gold replaced Mulholland Blue midyear as an option to orange or silver.
Acceleration
Chrysler says 0-60-mph time is around 6 sec. That feels slightly optimistic, but Prowler is plenty quick enough to be entertaining.
Fuel Economy
Test model averaged 22.1 mpg on required 93-octane fuel.
Ride Quality
Part of Prowler's character is stiff damping, limited suspension travel. Result: Larger bumps can jolt the car off course as occupants pitch around in their seats.
Handling
Body lean almost nil, grip tenacious–at least on dry roads. Steering is accurate and not too heavy. Brakes strong, easily modulated.
Quietness
Omnipresent rumbling exhaust note sounds somewhat artificial. Tire and wind noise are prominent, top up or down.
Controls
More hot-rod stylish than functional, but most switches are standard easy-to-use Chrysler items. Slit-like side windows and a baby-bonnet roof make for awful rearward and side visibility with top up–and it's none too good forward. Materials and workmanship worthy of a low-volume specialty car, but Prowler suffers more body shake than most modern convertibles.
Comfort
Small footwells, "bathtub" seating position, and narrow doorways make a tight cabin, with tricky entry/exit.
Cargo Room
Barely room for a thin, soft briefcase between the trunklid and rear underbody. A matching trailer is available–and necessary for extended trips.
Senior-Year Lust: The 5 Coolest Vehicles of 2002
Value
Plenty quick enough to be entertaining, with surprisingly good handling, though at the sacrifice of a comfortable ride. Negatives such as the laughably tight cargo space and terrible top-up visibility are of little consequence to owners. This is a sunny-day toy, and buyers snap them up as fast as Chrysler builds them.
Forgotten Concept: Dodge Dakota Sidewinder