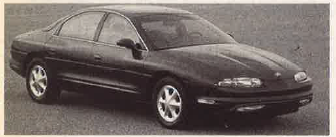 Whether or not the Cutlass Supreme was "Your Father's Oldsmobile," new-car shoppers were passing on Olds products with increasing regularity by the early Nineties. Oldsmobile sales had fallen from over 1 million units in 1985 to just over 400,000 for 1993.
For the brass at Olds, it was time to face facts; American car shoppers were no longer clamoring for traditional American luxury, nor was the public interested in the lightly Euro-tinged products the brand was pushing in some segments.
In what must have been a moment of clarity at Oldsmobile, a decision was made to make a car that wasn't just European looking, but was, in fact, the design and dynamic equal of a European luxury sedan.
Thus was born the Aurora.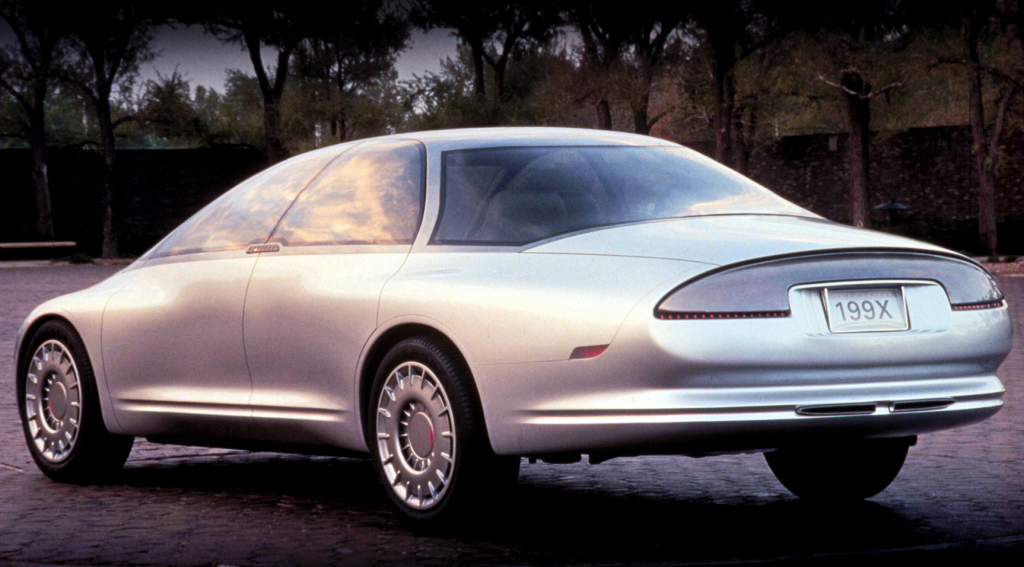 Arguably one of the cleanest looking cars from General Motors in decades, the Aurora had the styling and the technology to be taken seriously by European-car enthusiasts.
It was in Aurora promotional material that many car shoppers first came to understand the concept of torsional rigidity. If a big car is to be squeak and rattle free, then its basic architecture must be stout enough to resist bending.
We were told by Oldsmobile folks that the Aurora's chassis resonated at 25 hertz, a number that matched the vaunted and notably solid-feeling Mercedes-Benz E-Class. Because we were not told at what hertz value other Oldsmobile products resonated at, it was difficult to put this point into perspective, but matching a 1990s Mercedes-Benz product in any quality metric seemed like something of a coup.
More Aurora specs and pictures
It's worth noting that the Aurora's chassis performance did not come without a price. The car's tiny rear-glass opening was thought to be a concession to GM's quest for structural rigidity.
Much like European sedans of the era, the Aurora was not offered in varying trim levels or with dozens of stand-alone options. Indeed, there were only six options available for the Aurora, excluding color.
A 250-horsepower 4.0-liter V8 was the only Aurora powerplant. The Aurora V8, as it was marketed, was closely related to the Cadillac Northstar powerplant, and was widely praised for its performance and refinement.
[youtube https://www.youtube.com/watch?v=BD9DgBoG4Ao]
As the new top dog in the Olds lineup, the Aurora essentially replaced the Ninety-Eight in the brand's model roster, the latter being retired after the 1996 model year.
This may have been a mistake for Oldsmobile. While first-year sales of the Aurora were solid, coming in at almost 46,000 units, second-year sales slipped to just over 22,000.
Meanwhile, Ninety-Eight sales had been averaging around 50,000 units in the years before it was discontinued. It was soon clear that traditional Oldsmobile shoppers were not moving into the Aurora. Alas, European big-car shoppers weren't being swayed into Olds showrooms by the Aurora, either.
[youtube https://www.youtube.com/watch?v=Mo92-ui02Gw]
Price could have been an issue. A loaded Aurora listed for more than $36,000–almost $10,000 more than a well-equipped Ninety-Eight, and close to the base price of a BMW 5-Series.
After skipping the 2000 model year, the Aurora was redesigned for 2001, and offered with a lower starting price and a new standard V6 engine. Sales spiked to 53,000 units for '01, but fell off quickly after that. Around 7000 Auroras were sold for 2003, the car's final year.
While the Aurora may not have been your father's Oldsmobile, it apparently also wasn't your neighbor's, co-worker's, or friend's car, either.
More Review Flashback! vehicles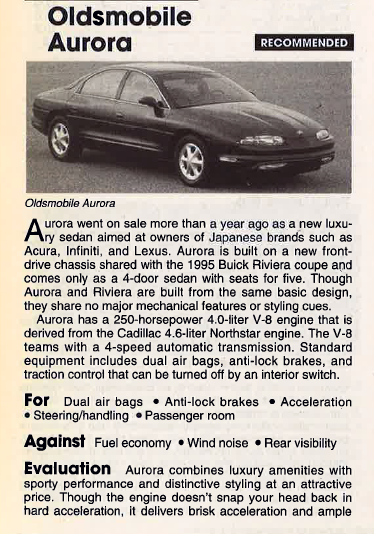 Review Flashback! 1990 Infiniti Q45

Review Flashback! 1986 Ford Taurus