As an upstart automotive brand aimed squarely at young buyers, Scion was full of promise. Toyota launched the Scion nameplate in 2003, in an attempt to engage automobile customers earlier in life and bring a little spark into the somewhat stodgy environs of the typical American Toyota dealership. The first Scion vehicles started showing up in select California Toyota dealerships in summer 2003, and the brand expanded nationwide in early 2004.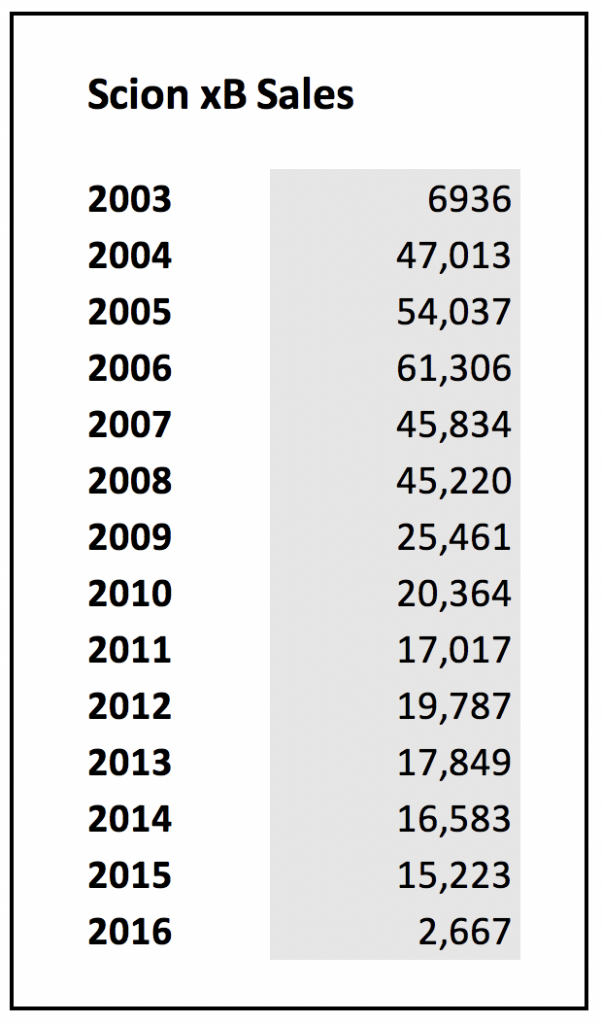 Toyota promised that young shoppers would find plenty to love about Scion. Most of the shopping/buying process could be handled online, and the cars themselves would be fun, affordable, and easily customizable. Toyota also promised that Scion models would never last longer than a single generation, each being replaced by all-new vehicles–this to keep the brand ever fresh and interesting to young car buyers.
The heart of Scion, at least initially, was the undeniably charming xB, a tall-bodied subcompact 4-door hatchback wagon. Sold in Japan as the Toyota bB, the xB was unlike anything then on American roads. Simple, boxy, and begging for customization, the xB was also incredibly affordable. Prices started at less than $14,000, and factory options were reasonably priced as well.
Scion sold more than 47,000 xBs in the U.S. in 2004, the car's first full model year, and sales reached 61,000 in 2006, the model's single best year.
So, why did xB sales fall after 2006? More importantly, what happened to Scion? There are plenty of reasons for the brand's demise, but here are a few key points:
Though young customers could theoretically shop and complete some of the purchase process online, they would still need to visit a dealership to test drive a vehicle, or to complete paperwork. Once at the store, would-be Scion buyers were subject to the same sales tactics as any Toyota customer, which at some stores could be off-putting.
Many dealers lacked real commitment to the Scion project, often failing to stock advertised accessories, and at times attempting to upsell shoppers into more-profitable Toyota models.
The promised new models that would keep the Scion brand fresh didn't make the same splash as the original xB. The first-gen xB was replaced in 2008 by a redesigned larger version, but the new model lacked much of the charm of the original.
An excellent rear-drive small sports car, the FR-S arrived for the 2013 model year. Though well regarded by the media and customers alike, the car's $25,000 starting price was high for a Scion at the time.
Finally, young shoppers just aren't that crazy about cars anymore. A youth-oriented auto brand probably doesn't make sense in the 21st century—though automotive history is a little short of successful car brands aimed solely at young shoppers. Geo was arguably such a brand, and it only survived 14 years.
Scion sales peaked in 2006, reaching 173,000 units, though the brand itself lasted through the 2016 model year. When Toyota pulled the plug on Scion, the brand's surviving models were rebadged as Toyotas. As for the xB, credit must be given to the model for its role in popularizing the rolling-cube phenomenon. Following the xB were such small-box vehicles as the Nissan Cube, and the still-popular Kia Soul. The Jeep Renegade, too, arguably falls into this category.
What follows is Consumer Guide's original review of the Scion xB, complete with the forward-looking "News" section at the end of the report.
2004 Scion xB Review
Overview
This boxy wagon went on sale in California in 2003 as one of two models introducing Toyota's youth-oriented Scion brand. Scions are sold through Toyota dealers and will be available nationwide during 2004. Added in summer 2004 was the tC coupe. Like the more-conventional Scion xA hatchback, the xB is a front-wheel-drive 5-passenger subcompact. However, it has a longer wheelbase than the xA, and a taller van-like wagon body with a one-piece rear liftgate. It borrows its 1.5-liter 4-cyl engine, manual and optional automatic transmissions, and other underskin components from Toyota's small Echo sedans. Standard equipment includes ABS, antiskid/traction control, air conditioning, CD stereo, power windows/locks/mirrors, and split folding rear seat. Front side airbags and head-protecting curtain side airbags comprise the sole factory-option package. Dealers offer a number of factory-approved dress-up accessories, plus functional items including larger alloy wheels to replace the standard 15-inch steel wheels.
Scion's Dead. Here's Which Models Live on as Toyotas (Full Brand Gallery)
Acceleration
Test xB with manual transmission did 9.8 sec 0-60 mph. Manual transmission has smooth shift action. No opportunity yet to test automatic-transmission model, but expect about 10.6 sec 0-60.
Fuel Economy
Test xB averaged 24.6 mpg in city/freeway driving that included gas-eating performance runs. Toyota recommends regular-grade fuel.
Handling
Stable feel, moderate body lean in tight, fast corners. Standard antiskid/traction system a plus, but small, skinny tires have limited grip, squeal early in turns. Quick steering, compact turn circle aid parking. Standard ABS gives competent routine braking, but our 60-0-mph panic-stop test showed fairly long distances.
Ride Comfort
Jiggly but not uncomfortable on fast freeways, though test car did a mild buck-and-bounce on some sharp bumps and big humps. Ride hard and thumpy with dealer-available upsized wheels and/or firmer suspension components.
Quietness
Not irksome at full throttle, but only average by our sound meter in top-gear 60-mph cruising, with about equal parts engine hum and tire drone. Wind rush modest for such a bluff box of a body.
Controls
Large, round dashtop gauge cluster is slightly right of driver but easy to read. Warning lights grouped to its right a bit small and distant. Handy audio unit to right of steering wheel suffers from all-button controls, some quite small. Below it are simple climate controls. Assembly, cabin materials in line with modest pricing, but cloth upholstery surprisingly classy.
Forgotten Concept: Scion Hako Coupe
Comfort
FRONT: Driver sits higher than in most small cars and enjoys excellent visibility, but taller ones may feel they're in a minivan due to modest seat travel and limited steering-wheel tilt. Still, there's adult-size leg room, plus near top-hat head clearance from tall body. Seats firm, well-shaped, but cushions a bit short for best leg support.
REAR: Head room generous here too, as is leg space even with front seats pushed far back. But rear bench too narrow for three adults, and cushion and backrests are short. No-strain entry/exit despite narrow floor passages.
Cargo Room
Usefully cubic cargo bay, but floor just 21 inches long behind rear seat, 52 inches with seatbacks folded. Optional dealer-installed audio package bolts a space-robbing subwoofer to rear cargo subfloor. Cargo floor lifts for access to spare tire and an additional storage cubby. Back seat has no bins for small items, but front offers assorted slots and pockets, plus three cupholders.
The Fall of the House of Scion
Value
The xB melds hip-hop style with minivan practicality in a solid, pleasant little wagon bolstered by Toyota's reputation for reliability and high resale values. It's also priced right at under $13,700 to start, but be careful with the options or you could end up at over $18,000 like our test model. Interestingly, the boxlike xB is outselling the more-conventional Scion xA sedan by more than 2-1.
News
Scion began selling in the East Coast, Southeast and Gulf states in March. It adds the rest of the nation in June, along with a third model, the sporty tC midsize coupe. This blends a European Toyota platform with unique 2-dr styling and a 160-hp 2.4-liter 4-cyl engine. Scion says the "well under $20,000" price will include air conditioning, cruise control, sunroof, and power windows/locks/mirrors. As for the xB, Toyota is said to be debating whether to redesign it or replace it with something completely different. The latter plan fits Scion's aim of being the newest and coolest with what a Toyota exec calls "quick-hit, fast-turnaround products." But it's also a spendthrift approach that could tax even Toyota's deep pockets, and some analysts think here-today gone-tomorrow models could confuse or even turn off some buyers. Whatever Toyota decides, you won't see it in showrooms before model-year 2007. Until then, expect Toyota to keep the xB on young America's mind with limited-edition trim-and-equipment options. The first of these debuted in March as the "Series 1.0," a $1000 package offering bright orange paint, roof spoiler, and special interior trim and lighting. Only 2100 will be available.
Listen to the Consumer Guide Car Stuff Podcast
2004 Scion xB Gallery
(Click below for enlarged images)
Written by: Tom Appel
on February 23, 2021.
on March 25, 2021.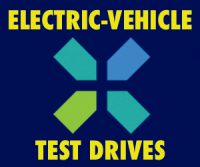 Auto Shows
Steve & Johnnie's Road Tests