There are a handful of cars that really put General Motors' Pontiac division on the map–memorable, exciting vehicles around which the Pontiac brand forged its image of sporty, near-luxury substance–and one of those was the Bonneville. The Bonneville name was first applied to a pair of Pontiac concept cars introduced at the 1954 General Motors Motorama. The moniker was first applied to a production model in 1957, when it became a topline version of the Star Chief convertible.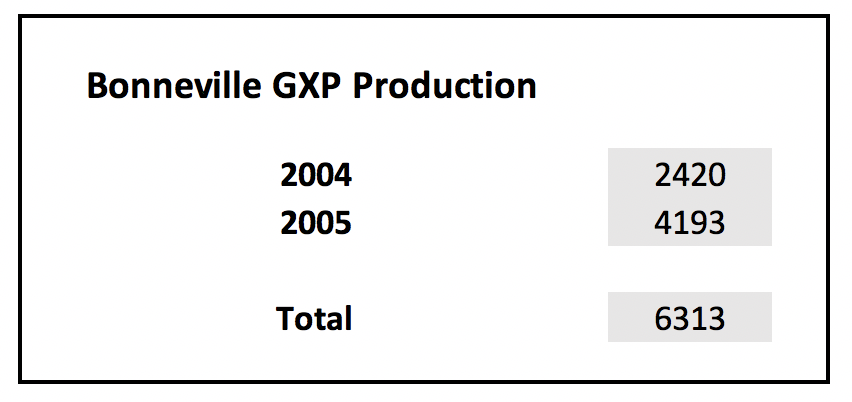 Since then, ten generations of Bonneville have come and gone, with production ending for good in 2005.
Though Pontiac would reenter the large-car segment in 2008 with a muscled-up four-door sedan produced by GM's Holden division in Australia, that car was dubbed G8, instead of Bonneville.
What we share here is Consumer Guide's review of the last Bonneville. Though likely disappointing to Pontiac purists, the front-wheel-drive 2000-2005 Bonny was not without its charms. One of the relative bright spots was the 2004-2005 GXP, which benefitted from a sport suspension, upgraded brakes, unique cabin appointments, and, most importantly, a Cadillac "Northstar" V8 under the hood.
The Bonneville GXP was good for a 0-60 mph time of 6.5 seconds in an Automobile magazine test. Just over 6300 Bonneville GXPs were produced during the model's two-year run, so good-condition running examples are probably still reasonably easy to locate.
The Bonneville shared its G-Body architecture with the Buick LeSabre, which was also discontinued after 2005. If you've ever spent time with this last generation of the Bonneville, tell us about it. The place to leave comments is down below.
2005 Pontiac Bonneville
Overview
Pontiac will drop its largest sedans after 2005, which carry on with few changes. Bonneville closes out with three models. SE and SLE have a 205-hp V6. The performance-oriented GXP uses a 275-hp version of Cadillac's 4.6-liter Northstar V8. All have 4-speed automatic transmission, antilock 4-wheel disc brakes, tire-pressure monitor, load-leveling rear suspension, and front bucket seats. SE offers an optional front bench seat for 6-passenger capacity, and now shares standard OnStar assistance with other models. Front side airbags are standard on GXP, optional for SE and SLE. Curtain side airbags are unavailable. Traction control is standard for SLE and GXP, optional for SE. Satellite radio is available for all. SEs ride on 16-inch wheels, SLEs 17s, GXPs 18s. GXPs also have uprated suspension and brakes, GM's Stabilitrak antiskid system, dual-zone climate control, 12-way power front seats, and leather/suede upholstery. The main news for '05 is that the SLE looks more like the GXP by virtue of revised nose and tail styling and a new lower-bodyside treatment. Buick's LeSabre shares Bonneville's underskin design, but has different looks and doesn't offer a V8 model.
Acceleration
V6 Bonnevilles have good pep for most needs. No opportunity yet to time a V8 GXP, but it feels considerably stronger than the V6. Pontiac says it does 0-60 mph in 6.8 sec. Smooth, responsive automatic transmission aids performance in all models.
Fuel Economy
Test SE averaged 20.6 mpg–good for a large sedan. GXP averaged 16.9 mpg in an even mix of city/highway driving. Pontiac recommends regular-grade fuel for the SE and SLE, premium for GXP.
Review Flashback! 2009 Pontiac G8
Ride Quality
SE more softly sprung than SLE, and thus floats more over high-speed bumps and dips, but both models comfortable enough. Firmer GXP has less float and more tied-down feel, but its lower-profile performance tires thump over sharp bumps.
Handling
Generally balanced and composed in any model. SLE feels sharper than SE. GXP is athletic for a big sedan, but steering lacks precision. Stopping power strong enough, but pedal effort fairly high, modulation poor.
Quietness
Smooth engines, but prominent highway wind rush and suspension/tire noise over coarse or rough surfaces.
Controls
Large gauges, but some testers don't like the red-colored instrument lighting. Audio and climate controls easy to reach and decipher, but dashboard's many buttons can intimidate the uninitiated. Interior a mix of boldly shaped hard plastic surfaces and padded panels that nonetheless lack quality look and feel.
Comfort
Front:
SE's available bench seat squeezes a middle adult. Plenty of room with buckets, but some testers find deficiencies in contour and comfort with both types. Testers also divided on safety-belt design. Belts are integrated into seatbacks; some find this convenient, others complain of poor fit over the shoulder.
Rear:
Short on head room for taller passengers; an adult will be cramped in the middle. Seat cushion too soft and poorly shaped.
Cargo Room
Cabin offers useful storage, but front cupholders don't hold large containers. Rear seat has fold-down armrest, trunk pass-through. Trunk is large, but lid's hinges dip into load area.
Review Flashback! 1974 Pontiac GTO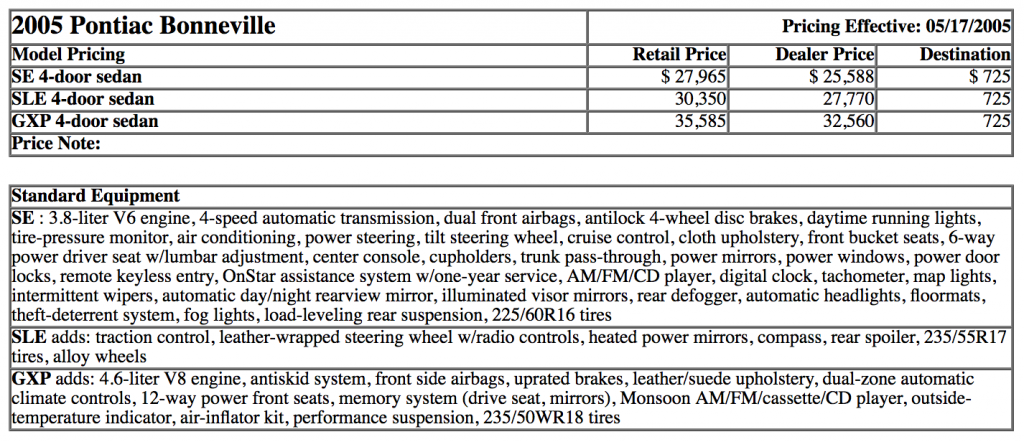 Value
Bonneville's SE model is a good big-car value. The SLE adds useful amenities for a bit more money. But ordering a few popular options pushes both into the price realm of cars with luxury-brand pedigrees, better interiors, and more refinement. The GXP appeals for its V8 power, but suffers the same shortfalls as other Bonnevilles, so it doesn't compare well against newer sporty sedans of similar price.
Editor Notes
"A big engine does not a sport sedan make–though it helps. GXP impresses in most dynamic areas, but otherwise seems too much of a gussied-up Bonneville (which, of course, it is) to compete at the $38,500 level of its sticker price."
"Hard to imagine paying this much for a car that can be had for so much less with the adequate V6, but I guess the formula works for BMW. Competent family sedan, but there are better choices."
News
Pontiac announced the decision to drop Bonneville in early February 2005, citing sluggish sales. No replacement is planned, but Pontiac probably hopes to keep some Bonneville buyers in the fold by adding a V8 GXP version of its midsize Grand Prix, expected for 2006.
Review Flashback: 2001 Hummer H1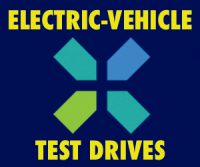 Auto Shows
Steve & Johnnie's Road Tests