We lost Pontiac sometime in 2010. A few fleet-special G6 midsize sedans were made available as '10 models, though many of them found their way into rental fleets before the end of 2009. After that, the lights went dark at General Motors's Performance Division.
While the death of long-running car brand is sad, Pontiac's death was made profoundly sadder by the promise that it was on the verge of a product renaissance.
After a couple decades of offering over-styled but otherwise characterless front-wheel-drive commodity rides, Pontiac was getting back into the performance game, and the automotive media and brand fans were pretty excited about it.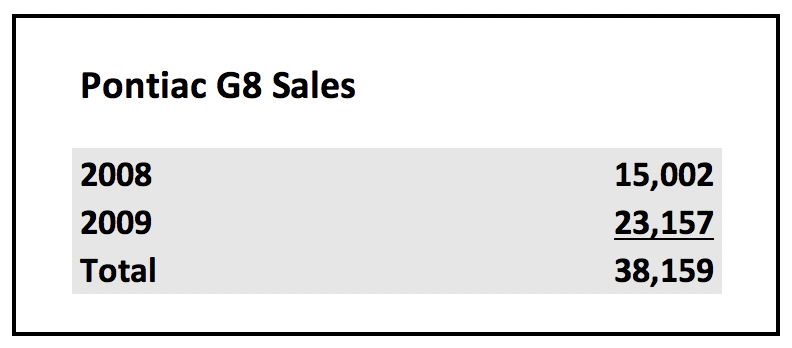 First came the noteworthy, if not particularly well received, revival of its legendary GTO nameplate for 2004 on a slightly restyled Monaro coupe from GM's Holden division in Australia. Then there was the Solstice, which debuted for 2006. The tiny rear-drive roadster was a no-frills enthusiast pleaser–arguably as much fun to drive as a Mazda Miata, if not as nicely finished.
Future Collectibles: 2014-2016 Chevrolet SS
But most promising to Pontiac aficionados was the G8. A big, good-looking sedan, the G8 boasted the power, refinement, and passenger accommodations to be legitimately compared to the likes of the BMW 5-Series, despite being priced well under $30,000 in base trim.
The G8 arrived for 2008 and was offered in base (V6) and GT (V8) guise. The V6 was the same refined 3.6-liter unit that was being used by a number of GM divisions, including Cadillac. The 6.0-liter V8 was a variant of the same engine that had spent time under the hood of the Chevrolet Corvette. Both engines were mated to automatic transmissions.
For performance buffs, the big news came for 2009 with the arrival of the GXP, which sported a substantial 6.2-liter V8 and available 6-speed-manual transmission. The GXP also boasted unique cabin and exterior trim, upgraded suspension bits, and bigger wheels and tires.
The G8 rode on General Motors's Zeta rear-drive architecture, and thus was close kin to a number of interesting vehicles, including the 2010-2015 Chevrolet Camaro and the fleet-only 2011-2017 Chevrolet Caprice PPV (Police Pursuit Vehicle).
Like the reborn GTO and the Caprice PPV, the G8 was produced in Australia by GM's Holden division. At the time, Holden produced a number of Zeta-based variants for sale all over the planet, including the Buick Park Avenue (China), Daewoo Veritas (South Korea), and Holden Commodore (Australia).
Large, stately, and legitimately sporty, the G8 harkened back to Pontiac's glory days, feeling to fans like a true son of the GTO and the Wide Track cars of the 1960s. Better yet, there was the prospect of even cooler variants on the horizon.
Promised for 2010 was the G8 ST (Sport Truck), a 2-door-pickup variant that was the car every Chevrolet El Camino lover was hoping some automaker would again produce. Also hinted at was a wagon version of the G8 based on the Australian-market Holden VE Commodore Sportwagon.
Alas, neither of those cars would see the light of day. The dreams of every Pontiac devotee were crushed in April 2009, when it was announced that the Pontiac brand would be dissolved as part of the federally guided restructuring of GM.
As for Pontiac's best car in decades, just over 38,000 examples were produced over the car's two-year run, and about 1800 of those were GXPs. Serious collectors will likely be chasing after manual-transmission GXPs, of which an estimated 800 were built.
Presented below is Consumer Guide's original review of the 2009 Pontiac G8. If you've spent any time with one of these last-of-the-breed machines, please tell us about it. The place to leave comments is down below.
2009 Pontiac G8
Overview
The 2009 Pontiac G8 lineup gains a new model, the high-performance GXP. The G8 shares its basic design with large cars from GM's Australian Holden subsidiary. In addition to the GXP, G8 is available in Base and GT trims. The Base offers a 256-hp 3.6-liter V6 while the GT has a 361-hp 6.0-liter V8. A 5-speed automatic transmission is standard on the Base, and a 6-speed automatic is standard on the GT. Exterior appearance is similar for both models, with the most obvious differences being chrome-trimmed door handles, clear taillamp lenses, and four exhaust tips on the GT. The GXP has a 415-hp 6.2-liter V8 and a 6-speed automatic transmission. A 6-speed manual is optional. GXP has a performance suspension, 19-inch wheels, and unique exterior styling. Available safety features include ABS, traction control, antiskid system, curtain side airbags, and front side airbags. GM's OnStar assistance is standard. Satellite radio and a wireless cell-phone link are newly standard on all 2009 G8 models.
Acceleration
The base car's V6 offers enough power for nearly any situation. The GT's V8 is notably more powerful at all times, and the GXP is stronger still. Pontiac says the V6 does 0-60 mph in 7.0 seconds, the GT does it in 5.3 seconds, and the GXP does it in 4.7 seconds. Those claims feel accurate to us. With the V6 and 6.0-liter engines, the automatic transmissions are responsive and smooth shifting. Both transmissions include a sport mode and a manual-shift mode. The GXP's optional 6-speed manual transmission has positive clutch and shift action. No opportunity to test the GXP with an automatic.
Fuel Economy
In Consumer Guide testing, a V6 G8 averaged 21.4 mpg with slightly more highway driving than city use. GTs averaged 17.0-18.7 mpg in even city and highway driving. No opportunity to measure GXP. Base and GT models use regular-grade gas. Pontiac recommends premium for the GXP. Note that the GXP is subject to a $1700 Gas-Guzzler Tax.
Ride Quality
All models have a firm, well-controlled ride. G8 demonstrates good bump absorption and no harshness. No opportunity to test a G8 GT with 19-inch tires. The GXP does have 19s, however, and it rides little different than a standard GT.
Handling
The steering is nicely weighted and precise. Body lean is minimal during cornering, and the car cleanly transitions from right- to left-hand corners. Despite GT's added weight, its handling is little different than that of the base model. GXP's performance suspension and beefier brakes give it slightly sharper moves than the others. Brakes offer fine stopping control with excellent pedal modulation.
Quietness
The V6 engine is notably louder than the 6.0-liter V8 under acceleration but is not intrusive. The GT's V8 is nearly mute, except for a subdued growl under heavy acceleration. The 6.2-liter V8 in the GXP has a louder exhaust note at idle and under acceleration than the GT, but the controlled rumble should please enthusiasts. G8s offer good control of wind and road noise, with some wind noise around the mirrors becoming more noticeable at higher speeds. Tire noise is fairly well controlled, even on coarse concrete.
Controls
Major gauges are large and easy to read. Most controls are well marked and located, though power window, lock, and mirror controls are grouped together on the center console rather than the traditional on-door location. Audio controls stray from North American General Motors norm, taking considerable time to master.
Review Flashback! 2011 Lincoln Town Car
Details
Understated cabin decor is assembled to a high standard. Surfaces are finished with price-appropriate materials.
Comfort
Seats are well bolstered and all-day comfortable, even for larger adults. A tilt and telescopic steering column is standard on all G8s. Base power seats are upholstered in grippy cloth. Optional premium package for base and GT adds heated leather seats and power height adjustment, features that are standard on GXP. Note that the seat-recline mechanism is a tedious-to-operate hand control, instead of the usual lever.
The back seat has plenty of knee and shoulder space but only adequate headroom for six-footers. Some passengers may find the bottom cushion a little low, but the seat itself is comfortable.
Cargo Room
Trunklid opens on space-saving strut-type hinges. The trunk is large and well shaped. The rear seatback does not fold down, but does offer a wide center pass-through for long items such as skis. Good interior storage includes glovebox, console bin, door pockets, and a useful cubby in front of the shifter.
Review Flashback! 1974 Pontiac GTO
Value
Any G8 is on the sporty end of the large-car class. Potent engines, balanced handling, and a roomy interior make G8 a Best Buy. The GT is the best value though, hitting the sweet spot between the more-sedate base car and the higher-performance GXP when it comes to price, performance, and fuel economy.
Written by: Tom Appel
on May 3, 2019.
on April 22, 2021.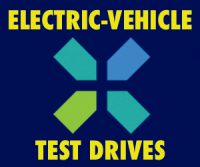 Auto Shows
Steve & Johnnie's Road Tests