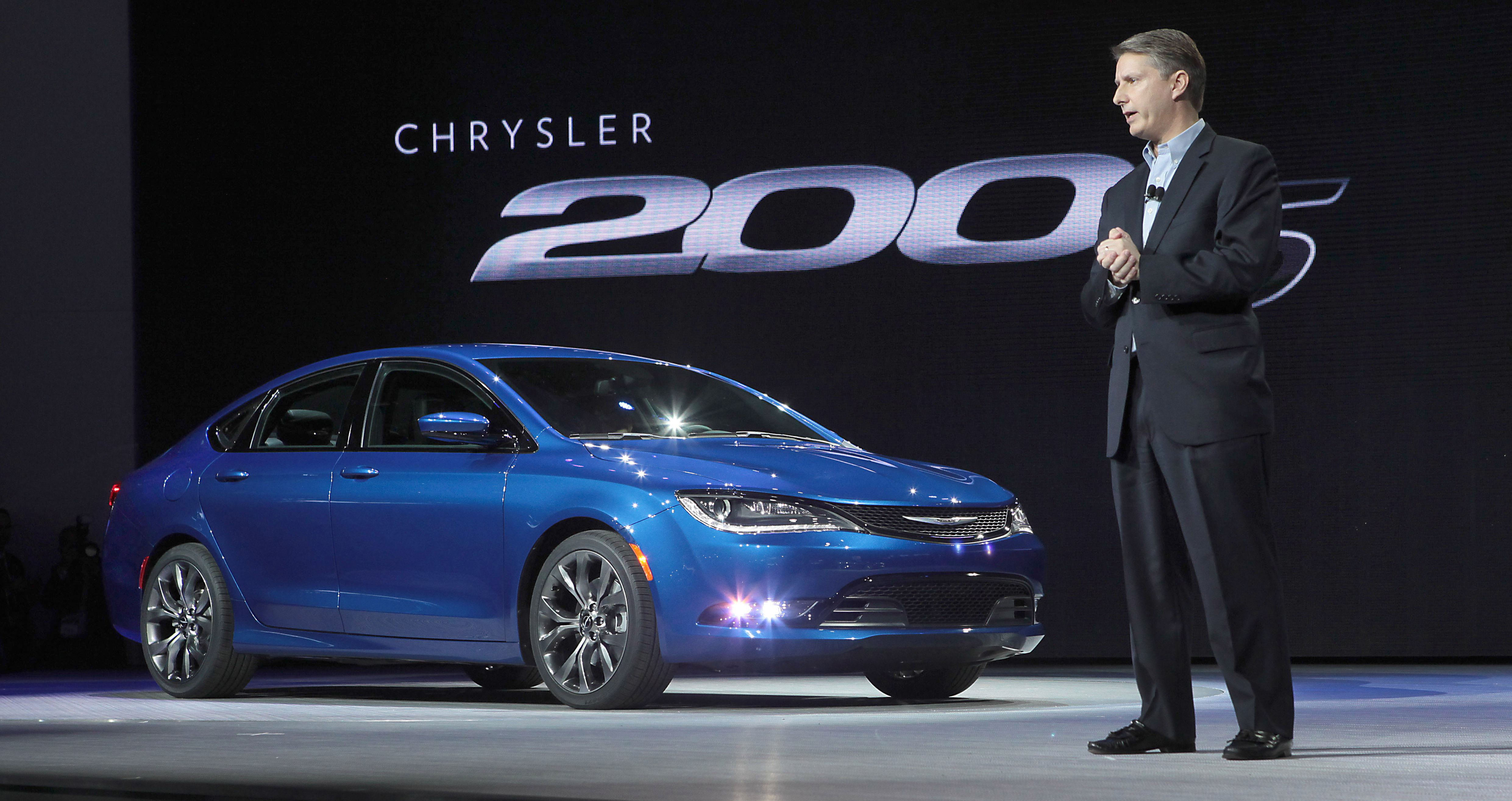 Chrysler-brand CEO Al Gardner took a few moments to chat with Consumer Guide during the 2014 Detroit Auto Show.
Al Gardner Interview
In the wake of Chrysler's debut of the all-new 2015 Chrysler 200, tell us a little bit about how the car's mission has changed. The 200 has been sold to buyers as a value play for a number of years now. With this redesign, will Chrysler be looking to add near-luxury shoppers into the fold?
Absolutely, and simply come up within the heart of the segment as well. So the car you're looking at on the stage, to me, that's the direction that the brand is going. First off, it's designed very specifically for the largest segment in the country.
Note: Midsize cars accounted for 2.3 million sales in 2013, outselling even full-sized pickup trucks by 300,000 units.
The existing 200 is a real good value in the marketplace, but it isn't really going to go head-to-head with the best of the best. By that I mean Camry, Accord, Altima, or the new Fusion–which is a spectacularly good car. If you want to play in that game and go head-to-head and actually beat them, you've really got to build a very sophisticated, elegant, and very technically savvy car. So what you see in that car [the 2015 Chrysler 200] is all of that, plus some. Really, the whole market is drifting into near-luxury territory.
OK, it's beautiful on the exterior. I would tell you that many of the cars, or most of the cars in that segment are stunningly good-looking vehicles. This is all about what's on the inside, and what's underneath it. When you get in it, you can feel the quality and the craftsmanship of the interior, whether it's the leather interior or the feel of the steering wheel, or that wood. This is all about the use of the wood, not just slapping wood on to make it look good. It's supposed to mean something and feel good, and that's what this is designed to do.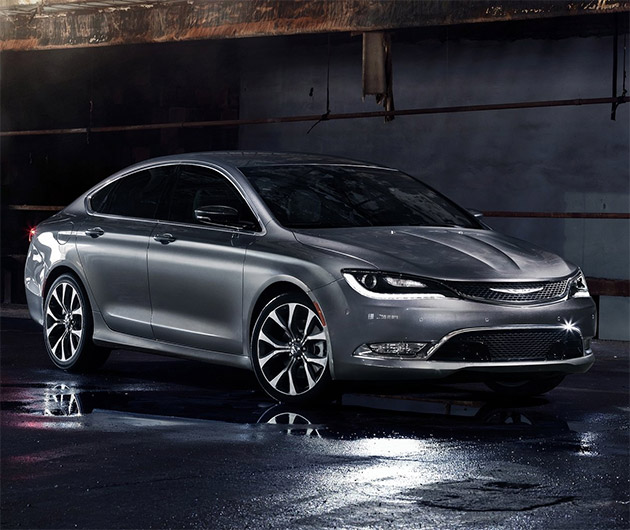 And then when you think about the technology, whether it's the Uconnect system, that big old 8.4-inch touch screen command center–which is effectively what it is–we recognize that the buyers in that segment are getting younger, to start with, and we need to play younger, so they've got to have a Wi-Fi hotspot, you've got to have Bluetooth, you've got to have satellite radio, you've got to have navigation, you've got to have all the stuff that they're looking for.
The rest of the story is if you don't go, and you don't spend, and you don't invest at that level, then the competition is absolutely going to whack you because they're just that good. So you meet the bar with the 35 miles per gallon, but we do it with a 9-speed transmission that's standard on the base car all the way through [the top-of-the-line 200] C, and you do it with a four-cylinder engine but also provide a six that's the most powerful in the segment, and then you add 60 different standard safety features, and you look at that and go, "That's the way you're going to beat the competition."
You can beat them at their own game. You add stuff that the customer is going to walk in and go, "I didn't even know you could get that on a mid-size sedan," and then you price it to the heart of the market, and then you actually price it below the market at $21,700.
So our goal here is pretty simple. It's to give that customer everything that they expect, plus a bunch of other stuff, and then value-price it below the Ford, which is the key on the domestic side, and below the Camry and the Accord, which are the keys on the import side. Then we go head-to-head and have some fun. To me, it's the first time that we've genuinely decided that we're going to go head-to-head with the best of the best, spend the money in investment, and that takes a billion-dollar investment to seriously compete with the best of the best. They're damn good at what they do.
To confirm, buyers in this segment are getting younger?
Yes.
So you've got a situation where you've got younger buyers coming into the segment, and probably doing more of their shopping digitally before actually visiting a dealership. Does this represent a new challenge? Does Chrysler need to build a product that looks better on paper now—or on a screen–that will attract buyers in to see the product in person?
I don't think that's so much the challenge, because everyone does it already. We all have websites, we all have everything you need. We have downloadable apps that we launched. We can do it on any system, I don't care if it's an Android or Apple. Everyone is fairly sophisticated who wants to play. We're all really good at that.
More Chrysler 200 news and reviews
The reality is that the car has to meet that younger customer and what they're looking for. That's why the Wi-Fi hotspot, the Bluetooth, the satellite radio, the touchscreen, the voice-command systems are so important.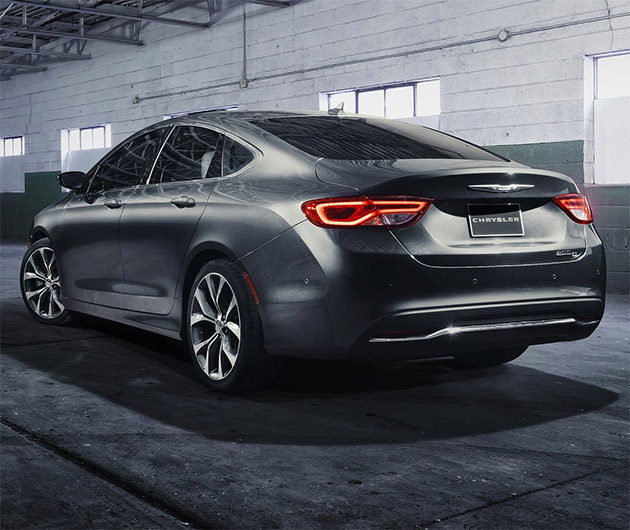 We talk about the transmission being a 9-speed that no one else does as a standard transmission. What we don't talk about enough yet is the electronic E-Shift, the rotary dial E-Shifter that no one else has in the segment. We don't talk about, and we probably should, the all-wheel drive system. No one else has an all-wheel-drive system that decouples the back end when necessary and automatically in order to improve fuel economy.
Those are the things, when you look at it, that are going to attract a younger buyer. The rest of the story is the blue car on that stage. Also, we've never had a sport model on the old 200. That car [200S] is designed to attract a younger buyer who is interested in something with a little—I called it "attitude" yesterday. You get into that, and it feels really cool, because you get the paddle shifters, you get the sport suspension, and you get the performance look to the car along with those cool wheels. You get it for under $25,000, and so you don't have to stretch up to something that is probably outside most peoples' ability to pay.
And you're getting it at a price point where you look at it and go, "I get all of that?" And if you want to put the V6 in it, have at it, and if you want to put an all-wheel-drive system in it, it's great. But that's a car that people can be proud of and aspire to own. So when I look at it, you want to get younger buyers interested in the brand, and the way you do that is all about product.
The 200 was good for about 120,000 sales in 2013. Obviously you guys will be looking for more than that this year. Where do you see the conquest sales coming from?
I think the reality is—I'm going to go back three and a half years and look at the Kias and the Hyundais of the world, who frankly at that time were not the strongest brands. We learned a lot from the launch of the Sonata, for instance. They have tremendous products, and they built their brands based on product first, and they conquested like mad, recognizing that neither Kia nor Hyundai had great [customer] loyalty.
They [Hyundai and Kia] didn't have tons of customers at the time, and they built a car that would genuinely compete, and then they marketed the heck out of it. They spent a ton of money launching those vehicles. But it wasn't just a launch-it-and-leave-it strategy, it was a launch-and-sustain strategy. That is what you've got to do in the midsize-car segment.
So, can we go after Ford? Yes. Can we go after Chevrolet? Absolutely. Can we go after Kia and Hyundai? Yes. The rest of the story is yeah, I'm going to go after Honda and Toyota at the same time because when you get into a Camry and you get into an Accord, and then you get into a 200, and you put them side-by-side, we'll beat them at their own game.
We're going to get a customer that walks into the Chrysler showroom, which is really the rest of the game, because that's about perception. You need to be able to go head-to-head and pull those customers out, so just prime them. Because I'm going to give you everything you want plus some, and I'm going to do it for less money, and you're going to get such a better value. That's what Kia and Hyundai did. Incredibly smart marketing.
Chrysler is still going with a V6 as the top engine option in the 200. Every maker but Honda and Toyota have abandoned the V6. Is it Chrysler's plan to stick with the "big engine" strategy, or is a smaller turbocharged 4-cylinder engine in the works?
We've spent a lot of time looking at powertrain. I would tell you that there's not much that we're going to talk about now beyond what we see today. So yes, we have a 4-cylinder, it's the "Tigershark" 2.4-liter engine. It's a very solid engine, and you mate that up with a 9-speed transmission, that gets you everything you need from power to fuel economy.
Then yeah, we want to have a six, because we want to give that option of power on top. As I said, it's the most powerful engine you can get in the segment. So it's going to perform spectacularly well with improved fuel economy. Are we looking at turbos? Yes. Are we looking at all sorts of different stuff? Absolutely. We do that like every manufacturer. Yes, of course we're looking at it. But are we talking about announcing it short term? No.
Looking at the 2014-2015 Chrysler lineup, you now have what appears to be a very competitive lineup. You have a large car, a midsize car, and a minivan. Is there something you would like to see added to the mix? Do you see an obvious or not-so-obvious product gap that needs to be plugged?
I think the reality of Chrysler is we don't live in a vacuum, and we live on a showroom that has four brands. So to a certain extent, that's always going to hold us back from being a full-line brand.
We recognize that we've got Chrysler, we've got Dodge, we've got Jeep, we've got Ram, and so the chances of me putting a sport-utility vehicle in the Chrysler brand are slim to none.
We don't need to add competition to the showroom floor. We have enough concern with crossover product between today's 200 and today's [Dodge] Avenger. So we'll never build another vehicle under the Chrysler brand in a space that is occupied, or will be occupied, by another Chrysler Group product.
There are white spaces that we all recognize. Between Chrysler and Dodge we don't have a large crossover, for example. We have very strong SUVs. We have the Dodge Durango, which is a 7-passenger vehicle, and it fits that market, but could we do better? Maybe.
We've got a long-term planning group under a guy named Joe Beltry, vice president of long-term planning, and that's his job to make sure that the showroom makes sense. We don't need to continue to add cars that go head-to-head on our showroom floors. That makes no sense.
So are there options? Sure. Are there opportunities? Absolutely. Does it make the Chrysler brand more relevant? Yes, absolutely. But today, the three cars we have are all long-term players, and we plan to be in the large-car segment long term. We expect to be in the minivan business long term.
What can you tell us about the Chrysler 100 compact car?
I have nothing to talk about with the Chrysler 100 right now, unfortunately. I wish I had something to talk about. But there's nothing going on.
Can you talk about how it might be positioned relative to the similar-size Dodge Dart?
It's funny, that's a story that kind of took on a life of its own, something that was reported about but that we've never talked about. So I guess I'm not at liberty to talk about what that could be. But you have the showroom, and there is a Dart in the segment. Plus we have B-segment [subcompact] entry with the Fiat 500L. As you know, the Avenger is going away.
Lastly, I wanted to know how you see the Chrysler brand, both today and in five years. Are you looking to take the brand upscale, maybe to challenge Buick, or will the brand's role be more mainstream than that?
After 90 days on the job, I will tell you that those are the major questions you ask: Where's the brand supposed to be? As I look at it, 90 days is enough time to really make a pretty good assessment of where we want to go and what we want to get done.
Here's what I'll tell you: I look at it as there's a volume group, there's a premium group, and then there's luxury. Customers get the difference. Volume guys, Chevy, Ford, to a certain extent Dodge, they are playing down here, and they are big-volume players.
The premium group is where I expect and see the Chrysler brand. By that I don't mean luxury. We're not going to play with Lexus and BMWs, we're not even going to play with Cadillac. Will we stretch to be up there with the 300C? Sure. We will always try and go close, but this is a premium group.
I don't mean by pricing, I mean by content. So what you see with the new 200 is exactly that. We design it with a ton of technology in it, state-of-the-art stuff, we pull a bunch of stuff like safety features down out of the Grand Cherokee that you can't get on another car. That makes it premium. The customers recognize that.
I'll give you an example. The collision-warning system on the 200, there isn't another car in the segment that has a collision-warning system that will bring that car to a full stop. So when you look at it, the adaptive cruise control will do exactly the same thing.
So my goal is to take content and put it into that car to make it a premium-level car where customers walk in and go, "Wow. I didn't know I got all that for the price of a volume car."
FCA Just Killed the 200 and Dart. Is the Dodge Brand Next?
So you're still looking to anchor the brand with value pricing?
Yeah, we're always going to play in the volume line, recognizing that our customers deserve a price that is supposed to be affordable, but they're going to get more than they expect for the money that they're going to spend. We're always going to be priced just that much below the competition at least from a Toyota or a Honda standpoint, and rightfully so.
The rest of the story is, though, that I want to build the Limited and the S so that customer gets way more than they expect, and that's the goal of the C. We talked about pricing this thing under $26,000. There isn't anyone who is going to build a leather interior with a 9-speed transmission with a 4-cylinder that does 35 miles per gallon with all that technology and going to price it at $26,000. The Focus, at least the Fusion Titanium can't do that. They will price it $1,500 above it. Our goal is to be right there and make it a value proposition that is premium quality.
So, roughly in line with Buick?
Yeah, I think that's right—I genuinely look at Buick as premium. But I also look at them as older. We're going to drive the customer age on Chrysler down, and that's what—we talked a lot about the technology in that vehicle. We really want to attract a younger buyer. My hope is that we attract the 25–30-year-old age group, and not everything, because we're going to focus on, let's call it the 25-65+, but we need to attract a younger buyer to Chrysler. Buick is going to sit exactly where they want to sit, and that's great. They're a little more premium, frankly, than we are. We're going to give you the price point and the value on the content so that a young person, first job, on the road to success, they aspire to own something really cool and beautiful and sophisticated, that's where Chrysler needs to fit.
So, near premium?
I call it premium.
Test Drive: 2013 Chrysler 200 Touring
Al Gardner Interview