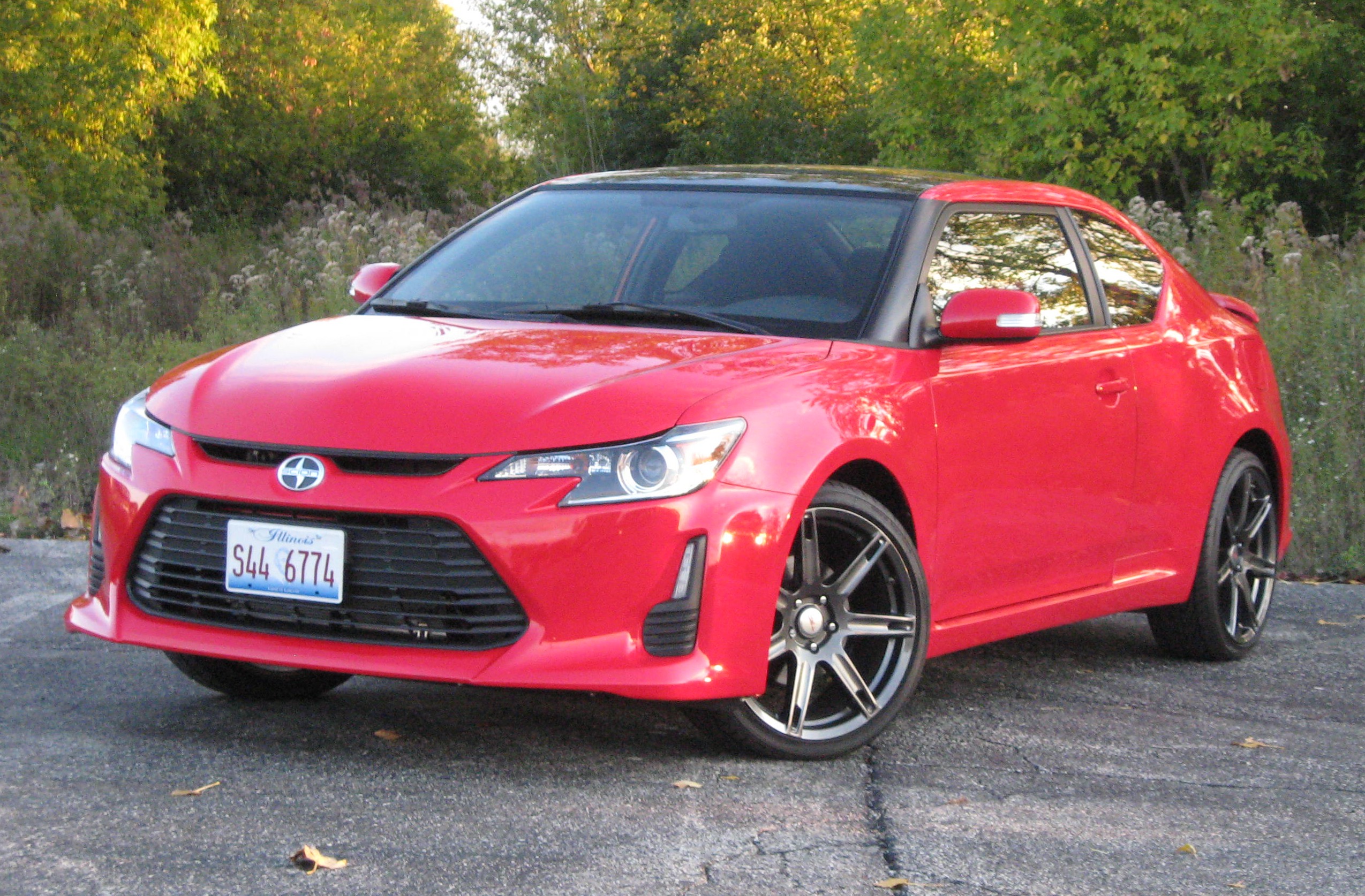 2014 Scion tC

Miles Driven: 615
Fuel Used: 24.1 gallons regular unleaded
Real-world fuel economy: 25.5 mpg
Driving mix: 60% city, 40% highway
Base price (manual transmission): $19,210 (not including $755 destination charge)
Options on test car: TRD Performance Exhaust ($699), TRD 19-inch wheels ($2199),
floor mats ($184), rear spoiler ($444), illuminated door sills ($375), premium audio ($1198)
Price as tested: $25,064
Quick Hits
The great: Low starting price, spacious rear hatch
The good: Loads of customization options, useful rear seat
The not so good: Numb steering, unwilling engine
John Biel
The 2014 Scion tC isn't too bad of a little car for $19,210. Is it still that good of a car at $24,309, however?
Upgraded (though not substantially changed) for '14, Scion's economy 2-door hatchback starts out as a maneuverable and roomier-than-expected runabout that's also affordable. The trick is keeping it that way. Since Toyota's rollout of the youth-oriented Scion brand in mid 2003, one of its key marketing tactics has been to open the door to owner customization of their vehicles. As fun as that sounds, it can run up the tab.
The tC we tested had six options on it, the costliest being a premium audio system and 19-inch dark-tint alloy wheels. Add in a TRD performance exhaust, carpeted floor and cargo-area mats, a decklid spoiler, and illuminated door sill and the total option outlay came to $5099—equal to 26.5 percent of the base price of the car.
One thing on which funds cannot be lavished is the engine: There's only one, a 2.5-liter dohc 4-cylinder that makes 179 horsepower. It comes with a choice of 6-speed manual or 6-speed automatic transmission. Our tester was a manual model with a fairly precise shifter. While the stickshift allows drivers to pick their spots and try to wring what they can out of the engine in every gear, there's an odd kind of congested feeling to the powerplant that doesn't seem to live up to the big wheels/deck spoiler/rorty exhaust image boost. Perfect low-speed launches seem to require a little rev-building before letting off the clutch, otherwise there will be a brief moment of bogging. As for economy, this driver averaged 23.0 mpg over a 134.2-mile stint that included 63 percent city driving.
If any function of the car veers toward the sporty end of the spectrum it's the ride and handling balance. There was a pleasing ride firmness that stopped admirably short of harsh or jolting over road imperfections. Steering was responsive, braking was prompt, and cornering lean was well reined in.
Inside, this sub-6-foot tester found sufficient leg and head room in the front of the cozy cabin. The nice trick about the tC is that, contrary to a lot of small 2-doors, it also does a fair job of accommodating a couple of adults in the rear seat. The seat cushion may be a tad low, and head room is not especially ample despite a squared-off roofline, but there's acceptable leg room (maximized by indentations in the back of the front seats) and entry and exit are easier than in many other coupes. The front-passenger seat tracks very far forward to assist in this.
Scion's Dead. Here's Which Models Live on as Toyotas (Full Brand Gallery)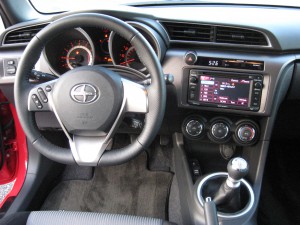 Once ensconced in the tC, though, its pretty clear that it's an economy car at heart. There's lots of hard plastic on the dash and side panels and little in the way of storage for incidentals. A couple of open cup holders form a figure-8 in the center console. A few soft bags or a week's worth of groceries for two will fit in the flat-floored cargo hold, but it's uncovered, so contents can be observed through the back window. On the plus side, the driver does get to grip a leather-covered flat-bottomed sport steering wheel with built-in audio buttons. Other standards included a panoramic glass moonroof; power exterior mirrors with integrated turn-signal indicators; air conditioning; 60/40 split-folding rear seats; and a Pioneer audio system with 6.1-inch touchscreen, a USB port, and Bluetooth telephone and music-streaming capability.
Clearly, the tC is hardly bereft of charms in its base sub-$20,000 state. The trick, then, is to keep from getting carried away with add-on stuff that doesn't fundamentally change the car from what it already is. Otherwise, you'll have to confront our original question, and the answer is "no."
Tom Appel
My problem with the tC is that it isn't what I expect it to be. In keeping with Scion's intended affordable/fun/practical brand persona, I expect the tC to be a bargain Acura Integra incarnate, or possible something along the lines of a Toyota Celica Lite, but, sadly the tC just isn't that much fun to drive.
Though adequately powerful for playful motoring, the tC's big four-cylinder engine doesn't rev all that freely, and the car's steering is dull and lacks meaningful feedback. These demerits amount to something of a crime, because the tC is otherwise a rather practical vehicle, and a pretty-good value, to boot.
The tC's rear seat is actually useful, the car's late roof taper allows for surprisingly large amounts of cargo to be stashed in the hatch area.
I frequently find myself recommending the tC to folks looking for a decent car for first-time drivers. I do this because the car looks sporty (and feels sporty with the optional TRD exhaust), isn't fast enough for youngsters to get into trouble with, and doesn't cost a bundle. That, and teen drivers typically respond well to the notion of piloting a Scion.
Ultimately, if you're looking for an affordable fun machine, this isn't it. If you want a fun Scion, you'll need to commit about $5000 more to your purchase and go sign up for the delightful FR-S, a rear-drive handling marvel that looks, feels, and sounds like joy on wheels.
Future Collectible: 2013-15 Scion FR-S and Subaru BRZ
Rick Cotta
Since its introduction for 2005 – and through its redesign for 2011 – Scion's tC was a sporty little 2-door hatchback aimed squarely at those on a budget.
That aim is a little higher now. Of course, prices on all cars have risen of late, largely due to mandated safety features and generally expected convenience and infotainment items, but the bottom line is that the tC's bottom line – including destination — now starts at just a hair under $20,000. And that's with a manual transmission. Our bright-red tester was fitted with a number of options that upped the ante to more than $25,000 – a decidedly non-"budget" figure … at least to my thin wallet. But in base form, what it gives you that most others at that price point don't is a coupe body style with a sporty flair.
It's rather a coincidence that I drove the tC just after a new Mazda 3 i 4-door hatchback, also with manual transmission – and also bright red – that stickered for just about the same price. Which made for an interesting comparison.
Without question, the tC is far spunkier, at least at lower engine speeds – what would normally be used in around-town driving. That's hardly a surprise given that its 2.5-liter four has a half liter on the 3 i's 2.0, but it really felt like more than a half-liter difference. It also sounded like more, courtesy of the tC's optional (at $699) TRD Performance Exhaust that produced a roarty note under acceleration. Input some throttle – particularly at low engine speeds — and the tC pulls instantly and quite strongly, whereas the Mazda 3 labored to gain revs. The tC can also "slow-roll" a stop sign in second gear, something you really only try once in the 3. Both had fine-shifting manual transmissions, the tC's being a bit notchier, but in a positive, toggle-switch kind of way. Clutches on both were also smooth.
One thing they had in common was a surprisingly docile ride. Whatever the tC lacked in sportiness it made up for in ride comfort, which is probably more in keeping with the tC's mission as a sporty car rather than a sports car.
From a daily commuter standpoint, about the only complaint I have would be the driver's seat. For some reason, the prominent side bolsters conflicted with my rather narrow frame, yet none of my (somewhat wider) cohorts seemed to have any problem.
About 75 percent of my 283 miles in the tC were spent on the highway, and I averaged a rather impressive 29.7 mpg (on a car EPA-rated at 23 city/31 highway). Less impressive was the noise level. While the aforementioned TRD Performance Exhaust sounded neat around town, it produced a constant drone on the highway. But that was merely background noise when compared to the mighty roar produced by the optional (at a eye-popping $2199) 19-inch TRD wheels and tires, which were loud enough to make normal conversation difficult. On the bright side, wind noise seemed fairly low, and most of the din (as well as much of the bottom-line price) could be eliminated by sticking with the standard tires.
Had I been offered my choice, I'd probably have chosen the Mazda 3 i over the tC, but I'm hardly the intended demographic. Besides, while I'd gladly trade the sporty look of a two-door coupe (with its long, wide-opening doors that are a parking-lot hindrance) for the convenience of a 4-door hatchback, that wouldn't have been the case in my younger years. As such, I can certainly see how the tC might appeal to an audience that wants to look cool without spending a bundle, and – minus some of the expensive add-ons of our test car – Scion's little sportster fills that bill.
Scion Shocker! FR-S Smokes Corvette