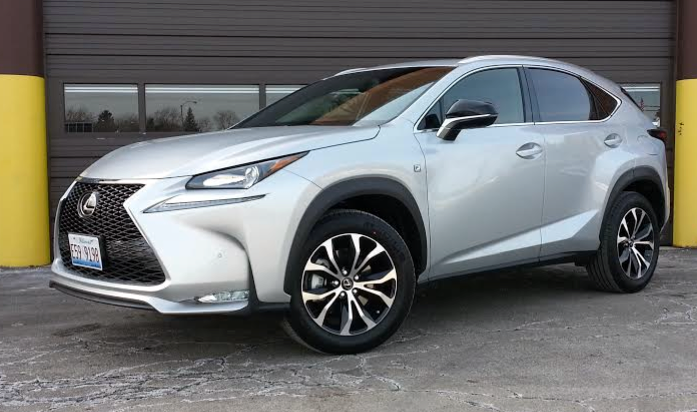 2015 Lexus NX 200t F Sport AWD

Class: Premium Compact Crossover
Miles Driven: 671
Fuel Used: 29.2 gallons
Real-world fuel economy: 23.0 mpg
Driving mix: 65% city, 35% highway
EPA-estimated fuel economy: 22/27/24 (city/highway/combined)
Base price: $37,980 (not including $925 destination charge)
Options on test car: Navigation Package ($2140), Premium F Sport Package ($2045), auto-dimming mirrors with blind-spot alert ($660), park assist ($500), power hatch ($400), wireless device charger ($220), Homelink garage-door opener ($125), heated steering wheel ($150), cargo mat ($99), cargo net ($69)

Price as tested: $45,313
Quick Hits
The great: Impressive cabin fit and finish

The good: Plenty of power, decent fuel economy–power considered

The not so good: Less than linear power delivery

Click here for more NX price and availability information
John Biel
The steadily growing group of luxury-class compact-crossover SUVs newly counts a Lexus—the NX—among its ranks for 2015. This smallest of Lexus sport-utilities comes with a choice of two powerplants (one turbocharged, the other a hybrid), front-wheel or all-wheel drive, and base or F Sport gear.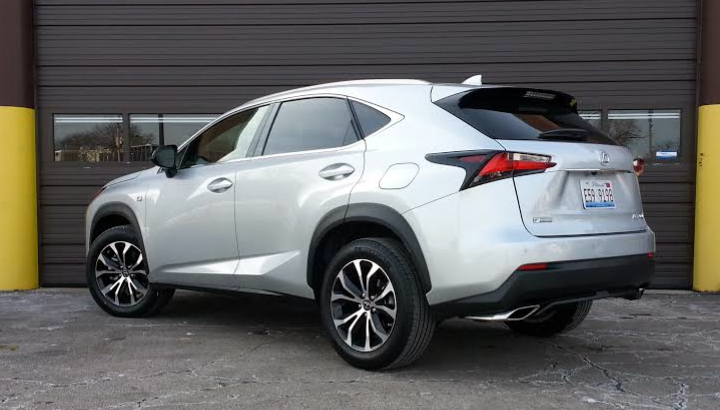 Consumer Guide® editors got to try out the AWD F Sport NX 200t with the brand's first turbocharged gasoline engine, a 235-horsepower 2.0-liter 4-cylinder. The engine features a Lexus-built turbocharger and an air-to-liquid intercooler. It is lively and responsive but with a whiff of turbo lag. All models can be set, via a console dial, in "Normal," "Sport," or "Econ" modes. This modifies throttle response and power-steering assist from mode to mode. To this driver, Econ felt the most "different" of the 3, with low-speed acceleration that is more restrained. (If an emergency situation arises that calls for faster action, a good tromp of the pedal will override the setting and the engine will respond in full.)
Hooked to a new standard 6-speed automatic transmission, the 200t's engine employs the Atkinson-cycle principle, which alters intake-valve operation for better fuel efficiency—and, thus, economy with some sacrifice of power—under reduced load. This driver averaged 21.17 mpg in the test vehicle after a stint of 155.7 miles, 63 percent of it in city-style operation. That isn't particularly breathtaking—EPA estimates are 22 mpg in city driving, 27 on the highway, and 24 combined.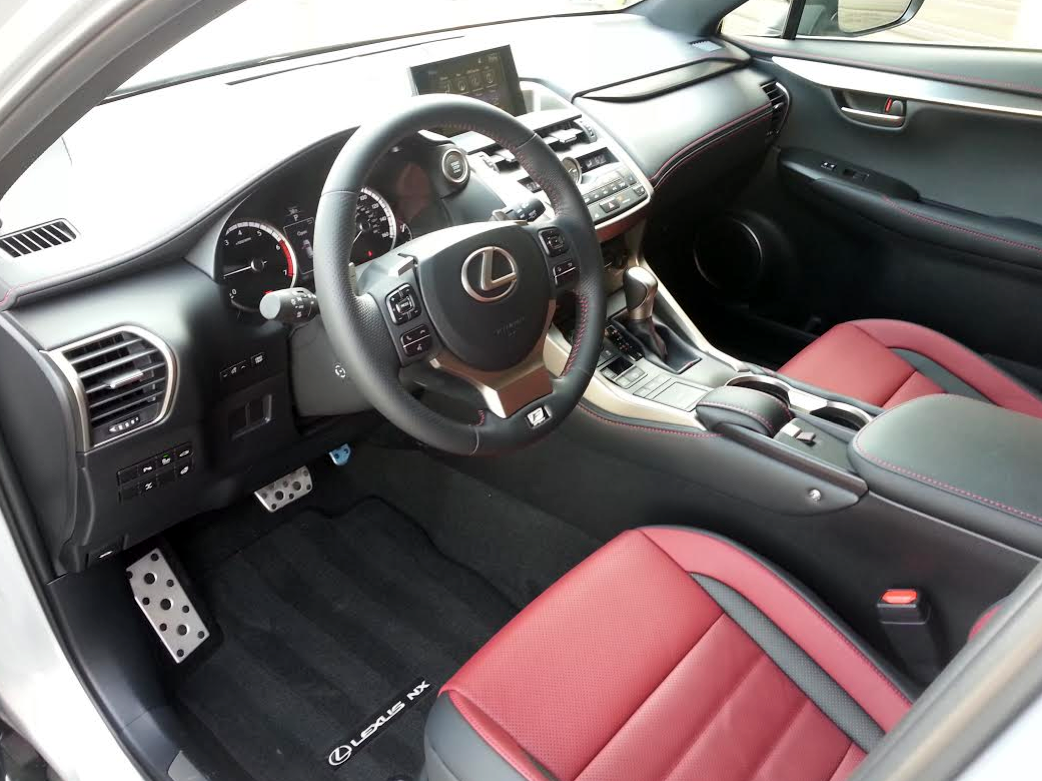 The petite NX is fairly nimble, and it displays attentive response to steering inputs—though this tester more than once noticed a little torque steer when punching the accelerator. The 200t's Dynamic Torque Control system relies on an electromagnetically controlled coupling in the rear differential to automatically engage all-wheel operation when needed. In normal driving, torque is directed solely to the front wheels, but up to 50 percent of the available twist can be channeled to the rear when the need arises.
To the standard front MacPherson-strut/rear double-wishbone-and-trailing-arms suspension the 200t F Sport package adds stiffer bushings and additional stabilizer bars front and rear, both with an oil-filled piston at the center to absorb shocks and quell noise and vibration. Eighteen-inch alloy wheels replace the base 17s, too. Even with these changes, the F Sport chassis is hardly stiff or twitchy, and ride is generally composed and pleasant. It's quiet as well, thanks to a well-executed unitized body structure.
Lexus NX: Lexus Epands by Getting Small
One feature that made its debut in the NX is the touchpad-directed Remote Touch Interface central controller included with the navigation option package. As on a tablet or smart phone, it lets users "pinch," double tap, or push to access info or change views on the 7-inch display screen in the top center of the dash. The touchpad is easier to use than Lexus' usual "joystick" system (used in NXs without navigation), and sensitivity is adjustable, but it still demands some attention from the driver. Climate and some radio settings can be set via buttons on the center stack, but they are displayed on the screen.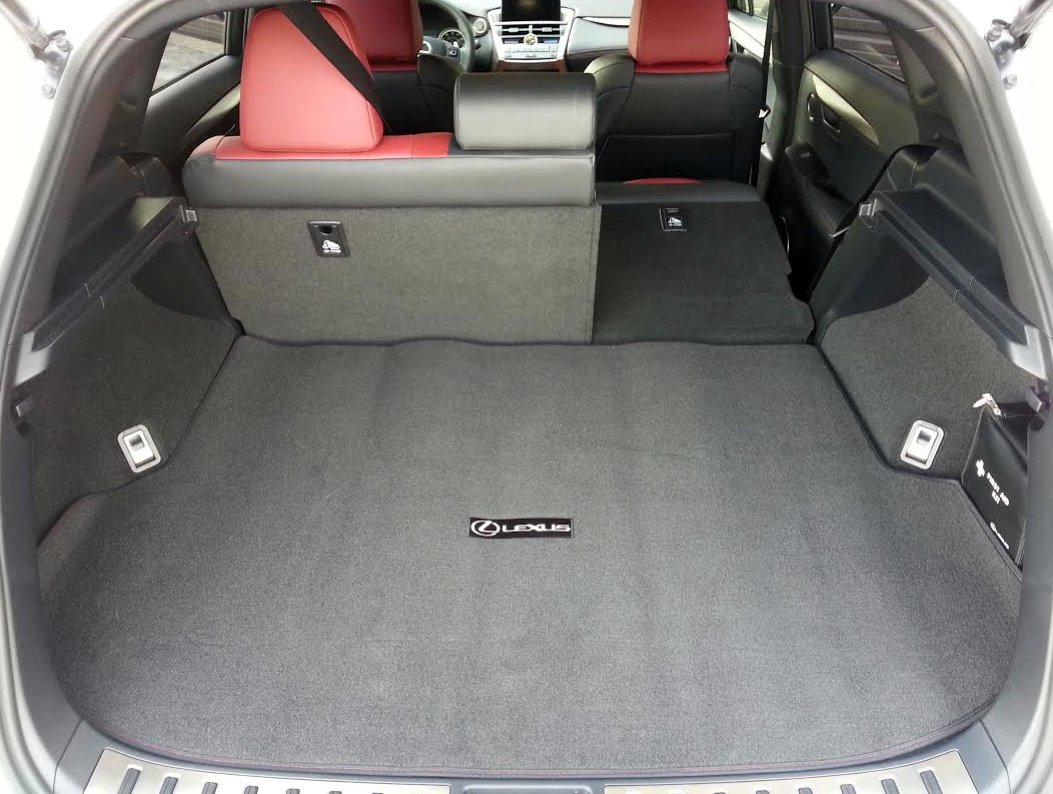 Between the tachometer and speedometer dials is a programmable thin-film transistor (TFT) display of vehicle information. On the F Sport, the dials have distinct graphics, and the information display includes a turbo boost gauge and a g-force meter. The boost gauge is kind of fun to watch but forget it in direct sunlight, which washes out the display. One other F Sport feature: "Active Sound Control" allows the driver to dial up the exhaust-sound volume in the cabin for a sportier ambience.
There's an upscale vibe to the interior. Soft-touch materials are in evidence on the dash top, around the glove box, and on the upper half of each door panel. F Sports come with imitation-leather upholstery—ours was done in red and black with red stitching for a dramatic look—and textured-metal highlights adorn the dash and doors.
Seats are supportive, especially in F Sports, which have a grippy, firmly bolstered design all their own that might not be suited to every body that settles into them. Front head room and straight-ahead leg room are very good but there's not a lot of space for legs and knees between the console and door panels. The sloping roof pillars are thick, impeding over-the-shoulder visibility, and the view directly to the rear is hemmed in by rear head rests.
2015 Lincoln MKC: American Luxury Cute Ute
Rear seats are positioned a little higher than the front seats. Leg room is sufficient for grown-ups and 3 children will fit across the rear seat. Head room can be a close fit for adults, but manually adjustable seat backs—a nice touch—can provide a little more space.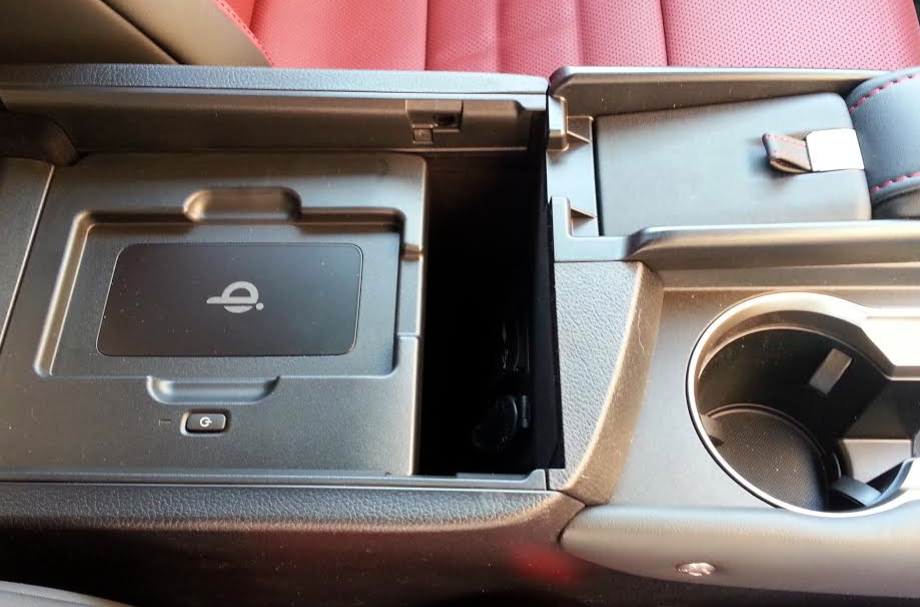 The roomy rear cargo area loads at bumper height, and has several tie-down hooks and a tray for incidentals under the floor pad. For additional capacity, rear 60/40-split seats fold nearly flat. The rear cargo cover folds and stows out of the way atop the spare tire. Interior storage features an ample glove box, and a modest covered console cubby with USB and power ports. Front-door pockets include room for a bottle, but rear pockets are just bottle-sized. Pouches are affixed to the backs of the front seats, and a pull-down center arm rest in the rear seat carries twin cup holders. The cubby box is home to an optional charging tray for wireless charging of compatible mobile phones and devices. While it blocks access to the console box when in use, it does flip up to provide access to the storage space.
The NX 200t F Sport starts at $37,980 with all-wheel drive ($1400 more than a front-wheel-drive version), and includes model-specific items like a perforated-leather steering-wheel wrap, paddle shifters, fog lights, LED daytime running lights, and F Sport door-sill scuff plates. CG's test example ran up to $45,313 with delivery, however. It was packed with the navigation package (including the Enform infortainment-system app suite), the F Sport Premium Package (heated front seats, power moonroof, and power tilt/telescoping steering wheel), a power liftgate, and much more.
Damon Bell
I'll be frank—the Lexus NX struck me as a pretty ghastly design when I first saw it, but somehow the radical look has grown on me… somewhat. It helps to experience one in the flesh instead of in photos. In person, the luminous, high-quality paint finish and impeccably finished interior are more apparent.
Our tester's interior was one of the most impressively finished cabins I've seen at this price point. The fit and finish is fantastic, and the detailing is borderline obsessive—for example, the exposed bolt heads on the center console are each emblazoned with three "Lexus" scripts. The detachable vanity mirror in the center console is another unique touch. Our NX was equipped with the optional Qi wireless device charger, which was located in the center-console storage bin. I'm sure it's a handy feature for some, but personally I would save the $220. The charger blocks most of the console bin, and flipping it up is a bit of a hassle.
The F Sport trim brings some sporty design touches inside and out, in addition to the stiffer suspension. The front seats have pronounced bolsters on both the backs and bottoms. I appreciated the snug feel, but the seat-bottom bolsters make entry/exit a wee bit more cumbersome. Rear seat space is quite cramped, at least for tall guys like me.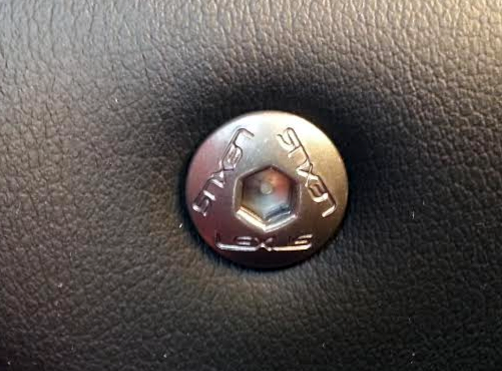 From behind the wheel, the NX 200t F Sport has a pleasingly athletic personality that doesn't impede much on the luxurious feel. Despite the sport suspension, our tester felt reasonably smooth over all but the sharpest bumps. The turbo engine isn't pin-you-back-in-your-seat fast, but once it spools up it delivers satisfying thrust and a distinctive growl.
The NX 200t F Sport seems like a vehicle that is well suited for today's thirtysomething buyer. It has a genre-bending, jack-of-all-trades feel—it melds ostentatious, sport-sedan looks and athleticism with the cargo versatility and all-weather capability of a premium compact SUV. It makes a statement in a proper, social-media sort of way, and it delivers genuine luxury at an accessible price point.
Rick Cotta
The first premium-compact SUV from Lexus is loosely based on the excellent Toyota RAV4, which means this higher-end (and more expensive) version has to justify its position with some added substance. It does that, but not all of it comes off exceptionally well.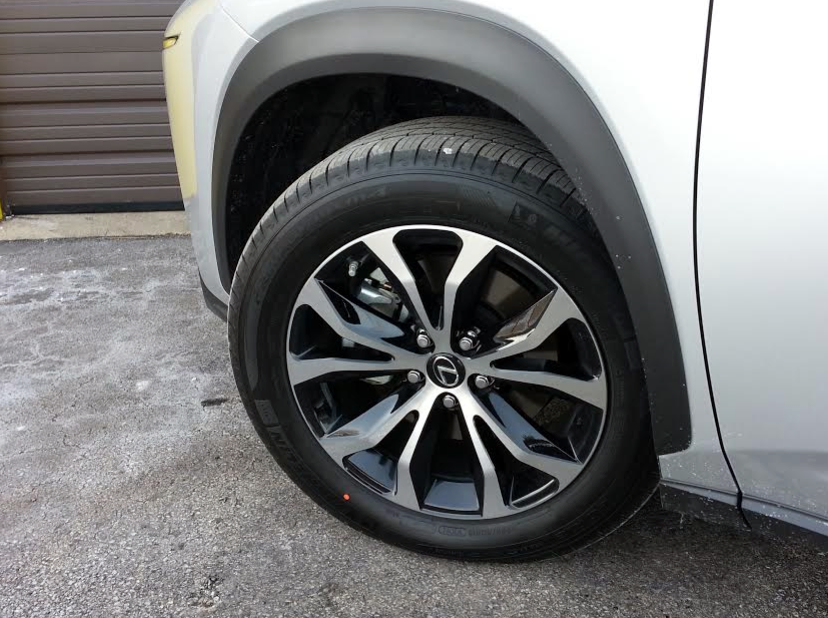 Power is one area in which the NX shows a clear advantage over the RAV4; it's quite stout for a 4-cylinder, even a turbocharged one. John mentioned the brief turbo lag exhibited by the 2.0-liter four, but it's worth noting that while it's quicker to respond than most turbocharged engines I've driven, that response is not always linear. It's mostly apparent when rushing things a bit. Floor the throttle from a stop, and the NX moves off the line in a gentlemanly manner, but the power hits about 10 feet out rather than the usual 20. Do that around a corner, and you'll fight some torque steer. The transmission quicks down quickly–whether part-throttle or full-throttle–for more passing punch, but here again, you may end up with more power than you expected, and it often comes in a bit of a surge. I averaged 27.3 mpg in 266 miles of 80% highway driving–which is good for the power available–but it would be more impressive if the NX didn't require premium-grade fuel.
While John felt the NX's ride was "generally composed and pleasant," it seemed a bit stiff to me; however, this was the sportier F Sport version, so that's to be expected. Wind, tire, and "passing car" noise are very low at highway speeds, but tar strips and the like produce a resounding "thump," which also shows up around town. The engine produces a subtle moan under part-throttle acceleration that becomes a whine when pressed.
Test Drive: Lexus LX 570
Although the front roof pillars are thin enough to allow a decent view around them, the side and rear pillars are quite "heavy." The view back is also restricted by the tall, rear-seat headrests, though the standard rearview camera helps when backing–though it would help more if it provided the wider-angle (180-degree) view of some competitors.
Interior storage space disappoints, as there's nothing besides a moderate-size glovebox, good-size 2-tier console box (with AUX, 2 USB, and 12-volt ports, along with our tester's optional charging pad), two open cupholders, and map pockets in the doors; more small-item storage handy to the driver would be appreciated. Rear cargo space is ample and useable, and the rear seat backs fold level with the floor and nearly flat. However, if the front seats are moved far back, you'll have to remove the rear headrests first. 
While front passenger room is good, it seems anyone much over 6-feet tall would find headroom lacking in back, along with legroom behind a really tall front seater. 
My biggest complaint with the NX has to do with what has now become an almost universal Lexus feature: the touch-pad infotainment control system. Not only does it take your eyes off the road (the touch pad being mounted on the console), but it requires more deliberate effort to accomplish most tasks. Touchscreens have their own problems–mostly fingerprints–but they're almost universally quicker and easier to use.
There's a lot that comes with a Lexus that isn't reflected in the product itself (such as higher esteem, a better warranty, and first-rate dealer service), but I'm not sure the NX thoroughly trumps a loaded RAV4 in terms of overall substance. That goes for some direct luxury competitors as well, making the Lexus an interesting but hardly stand-out entry in what has become a very competitive market.