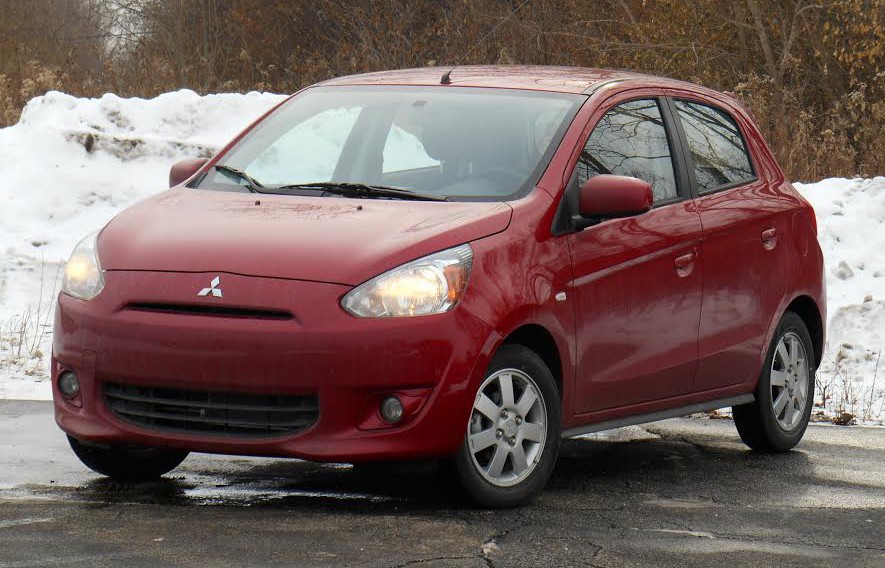 2014 Mitsubishi Mirage ES
Dates Tested: 12/16/2013-12/30/2013
Miles Driven: 266
Fuel used: 8.0 gallons
Real-world fuel economy: 33.3 mpg
Driving Mix: 70% city, 30% highway
Base Price: $15,195 (not including $795 destination)
Options on test car: None
Price as tested: $15,990
Quick Hits
The great: Lots of features for the price, good fuel economy
The good: Rides well for a small car, decent passenger space
The not so good: Noisy engine, wind rush on highway, some drivability quirks
John Biel 
One of the things that you're sure to appreciate about the 2014 Mitsubishi Mirage is its fuel mileage. The EPA rates it at 37 mpg in the city and 44 on the highway; in our tests, this driver averaged 35.99 mpg over 159.6 miles, with 66 percent of that under city conditions.
So, yay!, it's going to be a long run between fill-ups. Unfortunately, you'll have to put up with the rest of the car between those widely spaced happy moments.
The trouble starts under the hood, where sits a 74-horsepower 1.3-liter dohc 3-cylinder engine. It groans and vibrates when it starts, it groans and vibrates when it moves the car down the road—it just groans and vibrates. And you'd probably groan, too, if you were this slow. The ES tested came with a standard continuously variable transmission (CVT) that behaves like an automatic. As far as we could tell, it was no friend to the little engine in the get-up-and-go department. Kickdown for passing was, as they say in economics, a lagging indicator.
Ride is firm and verging on choppy (wheelbase is a slight 96.5 inches). At least the Mirage steers somewhat nimbly and is maneuverable in tight spaces.
Read 'The 'i' Is Back With a Vengeance (That's Mitsubishi i)'
Even in the "high-end" ES, which starts $1200 higher than a DS with optional CVT, the interior is subject to lots of hard plastic surfaces. At least the black cloth seats had a few red highlights woven through them to break the monotony and the steering wheel and shifter knob were leather-wrapped (an ES feature) for a nicer touch. There's decent head room front and rear, but adults in the rear seats will find themselves running out of knee room, particularly if a lanky sort is sitting in the seat in front of them. Entry and exit are accomplished easily enough, but a thick hatchback rear-roof pillar impedes over-the-shoulder visibility somewhat. Straight-back vision is pretty good if the rear-seat headrests are removed.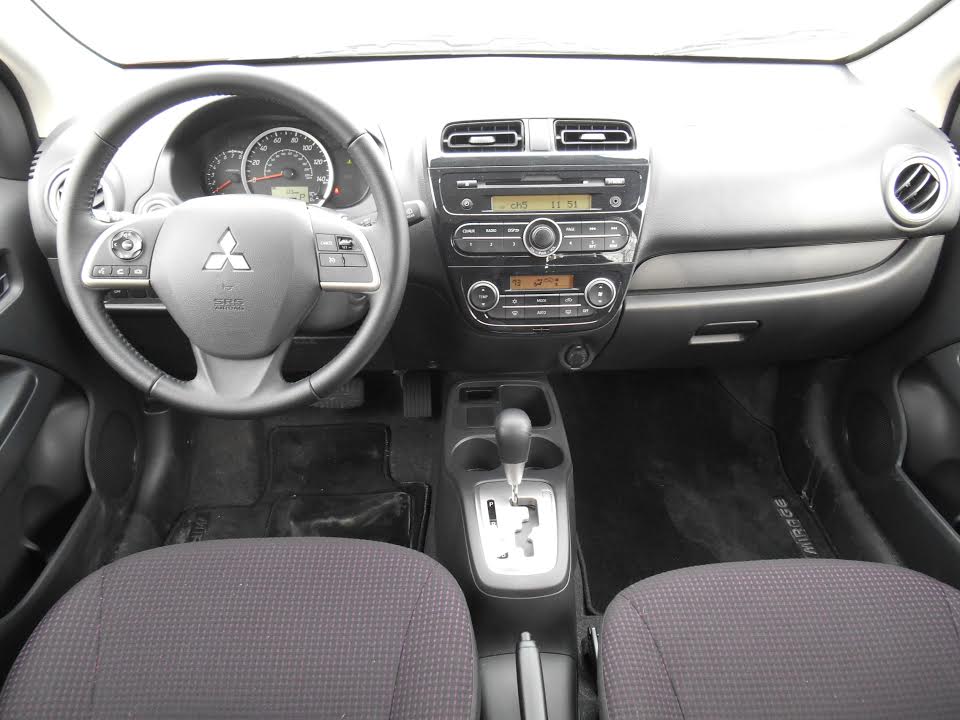 There's not much in the way of storage space for passenger incidentals: a small open bin far to the front of the center console, 3 cup holders (one of which is molded into the back of the console for use by a rear-seat passenger), and a glove box and door pockets of some useful capacity. There's sufficient covered space inside the rear hatch for a week's worth of groceries or two or three soft travel bags. Rear 60/40 seats fold with the pull of a cord accessed through the cargo hatch, but they don't fold fully flat and the retracted seat backs sit an inch or so higher than the rest of the cargo floor.
The Mirage ES starts at $15,195 and even with delivery stickers for just shy of $16,000. That includes such features as 14-inch alloy wheels on low-rolling-resistance tires, fog lights, automatic climate control, Bluetooth telephone connectivity, steering-wheel audio controls, a one-touch button starting, a FAST-Key electronic entry and starting system, and a tilt steering wheel in addition to the features mentioned above. That wouldn't be a lot to spend for most cars, but after driving the Mirage a while with its compromises and shortcomings, it will seem like too much.
Somehow, we suspect that buying a Mitsubishi Mirage will be a little like getting a boat. Your two best days will be the day you get it and the day you get rid of it.
Rick Cotta
Although the new Mirage is cheap to buy and cheap to drive, those merits come at a price. One of them is noise. The little 1.2-liter 3-cylinder (yes, 3) protests loudly under even normal acceleration, and wind rush is quite pronounced at highway speeds. The optional CVT automatic transmission fitted to our test car is partially to blame for the former, as it holds the 74-horsepower engine at constant mid-range revs during acceleration, and the engine isn't really happy there. Flooring the throttle from a stop brings a slight shudder on take-off, after which the car accelerates with decent pep—and no small amount of protest. While underway, stabbing the throttle for more passing power results in a fairly quick "kickdown" from the CVT, but power itself isn't great, and that goes double at highway speeds. All that said, however, the Mirage is perfectly adequate for normal commuting, which is its probably its prime purpose.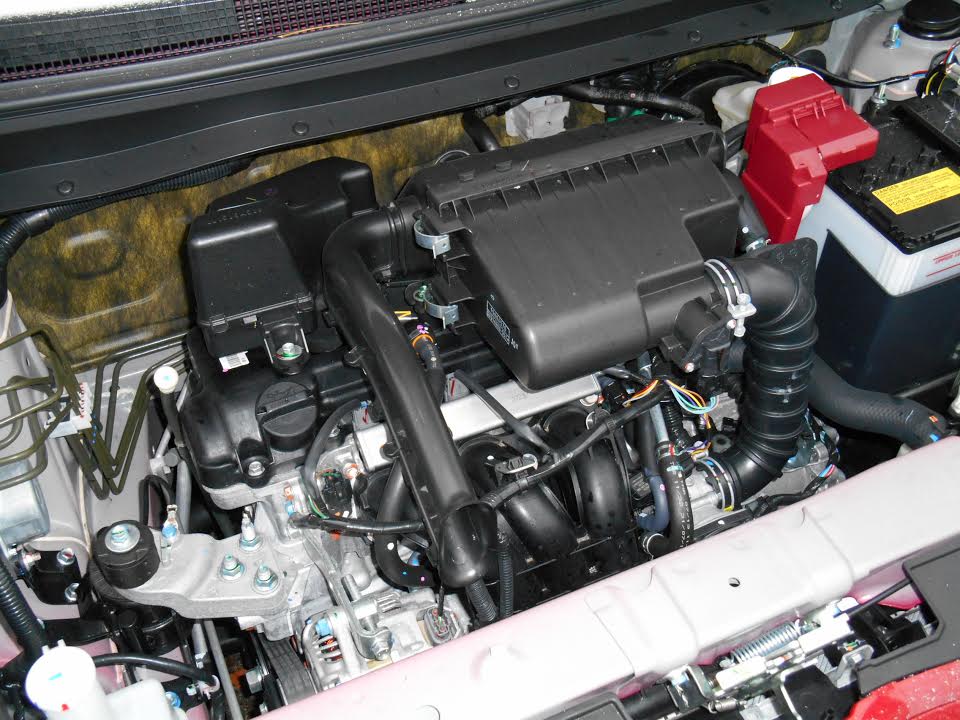 One advantage to the CVT is that it's given a 2-3 mpg edge over the base manual transmission by the EPA. Figures are extremely impressive at 37 city/44 highway—easily the best of any straight gas-engine car. Although our 33.3 mpg average in 70% city driving didn't come close to reflecting those numbers, our test consisted of many short trips in cold weather, both of which adversely affect mileage.
For such a small car, the Mirage rides quite well, absorbing most minor bumps with ease. There's some body lean in fast turns, and the steering doesn't provide much feedback, but the ride/handling balance seems about right for a commuter car. Diminutive size, low steering effort, and a tight turning circle make for great maneuverability, so the Mirage is very parking-lot friendly—until you have to back up.
While visibility is good to the front corners and sides due to thin roof pillars, those in back are rather thick and close, so they block a lot to the corners when backing. That problem can be alleviated with the optional rearview camera (part of the $900 navigation-system package) and front- and rear-obstacle detection ($450), but our tester didn't have either.
Read 'Test Drive: 2014 Mitsubishi Lancer Evolution GSR'
What it did have, however, were some surprisingly upscale features that came standard on our top-line ES. (The only other model being the Base.) These included automatic climate control (which put out heat very quickly in our cold-weather test), keyless entry and starting, and Bluetooth wireless cell-phone link. Also cruise control and USB port.
Inside, there's plenty of room for four average-size adults (though tall drivers might wish for more legroom), and egress is easy through large doors. As stated previously, visibility is generally good, but the sun visors don't come close to covering the side windows, and they don't extend. There are no padded surfaces, but some silver trim keeps the interior from looking cheap. Audio and climate controls are mounted high, within easy reach. The radio includes pushbuttons for easy station select, but no tuning knob. Climate controls are all tedious, repetitive-step pushbuttons, but they're otherwise easy to use.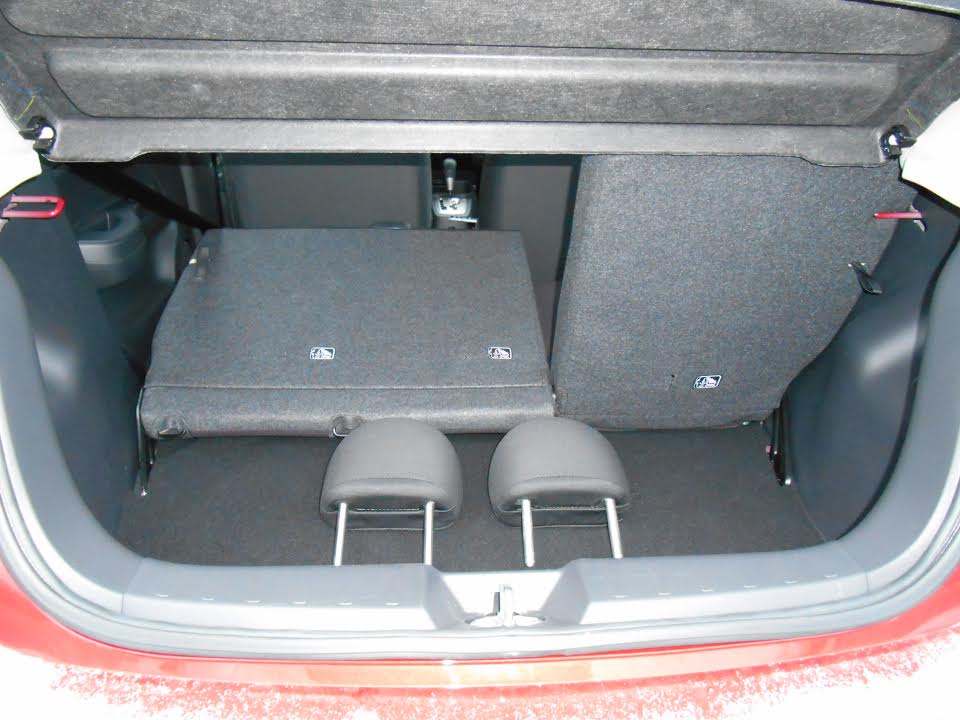 Storage is about par for the subcompact class. Besides the usual map pockets, there's a decent-size glovebox, but no console box; just three cupholders and a small bin. There's only grocery-bag space behind the rear seat, and in order to fold the split rear seat backs, you have to first remove the headrests. The seat backs rest about 3 inches above the level of the cargo floor and don't lay flat, so you can't easily slide in large items.
Besides low pricing and high mileage, one other thing the Mirage has going for it is a great warranty: 5-year/60,000-mile transferrable bumper-to-bumper, 10-year/100,000-mile non-transferrable powertrain. That matches the famed Hyundai/Kia warranty as the best in the business. (By the way, most—but not all—2014 Mitsubishis now carry this warranty.)
So the bottom line here is that the Mirage is a bargain-priced car with great fuel economy, but also some rough edges. Its primary competitor is probably the Chevrolet Spark, which can't match it for fuel economy (despite being of similar size and power) but comes off as a bit more refined. It's doubtful the Mirage will ever be a big seller, but it certainly offers quite a lot to commuters wanting more for less.
Tom Appel
I don't have much to add to John's and Rick's comments. On the plus side I was very impressed by Mirage's ride quality, and perplexed by the non-progressive hybrid-feeling brakes. Overall, I wish this car cost about $1500 less than it does. I cannot help but compare it to the much more powerful, much more refined, and nearly as frugal Chevrolet Sonic. Mirage will find a place in the garages of this country's most frugal drivers, but without a bit more polish, I fear that few other shoppers will take much notice.
I Broke the 50-MPG Barrier Driving Through Wisconsin. It Was Hell
Check in on our long-term Mitsubishi Outlander here.