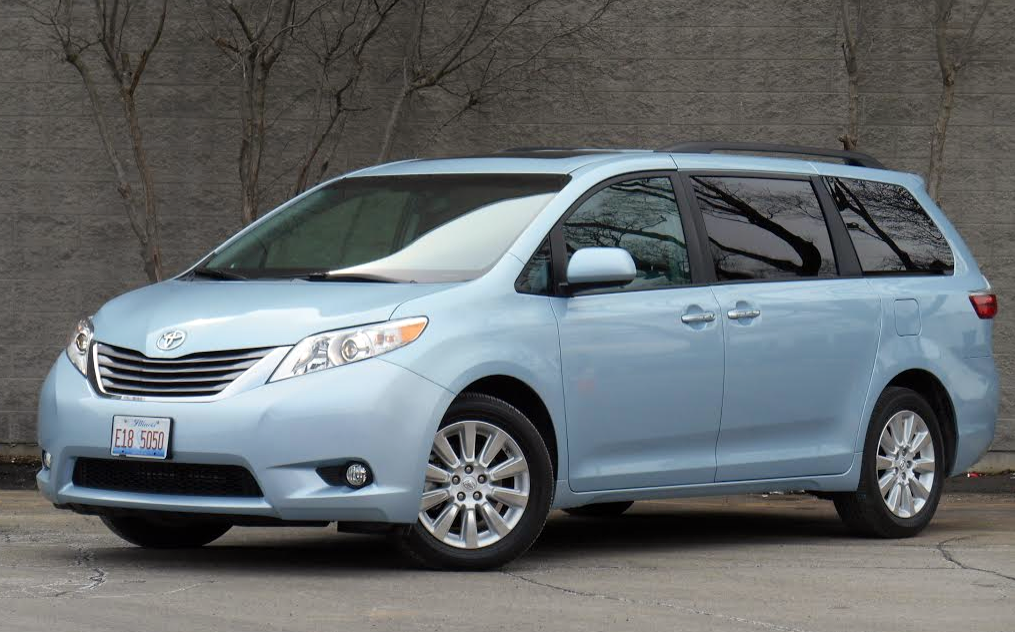 2015 Toyota Sienna XLE Premium AWD 

Class: Minivan
Miles Driven: 429
Fuel Used: 25.2
Real-world fuel economy: 17.3 mpg
Driving mix: 70% city, 30% highway
EPA-estimated fuel economy: 16/23/19 (city, highway, combined)
Base price: $40,555 (not including $885 destination charge)
Options on test car: Floor mats and door-sill protector ($330)
Price as tested: $41,770
Quick Hits
The great: Roomy and comfortable cabin, ample cargo space
The Good: Compliant ride, good power
The not so good: Mediocre fuel economy
Check out the Consumer Guide Minivan Best Buys
John Biel
It may not be at the top of the mountain in the minivan class (actually more of a hill these days), but the Toyota Sienna is still climbing. It delivers some pleasing interior and feature upgrades for 2015 to update a proven basic design.
Perhaps the most obvious change visible from the driver's seat is a redone instrument panel that does away with some gimmicky styling in favor of a more sensible layout. This is particularly true of the reconfigured climate controls that are now more centrally located and better accessed by the driver, and have a display screen that's been repositioned amid the system's dials and buttons.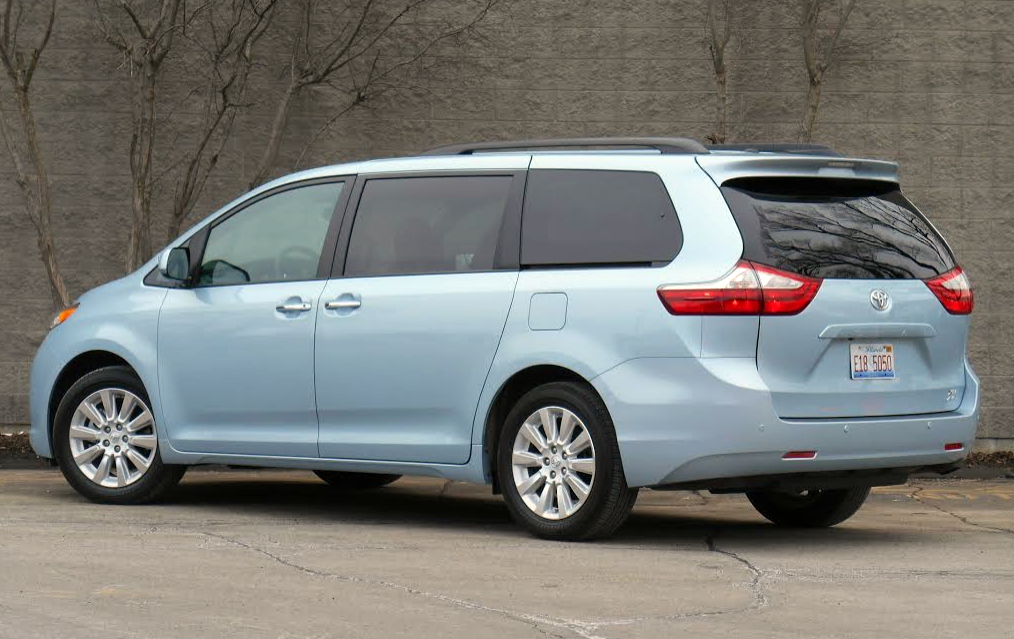 The audio system is intuitively and easily programmed through the central touchscreen, which, in most models—like the XLE Premium that Consumer Guide® tested—is newly enlarged to 7 inches. Navigation displays and apps from the XLE Premium's Entune suite show on this screen, too. The space between new side-by-side speedometer and tachometer dials contains a thin-film-transistor display of vehicle-status information. This driver was particularly drawn to the display of real-time torque distribution to the wheels through the segment-exclusive all-wheel-drive.
Cabin materials have a nice look and feel. There are more soft-touch surfaces for 2015. Despite the reworking of the instrument panel, polished-wood highlights continue on the dash and doors. There's more floor insulation in the new Sienna, and XLEs and top-line Limiteds get an acoustic-glass windshield. It was indeed good at keeping the racket of the outside world at bay, but the enemy within was an occasional rattle from somewhere at the back of the cabin when hitting road bumps.
Toyota firmed up the body's basic structure with added spot welds, then tightened up spring and shock settings. Ride is moderately firm and pretty well composed over bumps, with not a lot of residual body motion—which, to this driver, feels like an improvement from the 2014 model. While not ponderous to steer, the Sienna is hardly nimble.
In most other respects, the "new" Sienna is like the "old" Sienna.
Family Frugal: Ranking the Most Fuel-Efficient Minivans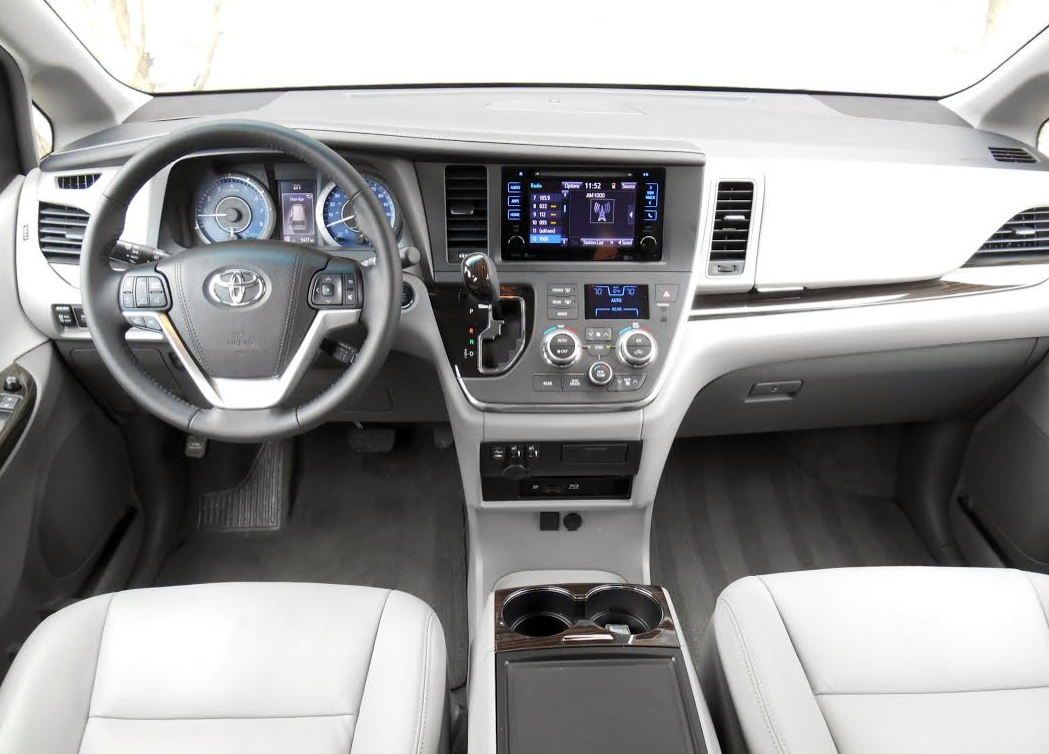 Power comes from the same 266-horsepower 3.5-liter V6 hooked to a 6-speed automatic transmission. The engine is the strong silent type except when pushed on the highway, but it quiets down after reaching cruising speed. Kickdown is pretty prompt, which means few worries for passing. Unfortunately, fuel mileage is still a problem. This driver put 110.8 miles on the test van, 59 percent of that in city-type driving, and averaged 15.77 mpg. That's only minutely better than he did in a '14 AWD Sienna, and not quite up to the vehicle's EPA city rating of 16 mpg.
There's plenty of room and comfort in the XLE's front and 2nd-row captain's chairs. When in place, the 3rd-row seat is actually high enough off the floor for adult riding comfort—with enough leg room to make a long-haul ride palatable. Three kids will fit across the rear seat. Getting to the 3rd row is no problem in the 7-seat Sienna, due to a wide pass-through between middle-row seats.
Third-row seats split 60/40 and retract rearward to form a bumper-height load floor when not in use. (I suspect retracted seats were the source of the aforementioned cabin rattles.) A pull of a release lever and a push is required to turn them into seating. When the seats are up, cargo space isn't especially long going forward, but a well in the floor is exposed to create some additional cargo capacity. Visibility is pretty good all around.
Front storage consists of a good-sized glove box and very deep console box with a sliding cover. There are 2 open cup holders in the console and 2 that pop out from instrument panel. A big "purse patio" resides on the floor under the instrument panel, a small pull-out drawer to left of steering wheel includes a coin sorter, and door pockets feature bottle holders. Middle-row accommodations consist of bag hooks and pouches on backs of front seats, door pockets, and twin cup holders that pop out of the back of the console at floor level. In the 3rd row are dual cup holders molded into each side panel and covered compartments for entertainment-system headphones—and whatever other tchothkes will fit in there.
Beyond the Minivan: Family Vehicles for Smaller Clans
Additional standard equipment for the example CG tested included 18-inch alloy wheels, dual power-sliding side doors, power liftgate, fog lights, blind-spot monitor and rear cross-traffic alert, power moonroof, leather-upholstered front- and 2nd-row seats (heated in front), trizone automatic air conditioning, Blu-Ray rear-seat entertainment system, Driver Easy Speak (a front microphone that allows a driver to make him or herself heard in back), Bluetooth connectivity, and satellite radio for a base price of $40,555. With carpeted floor mats and delivery, the sticker came to $41,770.
AWD models start at $2200 more than comparable front-drive Siennas, and Premium trim adds another $3255 to the cost of an XLE. Thus, our test Premium with AWD had highest possible starting price for an XLE—and there's a Limited series with even bigger stickers available, so it will take some care to keep from getting carried away with cost. Shoppers also need to note that if they intend to tow, the Towing Prep option package is not available with all-wheel drive on XLEs and Limiteds.
Rick Cotta
Although well short of a full redesign, the Sienna got a "mid-cycle freshening" for 2015 that brought with it a number of much-appreciated improvements.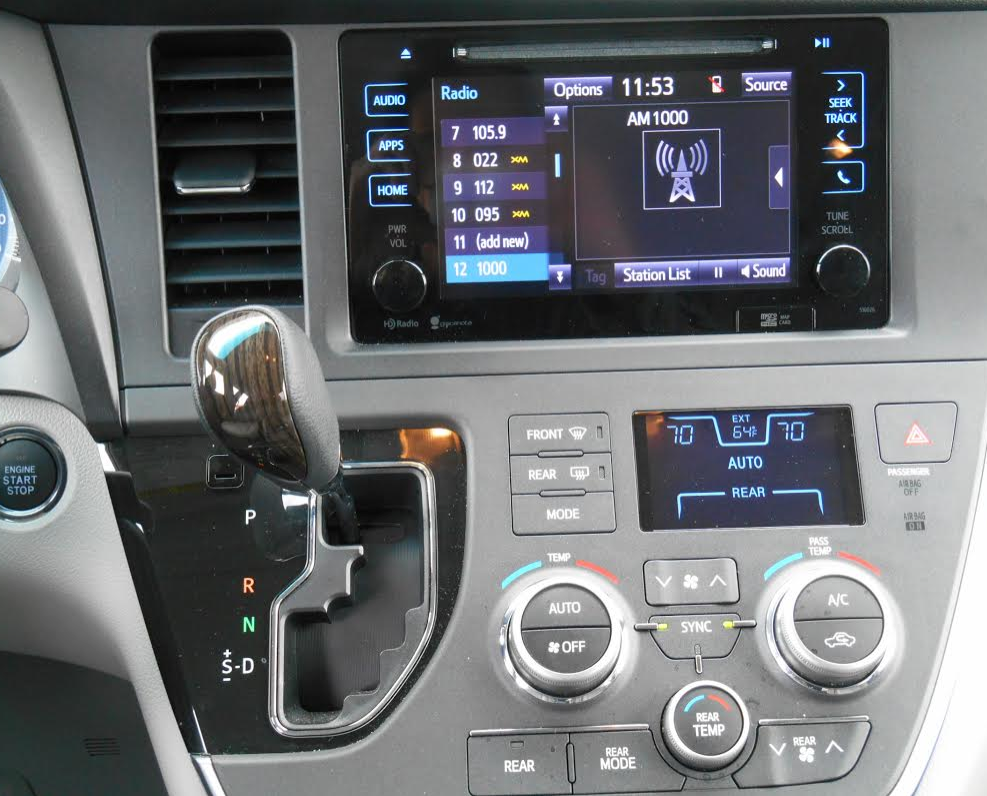 Most notable was a new dash layout. Formerly, the gauges were oddly off center while the climate-control panel and adjoining trim swatches had strangely angled cut lines. But it was more than just an appearance issue, as some audio and climate controls weren't easy to use and ended up too far to the right for easy access.
The new dash has a more conventional, angular look, along with improved controls that are both simpler to use and—at least in some cases—easier to reach. A tuning knob has been added to the audio system, and the climate controls are handier, though some audio controls are still a stretch; however, a few are duplicated on the steering-wheel buttons, which helps.
Interior materials are also slightly improved. The dashboard has a padded face and instrument "eyebrow" (though not a padded top), and the doors have padded upper panels and armrests with "soft paint" on the top edges. Our XLE had a black-and-grey two-tone color scheme highlighted with dark woodgrain trim and matte silver accents, all combining for a rather upscale look.
Something that was improved but not entirely fixed was the odd seating position. It seems better than in the 2014 we drove, but the seat is still offset about an inch to the left of the steering-wheel center, and the pedals remain a bit far to the right, all of which results in a slightly angled driving position.
Something that took a slight step backward was the previously impressive interior storage, though it's still commendable. Good-size upper and lower gloveboxes are augmented by a huge floor bin between the seats, a large console box, two console cupholders, two more that pop out of the dash, a left-side dash bin, and large map pockets. Only a couple of dash bins were lost, which would be a real concern only if there weren't so many others. The dash hosts Aux, USB, SD card, and 12-volt jacks (oddly, the console box has none), and there are 120-volt (household current) plugs in the back of the console and in the rear cargo area.
Test Drive: 2015 Kia Sedona SX-L Limited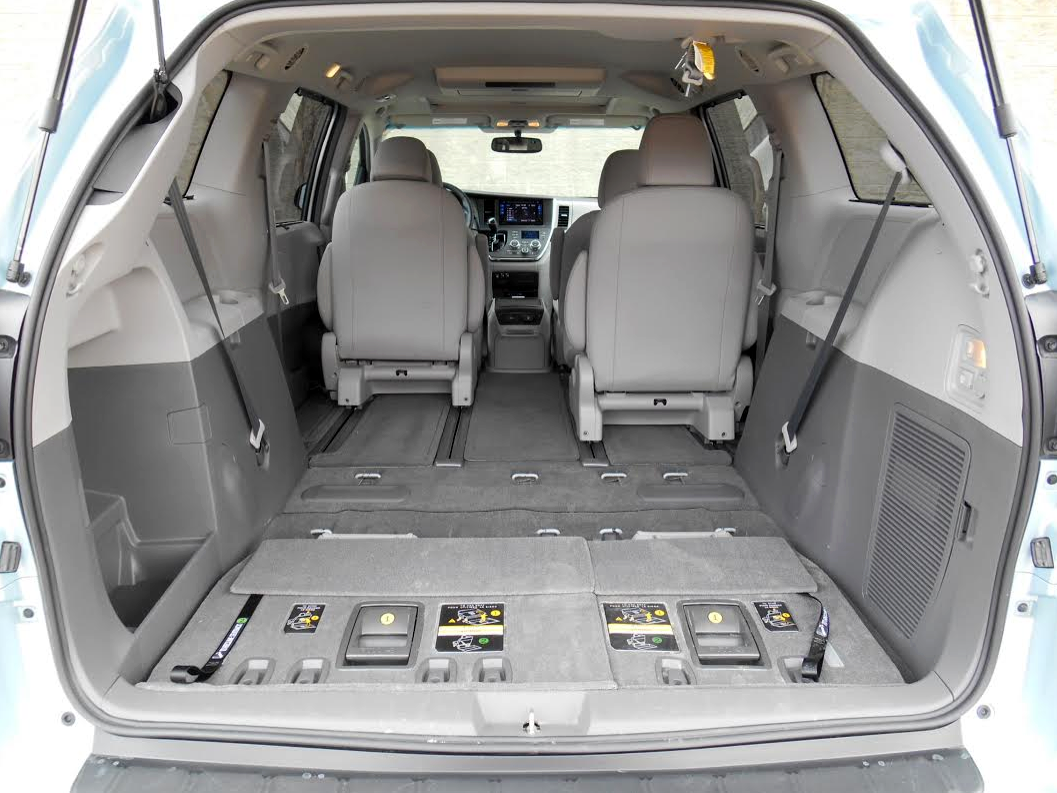 Our tester had a pair of 2nd-row bucket seats, but a center seat can be added for 8-passenger capacity; it can be removed and stored in a side pocket in back if desired. The 2nd-row seats move fore and aft about 18 inches, enough to allow easy access to the 3rd row and adjust legroom to suit, the only downside being that the seats don't move as easily as some. Likewise, the 3rd-row seats—which can fold flush into the floor—seem as though they would be difficult for a smaller person to lower and particularly raise. However, when deployed, there's plenty of head and leg room even for adults, though three of them abreast would be a squeeze.
As might be expected of a minivan, cargo space is huge. But unlike in some minivans, the second-row seat backs don't fold flat to form what is essentially a high "table" to accommodate 4×8 panels. Instead, the seat cushions flip up and the seats move forward, but there's only about six feet of floor length behind them. However, the 2nd-row seats can be removed, which leaves enough floor space for a 4×8 panel to lie flat.
One element that carries over is the rather exceptional visibility. Front and side roof pillars are refreshingly thin by today's standards. So are the rears, though the 2nd-row headrests can block the view to the rear corners if the seats are in the wrong position—though that's easy to change, and you can also remove the headrests. Our test vehicle had a rearview camera, though it only "viewed" about a 140-degree arc, not the 180 degrees of the best.
After driving a 2014 Sienna, I recall feeling as though it rode as well as many luxury sedans, albeit with some wallow over bumps and swells. It seems the suspension was tightened up a bit for 2015, as our tester didn't feel quite as composed over bumps, though I didn't notice any of the wallow I did before.
We've long admired Toyota's 3.5-liter V6 for its gutsy smoothness, and it continued to impress here. Adding to the powertrain attraction was a 6-speed automatic that kicked down quickly for impressive passing response. The combination netted only 14.2 mpg in all city driving, though that was mostly short trips in cold weather.
Overall, I look at the 2015 update of the Sienna as a worthwhile improvement on an already impressive package. What Sienna lacks in cargo versatility it makes up for with refinement and fine driving characteristics, and it remains the only minivan to offer all-wheel drive—reason enough to choose it in the snow belt.
Tom Appel
Had the unique opportunity to evaluate our test Sienna during a period of heavy snowfall. I am happy to report the AWD version of Toyota's popular people mover is more than capable in the white stuff. My test included one commute through 5-6 inches of freshly fallen snow, which the Sienna handled with aplomb.