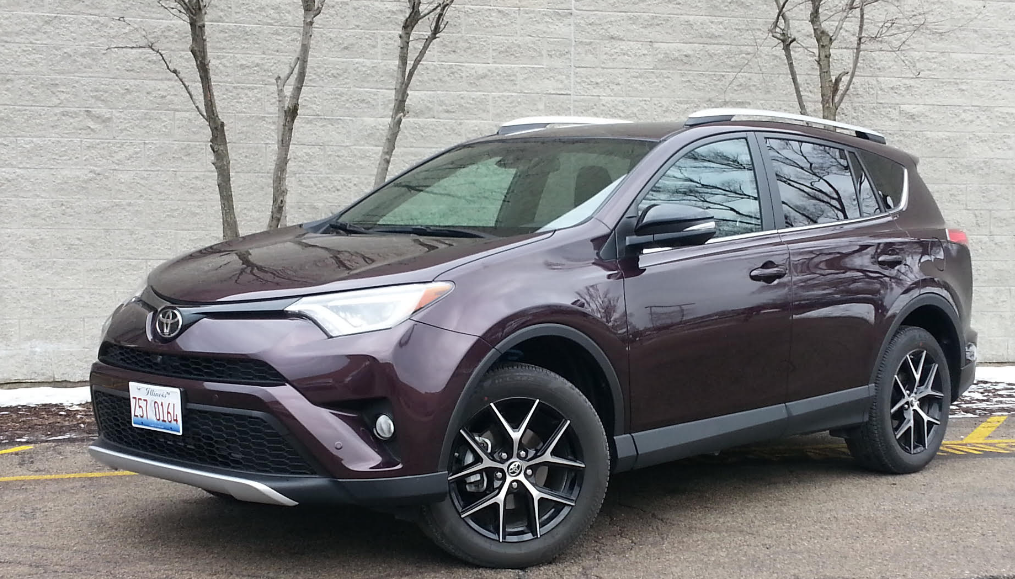 Class:  Compact Crossover
Dates tested: 1/25/2016 – 2/08/2016
Miles Driven: 496
Fuel Used: 20.5 gallons
Real-world fuel economy: 24.2 mpg

Driving mix: 40% city, 60% highway
EPA-estimated fuel economy: 22/29/25 (city/highway/combined)
Base price: $30,665 (not including $900 destination charge)
CG Report Card
Room and Comfort
A-
Power and Performance
B
Fit and Finish
B-
Fuel Economy
B
Value
B
Report-card grades are derived from a consensus of test-driver evaluations. All grades are versus other vehicles in the same class. Value grade is for specific trim level evaluated, and may not reflect Consumer Guide's impressions of the entire model lineup.
Options on test car: Advance Technology Package ($3030)

Price as tested: $34,595
Quick Hits
The great: Powertrain response, interior room and storage space

The good: Versatile cargo area, available safety features

The not so good: Stiffish ride

Check out Consumer Guide's Compact Crossover Best Buys
Rick Cotta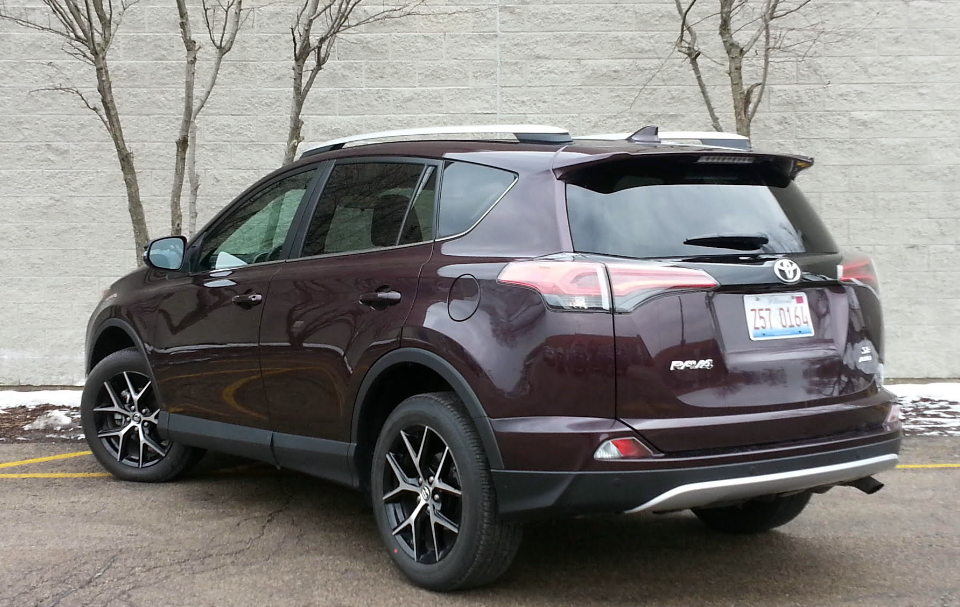 While the preview for the "refreshed" 2016 Toyota RAV4 we attended early this year clearly demonstrated the vehicle's capabilities and features, two new versions left a bit of a question mark.
First was the Hybrid, whose claim to fame is fuel economy – which we didn't have an opportunity to check. The second was the sporty SE, which carries a stiffer suspension and lower-profile tires aimed at providing more spirited cornering feel, though they tend to make the ride worse over the kind of pockmarked pavement wholly absent from our California preview route.
That's not a "deficiency" around our Chicagoland HQ, however, where we recently got a shot at testing the SE over some far rougher roads.
As might be expected, the SE's sporty accoutrements did not make an entirely favorable impression here in the frozen northland. The tires and suspension conspire to make the SE's ride seem busy and jittery even on what looks to be fairly smooth pavement, and even worse over the frost heaves and potholes that are far more common. As there aren't enough opportunities in the urban slog to make use of the SE's greater cornering aptitude (unless you go out of your way to search out highway on-ramps), other models in the line might be a better choice if your environs mimic ours. Too bad, because those 18-inch spoked alloys really do look kind of cool.

In other ways, however, the SE demonstrated the overall goodness of the new RAV4's design.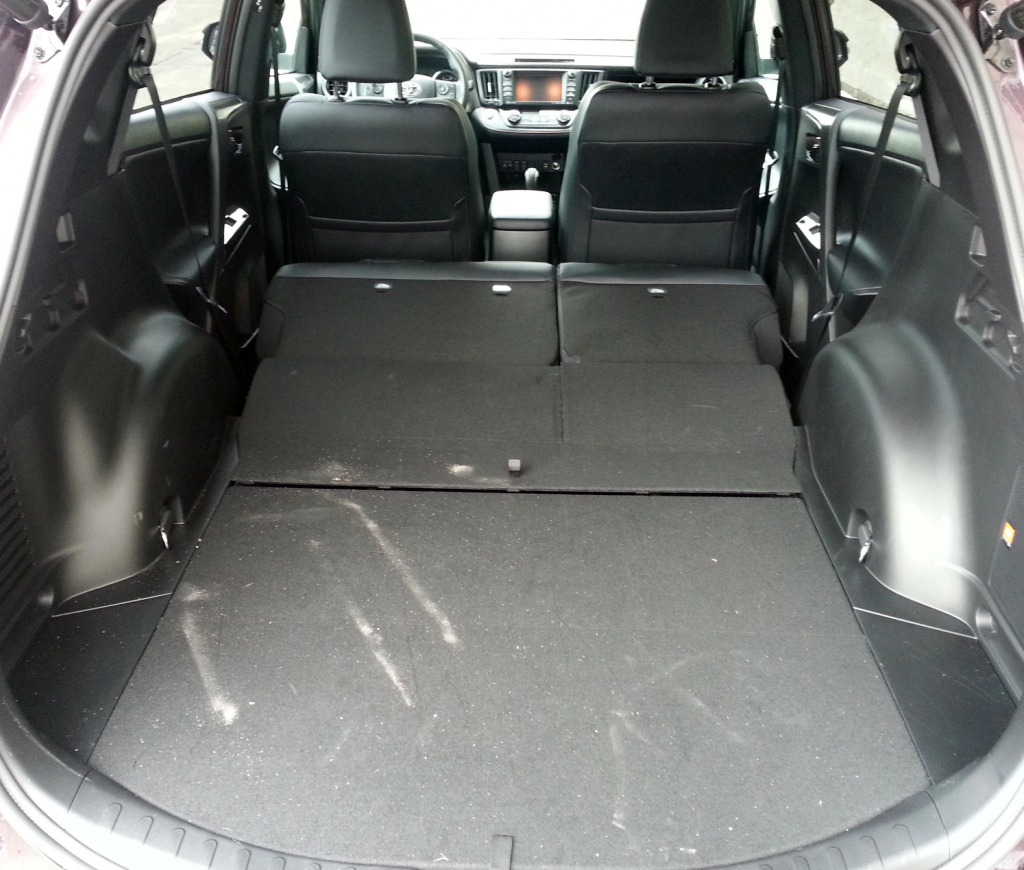 City errands often demand parallel parking, and I found our SE's 360-degree camera (called "Bird's Eye View" by Toyota) truly helpful in this regard. In the same vein, the RAV4's standard 180-degree rearview camera (most show only about a 130-degree arc) was a real asset when backing out of perpendicular parking-lot spaces, as it allows seeing both ways down the aisle. These are particularly advantageous seeing as rather thick roof pillars block the rear-corner view, though visibility to other angles is very good.
I also made good use of the RAV4s versatile cargo area. The forward edge of the cargo floor can be set at two levels: a low one for maximum vertical space, and a higher, "slanted" one that leaves it virtually level with the folded rear seat backs, albeit at a slight uphill angle. As I'm often carrying long or bulky items that require folding the rear seat backs for more space, I really appreciate when I can simply slide those items all the way to the front seatbacks without having to clear a hump. It also means doing something with the "scroll" cargo cover, which normally has to be stashed along one of the sidewalls. Not so in the RAV4, which includes a handy under-floor storage compartment just ahead of the rear bumper.
Read more about other RAV4 models in our First Spin
Particularly in city driving, there are times when you really appreciate throttle response. Not only does the RAV4 jump off the line when you hit the gas, it's equally responsive at speed, thanks in large part to the transmission's quick kickdowns. While Toyota's quote of about 9 seconds 0-60 is hardly a standout figure, the RAV feels plenty perky in practice. That helps make up for what wasn't terrific fuel economy for the class: We averaged 24.2 mpg in about 40% city driving, just below the mediocre combined city/highway EPA estimate of 25 mpg.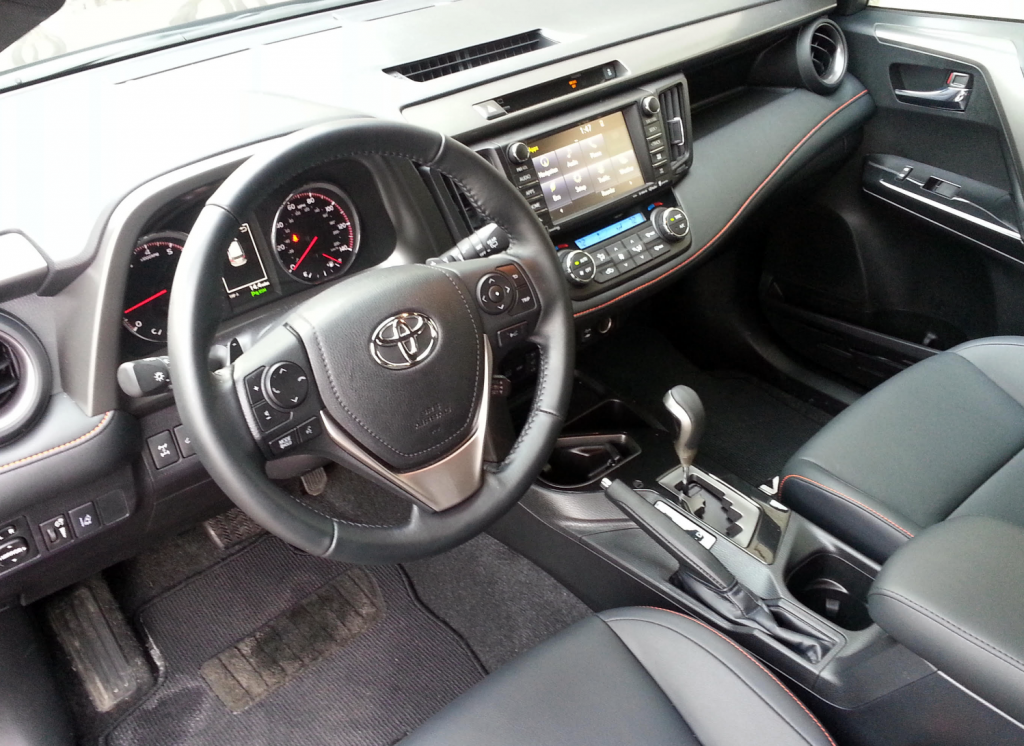 Although the audio and climate controls are mounted high, most within easy reach, some minor controls are less convenient. Notable in this regard (at least in Chicago in January) are the heated-seat buttons, which are tucked low and deep on the dash ahead of the shift lever. On the positive side, however, they are physical switches, so once turned on, they reset to "on" whenever the vehicle is started. (In many vehicles, you have to turn seat heaters on each time the vehicle is started, even if they were on when you shut it off.) This is particularly nice if you have a remote starter, as the seats will likely be warm by the time you get in.
Passenger space is both plentiful and easy to get to. There's enough legroom in back for a good-size adult even if the seat ahead is pushed all the way back. Step-in height is modest, which combines with large door openings and a handy seat height to make ingress and egress a snap.
There's also a good amount of interior stash space, something I always make good use of. Even just having the vehicle for a long weekend means nooks and crannies get filled with a toll transponder, garage remote, water bottles, various keys, sunglasses, gloves, and all sorts of snacks — and progressively, their empty wrappers. It's probably a case of filling the available space, but it's still nice to have a lot of space to fill.
Thankfully, I didn't have the "opportunity" to test any of the RAV4's new safety features, but it's always nice to know they've got your back. These came courtesy of the optional Advance Technology Package that contains the aforementioned Bird's Eye camera, front and rear obstacle detection, and Toyota's Safety Sense suite of features that include forward collision warning and mitigation with pedestrian detection, and lane departure warning and mitigation. Also in the package are automatic high beams and adaptive cruise control, both of which were used and much appreciated, as many of the 287 miles I traveled were on the highway, some of it at night. How nice it was to not have to keep adjusting my speed for slower traffic, or worry that I might blind oncoming drivers by forgetting to turn off my brights.
While my impressions of the SE were not entirely positive, there are plenty of other RAV4 trim levels from which to choose, all of which likely ride a lot better over broken pavement. But if you happen to live along the California coast, where the pavement is smooth and the roads are twisty, the SE might just be the RAV4 of choice.