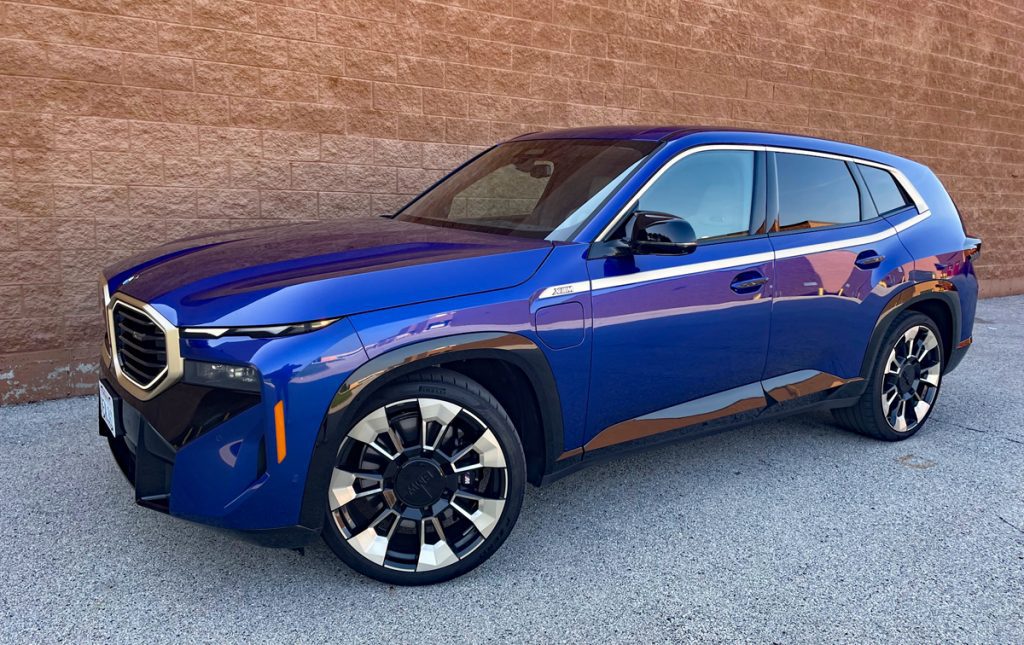 2023 BMW XM
Class: Premium Midsize Crossover
Passenger capacity: 5
Color: Marina Bay Blue

CG Report Card
Room and Comfort
B+
Power and Performance
A-
Fit and Finish
A
Fuel Economy
C
Value
C-
Report-card grades are derived from a consensus of test-driver evaluations. All grades are versus other vehicles in the same class. Value grade is for specific trim level evaluated, and may not reflect Consumer Guide's impressions of the entire model lineup.
Big & Tall Comfort
Big Guy
A
Tall Guy
A
Big & Tall comfort ratings are for front seats only. "Big" rating based on male tester weighing approximately 350 pounds, "Tall" rating based on 6'6"-tall male tester.
Drivetrain
Engine Specs
644-horsepower 4.4-liter
Engine Type
Turbo V8 plug-in hybrid
Transmission
8-speed automatic
Drive Wheels
AWD
Miles driven: 186
Real-world fuel economy: 18.1 mpg
Driving mix: 65% city, 35% highway
EPA-estimated fuel economy: 73 MPGe/14 mpg (city/highway combined)
EPA-estimated EV range: 31 miles
Fuel type: Premium gasoline recommended
Base price: $159,000 (not including $995 destination charge)
Options: Silverstone with Vintage Coffee interior package ($2500), Bowers & Wilkins Diamond premium audio system ($3400), M Driver's Package ($2500)
Price as tested: $168,395
Quick Hits
The great: Prodigious power, comfortable cabin
The good: Excellent available audio system, decent fuel economy given the power
The not so good: Very expensive relative to similar-size BMW crossovers, uneven low-speed power delivery
Tom Appel:
Before we can review the BMW XM, we need to understand what exactly the XM is. Here's the easy part: The new for 2023 BMW XM is a midsize 2-row crossover that slots in size in BMW's crossover lineup between the midsize X5 2-row crossover and the 3-row X7 large crossover.
The XM is also a plug-in hybrid which, when fully charged, will travel an EPA-estimated 31 miles on electricity alone. That's the simple stuff. Here's the complicated part: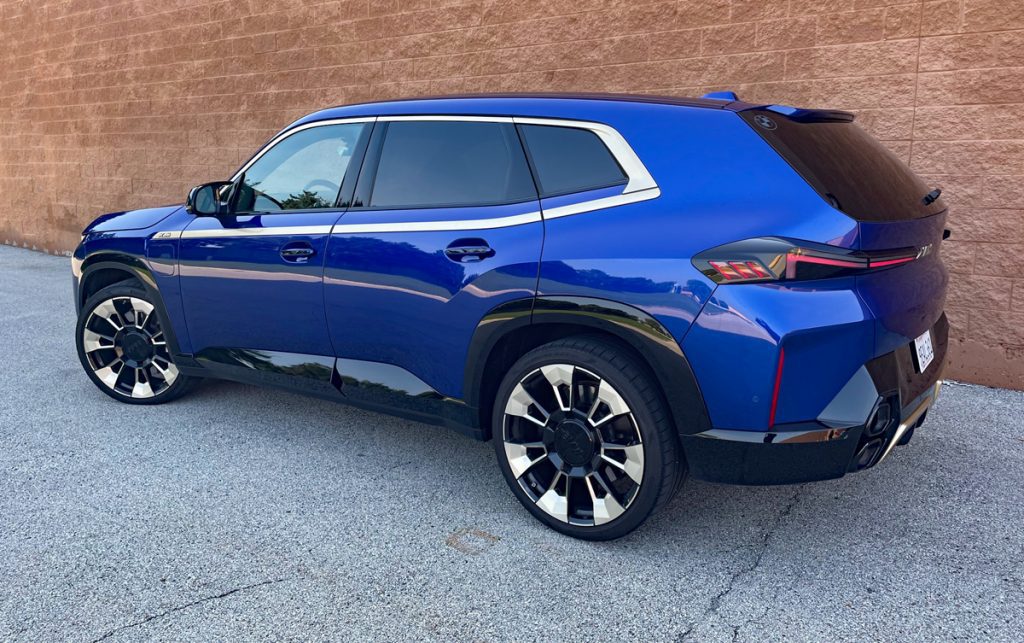 The XM was not designed by BMW's regular engineering staff. Instead, the boldly styled crossover is a product of BMW's M Performance division, and is—get this—only the second vehicle in BMW history to be completely designed by the M team. The first vehicle was the legendary 1978-1981 M1, a sports car famous not only for its performance, but its racy good looks as well.
While your paperwork, should you purchase one, will still read BMW, the company really wants you to know that the XM is not a version of any other BMW model, but a stand-alone product, and a serious performance vehicle as a result of that pedigree.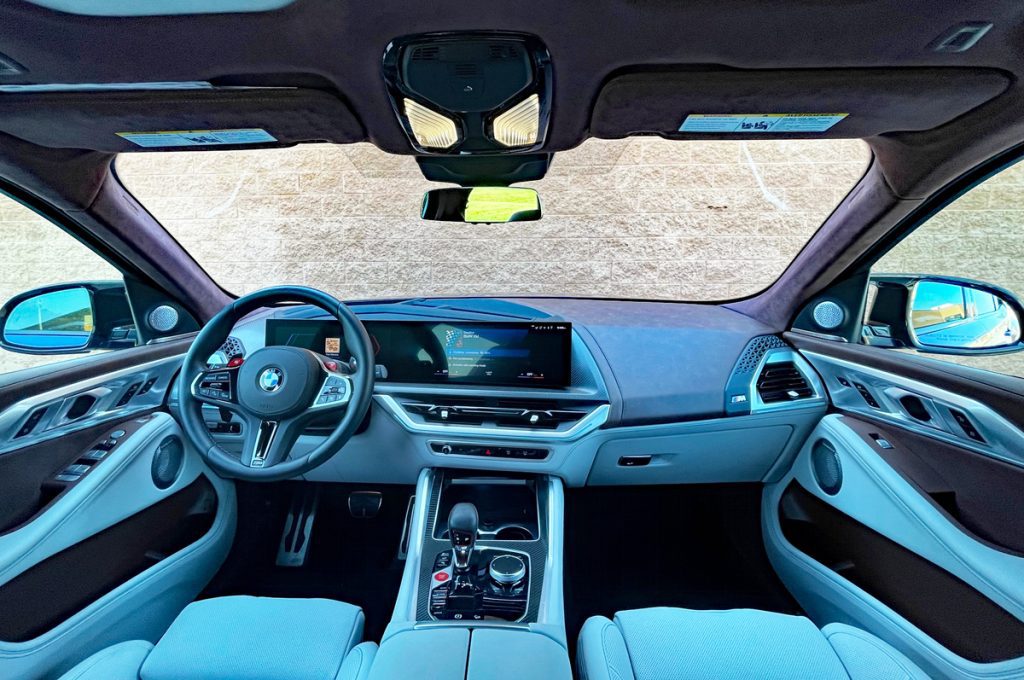 And, as a result of that pedigree, and its probable rarity, the XM comes dear. Our test XM came to $168,395, almost $70,000 more than the X7 M60i we evaluated earlier this year. And that X7 was a serious hustler.
Even at this lofty level of performance and luxury, the XM is offered in an additionally premium state: The XM Label Red starts at a lofty $185,995, and offers up additional power, among other things. More on the Label Red in a moment.
The End of Terrestrial Radio? Electric Cars and AM Radio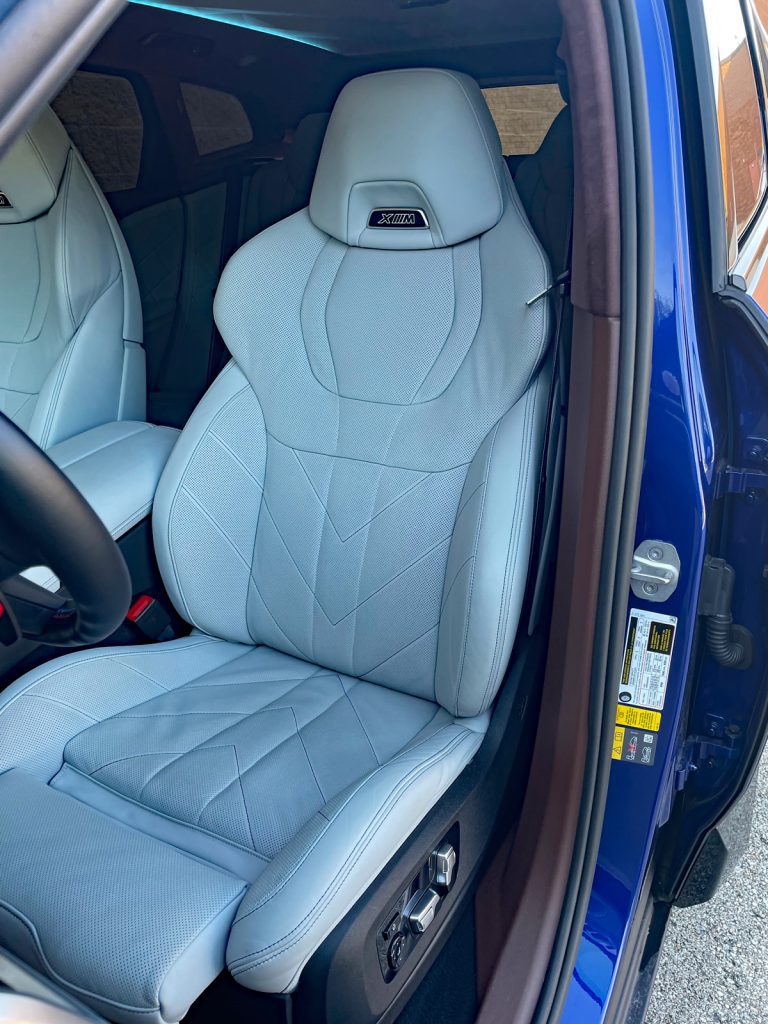 The standard XM is powered by BMW's now tried-and-true turbocharged 4.4-lter V8. Mated to the plug-in hybrid system, the XM is rated at a robust 644 horsepower, and, per BMW, reaches 60 mpg from a stop in just 4.1 seconds. The Label Red employs the same drivetrain tuned to deliver a whopping 738 horsepower, and run from 0-60 mph in a claimed 3.6 seconds.
Both the standard and Label Red XM models will travel an EPA estimated 31 miles of electricity alone, and come standard with an 8-speed automatic transmission and AWD.
Consumer spent a week behind the wheel of the 2023 BMW XM in Marina Bay Blue with the optional Bowers & Wilkins Diamond audio system and M Driver's Package. Also included on our test car was the love-it or hate-it Nightgold Metallic Exterior Trim Package.
Our tour begins inside, where the XM shines for both opulence and passenger comfort. As for the latter, both front and 2nd-row occupants will find plenty of stretch-space, along with easy ingress and egress. Outward visibility—at least from the driver's seat, is also excellent.
Most functions are controlled via the iDrive 8 touchscreen system, and that's largely a good thing. We found the system largely intuitive to operate, and most-used functions relatively easy to locate in short order.
The cabin décor is insane—good insane, unless you put a high value on restraint—and feels like what a $170,000 vehicle should look like inside. Several passengers commented on the large number of colors and textures employed to finish the cabin, though this author found the over look only a little busy.
Our test car was outfitted with the optional Silverstone with Vintage Coffee color and trim package, which comes off as generally bright and cheery. The $2500 package is one of several available extra-cost color combinations.
Though a serious performance machine, the XM is something of a mixed bag underway. Power delivery is sadly uneven at low speed. Moving from a stop, the hybrid system seems to step on the gas engine's feet, as the XM is prone to launching with pronounced snaps of power which cannot be smoothed by even careful throttle application. At speed, the XM's prodigious muscle comes into play, and the drivetrain serves up dollops of easy passing and merging power. Frankly, this vehicle is just flat-out fast.  Note that driven modestly in electric mode, the XM is buttery smooth and impressively silent.
Test Drive: 2024 Alfa Romeo Tonale Veloce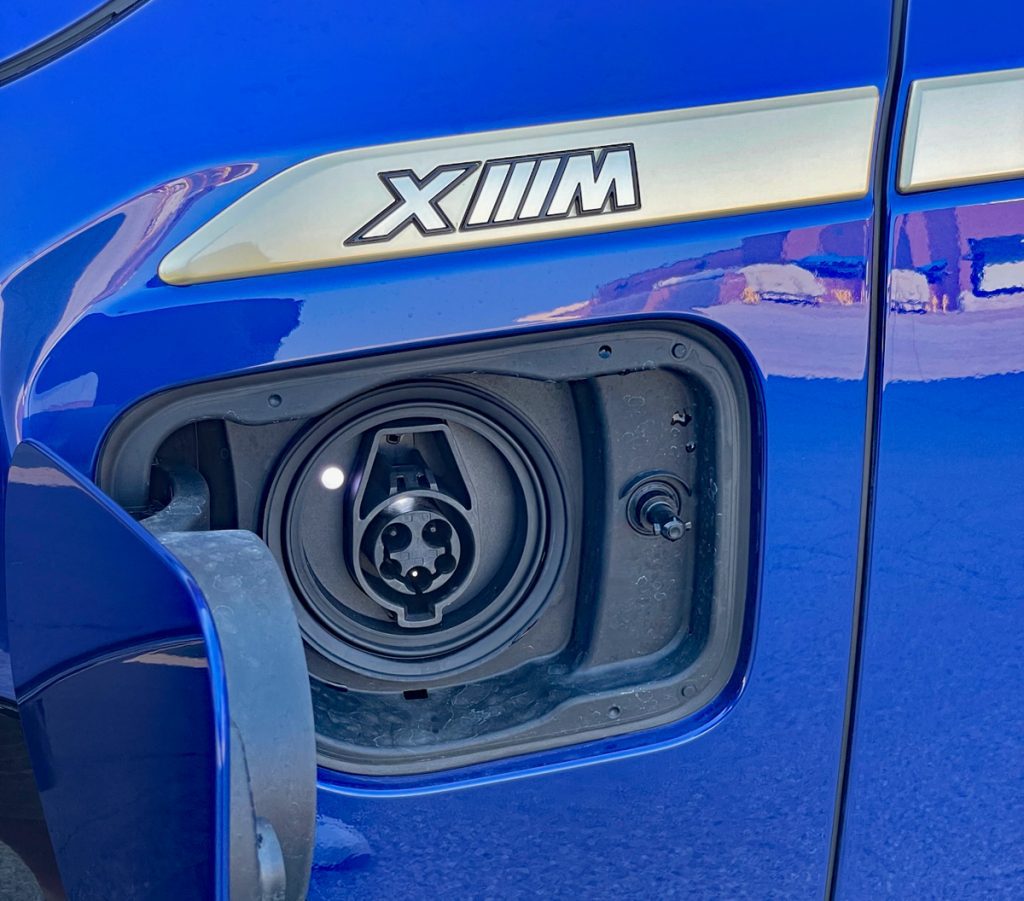 Handing is impressively athletic for a vehicle of this size and heft, and highway onramps are a thrill to charge into with gusto. We'd enjoy a little more steering feedback, as the required wheel effort is a little too light to feel genuinely sporty. That said, the brakes feel monstrously powerful, and indeed stop this big crossover with easy authority.
The XM's active suspension dampers seem to struggle with the monstrous standard 23-inch alloy wheels. Though ride quality is never harsh, and is indeed generally quite comfortable, it never rises to the impressive road-isolating sophistication of a standard X5 or X7, or many other more-affordable BMW models.
The XM's exterior design seems to be a point of contention for those with any opinion at all. Many casual observers failed to note that the XM was, indeed, an especially pricey and high-performance vehicle. While fans of the brand mostly found the grille a little overt, and the rest of the XM a little bland. Meanwhile, few seemed to find the Nightgold trim package worth the price. We argue that the XM certainly has presence, though its sporty mission is not made entire clear by its design.
The XM is less of a sports car, and more of a warp-enabled shuttle craft. It's really too large to be truly sporty, and too isolated from the road to be rewarding to drive. As a sporty—and affordable—alternative to the likes of the Bentley Bentayga, or even the Mercedes-Maybach GLS 600, the XM makes sense. It's an outlier of sorts, sporty in the face of stately competition, and boldly styled in a class of vehicles that are merely ornate. We don't fully understand the XM's place in BMW canon, and perhaps it will take time and hindsight for that role to become clear, but take comfort knowing that if you purchase an XM, you're going to be noticed.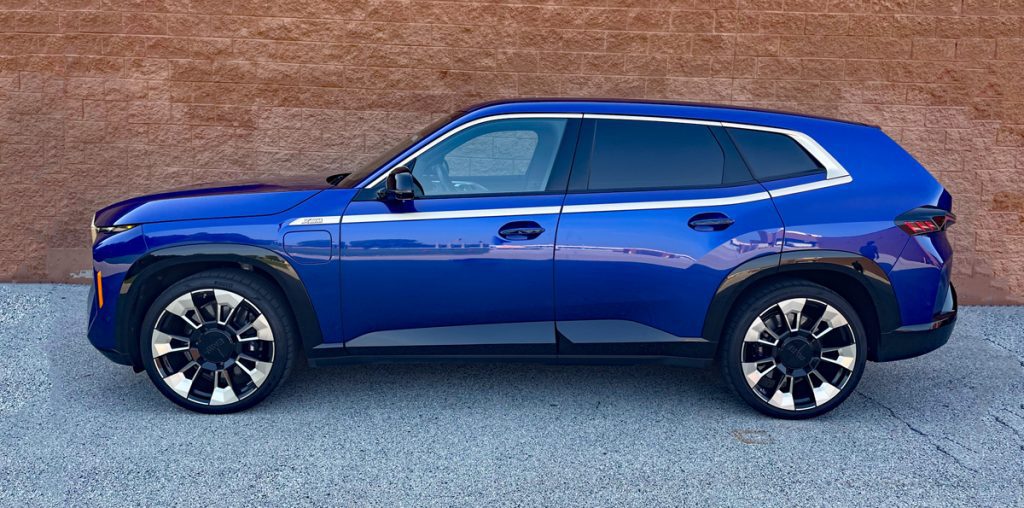 Listen to the Car Stuff Podcast
2023 BMW XM Gallery
Click below for enlarged images