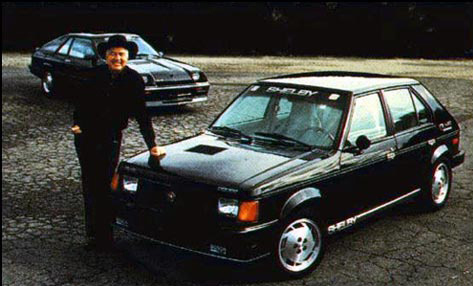 When it came to light that Carroll Shelby had passed away last week, it brought to mind the first time I had the pleasure of meeting this chicken farmer turned automotive legend.
Farewell to Carroll Shelby: The Behind the Cobra
Carroll Shelby Chili
It was the summer of 1985. I was attending my first press preview at Chrysler's proving grounds outside Detroit, where a large group of journalists had assembled to drive the 1986 models before they went on sale to the public. Among the offerings was the Dodge Omni GLH, a ferocious turbocharged pocket rocket introduced the year before that redefined the meaning of "torque steer." It marked my first opportunity behind the wheel of one, and it was love at first drive.
Also in attendance was one Carroll Shelby. Shelby had been lending his hallowed name to some of Dodge's sportier entries of the era, and with him was a GLH that he had "breathed on a little." Turns out it was a prototype of the upcoming GLHS, which sported engine tweaks that raised horsepower from 146 to 175, along with suspension mods that upped the handling ante of the already track-worthy GLH.
One of Shelby's new entrepreneurial sidelines of the time was his own branded chili mix, which we all had for lunch. Sitting together around the tables, I remember Shelby as being very affable and mixing comfortably with the guests, often smiling broadly and laughing with an unmistakable chortle.
After lunch, Shelby offered to give journalists a ride in his GLHS—three at a crack—around Chrysler's long, rolling, curving test track. (Keep in mind that Shelby was a race driver in his younger days, and even though he was in his early 60s at the time, he was known to have never really outgrown his on-track enthusiasm.) We all lined up in a queue of sorts, awaiting our turn. But as each wave of returning journalists disembarked from the car, I overheard mentions of being airborne, and all looked as though their lunch was about to make an encore appearance. Shelby  looked out the side window, sporting a big "the devil made me do it" grin. Not wanting to be known as the guy who tossed his cookies at his very first event, I quietly stepped out of line. And yes, that's something I've always regretted.
Although Shelby leveraged his name on some questionable efforts later in life, I hope history will remember him as the affable Texan who set the automotive world on its ear with almost child-like giddiness. I know I certainly will.
Photo Feature: 1970 Shelby GT-500
Carroll Shelby Chili
Carroll Shelby Chili