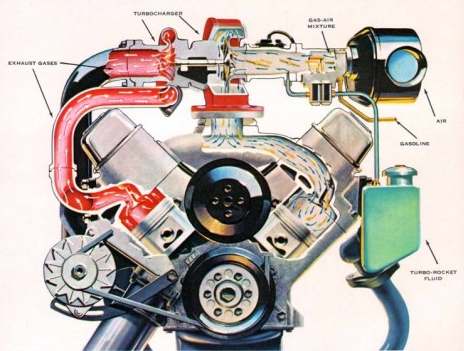 If you're close to my age, you remember the excitement surrounding the rollout of music on compact discs. While a lot of then-contemporary artists released new material on disc, many veteran artists held back a little, hyping as much as possible their entrance into the post-analog age. And while your folks or grand parents might recall the day the Beatles' White Album was released, I was at Sound Warehouse (now long gone) the day that genre-bending masterpiece was first released digitally.
The auto industry is little different. Some carmaker needs to go first when it comes time to roll out new technology. And when that technology came to improving performance, the hype could be prodigious. Collected here are five ads, each of which represents a different horsepower-boosting step forward under the hood—or decklid, in one case.
High Compression – 1949 Oldsmobile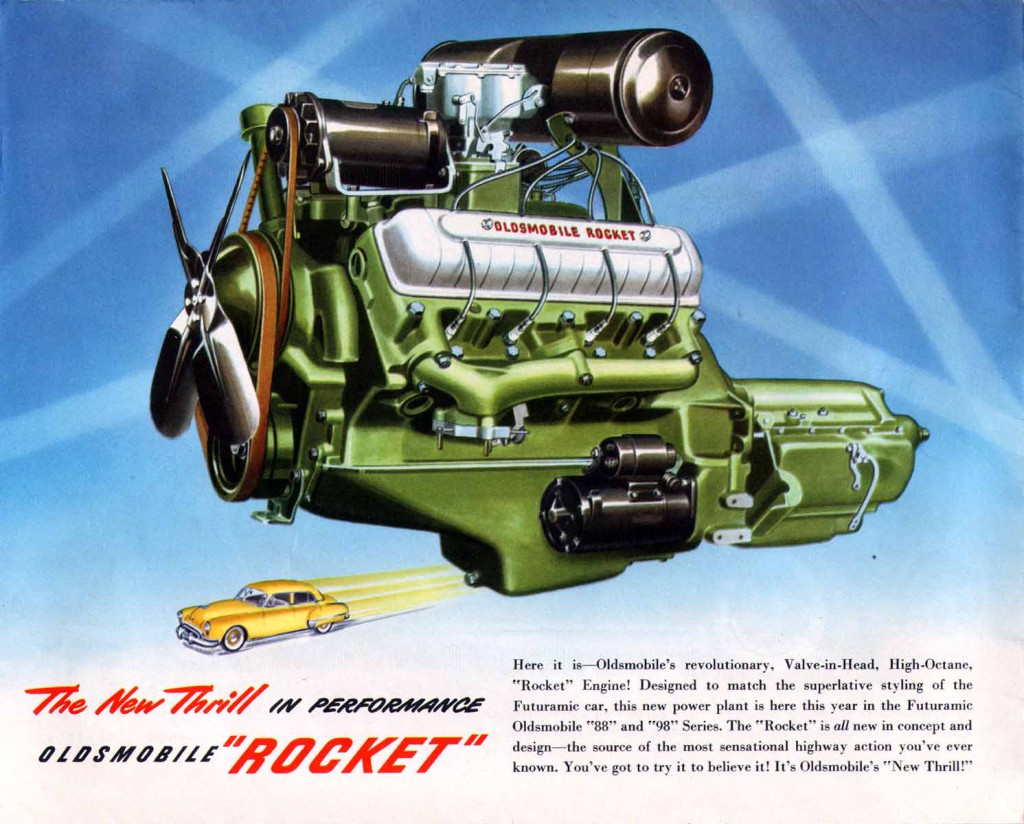 For '49, Oldsmobile's top engine offering went from a 115-horsepower straight eight to a 135-horse V8. Credit the new Rocket V8's "valve-in-head" design.
Dual Carburetors —  1953 Hudson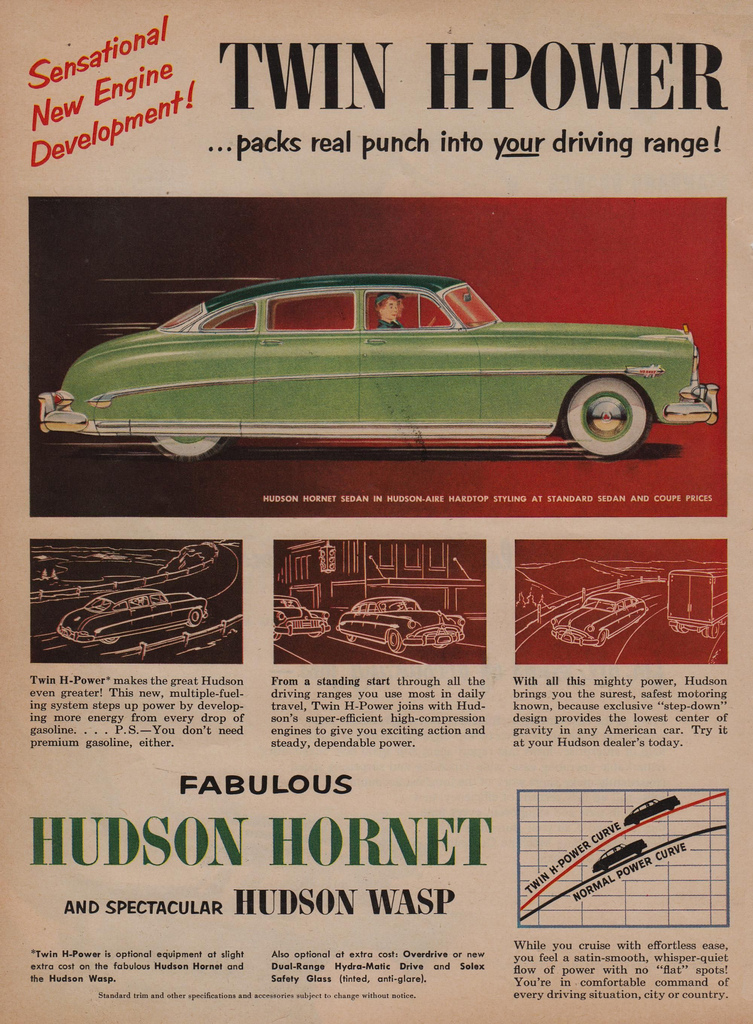 Long before there were "dual quads" and "six pack" carburetors sitting atop America's burliest V8s, there was Hudson's Twin H-Power dual-carb arrangement. On Hudson's 308-inch straight six, the H-Power intake was good for a 15 horsepower bump, to 160 total.
Turbocharging – 1962 Oldsmobile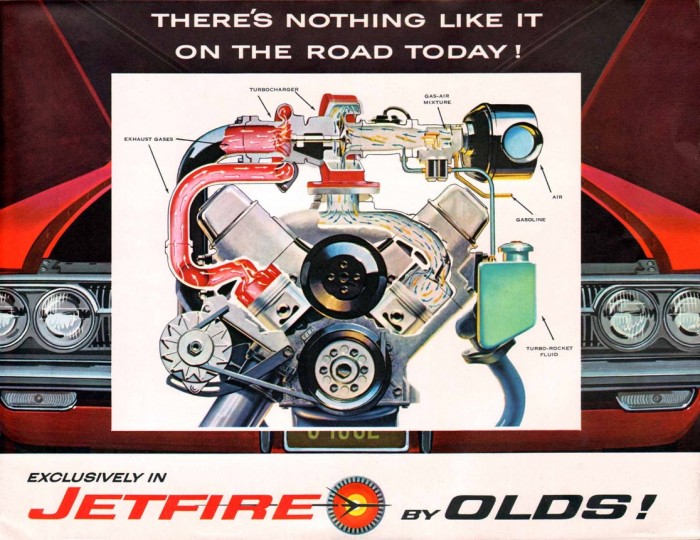 Available only on the Jetfire version of Oldsmobile's compact F-85, the turbocharged "Jetfire" 215-inch V8 was good for 215 horsepower, a 30-horse bump over the most-powerful non-turbocharged 215. The Jetfire V8 survived just two model years, in part because of reliability problems.
Supercharging – 1963 Studebaker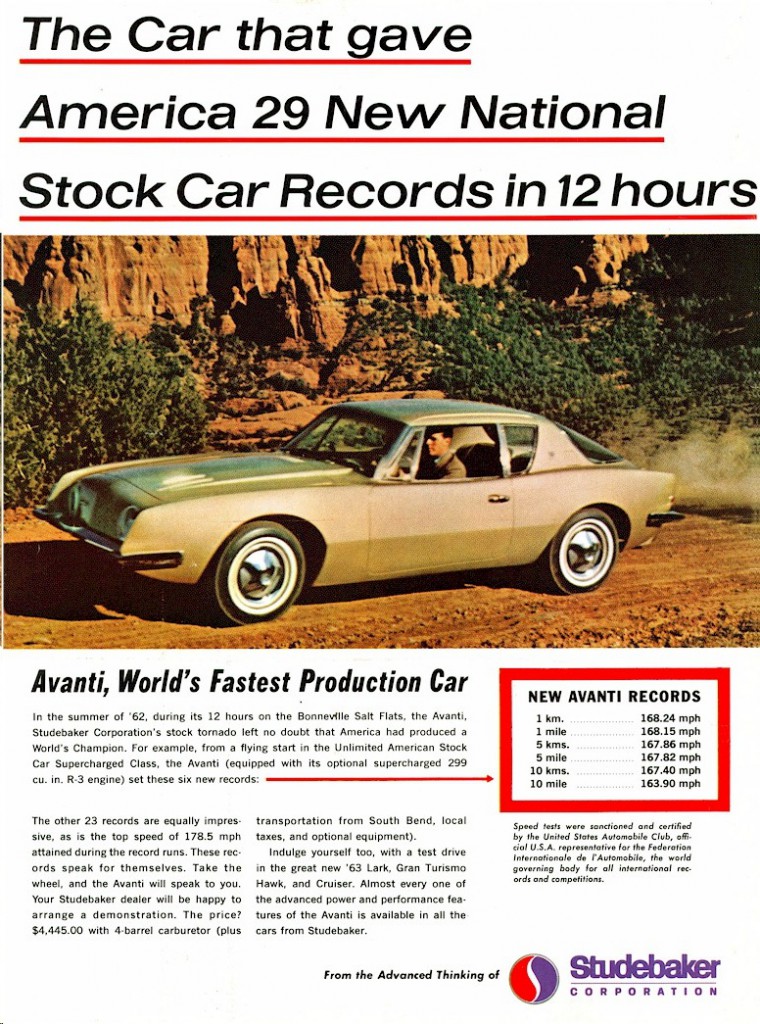 Good for between 15 and 65 extra horsepower, the superchargers available on select Studebaker Avanti, Hawk, and Lark models were certainly worth hyping.
Fuel Injection –1975 Volkswagen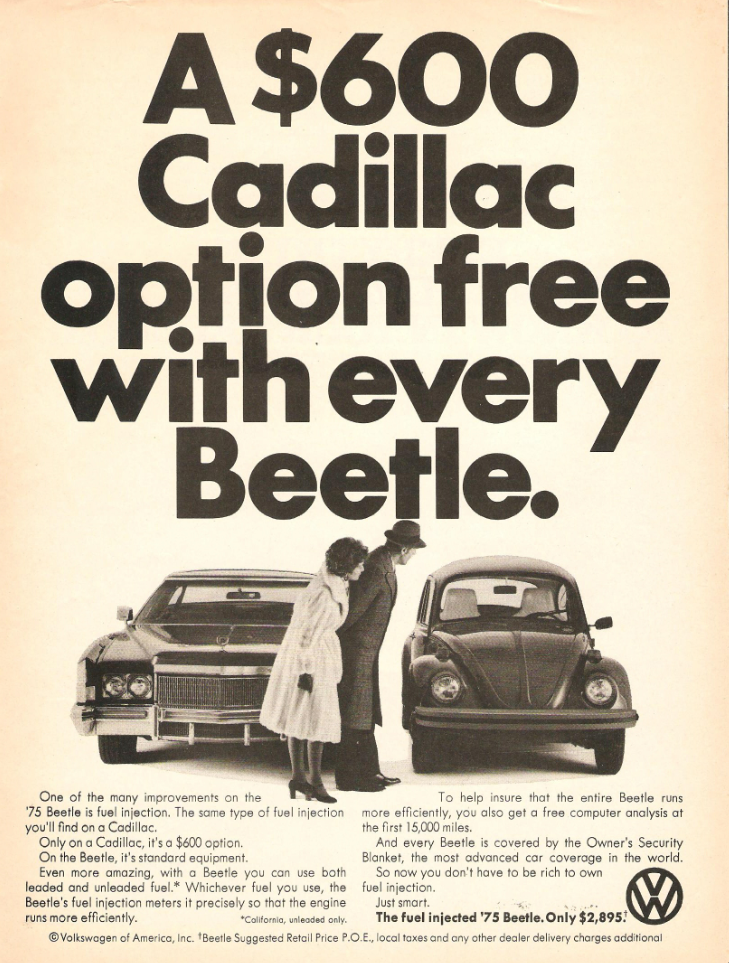 The Beetle wasn't the first car to boast fuel injection, but it was arguably the first affordable car to do so. More than boosting power, injected Beetles were reported to run more smoothly than their carbureted predecessors.
More vintage car ads:
Classic Car Ads: Sexy Ladies Edition
Asian Invasion: Five Classic Japanese Car Ads
Classic Car Ads: Giant Floating Heads Edition
Equine Madness: Five Great Horse-Loving Vintage Car Ads
Automotive Lemons! 10 Classic Car Ads Featuring Yellow Cars
Taming the Fairer Sex: Classic Car Ads and Submissive Women
Hello, Ladies! Classic Car Brochure Art for Happy Women
V8 Madness! Five Great V8-Loving Vintage Ads
The Lady Likes: Approving Women in Car Ads
V6 Madness! Five Great V6-Loving Vintage ads
Bikini Madness: Five Great Car Ads Set at the Beach
What Was the Deal with Car Ads and Swimming Pools, Air Ports, and Golf Courses?