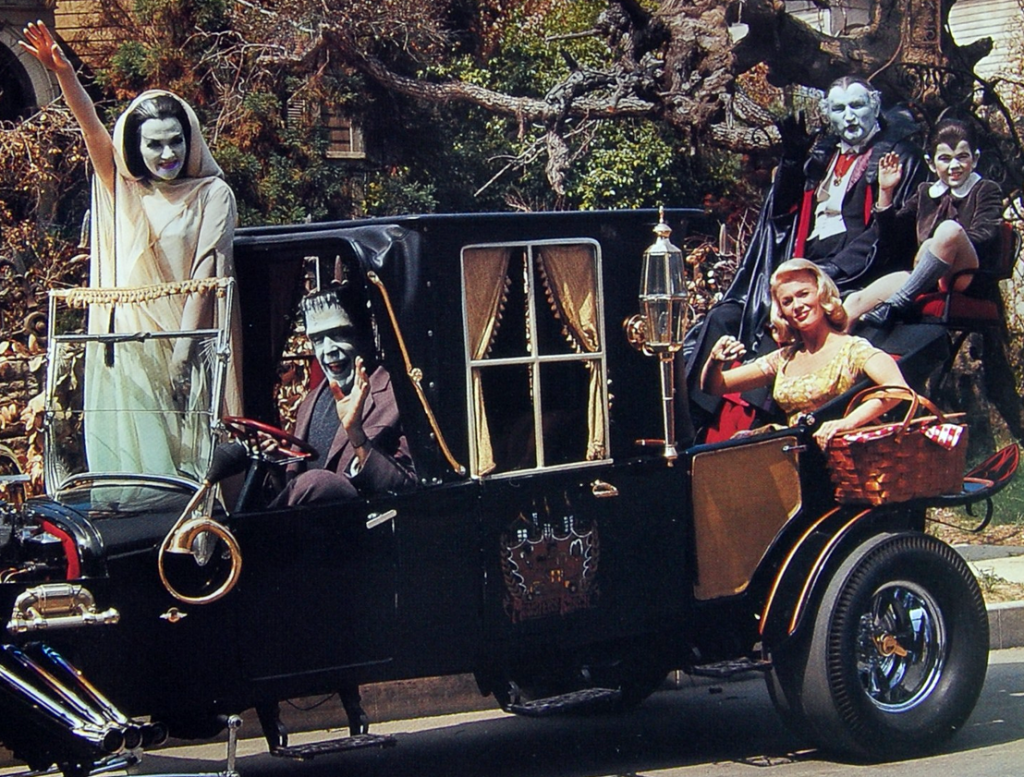 By Jack Stewart
Abnormal was the norm for TV shows in the Sixties. The airwaves were full of Martians (My Favorite Martian), witches (Bewitched), genies (I Dream of Jeannie), costumed super heroes (Batman, The Green Hornet), and lovable mountain folk in luxury environs (The Beverly Hillbillies). Amidst this sea of wackiness, the dueling creep-show families of The Munsters and The Addams Family fit right in. However, The Munsters gets bonus points in our book for giving the family car a starring role. While the Addams' 1930 Packard touring car was rarely seen, the Munster Koach was a regular costar. The wild stretched-wheelbase, Model-T hot rod/hearse hybrid made its debut in episode four (Rock-A-Bye Munster), when Lily goes to a used-car lot to buy a car for husband Herman's birthday (she arrives in a 1937 Cadillac limo, by the way). She likes both a T-bucket hot rod and a 1920s hearse (a rare and expensive Cunningham V8), and asks to have a customizer combine the two.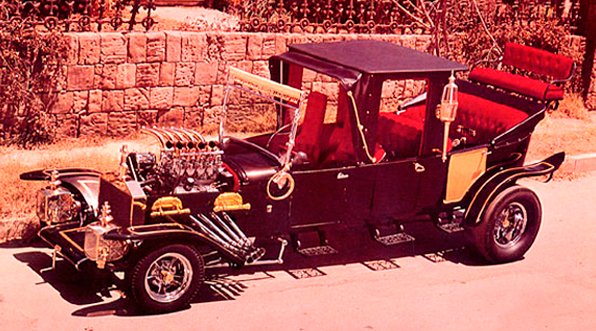 In real life, famed customizer George Barris was given 21 days to build a vehicle for the series. He paid artist/designer Tom Daniel $200 to whip up a wild ride for a spooky sitcom family. (Daniel later designed the Red Baron model kit for Monogram, which was one of the best selling model car kits of all time.) Barris then had Dick Dean and employees of the Barris shop turn Daniel's drawing into reality.
What Was The "Beverly Hillbillies" Truck?
Herman Munster worked in a funeral home, and there were funeral-themed details on the Koach, such as casket handles on the hood, "cobwebbed" lantern headlights, and lots of rolled-steel scrollwork. Three fiberglass Ford Model T bodies were used to form the bodywork, which stretched over a 133-inch-wheelbase chassis. The 18-foot long Koach had four rows of seats—including a bench seat hanging precariously off the back. All were upholstered in blood-red velvet, which was lost on viewers of the black and white TV show. The engine was Ford 289-cid V8 that was hopped up with Jahns high-compression pistons, Isky cam, Bobby Barr exhaust headers, and a wild (but fake) 10-carburetor setup that concealed a single four-barrel carb. Barris was paid $18,000 to create the Munster Koach.
The Koach was fully drivable, though it was a bit of a squeeze for its TV pilot. Since actor Fred Gwynne was six foot five in real life and seven feet tall in his Herman Munster costume, the seat cushion had to be removed for Gwynne to fit behind the wheel. One day during filming, Gwynne piled the cast into the Koach and drove off the Universal Studios lot—much to the delight of people on the streets of Universal City.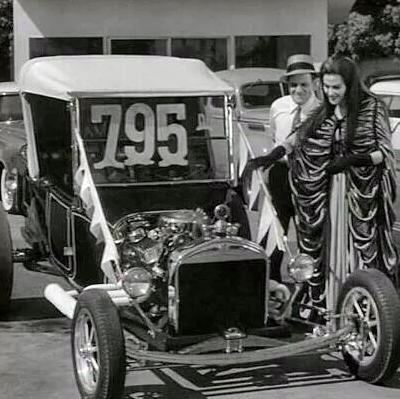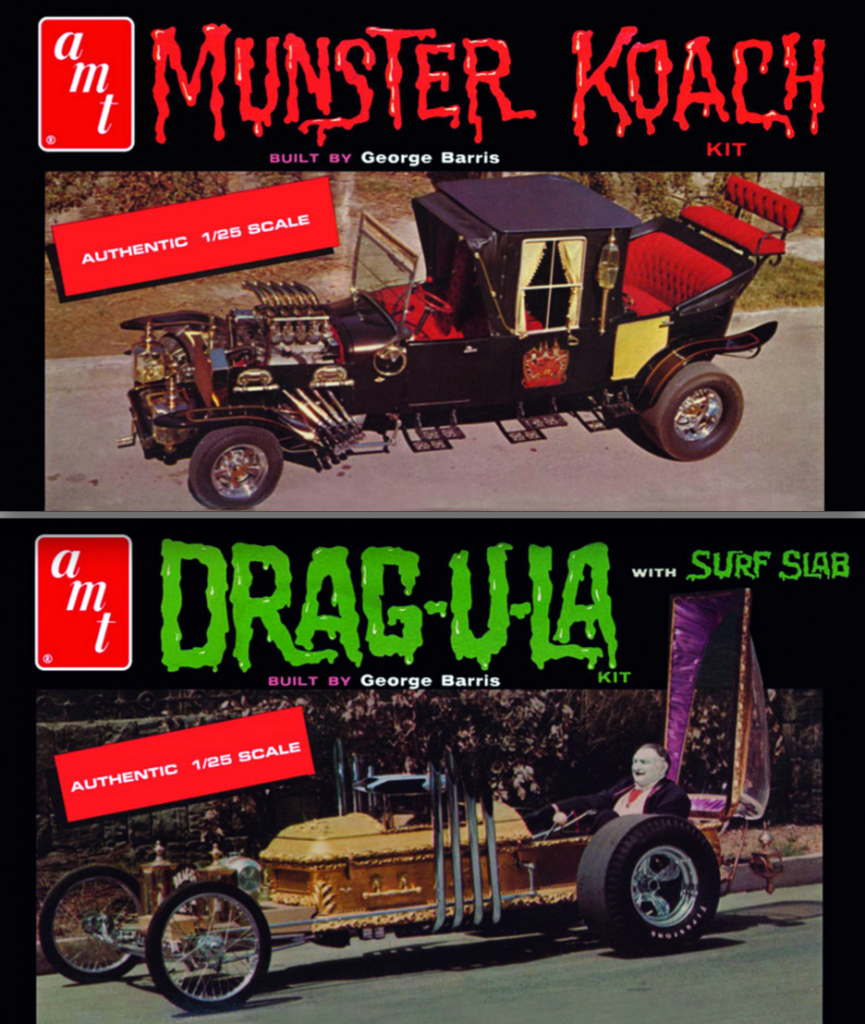 In one episode (Hot Rod Herman), Herman loses the Koach in a drag-race bet. Grandpa Munster, who was both a vampire and an inventor, tells Herman to "bring home a box from work." Herman brings home a casket that Grandpa turns into a dragster dubbed Drag-u-la. Grandpa and Herman win back the Koach, of course, and the Munsters became a two-hot-rod family. The Barris shop built the Drag-u-la as well, working off another Tom Daniel concept sketch (Daniel also came up with the Drag-u-la name). Drag-u-la rode on a Dragmaster chassis and had a 289-cid Ford V8 fitted with exhaust headers shaped like organ pipes.
Munster Koach and Drag-u-la model kits were released by AMT in the Sixties, and both have been reissued recently. The real Munster Koach was formerly on display at Cars of the Stars Motor Museum in Keswick, England and Drag-u-la is at Volo Auto Museum in Volo, Illinois. As with many other TV cars, several replicas are also floating around.