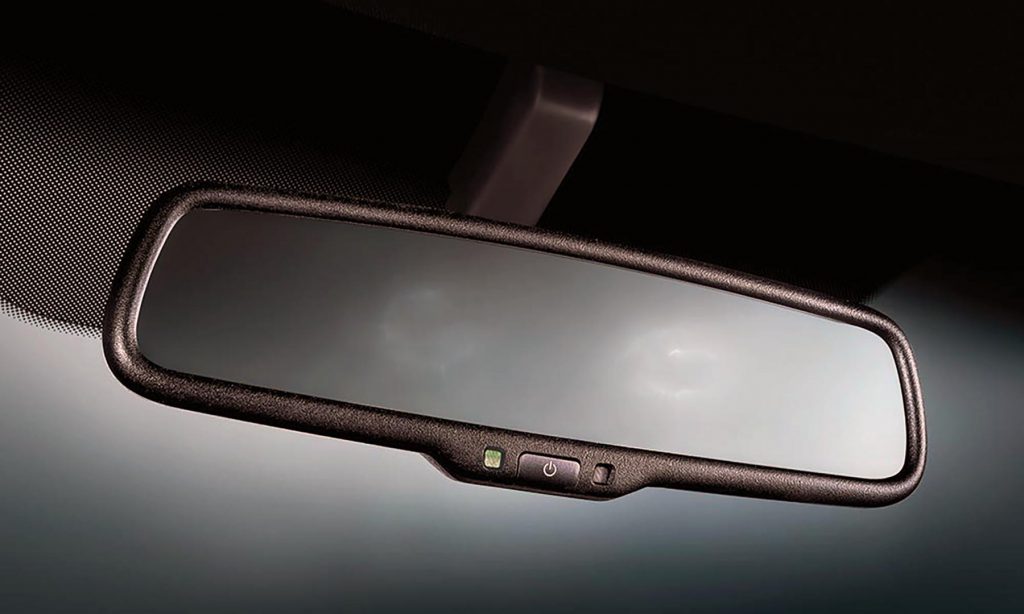 In some four and a half years with Consumer Guide Automotive, I have driven many different vehicles. Every time I get into a test car equipped with a rearview auto-dimming  mirror, I cringe a little. These devices are intended to free the driver from the oh-so-difficult task of flipping a little latch on the bottom of the rearview mirror to save his or her eyes from the blinding effects of the headlights of the car trailing behind. However, these automatic devices (which are supposed to be smarter than the driver and save a tiny bit of effort) sometimes work poorly.
Model-Year Madness! 10 Classic Ads From 1969
Auto-Dimming Mirrors
Recently, I drove a 2012 Volkswagen Passat and a 2013 Mazda 2 equipped with this "luxury" and "convenience" feature, and the mirrors in both cars failed to do their simple job correctly. Even my own car, a 2010 Hyundai Genesis Coupe, is equipped with one of these devices, and I have entertained the thought of tearing it out and replacing it with a standard flip-it-yourself mirror. Had I had the chance to order the car without an auto-dimming rearview mirror, I would have jumped at it.
I log mostly city miles and sometimes drive after dark, especially in winter. This means that I am on the road when the city's streetlights are illuminating the roadway and drivers use their headlights. Be it the combination of those two factors (something for which engineers should compensate) or some other intervening force, this type of mirror sometimes refuses to dim at all, even if there is a driver behind me who, unbeknownst to them, has their ultra-bright xenon HID (high-intensity discharge) headlights accidentally set to retina-searing high-beam mode. In these cases, to avoid being "blinded by the light," I have to tilt the mirror so much that I cannot see the cars behind me anymore, rendering the device useless, and I have to rely on the two outside mirrors instead (which usually do not dim at all, compounding the problem).
However, my recent drives of the 2013 Acura RDX, 2013 Infiniti FX, and 2013 Lexus ES yielded different results. The auto-dimming mirrors in these vehicles worked almost flawlessly and dimmed appropriately when a car was behind me. If you're thinking that the expensive cars would, of course, have the better mirror, consider this: Last week, I drove the Mazda 3, a compact car, equipped with an auto-dimming mirror, and it worked well, too.
The moral of the story is this: If you're seriously considering buying a car, and the car comes with an auto-dimming rearview mirror as an option, be sure to test drive the car at night on a well-traveled street lit by a bunch of streetlights. Be sure to note the mirror's performance. Your eyes will thank you later.
Just Curious: Questionable Car Equipment
Auto Dimming Mirrors
Auto-Dimming Mirrors