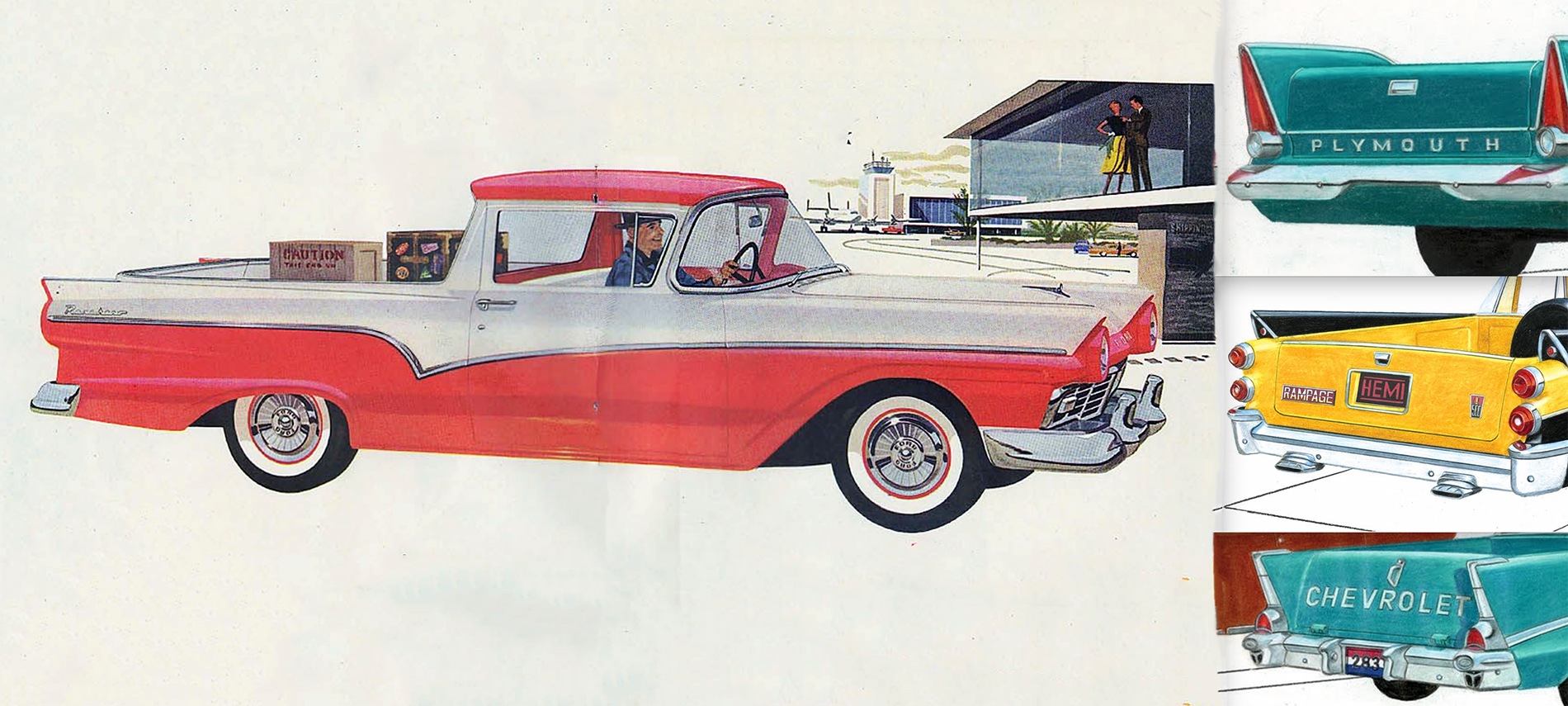 By Frank Peiler
Back in 1956, Ford was preparing for the introduction of their all-new 1957 models, and what an introduction it would be! Not just one line of cars, but two. The large cars were the Fairlane and Fairlane 500, which were built on a 118-inch wheelbase They were available as four-door hardtops and sedans, two-door hardtops and sedans, and a 500 two-door convertible. Later in the model year came the Skyliner retractable-hardtop convertible.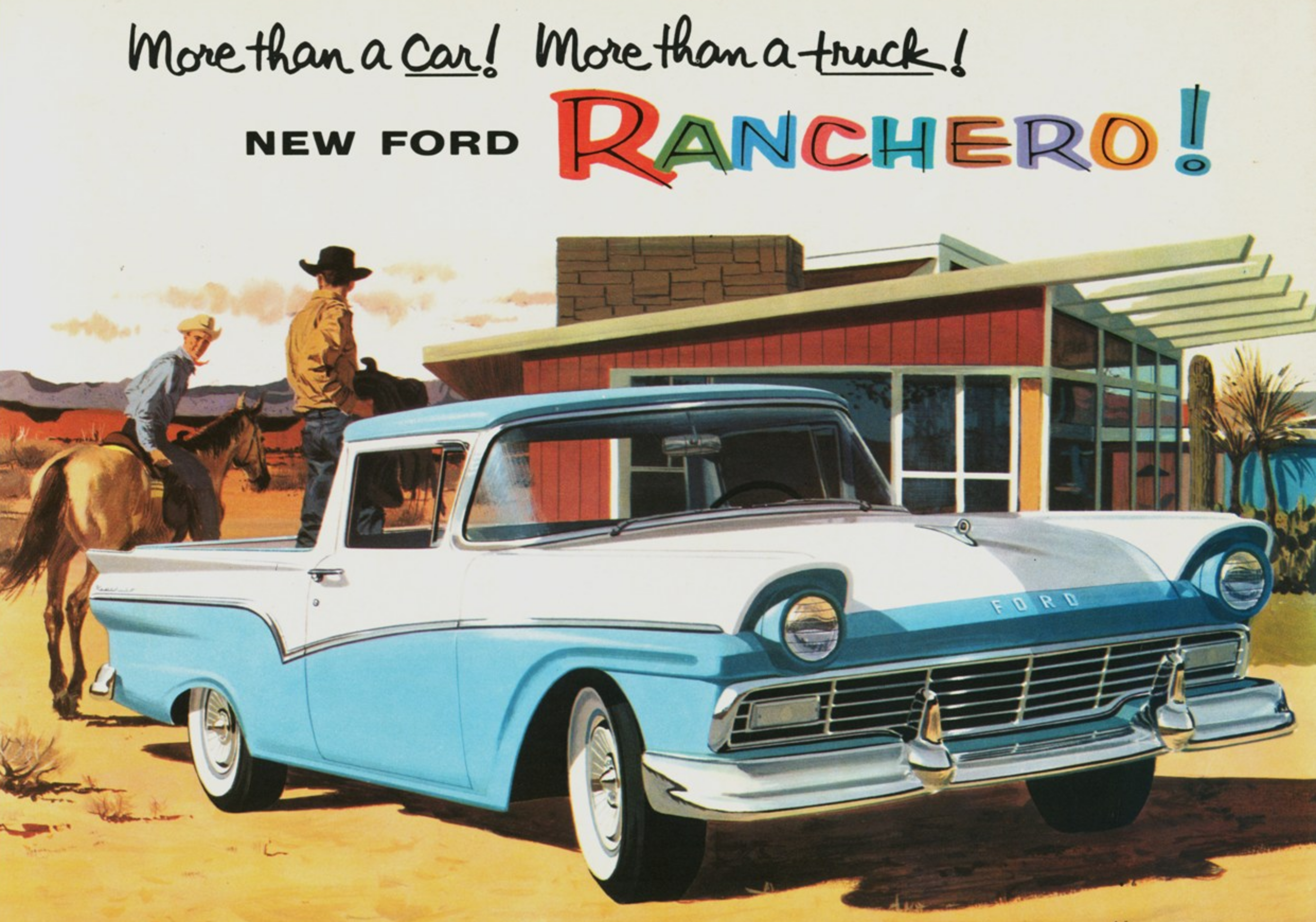 The Custom and Custom 500 used a 116-inch wheelbase. These smaller Fords were only available as two- and four-door sedans, plus a bunch of station-wagon versions. The big surprise was the introduction of the Ranchero, a passenger-car-based pickup truck. No other manufacturer had offered a car-based picked since the Studebaker Coupe Express, which was produced from 1937-39. Spies working for other automakers must have been aware of the Ranchero as early as late 1954 or early 1955. So, why didn't they react and offer their own car-based pickups? I've got a hunch that the other automakers' bigwigs probably didn't feel that there was much of a market for a vehicle of this type. Still, what if they had jumped at the chance to have one of their own? This is what I think that they might have come up with.
More Frank Peiler design renderings
Alternate-Universe 1957 Ford Ranchero Designs
Chevrolet El Camino and Pontiac Muroc

Chevy did answer the Ford Ranchero with its El Camino, which launched as a 1959 model, but what if they would have responded right away, and what if Pontiac got in on the act as well? Since Chevy and Pontiac shared the same basic body structure, these two would share the same pickup bed and tailgate. They also share the same basic roof and window glass as well, but I gave each make its own style rear window: the Chevy has flat glass, and Pontiac gets wrap-around glass. Since Pontiac used the Bonneville name to great success, I continued that theme and dubbed this pickup Muroc. (The Bonneville Salt Flats in Utah are a legendary land-speed racing locale, and the Muroc Dry Lake in California was also a hotbed of land-speed racing.)
What If: A Gallery of Alternate-Universe 1950s Rolls-Royce Designs
Plymouth Plainsman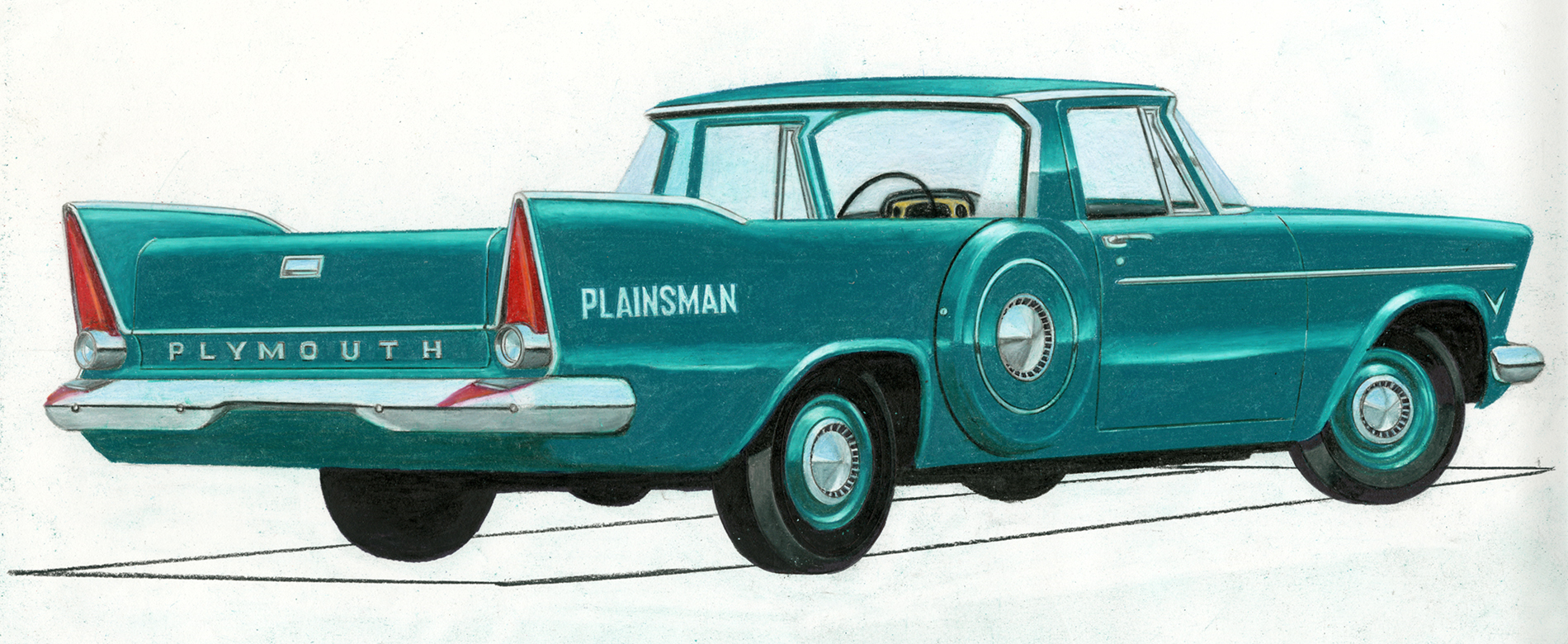 The strangest element of this design is the outside spare tire shell—a feature reminiscent of earlier step-side pickups. The rear window design is very similar to the shape of the windshield frame. I swiped the Plainsman name from a Ghia-built Plymouth concept station wagon from 1956.
Car Spotter Challenge: Car-Based Pickups
Dodge Rampage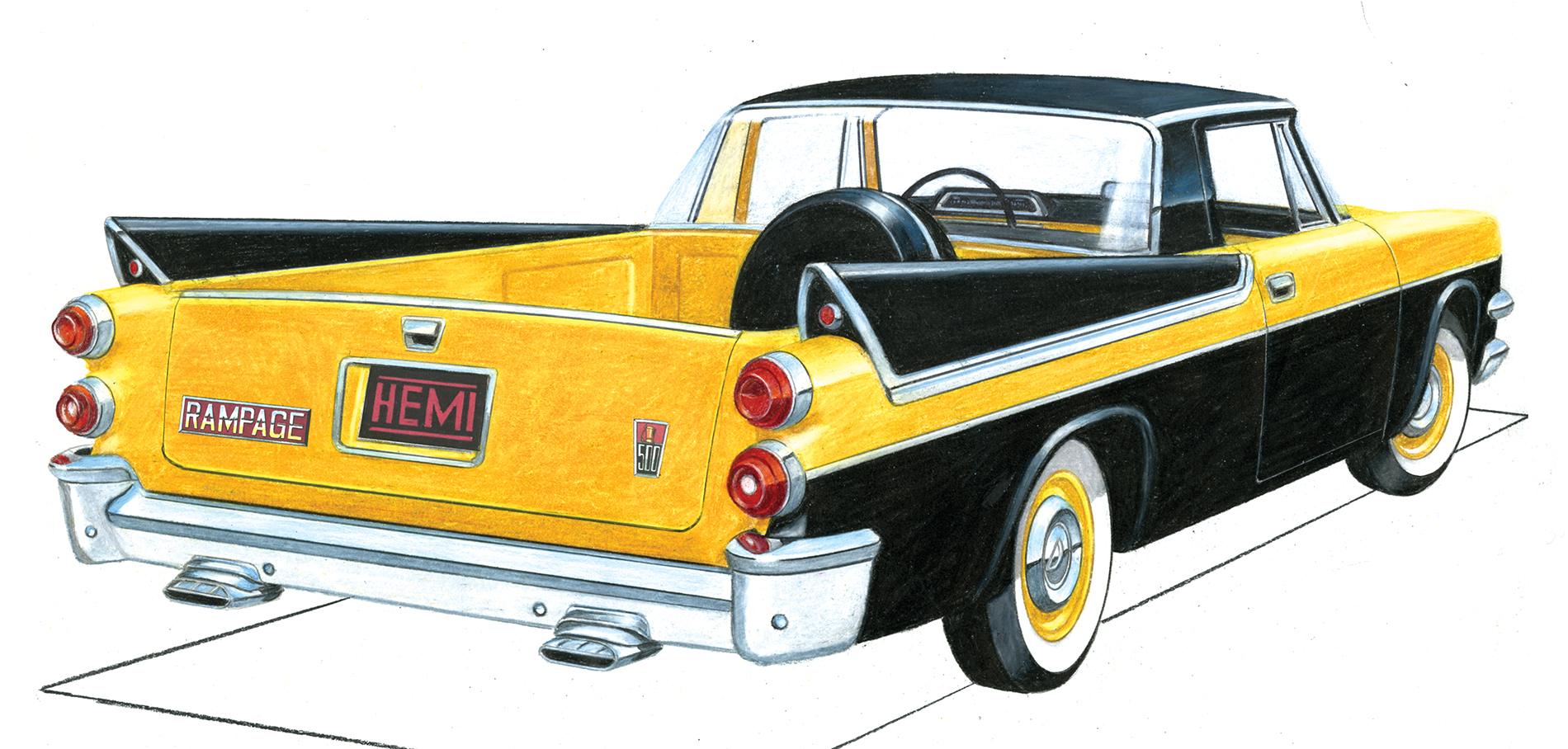 Not much different than the Plymouth, the Dodge Rampage carries its spare tire in the pickup bed, and the rear window is a compound-curve design. Dodge actually did use the Rampage name decades later on a car/pickup built off the Omni 021/Charger "sporty" compact. That Rampage lasted just three years: 1982-84.
What If: A Gallery of Alternate-Universe 1963 Buick Riviera Designs
AMC Rumbler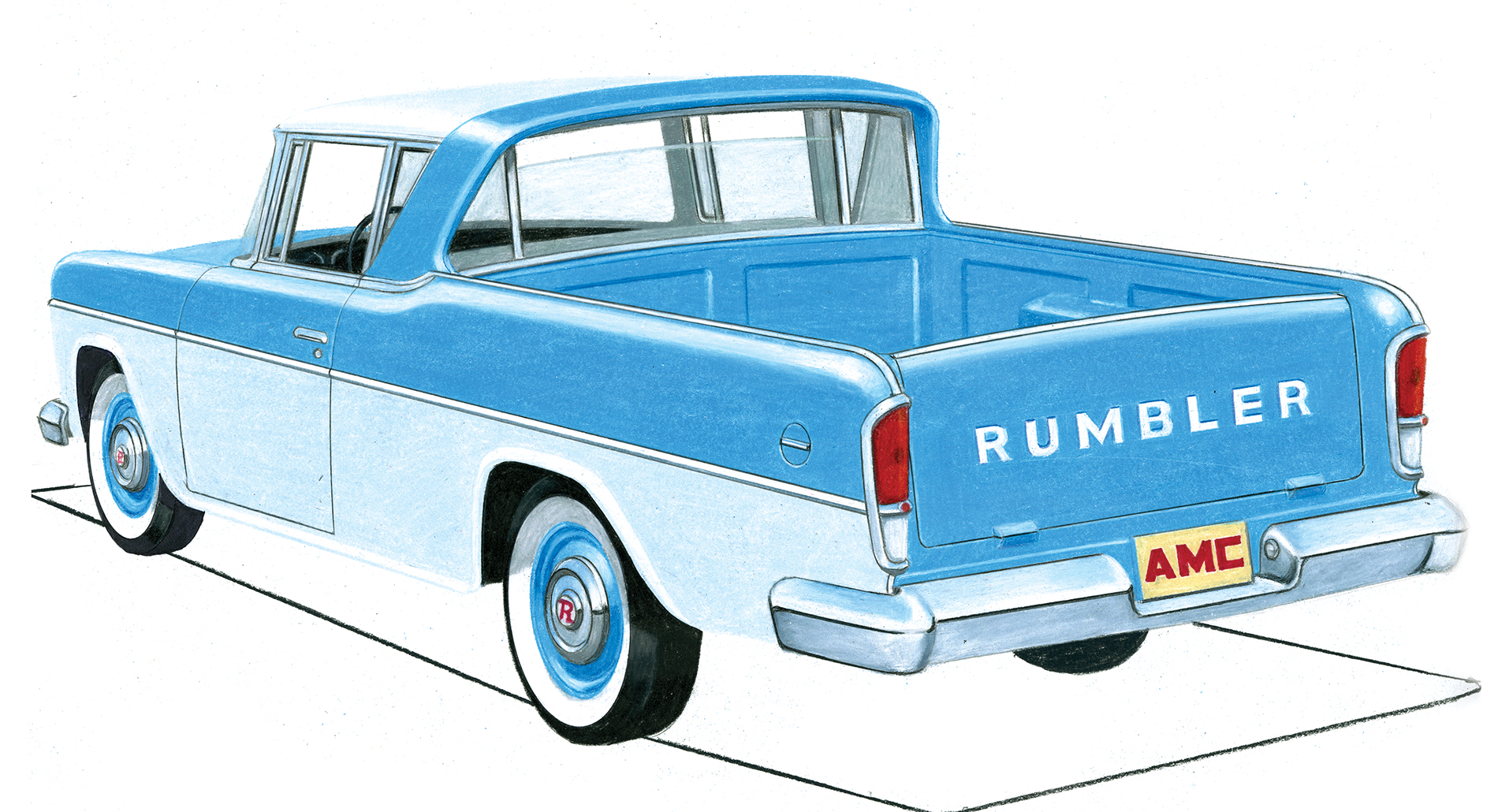 Derived from the compact Ramblers of 1956 and 1957, the Rumbler is probably the least likely of my "what-if" pickups. AMC didn't offer a two-door sedan, so the Rumbler would require all-new quarter panels, tailgate, and pickup bed, plus a reworking of the sedan's C-Pillar to a short-cab roofline. The roll-down rear window would be an extra cost option.
My Favorite Grilles: Fifties Edition
Studebaker Coupe Express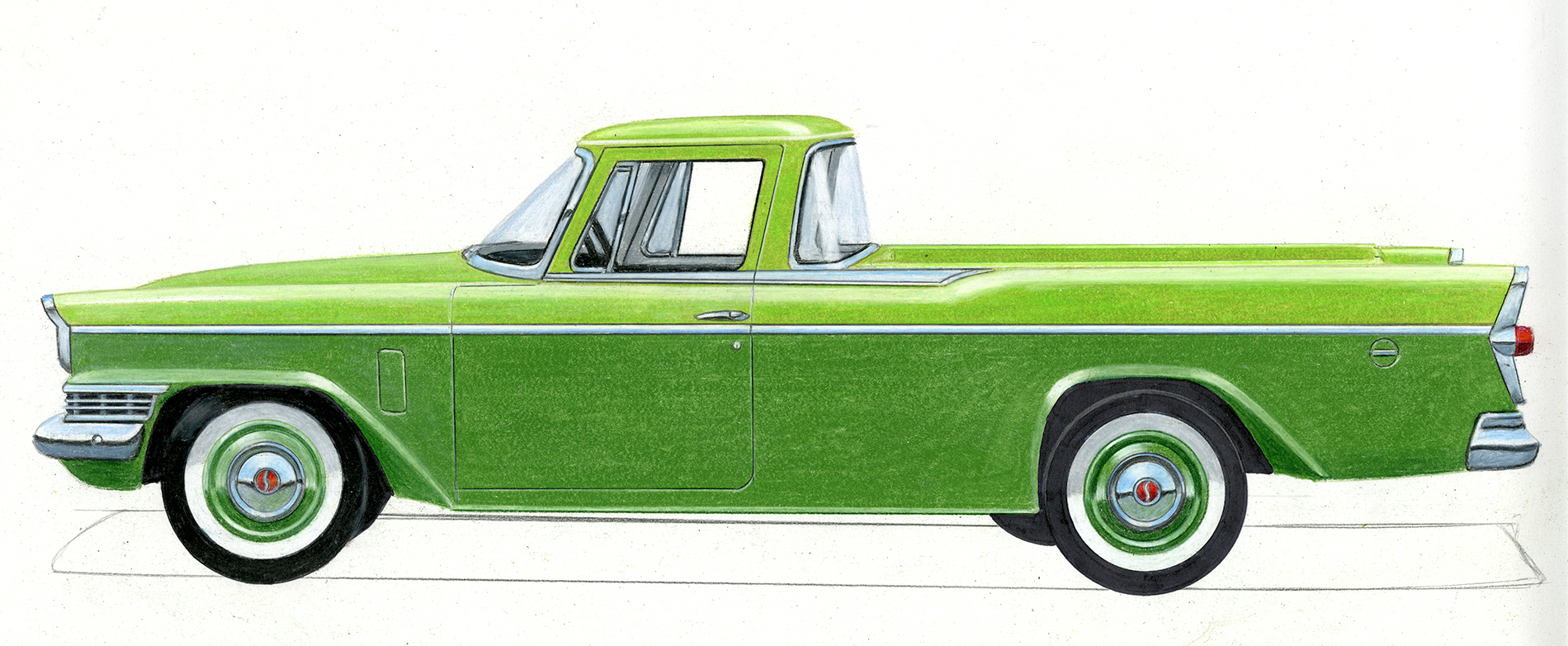 Most people wouldn't know or remember that the Coupe Express name was last used by Studebaker in 1939. A new pickup bed, tailgate, quarter panels and a reworked roof would be required to pull this one off.
10 Coolest Dashboards of the 50s
Mercury Turnpike Bruiser

Some Turnpike Cruiser parts and Mercury wagon sheet metal is really all that is needed for this pickup.
What If… 1953 Crosley (7 Alternate-Universe Possibilities)
Mercury Northernpike Cruiser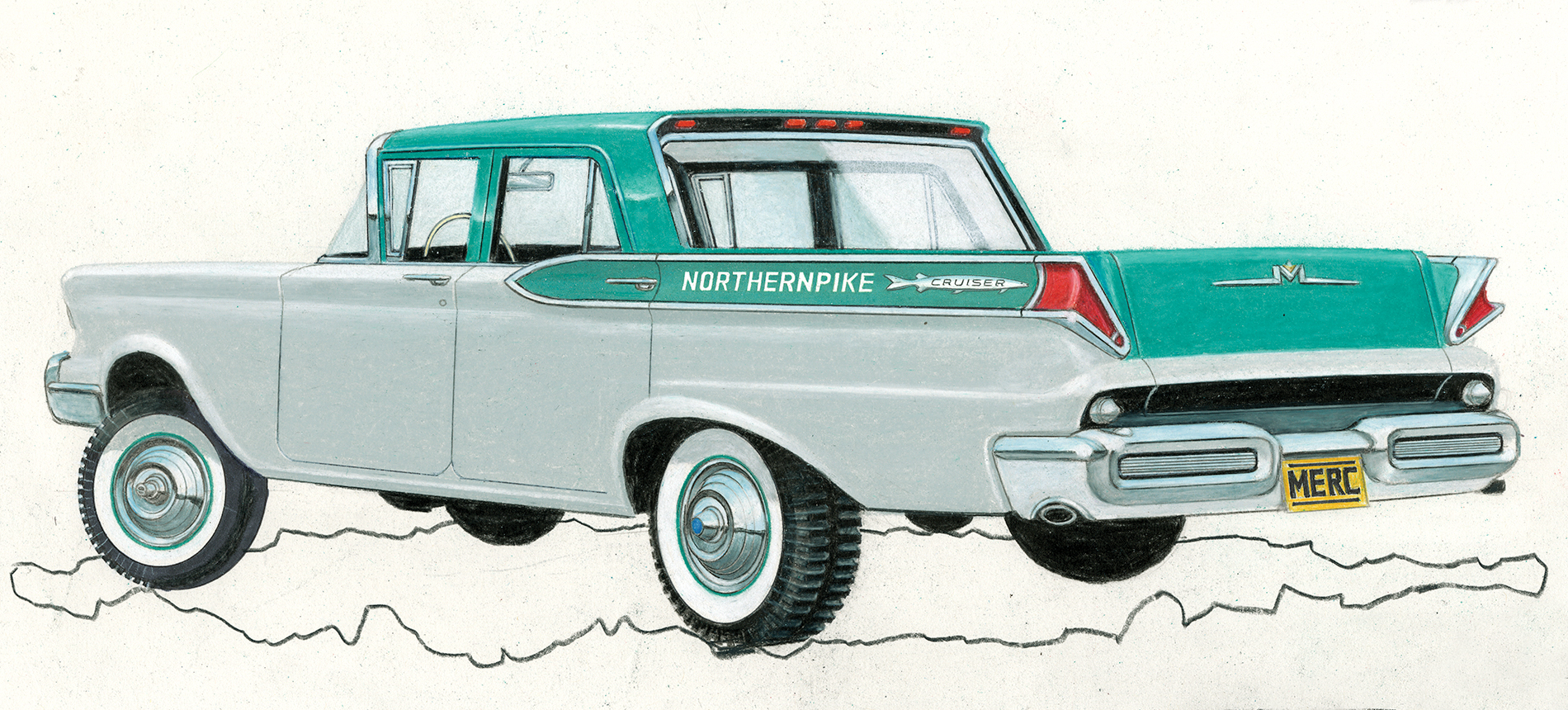 Sort of a Chevrolet Avalanche or Subaru Baja 40-plus years before the fact, this beast is mostly a 4-door Mercury station wagon turned into a pickup and beefed up with 4-wheel-drive and a few truck-like trim bits. Built for the well-off outdoorsman for hunting, fishing, and camping… or maybe just to impress his groundskeeper and rich neighbors.
Subscribe to Collectible Automobile
1957 Ford Ranchero Designs Gallery
1957 Ford Ranchero Designs