Marketing executives use the term "white space" to refer to an area of a given market segment (say, pickup trucks) in which no product yet exists. If you think about 3M's 1977 rollout of the Post-it Note, you'll get the idea.
Though very much a conventional pickup truck in its general design layout, the Dodge Dakota found some white space when it was introduced for 1987. A "tweener" truck of sorts, the Dakota was meaningfully larger than the existing Ford Ranger and Toyota compact pickups, but considerably smaller than the full-size Ram truck.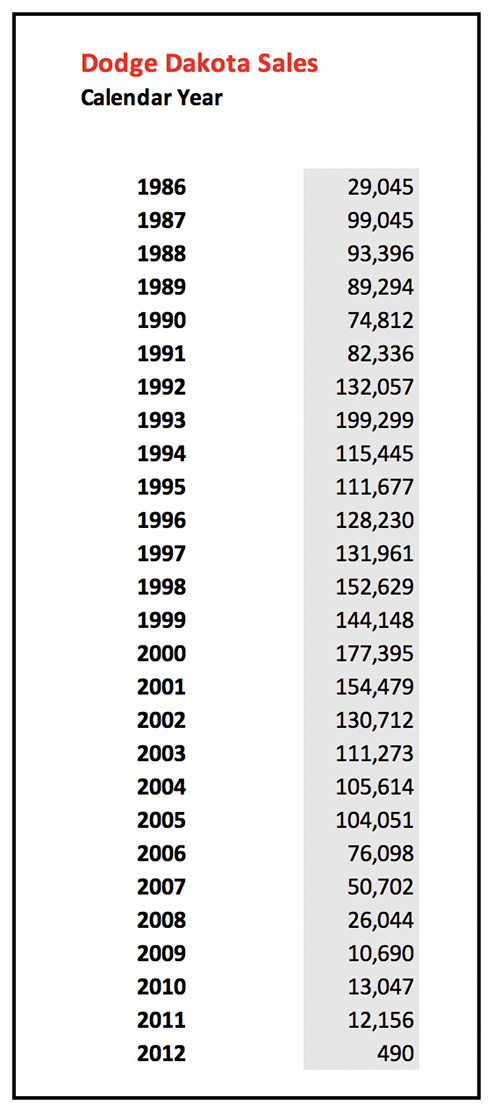 Dakota was not the only small pickup to be discontinued by its manufacturer. The Ford Ranger was axed at about the same time as the Dakota, and the Chevrolet Colorado and GMC Canyon both went on hiatus after the 2012 model year. Likewise, the Honda Ridgeline, ever the slow seller, was deleted from Honda showrooms after the 2014 model year.
Things have changed since the Dakota disappeared in 2011. Full-size truck prices have skyrocketed—the least-expensive Ram now starts at nearly $35,000, and loaded examples easily top $70,000. Though not exactly white space—Nissan and Toyota never left the small truck market—automakers again saw price room under big trucks to sell something smaller. Thus, the GM small pickups were back for 2015, the Honda Ridgeline returned for 2017, and the Ranger was relaunched as a 2019 model.
And what of the Dakota? A midsize Ram pickup based on the bones of the recently introduced Jeep Gladiator is reportedly due for the 2021 model year. Rumor has it that the new pickup will be called Dakota. For the record, Ram sells a truly small pickup truck in Mexico called the Ram 700. The diminutive 700 is built in Brazil by Fiat and is based on that maker's Strada small car. There is little chance that tiny truck will make it to the U.S. market.
Presented here is Consumer Guide's complete review of the 2011 Dodge Dakota. If you've spent any time with a Dakota, tell us about it. The place to leave comments is down below.
2011 Dodge Dakota
Overview
The 2011 Dodge Dakota sees no major changes for what will likely be its final model year in its current design. This compact pickup truck offers two body styles. Extended Cabs have a 6.4-foot cargo bed and rear-hinged back doors that do not open independently of the fronts. They seat up to 5. Crew cabs have a 5.3-foot bed, conventional rear doors, and seat up to 6. Three trim levels are offered: Base ST, mid-level Big Horn (Lone Star in Texas), and top-end Laramie. The off-road-ready TRX4 has been discontinued. Dakota's standard engine remains a 210-horsepower 3.7-liter V6. It teams with a 4-speed automatic transmission. A 302-horsepower 4.7-liter V8 is optional on the Big Horn/Lone Star and Laramie. The V8 uses a 5-speed automatic and can run on E85 ethanol-blended fuel. Dakota is available with rear-wheel drive or part-time four-wheel drive. The 4WD system should not be left engaged on dry pavement, but includes a low-range gear for off-road use. Maximum towing capacity is 4,950 pounds with the V6 and 7,250 pounds with the V8. Available safety features include ABS, front-side airbags, and curtain-side airbags. Other available features include heated cloth or leather front seats and Dodge's Crate 'N Go system, which includes collapsible and removable interior storage containers.
Acceleration
V8 Dakotas have good power in around-town driving, and adequate highway-passing reserves. V6 Dakotas are underpowered for anything but daily commuting and light loads.
Fuel Economy
In Consumer Guide testing, an automatic-transmission crew-cab Dakota with the V6 averaged 17.3 mpg in mostly city driving. We haven't had an opportunity to measure with the V8. All Dakotas use regular-grade gas. The V8 can also run on E85 ethanol.
Forgotten Concept: Dodge Dakota Sidewinder
Ride Quality
Dakota's ride is typical for a truck. Test models suffered from noticeable bounding and choppiness over broken surfaces.
Handling
Steering has a direct feel and lacks typical truck sloppiness. Body lean is evident in turns, but is well controlled overall for a pickup. Four-wheel ABS is a worthwhile investment over the standard rear-only arrangement, though it should really be standard.
Quietness
Road noise is impressively hushed. Some wind rush is apparent at highway speeds. The well-muted V8 engine sound is refined in rapid acceleration. The V6 is crude by comparison and drowns out most other sources of ruckus.
Controls
Controls are logically placed and readily accessible. Large gauges are easy to read.
Details
Interior materials look and feel budget grade. Hard, shiny plastic covers most surfaces, and some controls lack a quality feel.
Aussie Unicorn: What, Exactly, Was The Kelpie Kargo?
Room and Comfort
FRONT: The spacious cabin has plenty of headroom and legroom. The crew-cab and some extended-cab versions of this truck have an available bench seat. Even with rear-wheel drive, step-in height is a bit steep.
REAR: Crew cabs offer 3-abreast rear seating, but only two adults will fit comfortably. Headroom and legroom are adequate for adults under 6-feet, but taller riders will want more legroom. Extended cab's available forward-facing jump seats best suit those under 5-foot-3 because legroom is scarce. Extended cab's available Full Swing rear doors open nearly 170 degrees, thereby easing entry and exit, as well as cargo loading.
Cargo Room
Ample center-console (on models so equipped) and door-pocket storage. Crate 'N Go and folding rear seats add to these trucks' utility.
No-Name Sport Truck: Remembering the Chevrolet Colorado 3LT V8
Value
This pickup deserves a look for its refinement and "big-truck" capability. It's a bit too cumbersome for easy daily commuting, but a V8 model is a terrific choice if you tow or do heavy hauling and don't want the bulk of a true large pickup truck.
Towing
Maximum towing capacity is 4,950 pounds with the V6 and 7,250 pounds with the V8.
Review Flashback! 2013 Chevrolet Avalanche
Written by: Tom Appel
on December 9, 2019.
on December 10, 2019.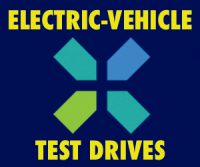 Auto Shows
Steve & Johnnie's Road Tests