Last year, BMW sold almost 350,000 vehicles in the U.S.–almost twice as many cars and SUVs as Cadillac sold here. The reasons for BMW's relative success are numerous, yet it can be tempting to oversimplify the situation and conclude that Americans prefer the German maker's hardware to that of Cadillac. While that may be true, there's more to the picture–or in Cadillac's case, less.
Cadillac shed a lot of unwanted "Yank Tank" baggage in 2002 with the introduction of the 2003 CTS. With freshly creased "Art and Science" styling, high-quality cabin appointments, and a decidedly sporty demeanor, the CTS represented a new direction for a classic American brand.
Yet, despite the mostly glowing media reception, and the wide acceptance by automotive enthusiasts, the CTS did not spark the Cadillac renaissance it should have. There are a number of reasons for this. First, subsequent Cadillac product launches failed to cover as much ground as the CTS did. The larger STS sedan was only slightly larger, and arguably a little too under-styled for the price point.
Also, Cadillac continued to sell the front-wheel-drive DeVille/DTS alongside its newer, more European-themed offerings. Though generally well regarded, the DeVille/DTS was considered a throwback to brand's chromey, huge-car past.
Also inconsistent with brand's would-be Audi/BMW/Mercedes-Benz/Lexus-contender image is the Escalade. Embraced by hip-hop culture and brazenly styled, the Escalade sells well for Cadillac, but sends mixed messages about the marque's mission and intended client base. It's worth noting, however, that the Escalade is by most accounts an excellent vehicle, and has earned Consumer Guide Best Buy status for its people-moving prowess, power, and mechanical refinement.
The short-lived Chevrolet-Volt-based ELR extended-range-electric vehicle was a technical bright spot for Cadillac, but its compact coupe configuration and steep price tag limited market appeal.
Cadillac currently offers the XT5, a midsize crossover replacement for the popular SRX. The XT5 maybe the most market-appropriate Cadillac product introduction since the original CTS was rolled out 14 years ago. And herein lies the problem: Cadillac is starving for product.
Where BMW seems to have taken a shotgun approach to the U.S. market, selling vehicles in every conceivable niche, Cadillac has developed a very narrow product range, and now has little to sell in the segments where most of the market is shifting.
BMW sells more than 90 different models in the U.S.…91 to be exact. There is a BMW for nearly every conceivable price and product point a luxury shopper might consider. And while Cadillac can boast 70 different models, the bulk of those offerings are concentrated under the ATS nameplate: For some reason, there are 24 variations of the ATS compact coupe and sedan.
How Many Different Ways Are There To Build a Ford F-150? Would You Believe 2 Billion?
Unlike BMW, Cadillac offers customers no small crossovers, no wagons, no convertibles, no sports cars, no hybrids, no diesels, and no boutique models (like BMW's Gran Turismo hatchbacks and Gran Coupe "coupe" sedans).
Cadillac recently added the well-regarded CT6 large sedan to its lineup. Theoretically a nice fit in the Cadillac portfolio, the CT6 is positioned just above the CTS in terms of price and size. Unfortunately, the market for large luxury sedans is small, and the trend towards crossovers means most new shoppers to the premium-vehicle market are looking for something other than a BMW 7-Series alternative. Not surprisingly, the CT6 is selling in only modest numbers.
It's easy to argue that BMW offers too many models in the U.S., and there is evidence to suggest it does. But BMW is in the position to pull slow-selling niche models out of this market if they fail to meet expectations. Meanwhile, Cadillac still needs to find product to sell in core luxury segments, such as compact- and 3-row midsize crossovers.
The good news is that Cadillac has several new crossovers in the design pipeline. Two of the new models will slot below the XT5 is size and price, while a larger crossover will offer three rows of seating and be positioned above it.
Sadly, there's nothing fun on the Cadillac product horizon. No halo sports car or hardtop convertible. There's nothing coming that helps Cadillac establish its engineering credibility or enthusiast bona fides. That is, unless the mid-engine Corvette prototype that's been spied a number of times is actually going to be a Cadillac…
Below, please find a list of every 2016 Cadillac and BMW model. You can decide for yourself if BMW is selling too many different vehicles, or if Cadillac is just coming up short.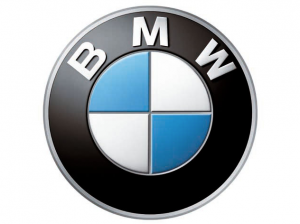 BMW's smallest car is also one of its most rewarding to drive. In M2 guise, the 2-Series rivals the Porsche 911 in terms of fun and performance. Cadillac has no direct competitor for the 2-Series.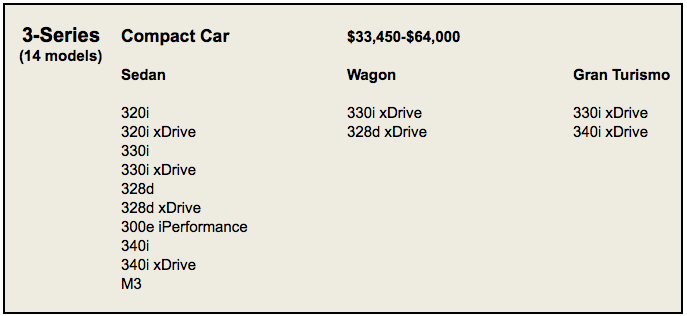 An auto-enthusiast icon, the 3-series remains BMW's best-selling model line. Two-door variants are now sold under the 4-Series banner, but remain technically similar. The 3-Series competes directly with the Cadillac ATS, though there are no Caddy wagon variants. 

Mechanically similar to the 3-Series, the 4-Series line focuses on coupes and "coupe-like" cars. The Gran Coupe actually has four doors, but a more rakish roofline than less costly 3-Series sedan. The 4-Series competes with the Cadillac ATS coupe. The ATS is not available as a convertible.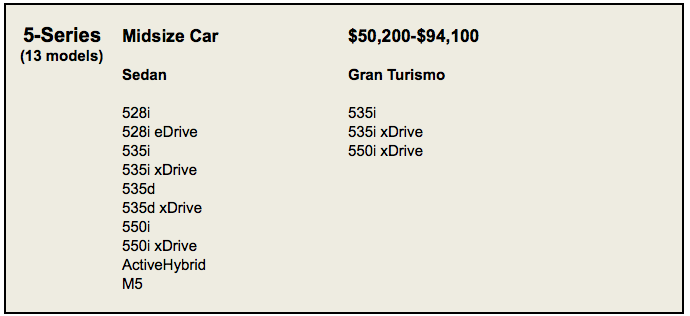 One of the most recognizable BMW model lines, and among the best selling, the 5-Series competes for sales with the Cadillac CTS. The funky Gran Turismo hatchback sedan has no direct CTS competitor.

This big coupe has little direct competition since the Jaguar XK was discontinued a couple of years ago. Cadillac has no competitor for the 6-Series, though the Audi A7 hatchback sedan and Mercedes-Benz CLS sedan come close to matching the Gran Coupe in size and price.

A legendary Autobahn stormer, the 7-Series seems to be compared only to the Mercedes-Benz S-Class in most conversations. Cadillac's new CT6 approximates the 7 in size, but the Caddy's base 4-cylinder engine and lack of a premium engine hurt its credibility in this segment.

The X1 in sDrive28i trim is BMW first-ever front-drive offering in the U.S. For this reason, it is dismissed in some circles as not being a "real" BMW. Authentic Beemer or not, the X1 will rack up about 30,000 sales this year. Cadillac offers no small crossovers.

This popular crossover hits a market sweet spot for BMW, and rivals the X5 for the title of BMW's best-selling crossover.

BMW's first crossover, and a game changer when launched in 2007, the X5 remains one of the best-selling luxury crossovers in the U.S. The X5 competes directly for sales against the Cadillac XT5.

The first of the sloped-roof  "4-door coupe" luxury crossovers, the X6 sells reasonably well given its price premium over the more practical X5. The X6M is among the best-handling crossovers on the planet–and among the most fun to drive.

Slow sales of this daringly styled 2-seat sports car have left BMW to more or less neglect the model. Introduced in 2003, the Z4 has not been significantly updated since then. BMW customers looking for a convertible can also choose from the 2-Series, 4-Series, and 6-Series, all of which are more practical.

BMW's second-ever pure-electric vehicle is offered for sale in all 50 states. Given its price premium over the likes of the Chevrolet Volt and Nissan Leaf, the i3 sells surprisingly well. Credit the i3's snappy throttle response, avant-garde cabin, and distinct styling for its relative popularity.

A technical tour-de-force, the i8 is the sort of halo vehicle a brand can strengthen a reputation around. The i8 is styled like no other vehicle currently on sale, and has the athletic ability to back up the look.
FCA Just Killed the 200 and Dart. Is the Dodge Brand Next?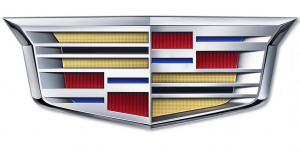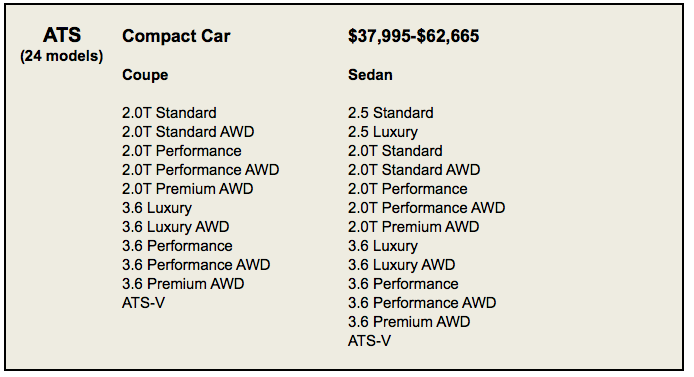 Cadillac sells far too many variations of its compact car offering. That said, the ATS is fun to drive and boasts a very nicely appointed cabin. The underwhelming 2.5-liter sedan models are being dropped for 2017.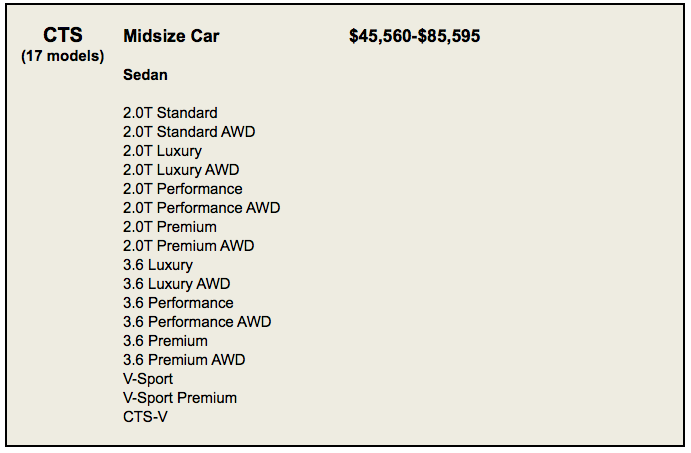 The CTS should be Cadillac's bread-and-butter sedan, but it won't even see 20,000 sales for 2016. Sporty V-Sport and super-performance CTS-V models should have helped raise CTS visibility, but customers seem unconvinced.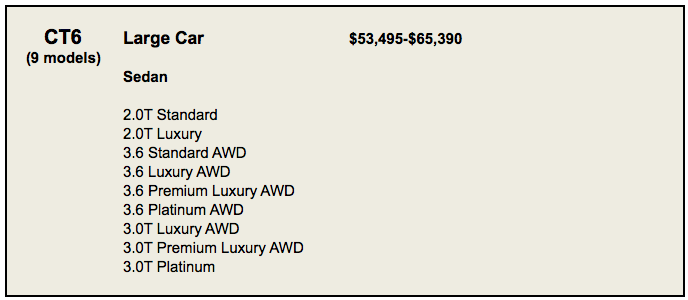 New last year, the CT6 has failed to click with luxury big-car shoppers. Though generally well reviewed, the CT6 lacks a true top-line halo engine or performance model, and it might not stand out enough design-wise from its CTS sibling. The BMW 7-Series is outselling the CT6 at a rate of about 2-to-1 this year.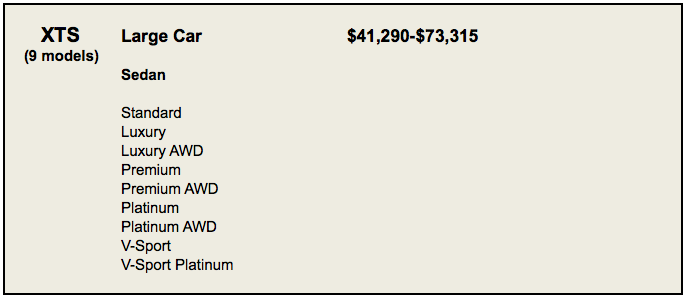 Though roomy, refined, and generally competent, the XTS is a holdover from the front-drive cush-mobile days of Cadillac's past. It's likely that most XTS sales come from limousine companies and folks over the age of 70. Additionally, in the CTS, CT6, and XTS, Cadillac has three sedans far too close in terms of size and price.

The XT5 is Cadillac's best-selling vehicle, yet it is offered in the fewest configurations. This crossover's popularity is proof that there is a definite market for Cadillac's brand of angular styling and its near-excessive level of cabin opulence. Expect the promised smaller and larger Cadillac crossovers to sell nearly as well.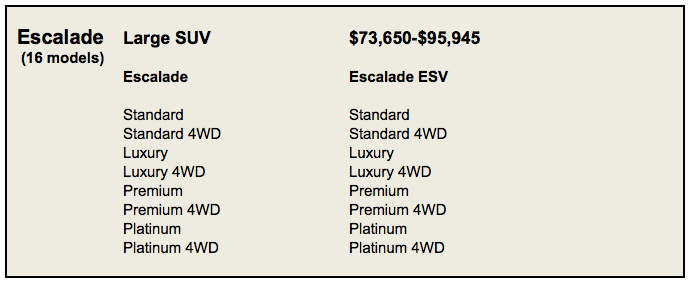 While the Escalade may not exactly help Cadillac burnish its European-sophistication credibility, it is by most measures an excellent vehicle–and a solid seller for the brand. Escalade's lavish cabin, ample power, and sheer hulking presence have helped the vehicle become a brand in its own right.
Chevrolet Malibu Standard-Equipment Showdown: 1976 vs. 2016