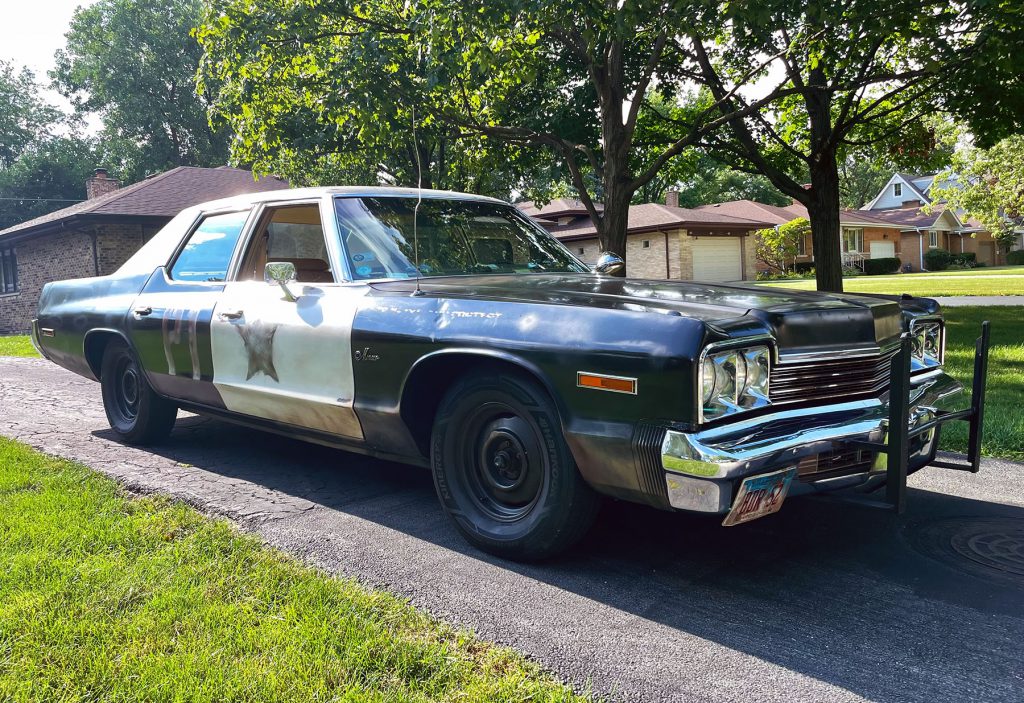 By Paul Herrold
"It's 106 miles to Chicago, we've got a full tank of gas, half pack of cigarettes, it's dark, and we're wearing sunglasses…Hit it!"
Though only a modest hit during the time of its release, The Blues Brothers has since reached cult status. What legendary film critic Gene Siskel regarded as the "best movie ever made in Chicago" has become a symbol of both the city as well as its rich music history, exposing a generation to blues and soul legends. But despite starring Dan Aykroyd, the late John Belushi, and even featuring cameos from Steven Spielberg and Carrie Fisher, there was one iconic character who rose to stardom above the rest—the Bluesmobile.
The actual Bluesmobile—a 1974 Dodge Monaco—was a decommissioned police car, just as it was in the movie. Because of all the stunt driving planned for the film, the production crew had plenty of Monacos on hand: 13 identical cars were all purchased from a police auction in California. By the end of production, however, all 13 were destroyed. Because there was no actual Bluesmobile left, many car aficionados took it upon themselves to create their own replicas. Enter Brian Scanlon, Western Springs, Illinois, resident and lifelong Blues Brothers superfan.
The Cars of Once Upon a Time…in Hollywood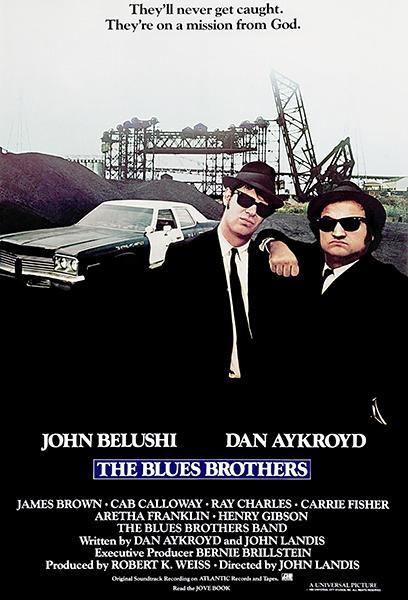 For Brian, the idea for this project took root early. Although the Eighties featured many iconic movie cars—the Delorean from Back to the Future, KITT from Knight Rider, Ghostbusters' Ecto-1—Brian's mind remained fixated on the Bluesmobile. "I saw the movie as a kid, and for some reason both the movie and the car itself just stuck with me. I kept saying to myself that one of these days I'm going to have to buy one or build one."
Of course, priorities change over time. Even when balancing a career, marriage, and family, the Bluesmobile always occupied the back of Brian's mind. "Six years ago, I finally decided that the time was right," said Brian. "I had some extra money and classic Dodge Monacos weren't very expensive back then, so I ended up going to Northern Illinois to buy a 1976 Dodge Monaco with the 400-cubic-inch V8 engine." The car was virtually identical to the one in the movie, except with a few more interior embellishments and a fancier front end. No matter. Brian diligently worked to "de-luxury" the Monaco, changing the front end's flip-up headlights and cornering lamps to better resemble the 1974 model. "I knew from the very beginning that I was going to do all the work myself," said Brian. "This project meant so much to me. I wanted to either succeed or fail by myself."
So, with the support of a very patient wife and son, Brian set out to build his Bluesmobile. Over the course of eight months, every moment of free time—mostly nights and weekends—was spent converting the car in his garage. It was during this period that Brian's wife Alma suggested he start a blog. "There had to be other people like me that wanted to build, not just a Bluesmobile, but any kind of movie or dream car." Brian recounted. He began to document the process, uploading every bit of the transformation. The result left him pleasantly surprised. "A lot of people started following me on the blog and offered me all sorts of encouragement," said Brian. "I also found some Bluesmobile specific websites that helped me find the parts I needed."
Finally, after combing through the movie frame-by-frame and carefully inspecting every shot of the car to get each detail right—Brian had completed his labor of love. "I was so proud of myself," said Brian of the culmination of his lifelong goal. "But then I remembered thinking, 'OK… Now what?'"
Brian tried bringing his creation to a couple of local car shows and cruise nights, but was met with a lukewarm, mixed reception. "Some people would get it, some didn't." Comic-cons, however, proved to be more exciting. To add to the growing enthusiasm, Brian kept his blog updated with his Bluesmobile's adventures, posting photos of the car from multiple Chicago locations used in the movie. As time went on, he moved his posts to Facebook and Instagram, amassing a larger following. Soon he began to receive some unusual—but not unwelcome—requests.
"One night I got a strange email from a gentleman in Australia who was going to be visiting Chicago with his wife," said Brian. The fellow Blues Brothers superfan was coming in for a convention, and to celebrate his birthday. He asked Brian to take him and his wife to a couple of filming locations in the car. "I said to myself, 'Why not?'" Brian chauffeured the couple around the Windy City, visiting The Blues Brothers' iconic locations and posing the Bluesmobile for photographs. "He loved it," said Brian. "I didn't charge him anything, but he did give me a very nice tip and that got me thinking…I could make a business out of this!"
Eight Things I Learned About Cars and Life While Watching The Blues Brothers
A "Rent the Bluesmobile" page was soon added to Brian's website, offering guided film tours in the car. Little by little, calls started coming in from people who wanted to go for a ride. "The summer of 2019 is when things really took off," said Brian. "I received a phone call from the producers of Netflix's Comedians in Cars Getting Coffee with Jerry Seinfeld. They asked if they could use the car on the show." When the episode aired that July, the phone started ringing off the hook. "People from all over the country were asking if they could do corporate events and conventions with the car."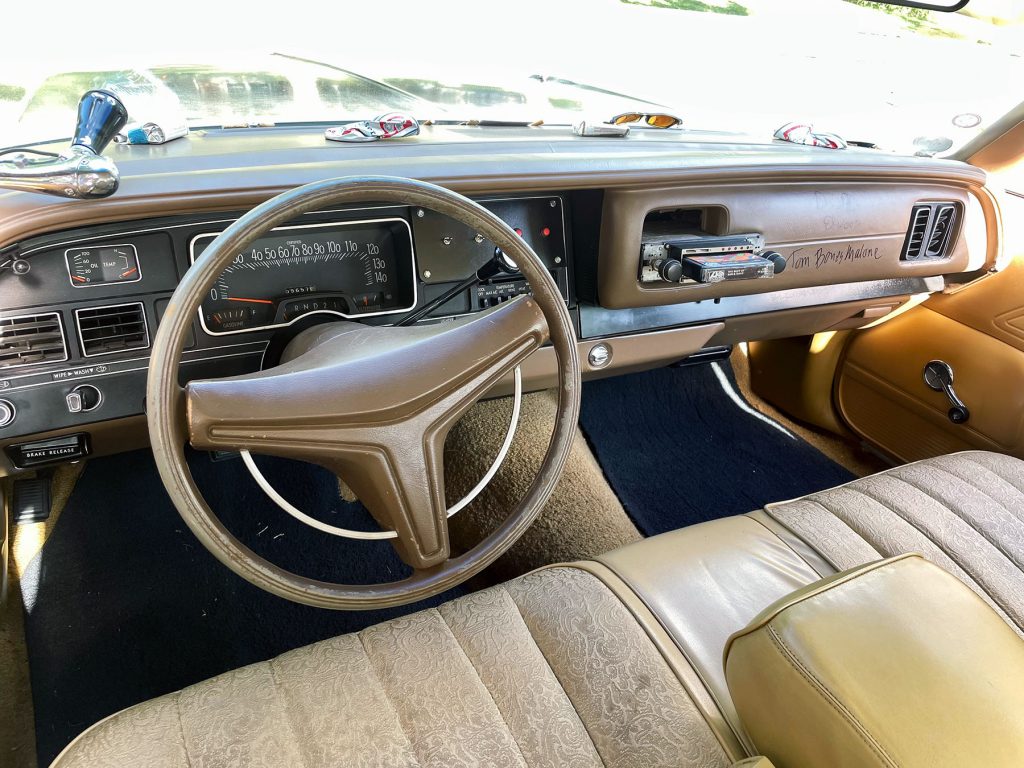 In the fall of the same year, official Blues Brothers representatives called. They were planning a huge PR event in Chicago for the upcoming 40th anniversary of the movie, and had seen what Brian and his Bluesmobile were up to through his blog and social media accounts. Although COVID put plans on hold, Brian was asked if he would like to partner up with Blues Brothers Approved Ventures and have his car become an approved part of the BBAV brand. "I agreed. Of course!"
Towards the end of 2020, Jim Belushi called, explaining that he was coming to Skokie to promote his new business venture. He wanted to use the car. "My only question was, 'Do you want it with the roof speaker?'" Brian had just finished building the iconic accessory. "Jim came over, got in the car, and drove it to Skokie. It was a big hit!" Dan Aykroyd has also driven the car. "It's a funny dynamic between the two of them," Brian noted. "If it's just Jim by himself, Jim will drive the car. But if Dan is around, Dan ALWAYS drives—no question." Brian once caught Dan sitting in the car while there was a bit of downtime between events. "He started fidgeting with things and looking around the car. A big smile came across his face. It was magical for me."
Brian never expected his weekend hobby to gain this much recognition. "I did it purely for the love of the movie, purely for the love of the car—and to be able to share that with people across the country is just beyond amazing." Brian considers this whole journey—including its humble beginnings—a rewarding experience. "I'm not the famous one: the car is. But I can say that I built that, I created this thing and that is what gives me extreme pride." More than just a prop – Brian has built an icon, a car that people from all over the world and across multiple generations will enjoy and cherish, just like the movie itself.
Paul is Chief Editor at the Sons of Speed, and a regular guest on the Car Stuff Podcast
Listen to the Car Stuff Podcast
Bluesmobile Gallery
Click below for enlarged images.