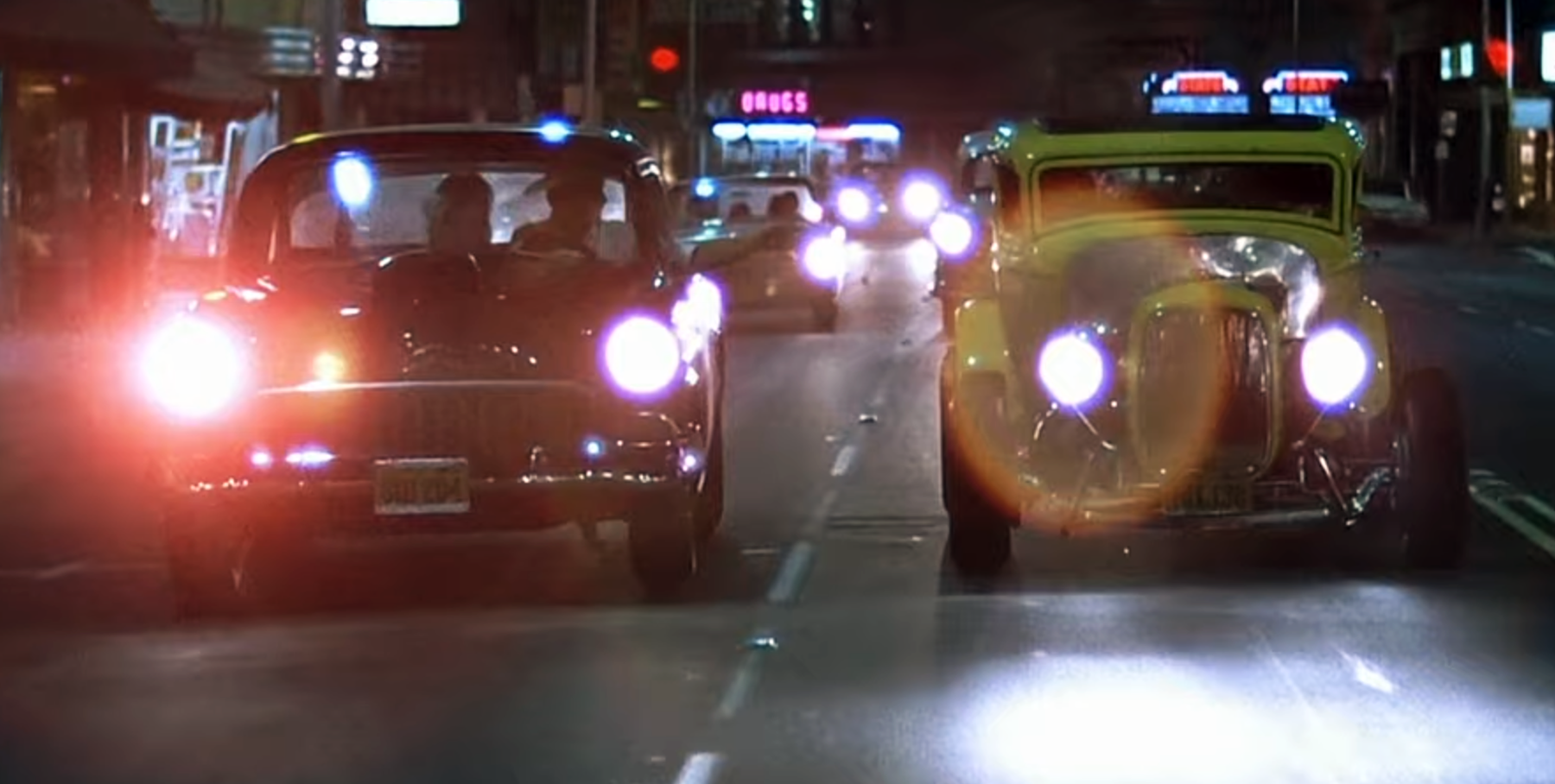 American Graffiti is a classic coming-of-age comedy film that follows its cast through one end-of-summer night in 1962. This was technically the early Sixties, but culturally, 1962 can be considered the end of the Fifties era. Change was coming quickly, both for America itself and the main characters of American Graffiti. The plot of the movie centers around recent high-school graduates Steve Bolander (Ron Howard) and Curt Henderson (Richard Dreyfuss), who are set to enjoy one last night in their hometown before boarding an eastbound flight to college the next morning. Although the era was ending, this movie celebrates the Fifties in full flower.
The Cars of American Graffiti
When American Graffiti was released in August of 1973, America was longing for simpler times after the social and political upheavals of the Sixties, and the film electrified a nostalgia movement that was already in progress. It also increased recognition of Fifties cars that were not even twenty years old at the time. Collectors were already beginning to appreciate postwar cars, but American Graffiti accelerated their popularity.
And, just as the world was on the verge of change in 1962, so was America in 1973. American Graffiti premiered just a few months before the OPEC oil embargo would change everything. In many towns across America, young people still cruised up and down the "main drag," as they had since the Fifties. (In fact, the rise of the muscle car in the Sixties made cruising even more interesting.) Suddenly, gas was more expensive and often unobtainable. Just as the current Coronavirus cleared the streets, the oil embargo of '73 mostly emptied the strips of carefree cruisers. Change was also in store for American Graffiti director and co-writer George Lucas and his cast of mostly unknown actors. Lucas would go on to create the Star Wars saga, and join Steven Spielberg to help launch the Indiana Jones franchise. Most of the movie stars American Graffiti helped create went on to enjoy long-running careers in Hollywood. For car guys, however, the film's many memorable vehicles are a key part of its enduring appeal. Let's take a closer look at a few of American Graffiti's vehicular stars. The cars of American Graffiti…
1932 Ford 5-Window Coupe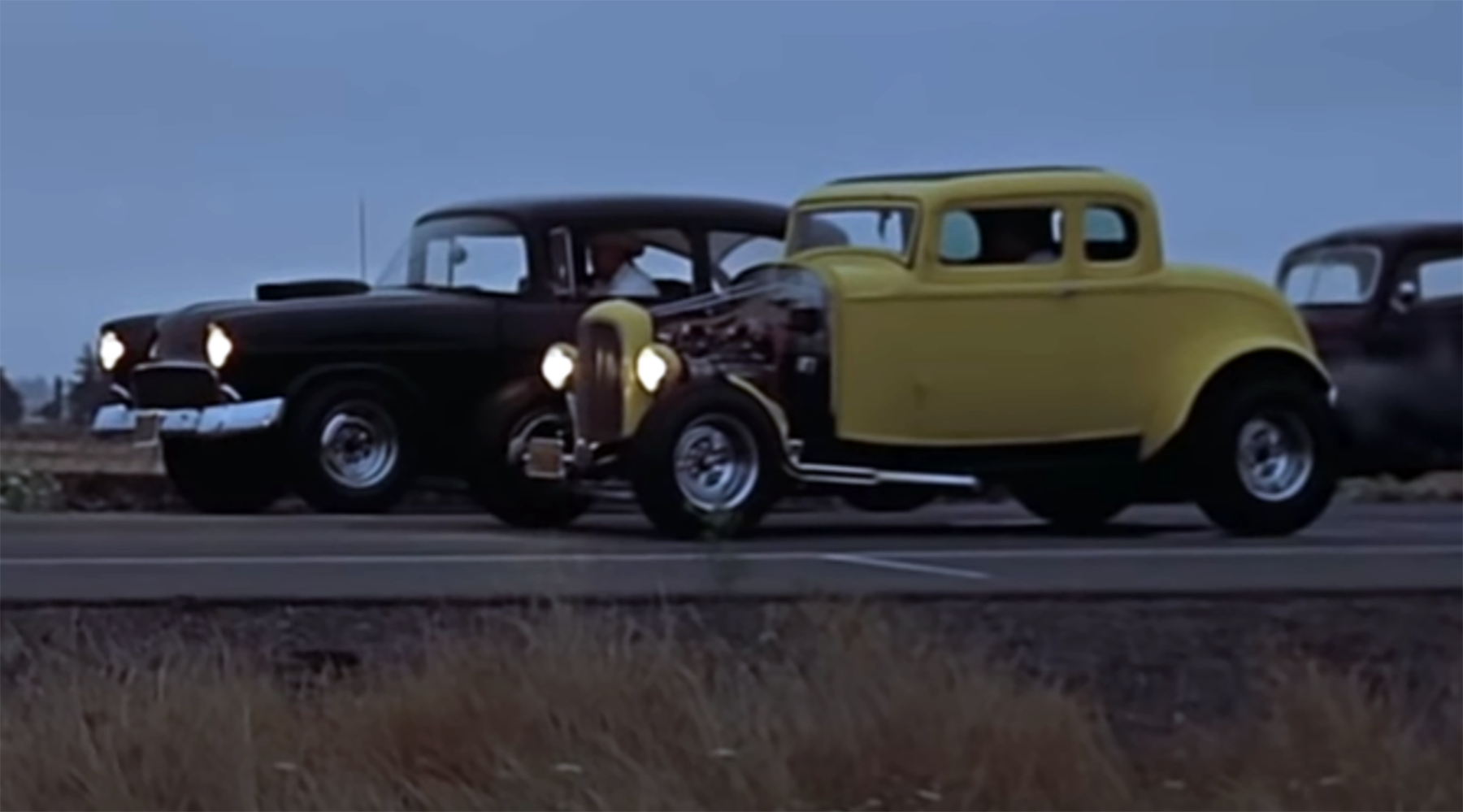 John Milner (Paul Le Mat) was the local king of the street with his 1932 Ford 5-window coupe, a hot rod that had long been the fastest car in the valley. Milner's coupe was perfectly cast—the 1932 Ford is the quintessential hot-rod icon, the vehicle in which Ford brought affordable V8 performance to the masses. The Ford flathead V8 responded very well to hop-ups for better performance, and the '32's simple-yet-elegant styling looked great with or without fenders. For American Graffiti, George Lucas specifically wanted a '32 coupe with a chopped top. Hot rodders frequently chopped the tops of their coupes and sedans—essentially, that entails cutting the roof off at the pillars, removing a vertical section of the roof and door pillars, and welding everything back on the car at a lower height. The benefits were both practical and aesthetic: decreased wind resistance for racing, and a low, sinister look that turned heads on the street. By the late Fifties, the flathead V8 had been mostly supplanted by more-modern overhead-valve V-8s; the engine in Milner's car is actually a '66 Chevrolet 327, outfitted with the expected aftermarket performance parts. Although too new for 1962, the engine didn't look out of place. By 1962, Milner's style of owner-built hot rod was just beginning to fall out of favor as Detroit automakers cranked out ever-more-powerful high-performance machines in greater numbers—this trend would accelerate with the arrival of the muscle-car craze in 1964. The prominent role of Milner's deuce coupe in American Graffiti helped revive interest in traditional hot rods.
1958 Chevrolet Impala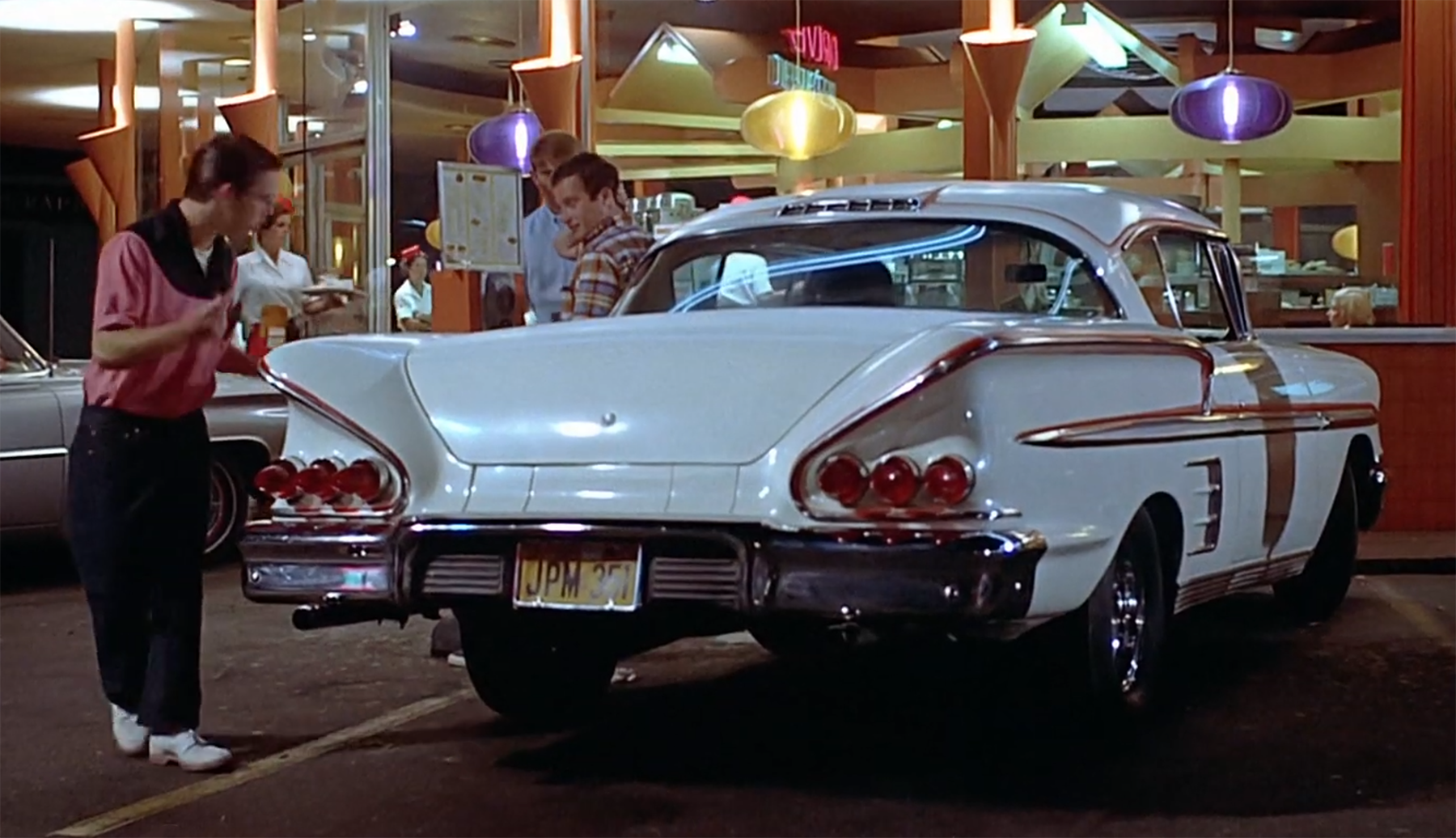 Ron Howard's Steve Bolander was a former high-school class president with a car appropriate for his "Big Man on Campus" status. Although often overshadowed by the Tri-Five (1955-57) Chevys, the 1958 Chevrolet Impala has long been a favorite of customizers. The Impala debuted for 1958 as a halo car intended to increase Chevy's prestige—which it did. A stock '58 Impala coupe had a low-slung roofline and dramatically sculpted body shapes that made it seem like a custom job right off the showroom floor, so it's not surprising that it was immediately popular with customizers. Steve's car is a fine example of a mildly customized Impala that was common at the time. Impala engine choices for '58 ranged from Chevy's 145-horsepower Stovebolt six on up to a 315-hp 348-cid V8. Steve's friend Terry "Toad" Fields (Charles Martin Smith) is entrusted with the Impala for most of the movie (in spite of hitting a trash can while parking his Vespa scooter in his first scene) and claims it has a 327 with six Stromberg carburetors. Chevy didn't offer the 327-cid V8 until 1962. It was possible that Steve could have swapped engines, although it's more likely that Toad was spinning yarns.
1955 Chevrolet One Fifty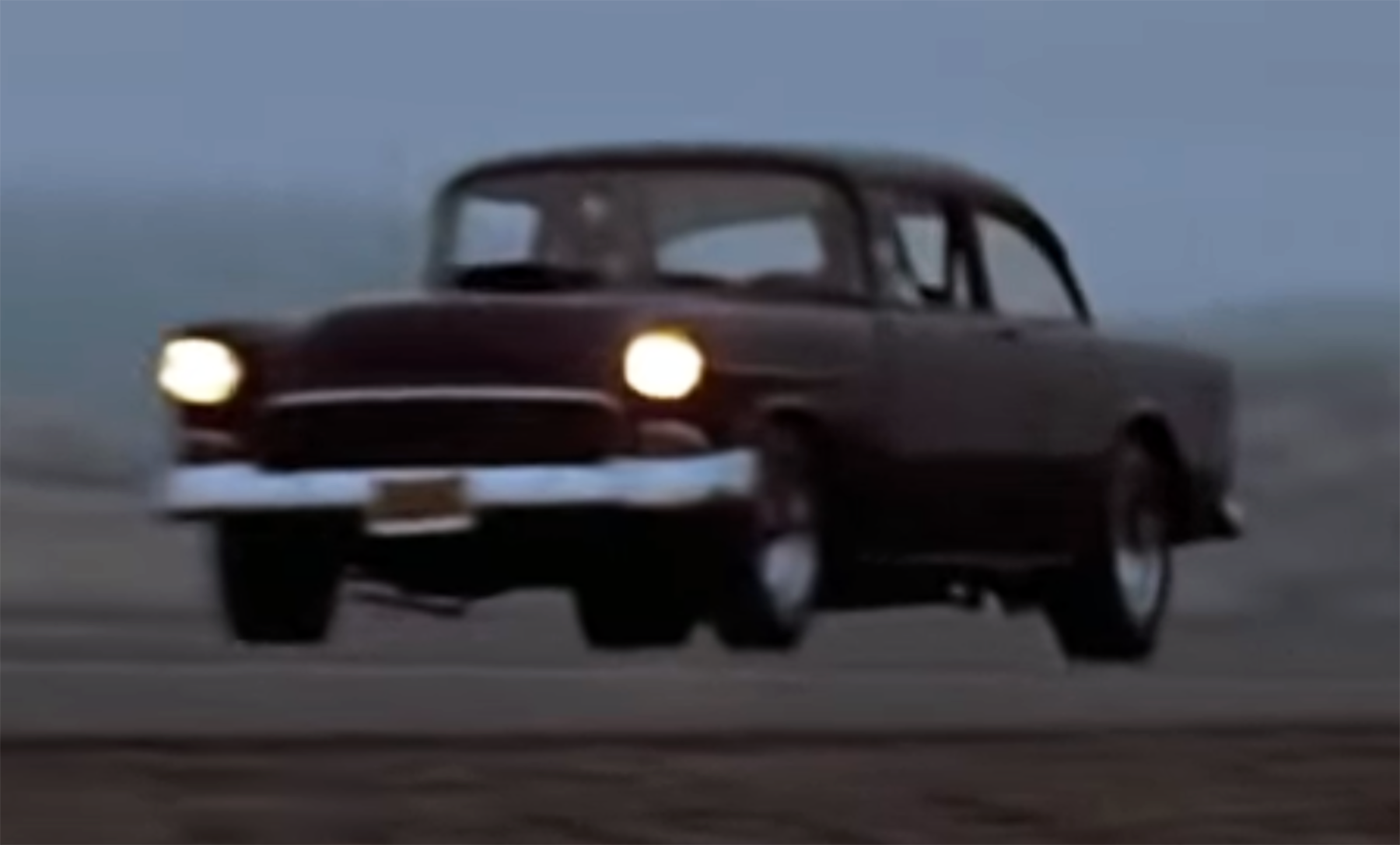 Chevrolet had long been in the shadow of the Ford flathead V-8's performance, but that changed forever with the introduction of the Chevy small-block V8 in '55. The new overhead-valve V8 was lightweight and delivered good power, with the potential for far more in the hands of a hot rodder. The 265-cid V-8 put out 162 hp in manual-transmission cars, or 180 hp with the Powerglide automatic. Plus, Chevrolet's new bodies were lower and more modern. The '55 Chevy was a triumph on the sales floor when new and quickly became a favorite with hot rodders, racers, and collectors. In American Graffiti, Bob Falfa (Harrison Ford) rolls into town in a tough-looking, much-modified 1955 Chevrolet One Fifty two-door sedan to challenge Milner's king-of-the-street status. This One Fifty was about the cheapest, lightest Chevrolet, and therefore the best choice for a street racer who put performance ahead of creature comforts. Two of the '55 Chevrolets used for filming American Graffiti had already appeared in 1971's Two-Lane Blacktop. These cars had more modern Chevrolet big-block engines, and it's likely Falfa would have dropped a later Chevy engine in his car.
The Cars of Once Upon a Time…in Hollywood
1951 Mercury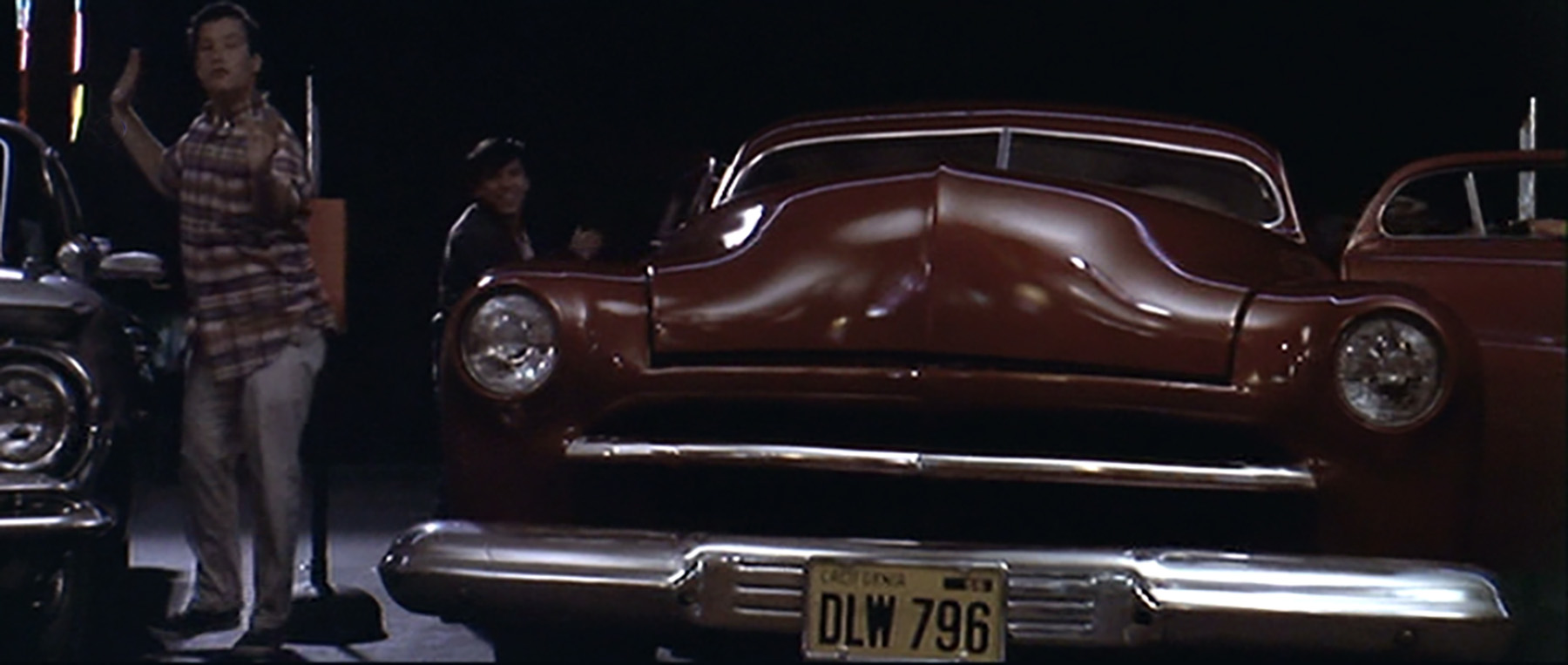 Richard Dreyfuss's Curt Henderson is coerced to be a passenger in a customized 1951 Mercury coupe with members of the Pharaohs, a gang of juvenile-delinquent greasers. Just as the 1932 Ford is the quintessential hot rod, the 1949-51 Mercurys are the preeminent custom cars. They quickly became enormously popular with "lead sled" customizers, who lowered them, removed the stock trim, and performed custom bodywork—most importantly, chopping the top. These modifications transformed the somewhat dowdy stock Mercuries into sleek, sinister-looking cruisers. These "leadsled" customs were almost always more about style than performance; the stock 1951 Mercury had a stroked version of Ford's flathead V-8 with 255.4 cubic inches and 112 hp. The '51 Mercury used in American Graffiti was customized for the film in just a couple of weeks, in a rather haphazard fashion. The quickie bodywork included a 4-inch top chop with the stock rear window glass simply slid down into the body, instead of being cut and the rear of the roof reworked for a more-flowing shape.
1958 Edsel Corsair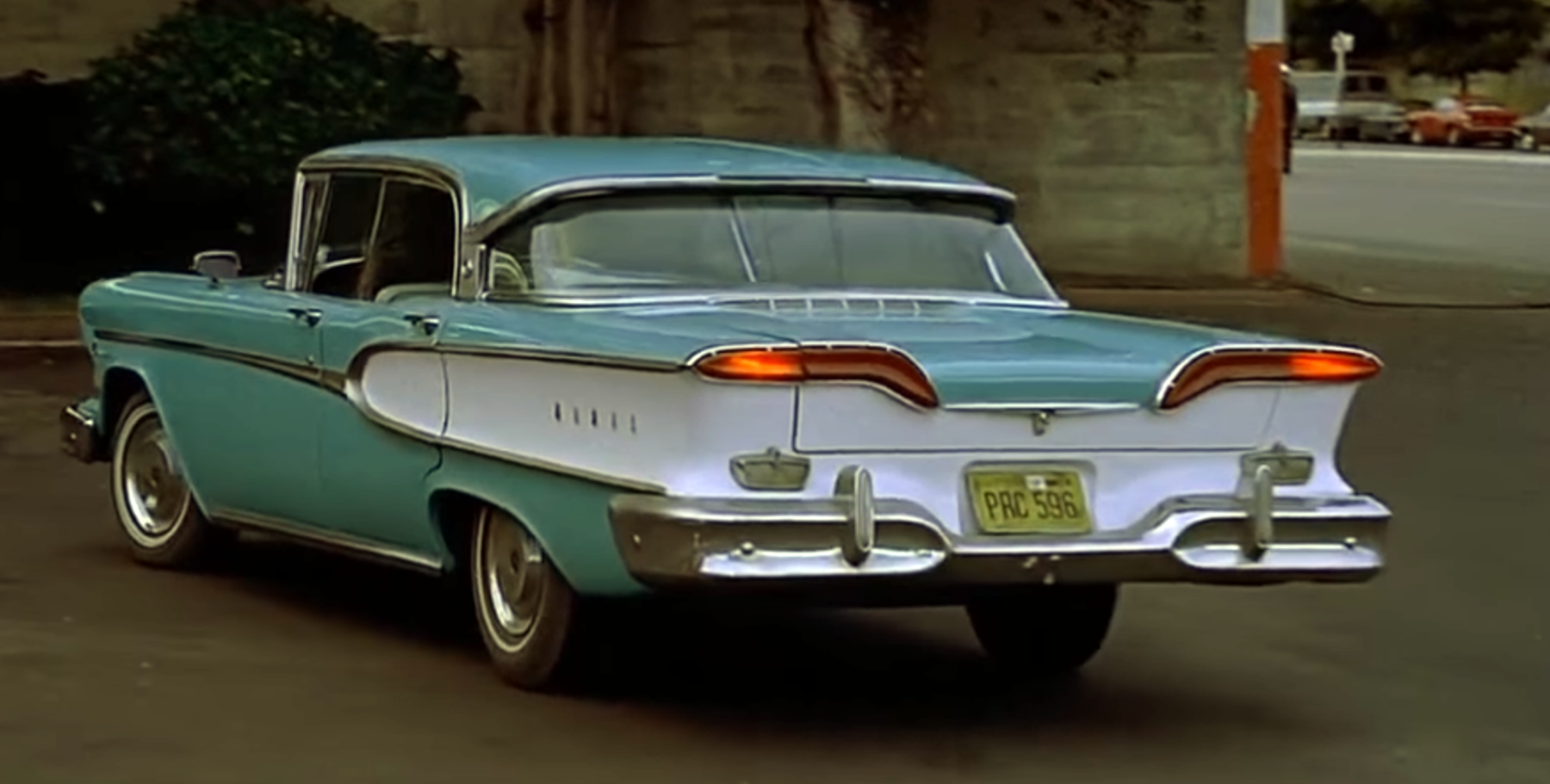 Head cheerleader Laurie Henderson (Cindy Williams) was both Steve's girlfriend and Curt's sister. I don't think Lucas intended her 1958 Edsel Corsair hardtop sedan as a putdown of her character, but rather just part of the automotive landscape. The Corsair was second only to Citation in the Edsel hierarchy. It shared a chassis with Mercury and had a large 410-cid V-8 with 345 hp.
What Was The Harold and Maude Car?
1956 Ford Thunderbird

The beautiful blonde mystery girl (Suzanne Somers) who Curt tries to track down throughout the course of the movie drives a white 1956 Ford Thunderbird. The T-Bird was Ford's answer to the Chevrolet Corvette, but it wasn't a pure sports car. It was better equipped and more comfortable than the relatively spartan 'Vette—making it a better cruising car for a desirable-but-elusive blonde. For '56, Thunderbird's base engine, a 292-cid V-8 with 202 hp, was joined by a 312-cid V-8 with 215 hp or 225 hp.
1967 Citroën 2CV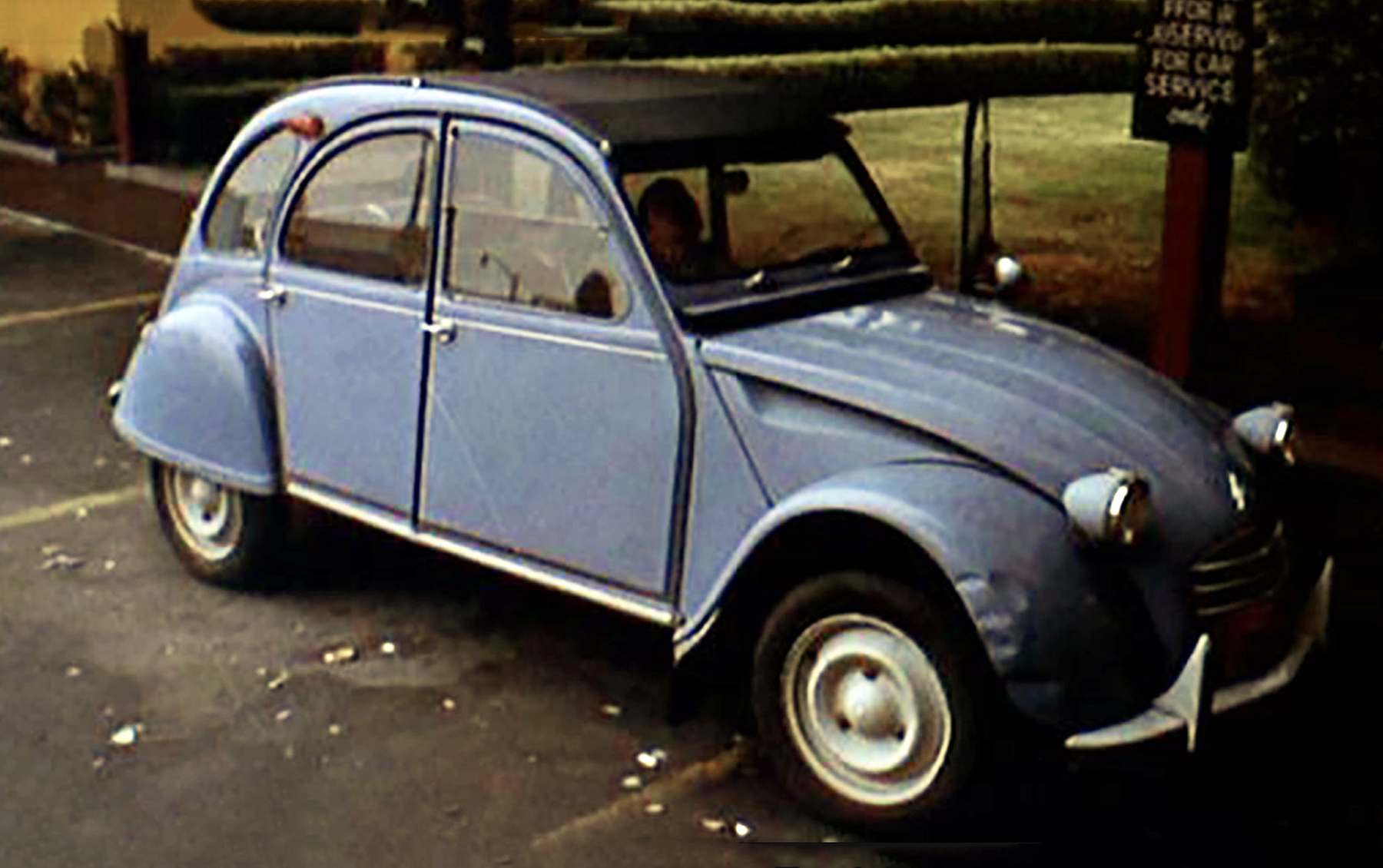 Curt spends most of the movie in other people's cars rather than his own set of wheels: a 1967 Citroën 2CV. The 2CV, or "Deux Chevaux," was conceived as a French people's car and remained in production until 1990. (The Deux Chevaux nickname refers to the car's two-horsepower tax rating for European auto taxation.) Simplicity, durability, and clever engineering, not performance, were the hallmarks of the 2CV. Actual output of the 1967 model wasn't much more than 12 horsepower from its 425cc two-cylinder engine. (The fact that Curt's car was actually a 1967 model doesn't matter much for the 1962 setting of the movie, since the 2CV was little changed since its 1948 introduction.)
This eccentric choice for Curt's car might have been inspired by the Autobianchi Bianchina convertible George Lucas drove in high school. The Italian Autobianchi Bianchina was based on the Fiat 500 and had a 479-cc engine that developed 21 horsepower. Car-obsessed Lucas modified the car for more power, and dreamed of being a racecar driver. A near-fatal crash three days before his high-school graduation in 1962 changed his mind about a career in racing, but Lucas never lost his love of cars—as demonstrated by American Graffiti.
The Cars of The Rockford Files
Check out the Consumer Guide Car Stuff Podcast
Cars of American Graffiti Gallery
Cars of American Graffiti