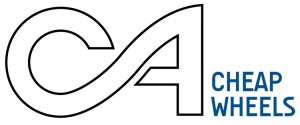 by Don Sikora II
Note: The following story was excerpted from the October 2018 issue of Collectible Automobile magazine.
If our readers were asked to rank Toyota Corolla traits, we'd guess sportiness and enthusiast interest would fall pretty far down the resulting list. Still, there have been Corollas capable of piquing a cheap-wheeler's curiosity, and we think the 1987-88 FX16 GT-S "hot hatch" is one of the cars from this subset.
According to a company-supplied history, Toyota built its first car in the United States on October 7, 1986. It was a white Corolla FX16 made at the New United Motor Manufacturing, Inc. plant in Fremont, California. "NUMMI" was Toyota's joint-venture operation with General Motors that in those days also produced Corolla-based four- and five-door Chevrolet Novas. 
Cheap Wheels: 1998-2003 Ford ZX2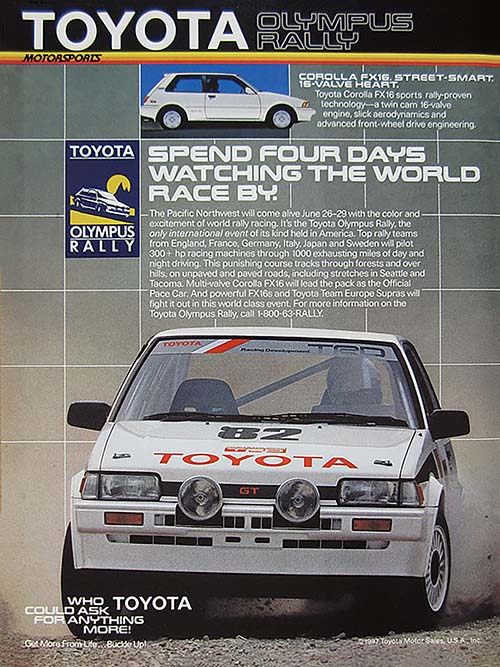 The FX16 was based on Toyota's fifth-generation Corolla, and used its front-wheel-drive chassis. There was a base model, but the sportier GT-S trim is our focus. It had four-wheel-independent suspension, power rack-and-pinion steering, and disc brakes all around. It ran on a 95.7-inch wheelbase, was 160 inches long, and had a curb weight of 2366 pounds.
The FX16 was a three-door hatchback. Styling was pretty typical for the era with simple lines and large glass area. The not-particularly distinctive face used smooth composite headlamps that straddled a thin strip of grille, and the bumper was broken up by a series of six openings that were set low and added a sense of width. The result recalled the then-current Corolla sedan, but wasn't a carbon copy. The sides were broken up with a few horizontal creases, and some small ribbed louvers near the base of the C-pillars added a bit of interest. The back end was planed off in a Gremlinesque manner, with the hatch panel and taillights wrapping around the edges.
GT-S models included what Toyota called the Aerodynamic Exterior Appearance Package. It added body-color bumpers and bodyside moldings with accent striping, rocker-panel skirts, and a spoiler mounted along the trailing edge of the roof. Wheels were 14-inch styled-steel jobs (with alloys optional) fitted with 60-series Goodyear Eagle GT radials.
Toyota's 1.6-liter dohc four-cylinder "4A-GE" engine was under the hood. It also powered the contemporary rear-drive Corolla GT-S (the well-remembered AE86 model) and MR2. Here the fuel-injected 16-valve engine was good for 108 bhp at a lofty 6600 rpm, and 96 pound-feet of torque at 4800—though horsepower was up to 110 in 1988. A five-speed manual transmission was standard, with an electronically controlled four-speed automatic as an option. The slushbox came with a button that the driver could use to select "Normal" or "Power" shift points.
The interior featured cloth upholstery, a leather-wrapped shifter knob, and tilt steering wheel. The GT-S could be ordered with the Sport Seat Package that added a racy-looking seven-way adjustable driver's bucket. The rear seat folded in a 50-50 split to increase cargo room.
The 1987 Corolla FX16 GT-S priced from $10,668 with the five-speed manual, while the '88s started at $10,968. In both years, choosing the automatic boosted the bottom line by $690. 
Car and Driver's September 1986 review of a preproduction FX16 GT-S was generally positive. Handling, ride comfort, and a fun-to-drive personality were pluses, but C/D wished that the engine produced more torque at low RPM, and opined that brake balance and modulation needed improvement. It reported a 0-60-mph time of 9.8 seconds—slightly quicker than the contemporary Volkswagen GTI, a car that would be at the top of many enthusiasts' lists.
Pros:
 While pretty obscure these days, the FX16 GT-S still delivers Eighties-style hot-hatch charisma.

Period reviews praised the slick-shifting five-speed stick.

Corolla's sensible nature remains intact, even in its raciest model.
Cons:
The dohc 1.6-liter four must be worked hard to access its modest power.

Car and Driver reported that braking too hard into a corner could surprise the driver with sharp oversteer.

Limited color choices included white, red, metallic black, and silver.
Final Drive:
Front-drive hot hatches can be surprisingly useful daily drivers. This Corolla FX16 GT-S favors hatchback practicality and all-around performance over boy-racer looks and speed, but by Cheap Wheels economics that isn't necessarily a bad deal.
Review Flashback! 1986 Merkur XR4Ti
1988 Toyota Corolla FX16 GT-S