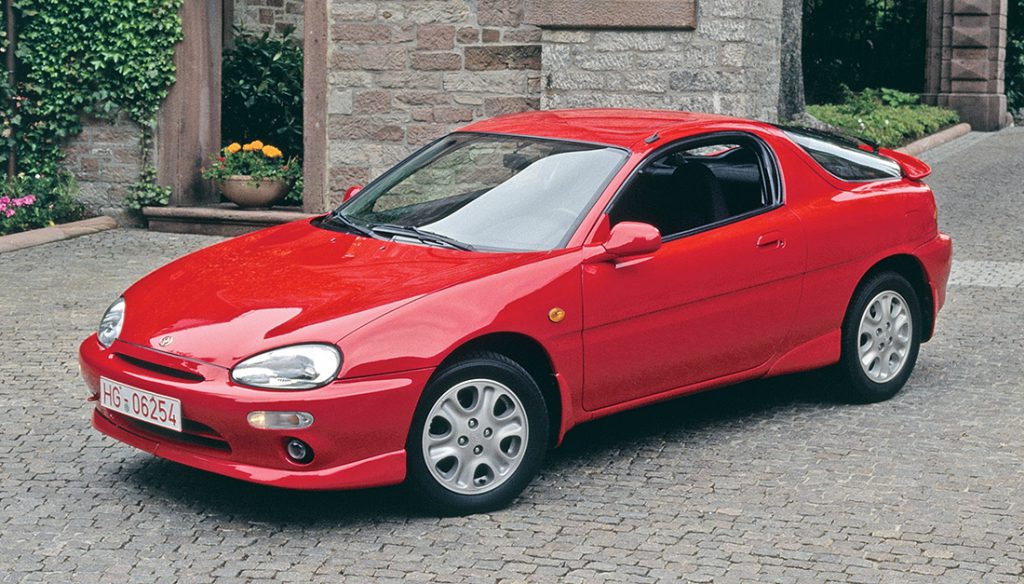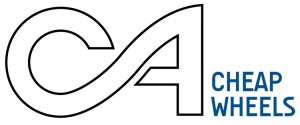 by Don Sikora II
Note: The following story was excerpted from the December 2018 issue of Collectible Automobile magazine.
If our readers were asked to rank Toyota Corolla traits, we'd guess sportiness and enthusiast interest would fall pretty far down the resulting list. Still, there have been Corollas capable of piquing a cheap-wheeler's curiosity, and we think the 1987-88 FX16 GT-S "hot hatch" is one of the cars from this subset.
In the early to mid Nineties, shoppers looking for a sporty front-drive hatchback coupe had plenty of options. Remember the Toyota Paseo, Nissan NX2000, and Chevy's Isuzu-built Geo Storm?
Mazda was right in there with them, peddling the MX-3, and it could be bought with something none of the others had at any price: a V-6 engine. It's that specific version, the 1992-94 MX-3 GS, that we're taking the time to recall here. 
The MX-3 was a two-door hatchback with exterior styling that followed the then-current "jelly bean" school with smoothly curved surfaces. Overall length was only 165.7 inches, and wheelbase measured a tidy 96.3 inches. There was little to visually distinguish the base four-cylinder MX-3 from the hotter V-6-motivated GS, but the latter did include a front air dam and rear spoiler that were optional on the standard car. Other subtle GS additions included a wiper and washer for the wraparound rear hatch, a muffler with a pair of bright tailpipes, and 15-inch alloy wheels.
Cheap Wheels: 1998-2003 Ford ZX2
For reference, in 1992 the base MX-3 ran an ohc 1.6-liter four-cylinder engine rated at 88 hp and 98 pound-feet of torque; for '94 it was replaced with a dohc 1.6 four good for 105 ponies. GS models packed a 1.8-liter twin-cam V-6. Car and Driver described it as "the smallest V-6 for sale in the world." It was rated at 130 hp at a lofty 6500 rpm, and torque was 115 pound-feet at 4500 revs. It drove the front wheels through a five-speed manual or optional four-speed automatic. Four-wheel disc brakes were part of the deal too, with antilocks optional but only with stickshift. Curb weight for a manual-transmission GS was 2541 pounds.
Consumer Guide® said the tiny V-6 was "quiet and eager" but didn't produce much power below 3000 rpm. The editors thought it worked best with the five-speed. Fuel economy wasn't impressive—they saw 21.2 mpg with the stick and only 20 mpg with the automatic. 
CG praised "agile handling talents and quick steering response," and liked the clear gauges and easy-to-use controls. The driving position was "low and snug—compared by some to sitting in a bathtub." Road and wind noise were plentiful on the highway.
In the November 1991 issue of Car and Driver, an MX-3 GS won a comparison test against the Storm GSi and NX2000. The "faultless handling" and "whipped-cream V-6" were praised. 
C/D also ran a well-optioned '92 GS five-speed (sticker price $16,625) for 35,000 miles. A January 1993 long-term report on the car unearthed complaints that the interior "looks low-ball" and the "car feels tinny." One tester opined, "What's the use of two more cylinders if Mazda tuned out all the torque? It feels like all of 5 pound-feet at any revs below 3500." Still, C/D noted that the Mazda was only slightly slower than the class hot rod, the Nissan NX2000, and in the course of its test, the magazine reported a not-too-bad 27 mpg.
The MX-3 GS didn't change very much over the three model years it was sold in America, but the 1994 models did pick up dual front air bags. Mazda sold 1995-model MX-3s in the States, but only with the four.
Cheap Wheels: 1987-1988 Toyota Corolla FX16 GT-S
Pros:
Wouldn't you rather have a V-6? Especially if it's just a tiny 1.8-liter job?

Tropic Emerald Metallic is a teal green color that was so popular when the


      

MX-3 was new.

Smooth V-6 and sharp handling should keep enthusiasts interested.
Cons:
Nineteen ninety-two and '93 MX-3s have motorized passive front seat belts


     

that generated plenty of reviewer gripes.
Diminutive V-6 needed to be worked hard to make its modest power.

 

When's the last time you saw one?
Final Drive:
Today shoppers looking for a fun small "car" are probably comparing pint-sized crossover SUVs. About a quarter-century ago, affordable and low-slung hatchback coupes were fashionable and plentiful. To be honest, most of the day's big names are largely forgotten now, but we think the Mazda MX-3 GS with its fun-size V-6 is a worthy example of the Cheap Wheels ethic.
More from Collectible Automobile Magazine
Mazda MX-3 GS