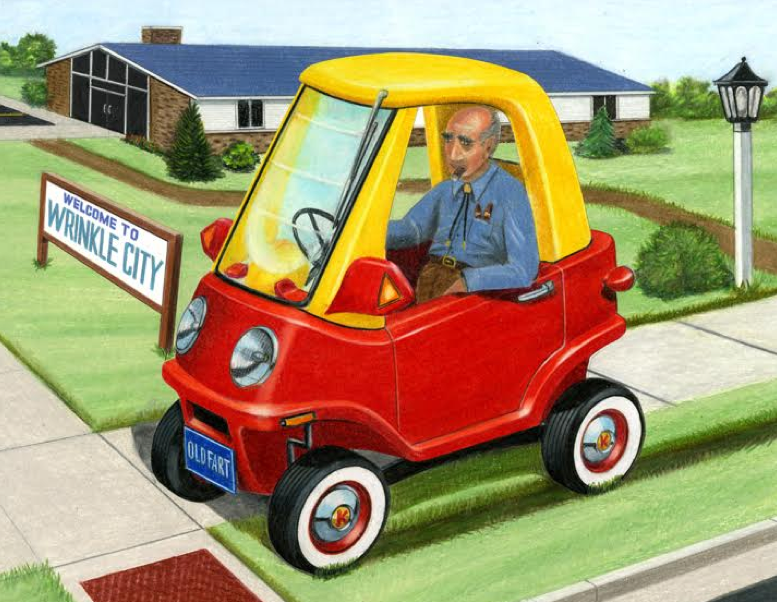 by Frank Peiler
A plug-in electric vehicle with a 30-mile range, the Kozy Koot (not Cozy Coupe) is for the get-up-and-go senior looking to relive his childhood–or just get around without walking.

Cozy Coupe for Seniors?
Minibago: The Fun-to-Drive RV!

The standard-equipment list includes headlights, taillights, turn signals (with 3-minute automatic reset), and a large "Vista Sweep" windshield wiper.
Safety features include the low-battery "I'm powerless and I can't start up" emergency button which, when depressed, alerts an offshore call center to your predicament.
Also available are leather seats with lumbar support and built-in hemorrhoid ring, an optically enhanced windshield ground to your prescription, and hot-water-bottle seat heater.
Dealer installed accessories include white-wall tires, and an oxygen-tank storage box disguised as a continental kit. Additional accessories and service are available at select Toys "R" Us locations.
The Kozy Koot is available in your choice of red over yellow, or yellow over red.
More Frank Peiler drawings
What If…1955 Hudson (5 Alternate-Universe Possibilities)
What If… 1953 Crosley (7 Alternate-Universe Possibilities)
Big-Rig Style: What If Semi-Truck Makers Built Pickups?
What If…General Motors, Ford, and Chrysler Had Designed Small Cars the Studebaker Way?