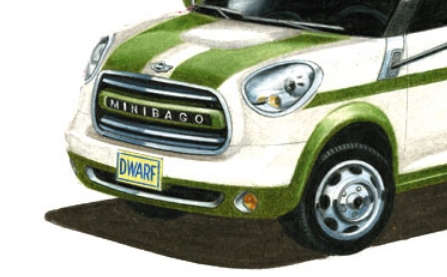 Do you love RVing but can no longer justify getting 6 mpg? MINI has the answer. A compact RV, the 2013 Minibago keeps the green in your wallet while exhibiting MINI's fun-to-drive character. Inside, MiniCabin is trimmed in recycled MiniMica surface treatments in either Original Olive or faux-MiniMarble themes. And yes, there's even a MiniPotti.
Answering questions no one ever asked. Be sure to check out all of Frank's drawings: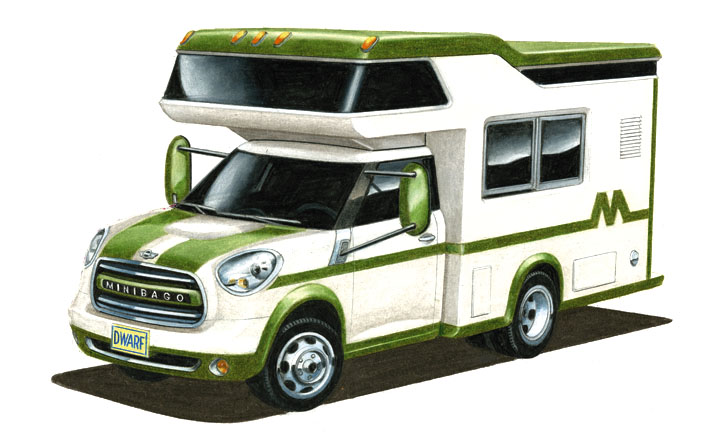 More automotive art by Frank Peiler
More fun CG Daily Drive posts
What was the Vixen Motor Home?
Naked Aggression: A Gallery of Stripped-Down Muscle Cars
Ugly on Twitter: 10 Vehicles Shamed by the #UglyCar Hashtag
Local Color: Unusual Paint Hues at the 2018 Chicago Auto Show
Torque-Steering Trio: Remembering GM's "Small Block" Front-Drivers
Light, Color, and Luxury: A Look Inside the 2017 BMW M760i (Gallery)
12 Memorable Machines from the 2017 Muscle Car and Corvette Nationals
Standout Stockers: Unusual Vehicles at the 2013 Goodguys Heartland Nationals
Classic Cars in Mint Condition: Snapshots from the Bloomington Gold Survivor Show
Gods, Diamonds, and Mystical Beasts: Explore the Fascinating World of Car Company Logos