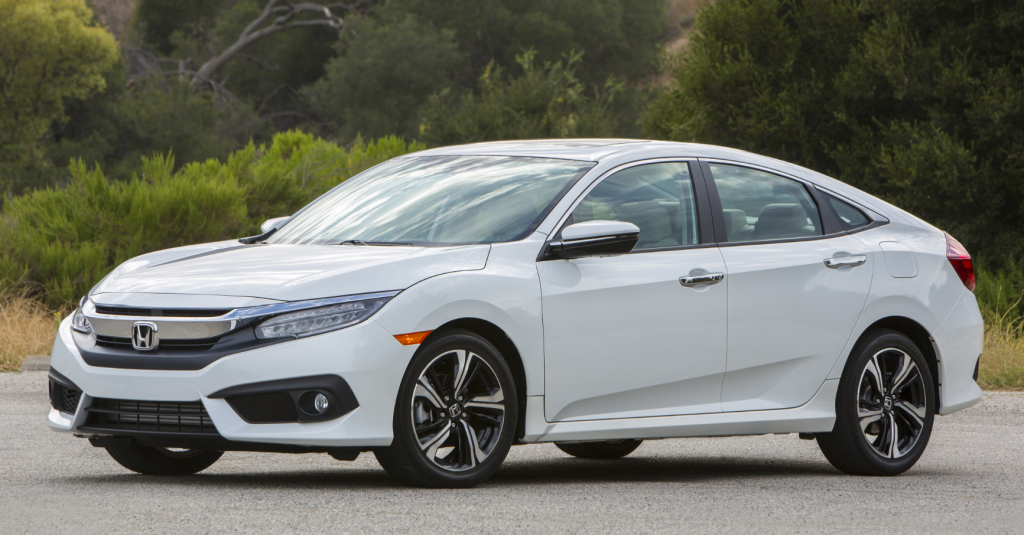 Honda's Civic has long been the benchmark against which all other compact cars have been measured. Since its introduction to this country way back in 1973, it has gone through nine design generations, spending most of that time as the top-selling entry in its class.
Civic enters its tenth generation for 2016 with a redesign that brings racier contours along with new features and the car's first turbocharged engine.
In recent years, Civic has been offered in 4-door sedan and 2-door coupe body styles. Those return, with the sedan arriving this fall and the coupe following in the winter. Expected next year are a 5-door hatchback (the first Civic hatchback since 2005) along with sporty variants that include a revived Si trim level.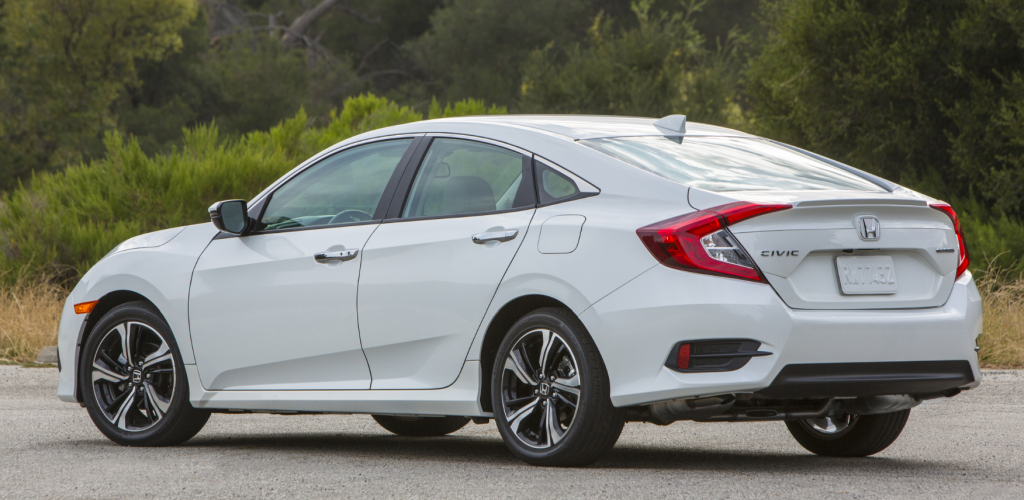 Civic has come a long way since its early years, and the 2016 model marks another big step—in more ways than one. Not only does it introduce a number of new features to the line but it's also significantly larger. Overall length grows by 3 inches on a 1.2-inch-longer wheelbase, rear-seat legroom increases by 1.2 inches, and trunk space increases by 20 percent. It's also nearly 2 inches wider and an inch lower, which gives it a more aggressive stance. Yet despite its increased dimensions, weight actually drops a bit, with the popular EX model tipping the scales at 2795 lbs. vs. 2868 last year.
Speaking of models, the 2016 Civic sedan will initially be offered in five basic trim levels: LX, EX, EX-T, EX-L, and Touring. Dropped—at least for now—are the HF (high fuel economy) model, and as mentioned, the Si that's due to return next year.
Test Drive: Toyota Corolla S Premium
Small four-cylinder engines have always been the Civic's powerplant of choice, but 2016 ushers in a larger base engine along with the line's first turbocharged engine. Newly standard is a 158-horsepower 2.0-liter that replaces a 140-horsepower 1.8. Meanwhile, upper-line models (starting with the EX-T) get a 174-horsepower turbocharged 1.5. All models come standard with a CVT automatic transmission except the base LX, which comes with either a 6-speed manual or the CVT.
Although official EPA fuel-economy figures weren't available at the time of this writing, Honda estimates the base 2.0-liter engine with CVT will earn a 31 city/41 highway/35 combined rating, while the 1.5-liter turbo will up the highway number to 42. Those figures beat last year's 1.8-liter/CVT combination by 1-2 mpg.
As in recent years, the various Civic models offer no options; instead, variants (such as EX-L with Navigation) are treated as separate trim models.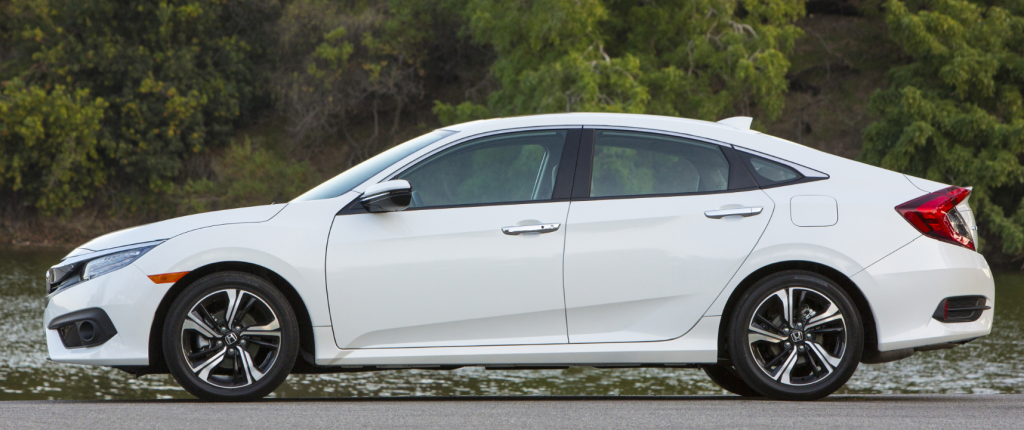 A notable "extension" to all trim levels for 2016 is Honda Sensing, which combines a suite of safety and convenience features into one package. These include:
* Lane-departure warning
* Lane-keep assist
* Forward collision warning and mitigation
* Adaptive cruise control
Not only is the availability of these features rare for the class, the availability of them on all trim levels is particularly noteworthy. So is the price: Honda Sensing adds just $1000 to the bottom line—a veritable bargain.
In addition to Honda Sensing, other new features offered for 2016 are:
* Heated rear seat cushions
* Dual-zone automatic climate control
* Adjustable driver-seat thigh support with 14 degrees of tilt
* Remote engine start
* Rain-sensing wipers
* Apple CarPlay and Android Auto for seamless integration of smartphone functions
Even the base LX comes with a host of equipment. With the 6-speed manual transmission, it starts at $19,475 including the $835 destination charge. Included are automatic air conditioning, power windows and remote power locks, cruise control, adjustable-height driver seat, Bluetooth wireless cell-phone link and streaming audio with Pandora, and a wide-angle 180-degree rearview camera. The version with CVT transmission also adds Honda Sensing, the combination bringing the price to $21,275.
The $21,875 EX adds a sunroof, 7-inch touchscreen, remote engine start with automatic climate control, HondaLink assistance system, Apple CarPlay and Android Auto, and Honda LaneWatch, which uses a camera built into the right-side mirror to display what's in your right-side blind spot on the dashboard screen when you turn on the right turn signal.
EX-T brings the turbocharged engine, along with fog lights, a decklid spoiler, dual-zone automatic climate control, heated front seats, and satellite radio for $23,035.
Added on the $24,535 EX-L are auto-dimming rearview mirror, power driver seat, and leather upholstery. A version with a navigation system is $25,535.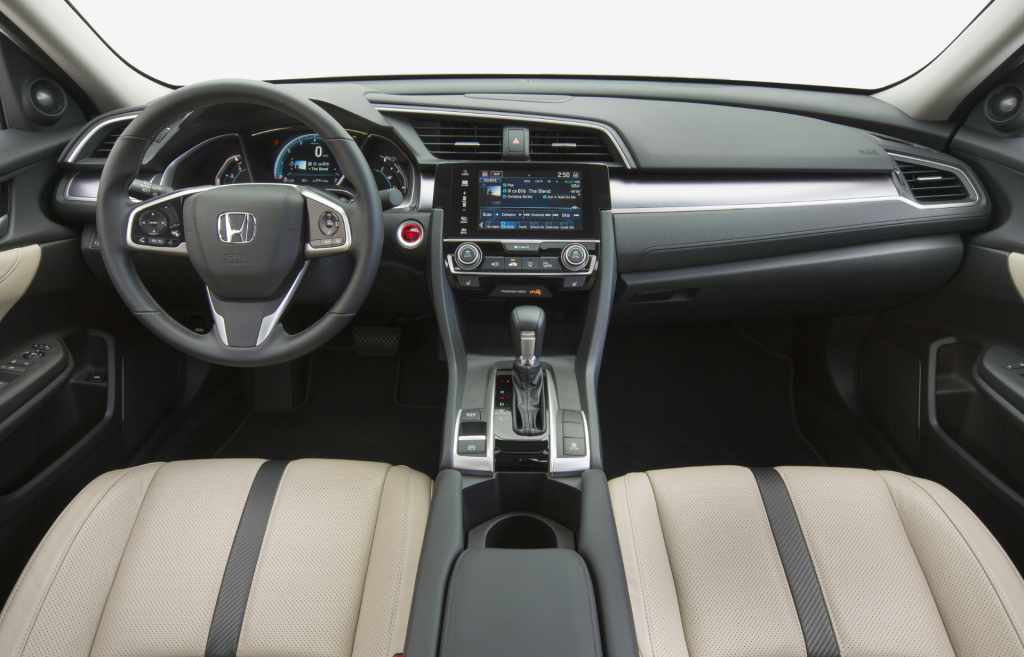 The top-line Touring comes standard with the navigation system, Honda Sensing, LED headlights, power front-passenger seat, heated rear seats, rain-sensing windshield wipers, and a premium audio system for $27,335.
Inside, there's ample adult headroom and legroom in front. Rear-seat headroom is sufficient for those up to about 6-foot tall, and even with the front seat all the way back, there's enough legroom behind it for an average-size adult to sit comfortably.
There's also an impressive amount of interior storage. A large glovebox is augmented by a forward console bin, another bin beneath it with USB and 12-volt jacks (with a pass-through between them to run cords), a huge console box with sliding lid containing two cupholders, a key bin, and USB jack, and modestly size map pockets.
Good visibility has always been a Civic trademark, and it continues to be so in this generation, as sightlines are good to the front, sides, and rear thanks to thin roof pillars.
The EX-L with Navigation we drove carried the same 7-inch touchscreen interface we've seen on other recent Hondas. There are no knobs—just a flat screen—as volume and tuning are done either with virtual controls (the odd "sliding bar" for volume being a little awkward to use) or redundant steering-wheel controls. Only the LX comes with a more conventional audio system. Climate controls (on EX and above, at least) consist of a rotary knob for temperature along with physical and on-screen virtual buttons for everything else.
Early versions of the last generation were criticized by some as being a bit cut-rate inside, but it's doubtful those folks would have any problem with the new model. Padding can be found on the dashtop, doortops, and armrests, and though the all-black interiors fitted to our test vehicles seemed a bit mundane, two-tone color schemes are available that should brighten the look considerably.
The trunk is wide at the rear but has sickle-shaped hinges that dip a bit into the load area. There's only a little "unofficial" under-floor storage space around the spare tire. The rear seatbacks fold via a release lever in the trunk, but they rest about 3 inches above the cargo floor (making it more difficult to slide in long items) and the opening is a bit restricted.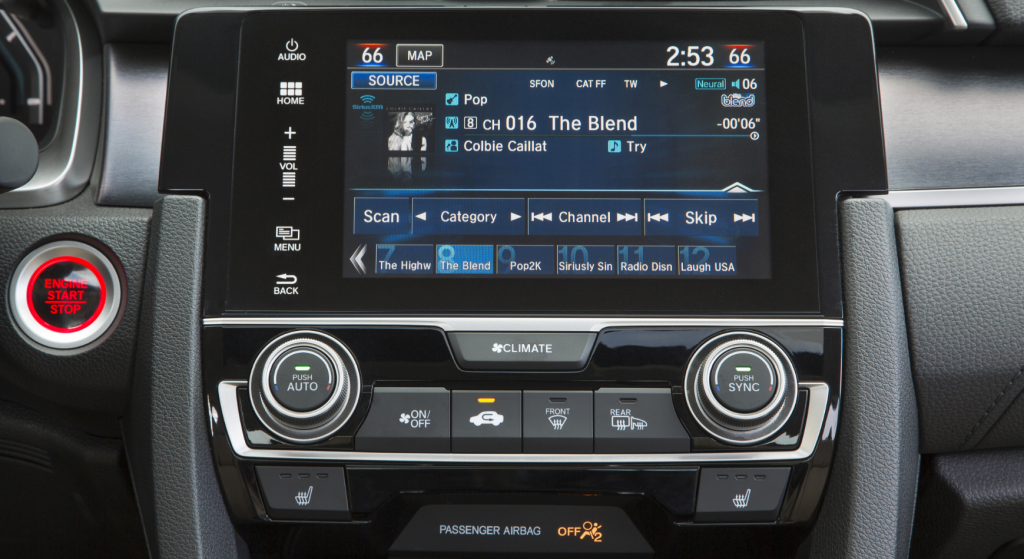 In normal driving, both powertrains work fine; acceleration is smooth and the engines are relatively quiet, and the transmission kicks down fairly quickly for more passing power. But nail the throttle from a stop, and … not much happens—at least not right away. The 2.0-liter "eases" off the line and builds speed about 10 feet out, at which point it provides decent oomph. In all fairness, that's about par for the small-car course these days, especially in those with a CVT transmission. But the turbo engine doesn't really wake up until about 20 feet out, though once the power comes in, it's quite strong. That, too, is rather typical of small turbocharged engines, and is really only disappointing if you equate "turbo" with "performance."
As mentioned, we mostly drove an EX-L, which rides on 17-inch tires. Although our California press-preview route didn't contain much in the way of pockmarked pavement, the EX-L seemed a bit stiff over the small bumps we encountered, but it made up for it with sporty, confident handling in the twisties. We also briefly drove an LX, which (along with the EX) rides on 16-inch tires. It proved a bit more comfortable over bumps and didn't seem to suffer much of a disadvantage in the corners.
As compact cars get progressively larger, they fill the needs of a greater percentage of the population. (At 182.3 inches stem-to-stern, the 2016 Civic is about the same length as an Accord was 20 years ago.) That makes them increasingly popular, and that has made the class very competitive. As such, there are a number of really good choices in the segment. But the Civic impresses with its interior room and cabin storage, overall refinement, and especially its available features, making it a near shoo–in as the continued sales leader in the cutthroat compact class.