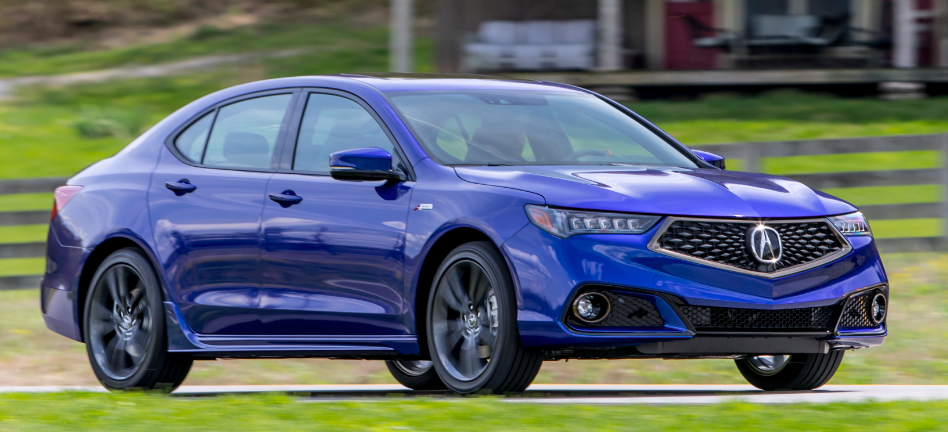 Maybe Acura saw it coming.
Back in 2015, the company replaced its TSX compact and TL midsize sedans with the singular TLX that slotted between the two in size and price, offering both the TSX's 4-cylinder engine and the TL's V6 (and available all-wheel drive) to cover the spread. Considered a midsize, it was on the small end of that class, which always hurt it in comparisons of interior space.
But trimming the sedan line allowed the company to put more resources into SUVs, which have since become the darlings of the market. The latest update to its top-rated MDX midsize crossover included a Sport Hybrid version that – as the name implies – didn't overlook performance in its quest for improved fuel economy. Acura also recently reintroduced the legendary "NSX" badge from the early '90s, again placing it on a high-end "halo" sports car. And a freshening of the TLX for 2018 gives it a sportier new model called the A-Spec (more on this later), another name resurrected from the past.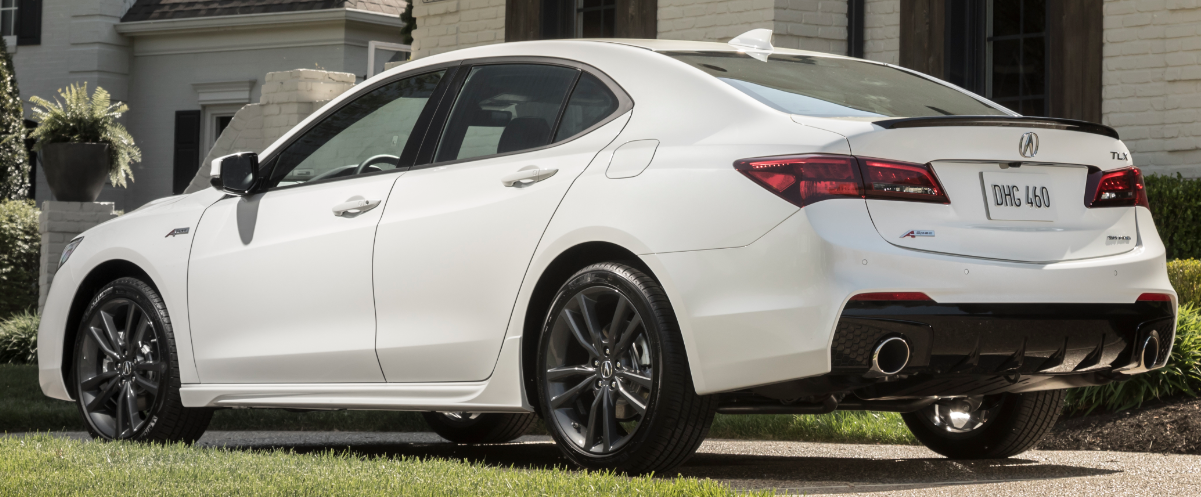 What it comes down to is that the company seems more focused on performance than it has been in recent years. That's further reflected in the revival of the "Precision Crafted Performance" slogan used when the brand was launched back in the mid '80s, all suggesting a return to the company's roots.
And that's fine by us.
Although it originated as the luxury division of Honda, for most of its history, Acura has been occupying the gap between "regular" and "premium" makes, trading a bit of prestige for a price advantage. In recent years, the company largely forfeited the performance aura it had at first, with its wares becoming more mainstream. But as mentioned, that's changing.
Test Drive: 2017 Infiniti Q50 Red Sport
There have been many tweaks to the TLX for 2018, the most noticeable being shown clearly up top: the adoption of Acura's new corporate Diamond Pentagon grille to replace the previous "cigar cutter" design. (Feel free to add your vote for the winner of this contest in the comments section.) Also new are revised front and rear fascias, hood and front fender styling, and wheel designs.
But there's more. Newly standard features include Apple Carplay/Android Auto and the AcuraWatch suite of safety and convenience features that include forward collision warning and mitigation, lane-departure warning and mitigation, lane-keep assist, and adaptive cruise control. Newly available on higher-line models are a power driver-seat thigh extension, heated rear seats, heated steering wheel, dark burl wood trim, interior LED "light piping," wireless cell-phone charging, and 360-degree Surround View camera system.
For 2018, the TLX is offered in a variety of four-cylinder and V6 models. Four-cylinder models carry a 206-horsepower 2.4-liter engine mated to an 8-speed automated-manual transmission and front-wheel drive; V6 models get a 290-horsepower 3.5-liter V6, 9-speed automatic, and either front-wheel drive or Acura's Super-Handling All-Wheel Drive. New for 2018 is that all V6 trim levels are available with all-wheel drive; previously, only the top trim levels were.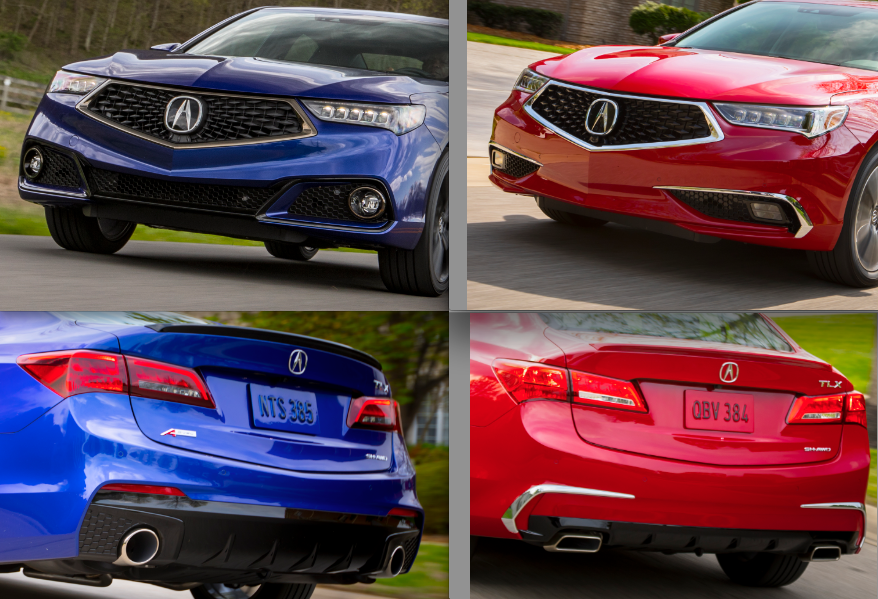 Four-cylinder models include the Base TLX (which — at $33,950 including destination — comes very well equipped) and TLX with Technology Package. V6 models ascend through Base V6 ($37,150 with front-wheel drive, $39,150 with SH-AWD), V6 with Technology Package, the new-for-2018 V6 A-Spec (expected to be very popular at $43,750 in front-drive form, $45,750 with SH-AWD), and the V6 with Advance Package.
It's the A-Spec that best illustrates Acura's returning focus on performance. It makes its mark with 19-inch wheels (vs. 17s or 18s elsewhere), matte-black grille, unique front and rear fascias, large round fog lights, lower-body cladding, black rear decklid spoiler, round dual-exhaust outlets, sport front seats, thick-rimmed steering wheel, brushed aluminum-look interior trim, red instrument highlights, sport-tuned power-steering and suspension settings, and, on SH-AWD models, stiffer suspension and a quicker steering ratio. It also exclusively offers the Still Night Blue Pearl paint shown in the lead photo, along with black Alcantara or red leather upholstery.
Test Drive: 2016 Volkswagen CC 2.0T R-Line
What we primarily drove at the press preview in Louisville ("Home of the Slugger") was an A-Spec with SH-AWD. While all front-drive TLXs have a mild form of mechanical rear-wheel steering that helps rotate the back end around corners, SH-AWD models go much further with the ability to distribute engine torque to either the left- or right-rear wheel to provide even greater rotation for even better handling. This, combined with the A-Spec SH-AWD's quicker steering, stiffer suspension, and stickier tires really brought out its sporting soul in the twisties.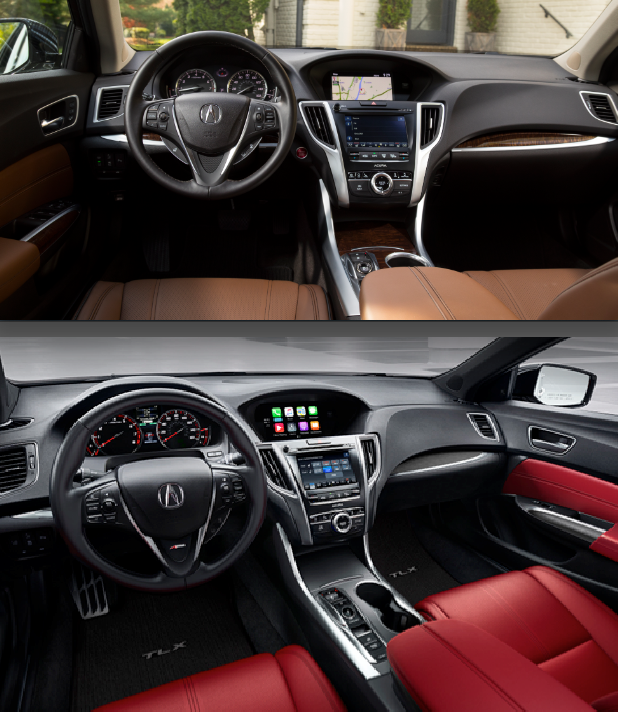 While the V6 provides a strong jump off the line in a full-throttle start, slow transmission kickdowns hamper its ability to provide quick response when jumping on the throttle at speed. If you just give the gas pedal a part-throttle push, it's not bad, but nailing it to the floor seems to confuse the transmission a bit — something we've noticed with this 9-speed automatic in the past. The driver can select Comfort, Sport, and Sport+ modes and kickdowns are quicker in Sport+, but that's partly because it holds gears longer (you might be in 4th gear at a given speed rather than 6th), which doesn't do much for either noise or fuel economy, and Sport+ has to be selected every time you turn on the car (likely because it couldn't meet its EPA mpg ratings). But overall — between steering feel, handling, and power — the A-Spec is one sporting midsize sedan.
As mentioned earlier, the TLX suffers a bit in the passenger-room department, but that's really only an issue for larger folks. There's good (not great) headroom and legroom in front, and we found the seats to be very comfortable. It's a somewhat different in back, where there's only enough headroom for those up to about 5'11, and while my 5'9 frame found barely enough legroom behind a front seat pushed all the way back, foot space was very tight, noticed mostly on attempted exit. The center tunnel is also quite tall and wide, limiting foot space for a center passenger.
Test Drive: 2016 Cadillac CTS 3.6 AWD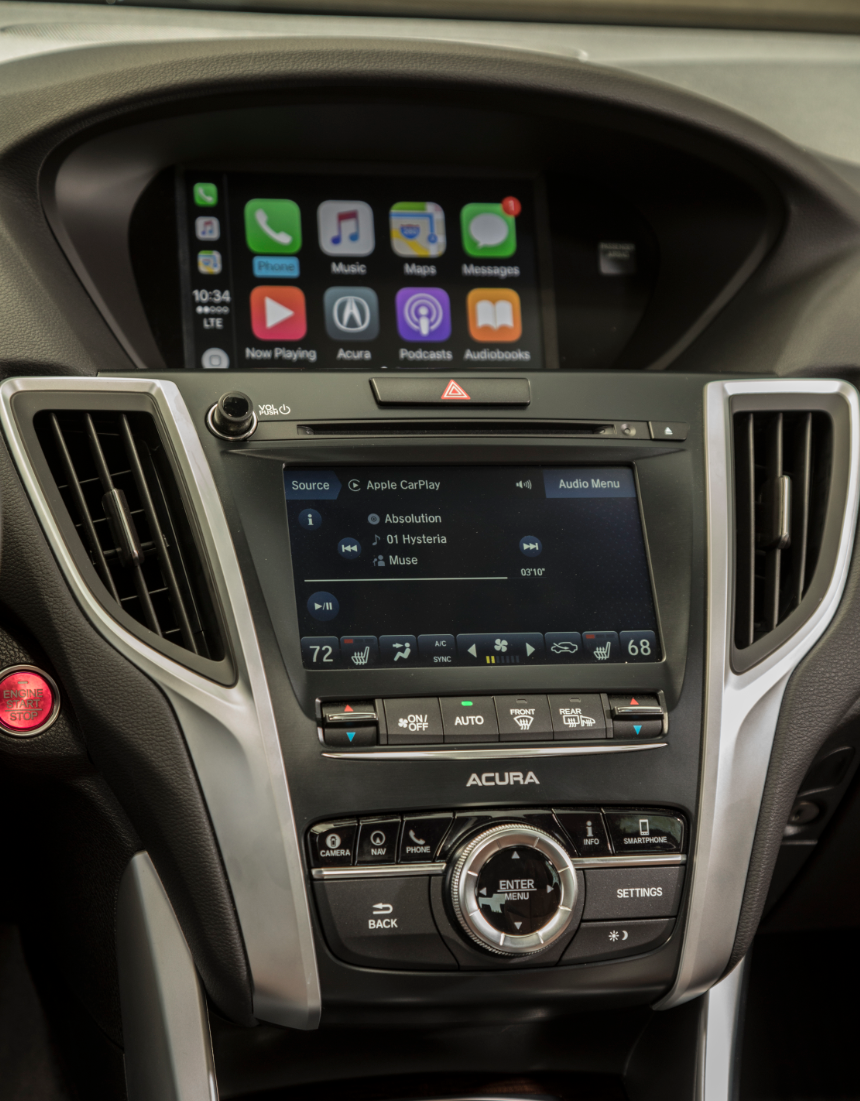 Visibility is good to the front corners, just OK to the sides and back, with the wide-angle 180-degreee rearview camera (standard in all TLXs) and our test car's 360-degree cameras helping greatly when backing. Interior materials fit the price, and though the overall look is fine with an all-black interior — which benefits from nice sculpturing and plenty of silver accents — the available two-tones and wood trim (the latter fitted to a V6 Advance Package car we drove) dress things up considerably.
TLX's audio and climate systems are controlled by a mix of knobs, buttons, flippers, and upper and lower dash screens, only the lower one being a touchscreen. The arrangement is fairly logical once you get used to it, but the climate controls, especially, aren't the most convenient to use.
Interior storage is very good if not quite great, as none of the spaces are very large, but they're highlighted by a decent-sized forward-console bin and covered cupholders, which look much more "finished" than open ones.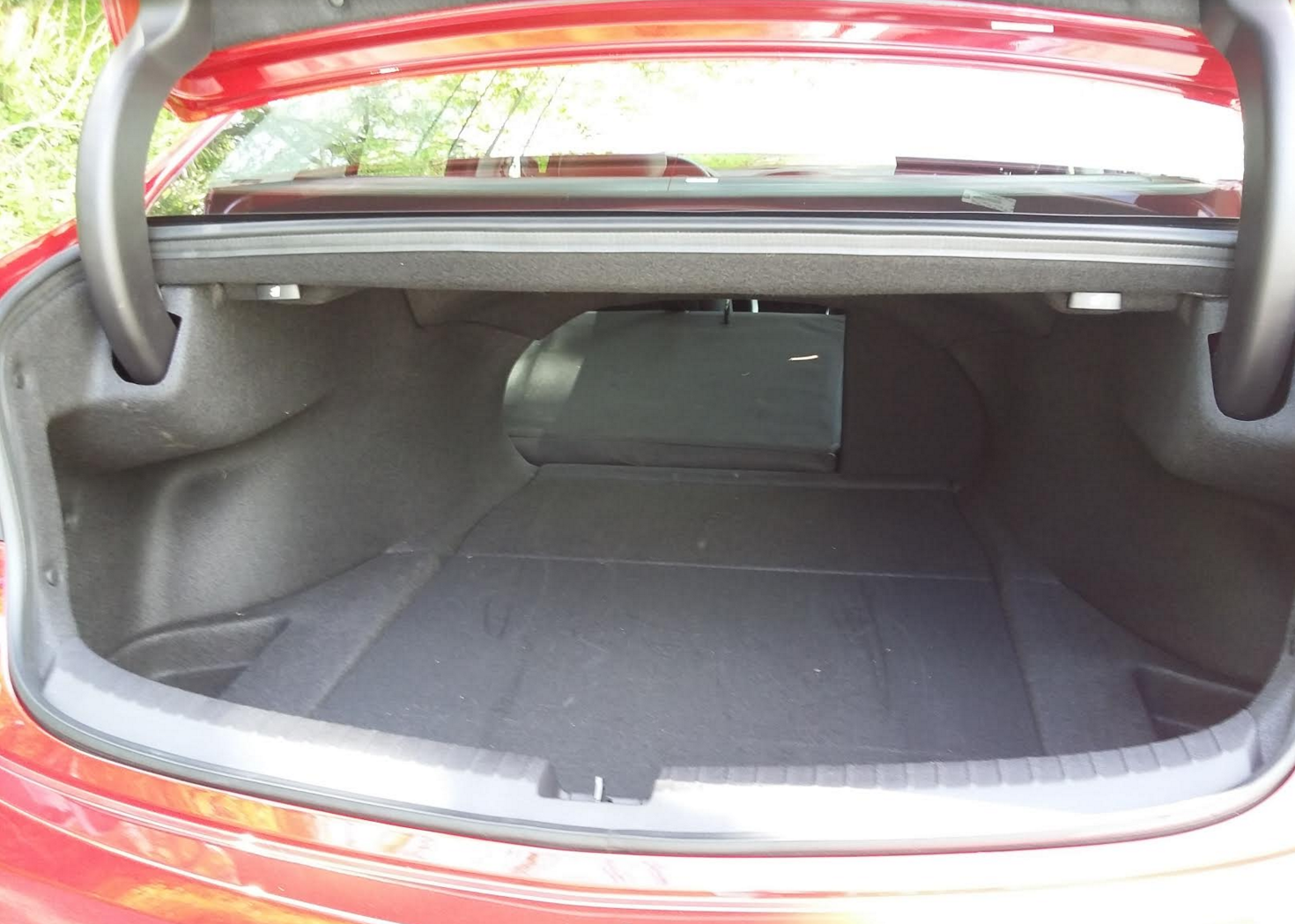 Trunk space — or at least, usefulness — lags just a bit. The area is wide at the rear, but sickle-shaped hinges dip into the load area, though they're covered to prevent damage to cargo. The rear seat backs fold, but they leave a restricted opening and a two-step rise that prevents long items from being easily slid forward. On the plus side, there's a good amount of hidden storage under the floor.  The TLX has always represented a fine value in the premium-midsize class, something that has earned it a Consumer Guide® Best Buy rating ever since it came out. The 2018 model is the best yet, and the new A-Spec brings back fond memories of when "Acura" and "sporty" were virtually synonymous.

Gods, Diamonds, and Mystical Beasts: Explore the Fascinating World of Car Company Logos