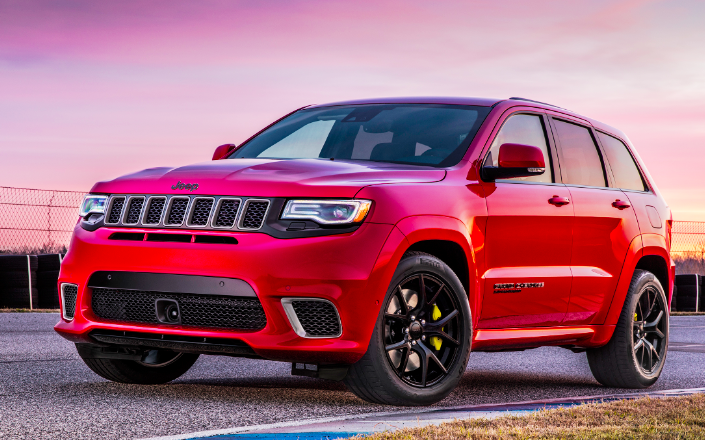 Even in the rarified world of sub-4-second 0-60 cars, the new Jeep Grand Cherokee Trackhawk stands out. But not for the reason you might expect.
Certainly the Trackhawk is an SUV – with all the passenger space and cargo versatility expected of the breed – while nearly all of its fellow speed demons are 2-door coupes – with the likewise expected limitations. And while that's an exceptional advantage, it's not really the point.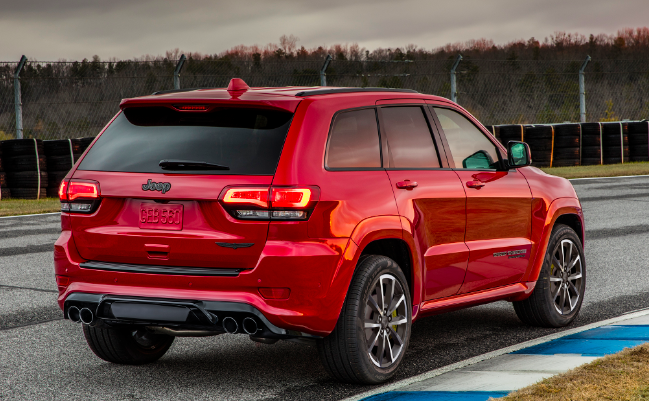 After all, if all you wanted was a "quick" SUV, there are plenty of other choices out there, including the Trackhawk's own sibling, the Grand Cherokee SRT. But if what you want is what Jeep claims is The World's Quickest SUV, well ….
Yet that's not really the point, either.
As might be expected, the Grand Cherokee Trackhawk comes with other goodies to aid in keeping all that performance potential in check, including sport-tuned Bilstein adaptive suspension, gummy 20-inch tires, and huge Brembo brakes (the last marked by bright yellow calipers that are, perhaps, the most noticeable of the Trackhawk's subtle styling tweaks). And as a racetrack stint proved, they combine to serve their mission well; for a vehicle this tall that weighs 5500 lb. (!), the Trackhawk sports moves that justify its name. Yet on the street it's quite civilized, with a firm but reasonably compliant ride, the only telltale signs of its performance potential being a mild exhaust rumble and a faint supercharger whine.
But again, not the point.
How Turbocharging and Supercharging Work: Stuffing a Quart into a Pint Pot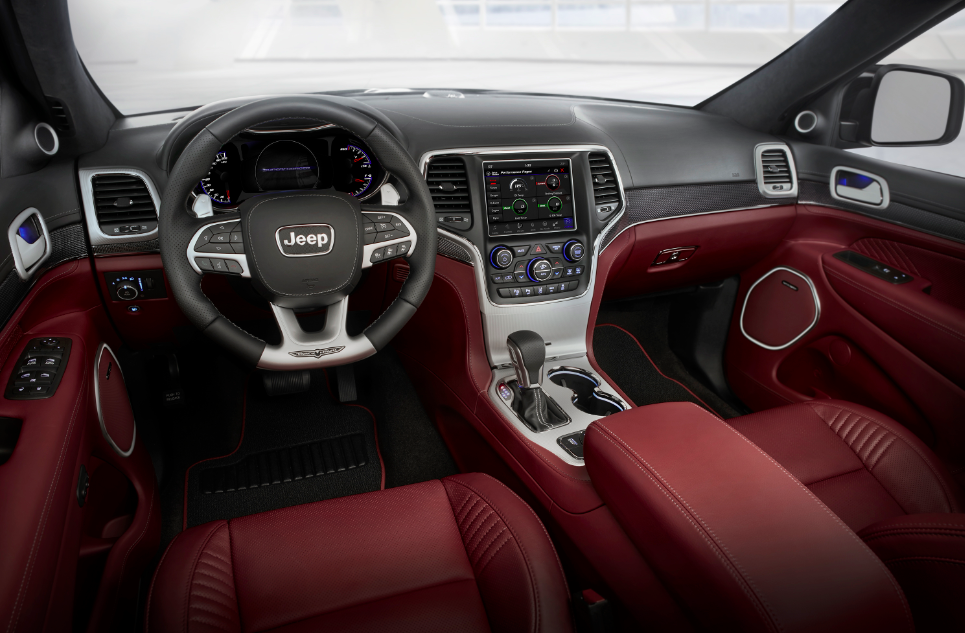 Nor is the fact that for its starting price of $86,995 (including destination), you not only get the world's quickest SUV, but also a virtually loaded one. Standard features include such high-end items as driver-seat memory, power front seats with lumbar adjustment, heated front and rear seats, heated steering wheel, and all the expected high-tech infotainment and safety features, plus Jeep's Performance Pages, which provide additional gauges and allow you to time your own 0-60 sprints and racetrack laps. Options are few: a dual-pane panoramic sunroof, premium Harman Kardon audio system, Blu-ray rear-seat entertainment system, Laguna leather interior in black or black/red, a trailer-towing package with air suspension and automatic leveling (providing a stout 7200-lb towing capacity), summer performance tires, and black lightweight wheels that save 3 lbs. apiece.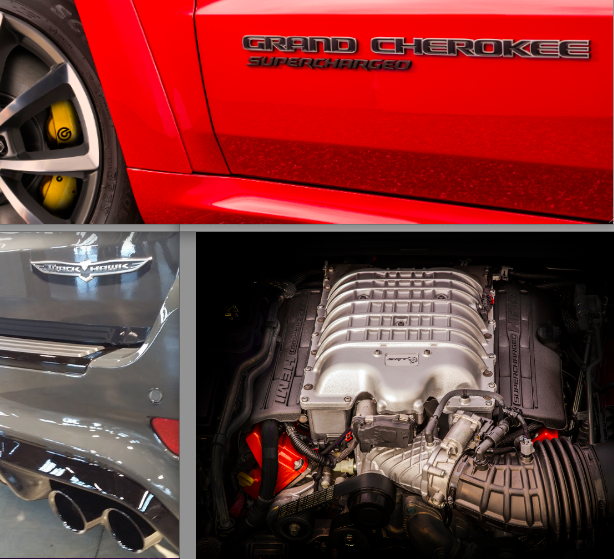 Most of the "quickest of the quick" are rear-wheel-drive cars. While it's obviously possible to funnel huge amounts of power through just two tires, it typically takes some finesse to get it right. With all the necessary power available, it's easy to overwhelm the traction available on takeoff, resulting in smoking rings of burning rubber that – while real crowd pleasers — only serve to slow your launch and make more smog. And getting it just right can take an awful lot of practice and a fair amount of skill.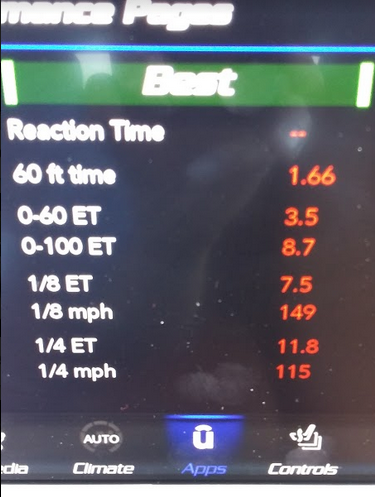 Because of that, some manufacturers have gone to including computer-managed Launch Control in their cars. This programming usually requires you to drill down through some screens to activate, then press down hard on the brake while simultaneously flooring the gas for a moment before releasing the brake and charging off. The program allows the engine to produce the maximum amount of power the tires can convey to the pavement, thereby producing the best possible acceleration.
But that's really more for drag-strip bragging rights than practical street application, as it takes more than a little forethought. And though that's also how the Trackhawk produces its claimed 3.5-second 0-60 time, Jeep says that going without only slows it by about three tenths of a second – meaning it's still a sub-4-second vehicle without any theatrics.
How so? Because unlike most of its peers, the Grand Cherokee Trackhawk comes with all-wheel drive, meaning its 707 supercharged horsepower is delivered through all four tires at launch, snapping your neck on takeoff like few other street vehicles can. Furthermore, there's no skill involved, no advance planning needed, no steps to take: Just plant your right foot and hang on.
And that's the point.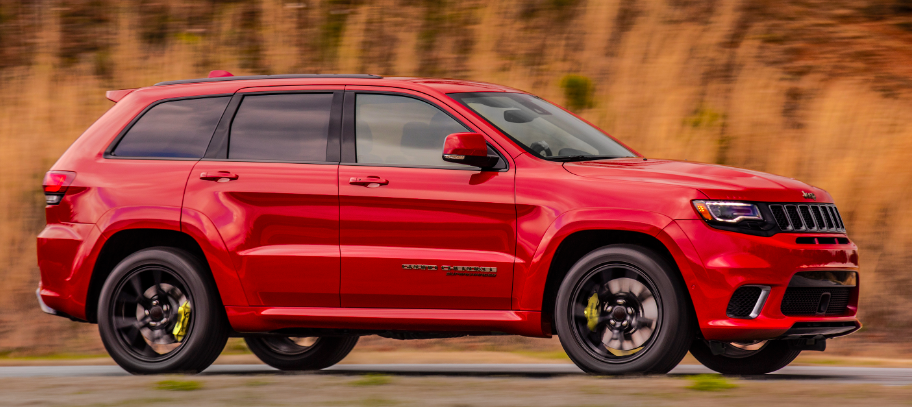 Dodge Goes Wide: Meet the 2018 Challenger SRT Hellcat Widebody