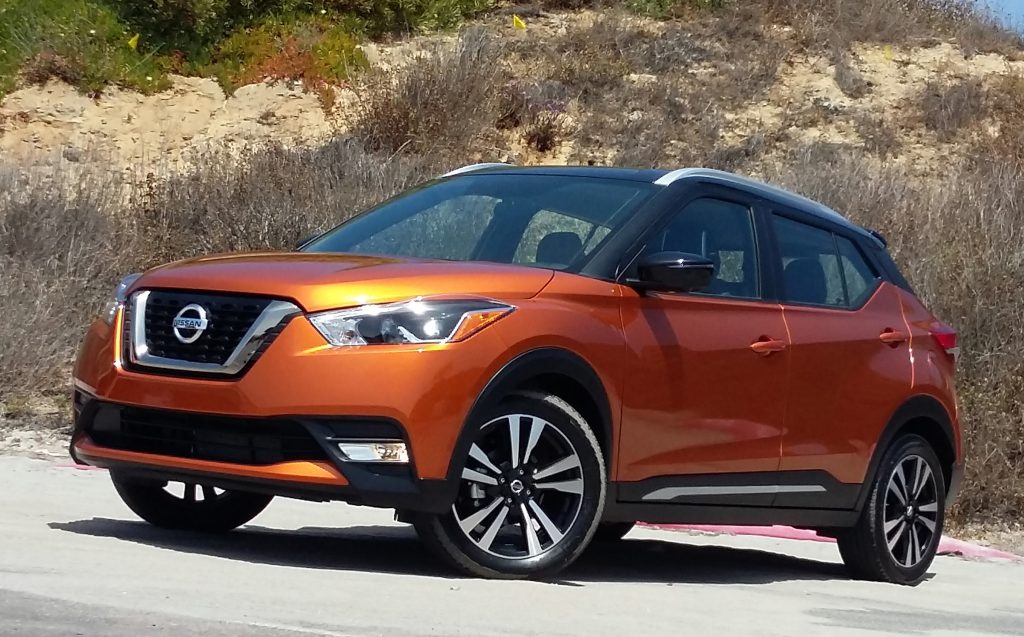 Let's get the basics out there first: The Kicks is a new low-cost small crossover focused on providing great passenger and cargo space with segment-leading fuel economy and a very strong value equation, but it's offered only in front-wheel-drive form.
If we didn't lose you on that last point, read on.
We group the Kicks in with other subcompact crossovers such as the similarly sized Chevrolet Trax, Ford EcoSport, Honda HR-V, Jeep Renegade, Mazda CX-3, and Toyota C-HR, but it also competes with "tall wagons" such as the Kia Soul. But with a starting price of $18,965 including destination for the base S model, the Kicks undercuts most of them on price, despite the fact it includes all the expected features plus automatic transmission and – quite notably – forward collision warning and mitigation – as standard equipment. Furthermore, the most expensive model tops out at less than $22,500, with the only add-ons being special paint colors (including some interesting two-tone combinations) and a few dealer-installed accessories.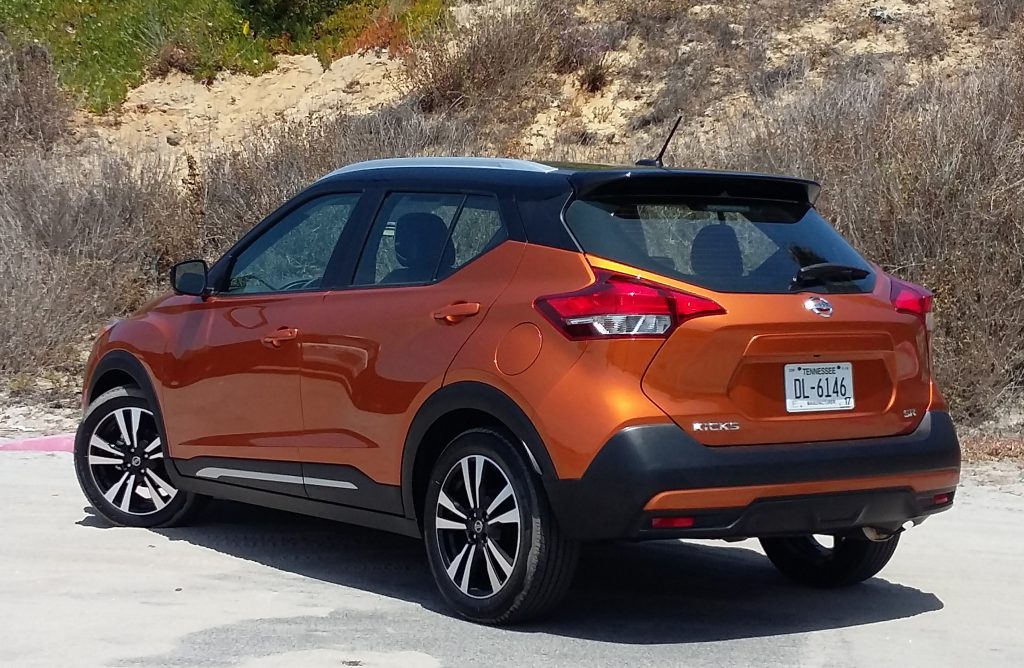 Although the S is hardly "stripped," enough features are added on the midline $20,665 SV that it's probably the best choice from a value standpoint. These include Apple CarPlay/Android Auto, satellite radio, keyless access and starting, automatic temperature control, heated mirrors, 17-inch wheels (vs. 16s), easy-fill tire alert (when inflating, it gives off a chime when the proper pressure is reached), remote engine start, blind-spot alert, and rear-cross-traffic alert.
Arriving on the $21,265 SR are LED headlights, fog lights, a 360-degree camera, and special interior and exterior accents. A $1000 SR Premium Package adds heated front seats, Prima-Tex seat fabric (pseudo leather), and a high-end Bose audio system. Rather oddly, neither a sunroof nor a built-in navigation system is offered on any model.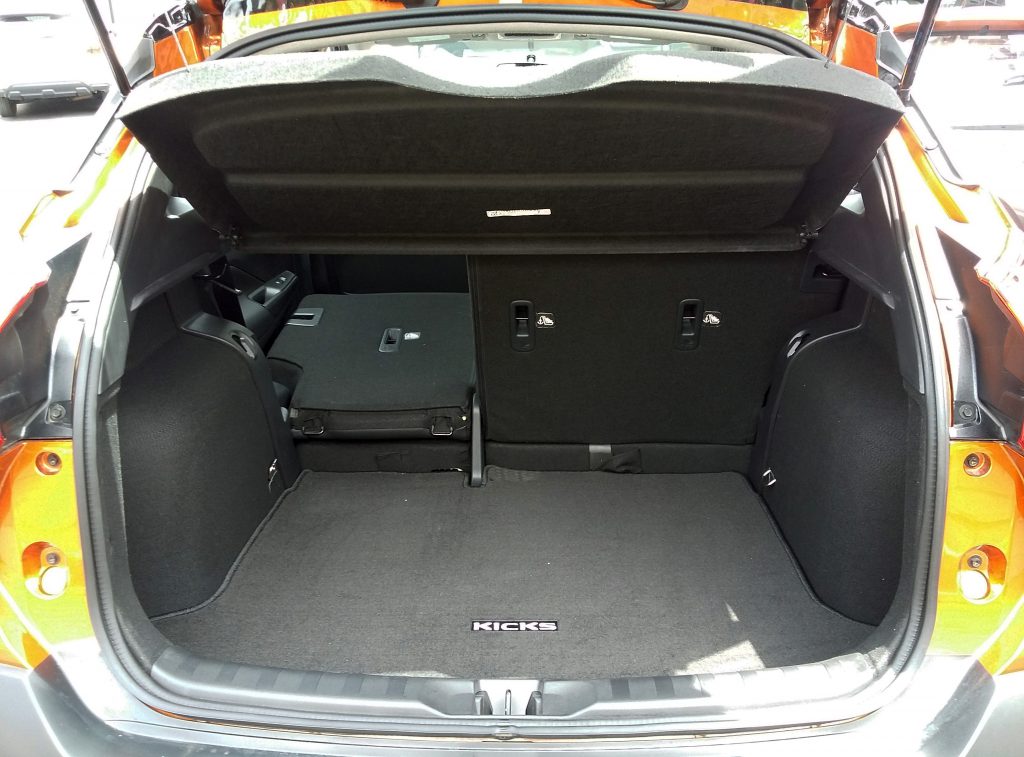 As mentioned up top, another aim of the Kicks is to provide great passenger and cargo room, and it delivers on both counts. Notably to shorter folks, the driver seat can be cranked up really high, and for others, there's very good headroom and legroom both front and rear (my 5'9 frame easily fit behind a fully rearward front seat), and cargo volume ranks near the top of the subcompact-crossover class. The only downside in that regard is that the folded rear seat backs rest about seven inches above the level of the cargo floor, which lies four inches below the cargo opening. As such, you have to lift items to get them out, and long items can't be easily slid all the way forward. At least on the SR with Premium Package we drove, there was little under-floor storage, though it appeared as though a large speaker for the Bose audio system was taking up most of the space.
One of the reasons for the Kicks's low prices is that it's built on the same low-cost platform as the company's long-running compact Versa sedan and Versa Note hatchback, and thus much of that cost has already been amortized. It also carries a non-turbocharged 125-horsepower 1.6-liter engine mated to a CVT automatic transmission, so pretty basic hardware there as well.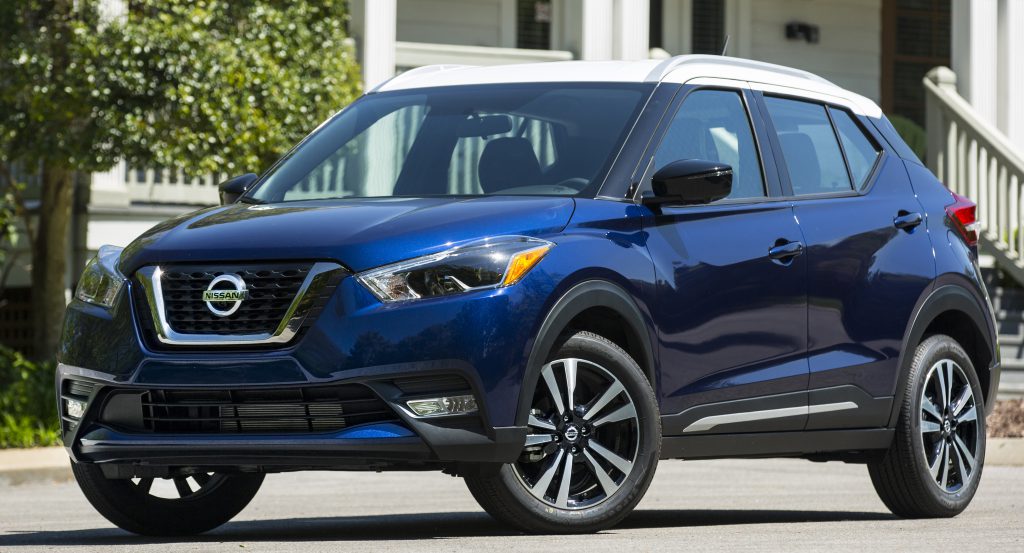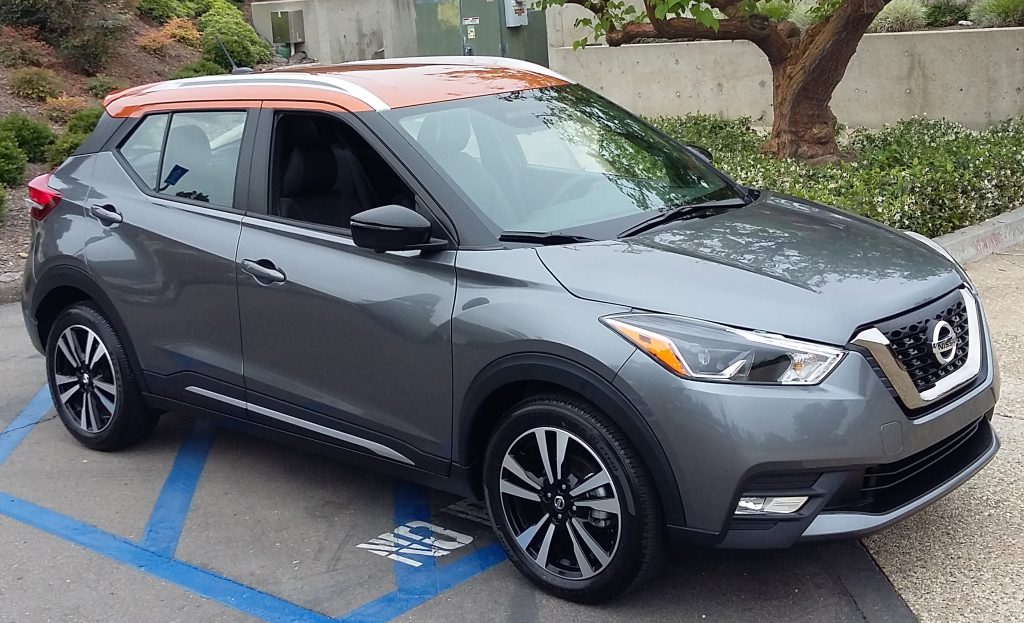 But the Kicks hides its rather plebeian chassis quite well. Ride was difficult to judge on the smooth roads of the southern California press-preview location, but it seemed to be solid and quite supple. Handling was fine, maneuverability even better, thanks to a short overall length, fairly narrow body, and tight turning radius. And rather surprisingly, the little engine provides a fairly good full-throttle jump off the line, and the CVT automatic kicks down quickly when the throttle is stabbed at speed. EPA ratings come in at an impressive 31 city/36 highway/33 combined, handily beating nearly all competitors. (Which is particularly good seeing as the fuel tank holds but 10.3 gallons.) It all combines to help with Nissan's stated goal of making the Kicks a great inner-city car.
But perhaps the most impressive dynamic element of the Kicks was its surprisingly low noise levels. This was evident both around town and on the highway, with the only fly in the ointment being a noticeable moan from the engine under hard acceleration.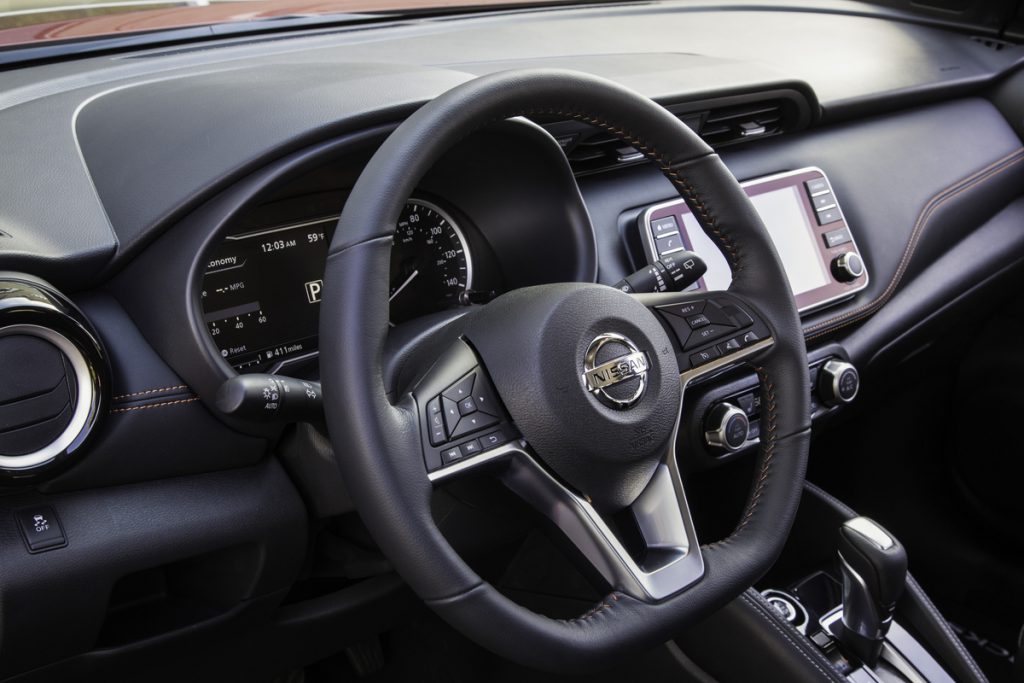 Although we drove a top-line SR with Premium Package, even this model isn't awash with high-end interior materials. The dash face was padded (not so in lower-line models), as were the door armrests and fold-down center armrests, but the dash top and door tops were hard plastic. That's not to say the interior looked cheap, but it was clear there was some cost-cutting going on there.
On the positive side, audio and climate controls are fairly straightforward and easy to reach, and visibility is only restricted to the rear corners due to wide roof pillars, making us appreciate the SR's 360-degree camera when backing. (However, a "regular" rearview camera is standard.)
Interior storage is good rather than great. There's a decent-size glovebox, and the console holds a large forward bin under 12-volt/Aux/USB plugs, two cupholders, and a small bin with two USB ports at the rear, but no console box. There's also a left-side drop-down dash bin and small map pockets with cupholders in the doors.
As low-cost vehicles go, the Kicks is kind of an oddity. It's far more spacious than most, certainly quieter, is available in some neat color combinations, and offers a surprising list of high-end features — such as a Bose audio system and an impressive suite of high-tech safety equipment — while still maintaining bargain prices. Yet it lacks things like a sunroof, and it strikes us as odd that getting something as basic as heated front seats requires adding an option package to the top-line model. But whether you're looking for "just any" low-cost vehicle or specifically wanting a crossover without the need for all-wheel drive, the new Nissan Kicks is a really hard value to beat.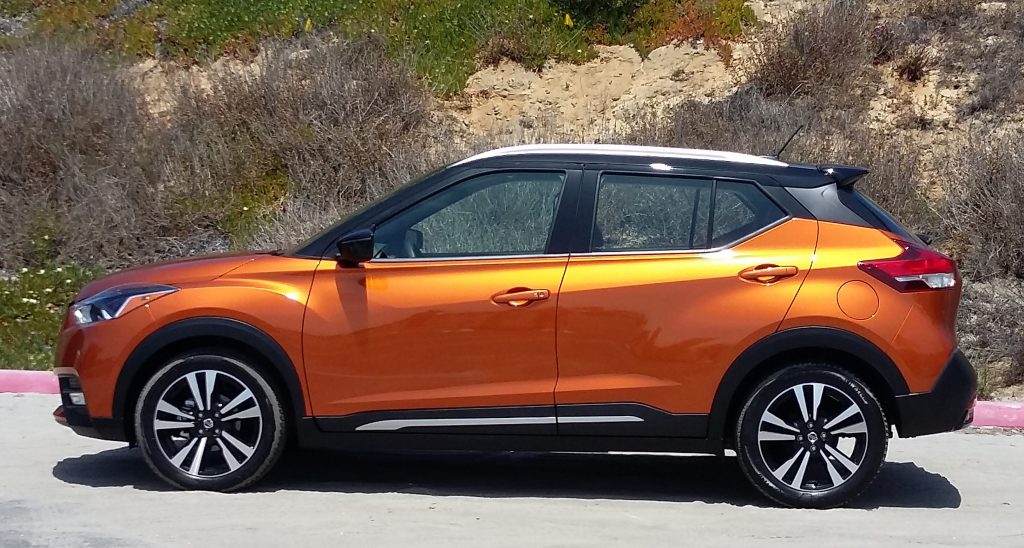 Check out our Subcompact Crossover Best Buys