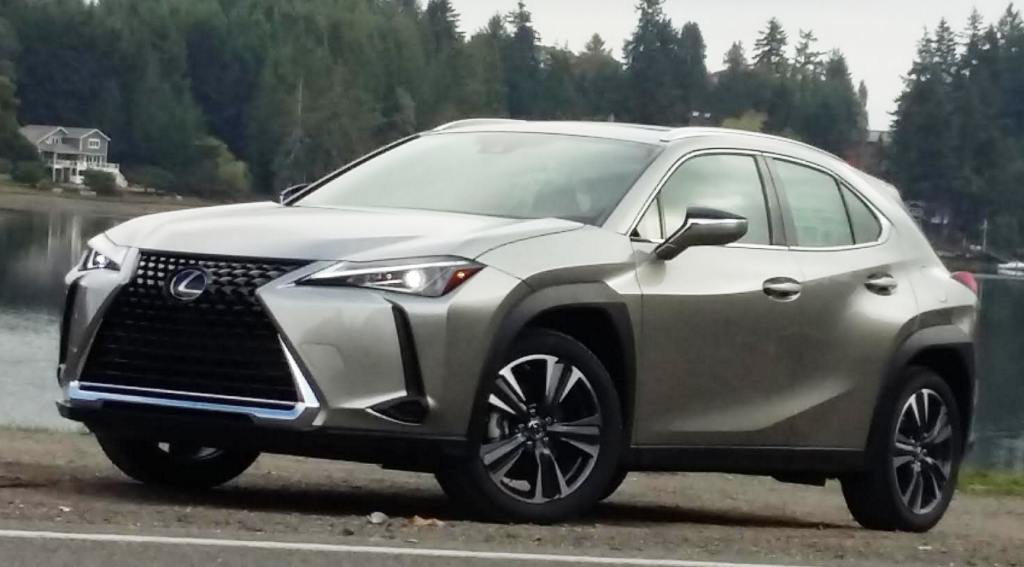 If you haven't noticed, compact crossovers are all the rage nowadays. That applies to premium ones as well, and increasingly, to premium ones that have been downsized to near subcompact proportions. And that's the game Lexus has entered with the new UX.
Although the biggest names in this burgeoning segment are European, it could be argued that an American started it all. Way back in 2013, Buick introduced the Encore, a pint-size SUV with a decidedly upscale feel, and enough others have since joined in, that for 2019, Consumer Guide has now given them their own "Premium Subcompact Crossover" category.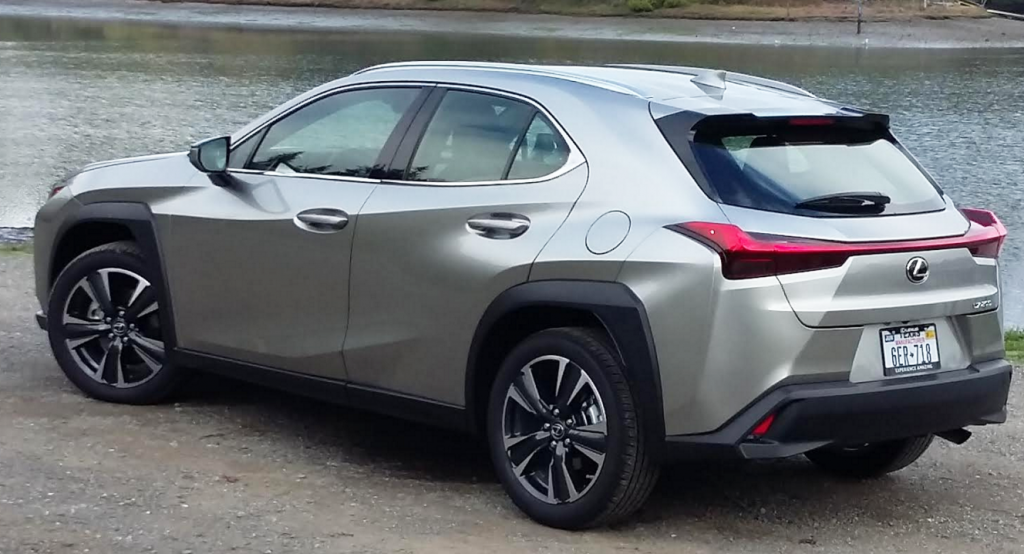 While we now consider the Buick Encore as a "regular" subcompact crossover, it remains at the upper end of that class, with the premium segment consisting of more recent entries such as the Audi Q3, BMW X1 and X2, Infiniti QX30, Jaguar E-Pace, Mercedes-Benz GLA-Class, and the Volvo XC40.
Compared to its larger Lexus NX compact sibling, the UX is five inches shorter on a one-inch-shorter wheelbase and offers three inches less rear-seat legroom. It comes as the base front-drive UX 200 with a 169-horsepower 2.0-liter engine and CVT automatic transmission, and as the all-wheel-drive hybrid UX 250h with 181 combined gas/electric horsepower and CVT transmission.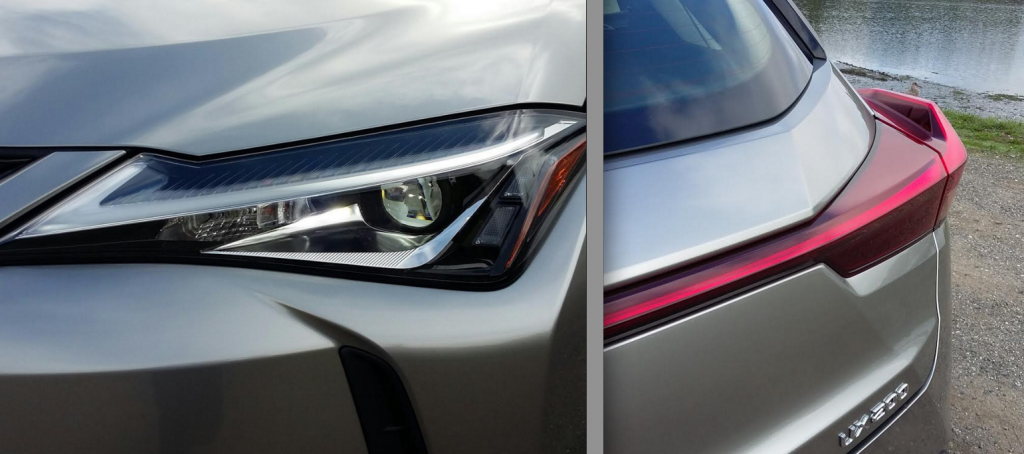 Lexus says that the UX is "designed and engineered for the urban environment," something in keeping with its smaller overall footprint. It's also aimed at providing a lower price point to attract younger buyers, with the UX 200 starting at $33,025 including the $1025 destination charge, and the hybrid UX 250h coming in at $35,025. Both can be fitted with Premium, Luxury, and F Sport packages, and Lexus says that a loaded UX 250h hybrid will top out at about $42,000. The UX 200 is expected to go on sale in December, the UX 250h the following month.
Befitting its premium classification, the UX comes standard with a host of features. These include a 7-inch touchscreen, Apple CarPlay (but not Android Auto … yet), 4G Wi-Fi hotspot, the ability to remotely start the engine or lock/unlock the doors through a smartwatch or Alexa/Google Assistant-enabled device, keyless access and starting, satellite radio, 8-way power front seats, driver-seat lumbar adjustment, dual-zone automatic climate control, and 18-inch run-flat tires. Standard safety features include rear side airbags, forward collision warning and mitigation with pedestrian detection, lane-departure warning and mitigation, lane-keep assist, adaptive cruise control, road-sign assist, and automatic high beams. Available in option packages are front and rear obstacle detection with automatic braking, blind-spot alert, rain-sensing wipers, heated and ventilated front seats, power moonroof, power tilt/telescopic steering column, driver-seat memory, navigation system with 10.25-inch screen, hands-free power liftgate, and a head-up display.
Quick Spin: 2017 Infiniti QX30 Premium

As might be expected of such a small vehicle (at 177 inches stem to stern, it's six inches shorter than a Toyota Corolla sedan), passenger space is limited, at least in the rear seat. While 6-footers could probably sit in tandem, ones in back might find legroom lacking, though headroom should be fine. But while the front seat can be set far back to grant even tall folks plenty of legroom, the front seat back will then almost be resting against the rear-seat cushion, so … no legroom behind it. Also, the rear door opening is slightly restricted, making egress a little tight. Notably, you can get a power-operated tilt/telescopic steering wheel whose position can be included in the seat/mirror memory, a real (and unusual) convenience when two people share the vehicle.

One area in which the UX lives up to its "premium" label is in interior furnishings. Not only are there lots of padded surfaces and interesting trim choices available, but you can get two-tone combinations such as black/brown, blue/white, and — on the sporty F Sport — black/red.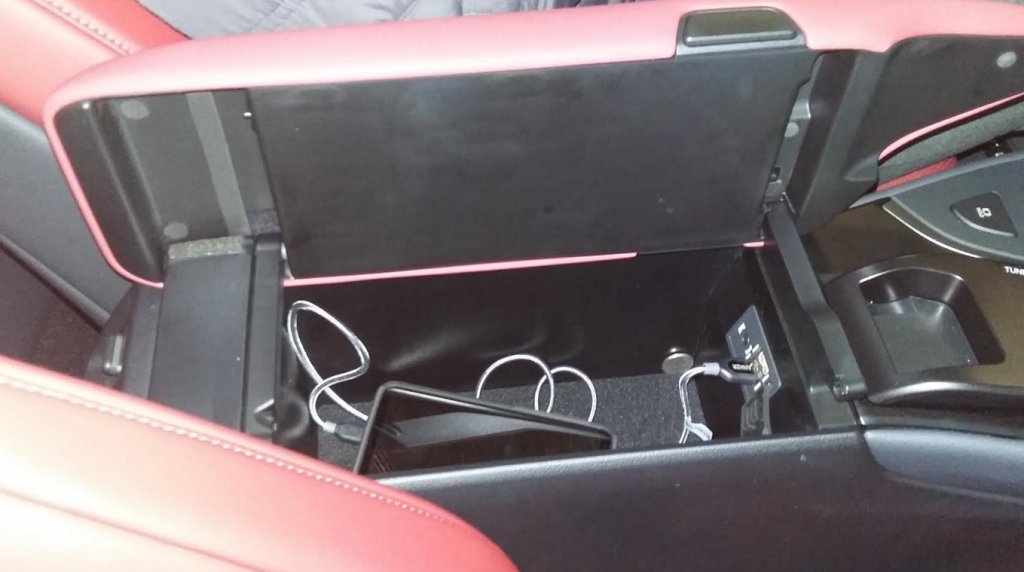 Visibility is fair to the front corners, but it's rather poor to the sides and rear due to thick roof pillars. Thankfully, a standard wide-angle 180-degree rearview camera helps when backing. Swing the sunvisor to the side, and though it extends, it still leaves about 4 inches of the side window uncovered. Worth noting is that the optional head-up display projects large, color graphics onto the base of the windshield, making it a feature we really appreciated.
Interior storage is unexceptional except for one thing: The lid of the large console box has hinges/latches on both sides, so it can be opened either to the right or the left for easy access by both the driver and front passenger. Clever.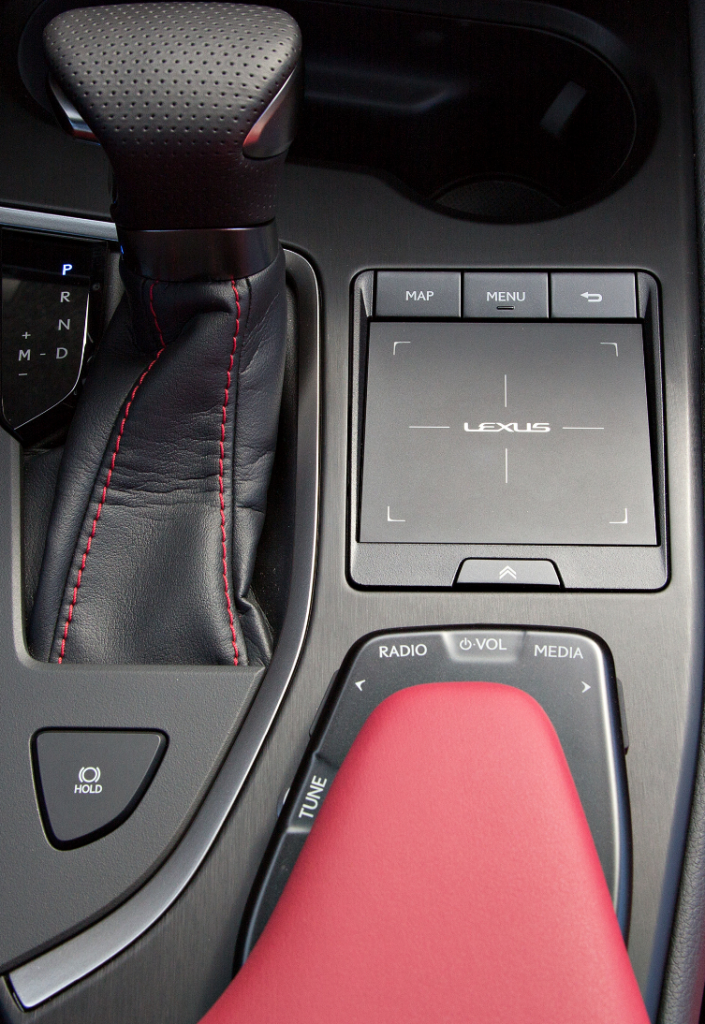 The infotainment interface on the UX combines a console-mounted touchpad (as used on other Lexus models) with some finger-controlled console buttons that are new to the brand. While we've never been fans of the touchpad — or the console joystick-puck found on previous Lexus models — the UX's arrangement seemed a bit easier to use, though it still takes some getting used to. We look forward to a local test of a UX, which will allow us more time to acclimate to it.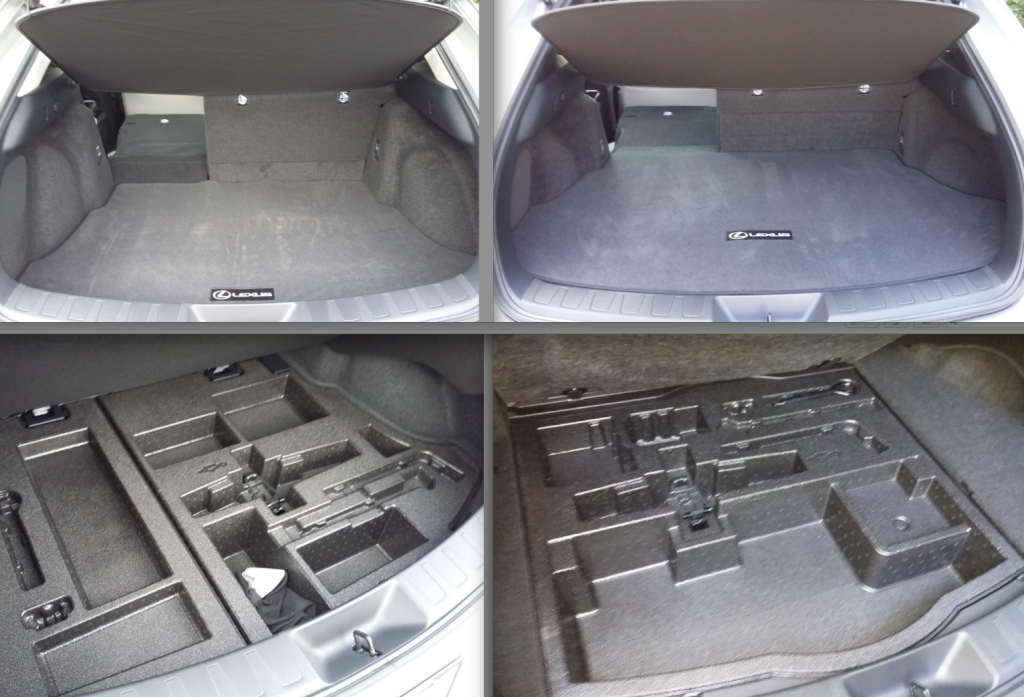 In back, cargo space differs a bit between the "gas" UX 200 and hybrid UX 250h. The former has a lower load floor that affords more overall cargo height and thus space, but when the rear seat backs are folded, they rest a few inches above the level of the cargo floor, making it difficult to slide long items forward. In the hybrid, the floor is higher, and the folded rear seat backs rest level with the floor. In both cases, there's a good amount of underfloor storage space — though that, too, differs a bit with model — but you may have to remove the rear-seat headrests before the seat back can be folded if the front seat is moved very far back. A nice available feature is a hands-free power liftgate.
Although Lexus says the front-drive UX200 can accelerate from 0-60 mph in 8.9 seconds while the all-wheel-drive hybrid takes 8.6 seconds, the difference feels far greater than that. While even the UX 200 delivers a decent  full-throttle jump off the line with good kickdown response when the throttle is stabbed at speed, the hybrid feels notably stronger in both scenarios — more than a .3-second difference in 0-60 time would imply. And since the hybrid also gets a far better EPA rating (39 mpg combined vs. 33) and includes all-wheel drive for its $2000 price premium, we think that's the better choice here. Note, however, that the hybrid's all-wheel drive system uses a separate electric motor to drive the rear wheels, and they're only driven at speeds below 44 mph — though it's at low speeds where you need it most. Both models exhibited fine ride control with rather sporty handling (the F Sport's stiffer suspension detracting a bit from the former while adding a bit to the latter) and a tight turning circle to make "dynamics" a point in the UX's favor.
Actually, all told, there are a lot of points in the UX's favor. It combines luxury trappings, good feature availability, decent cargo space, and fine road manners with a city-friendly size and reasonable prices to become a very appealing choice in a category that is exploding in popularity — for those exact reasons.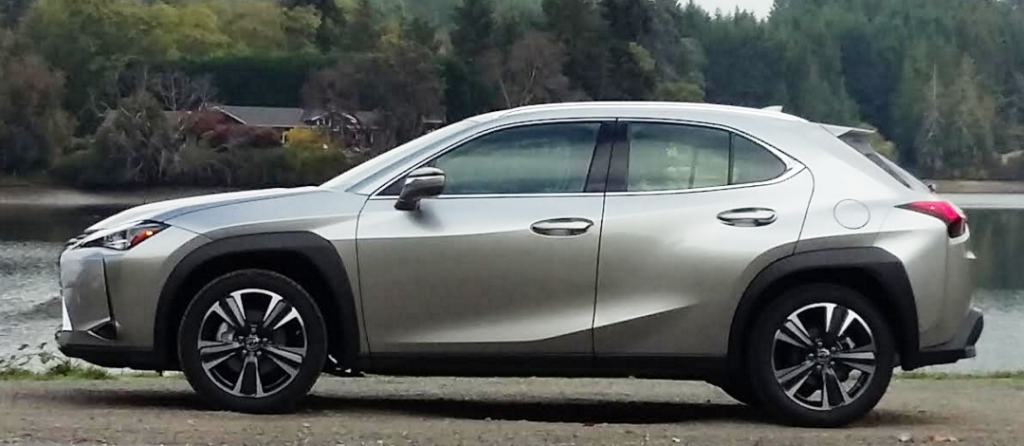 Listen to the very entertaining Consumer Guide Car Stuff Podcast