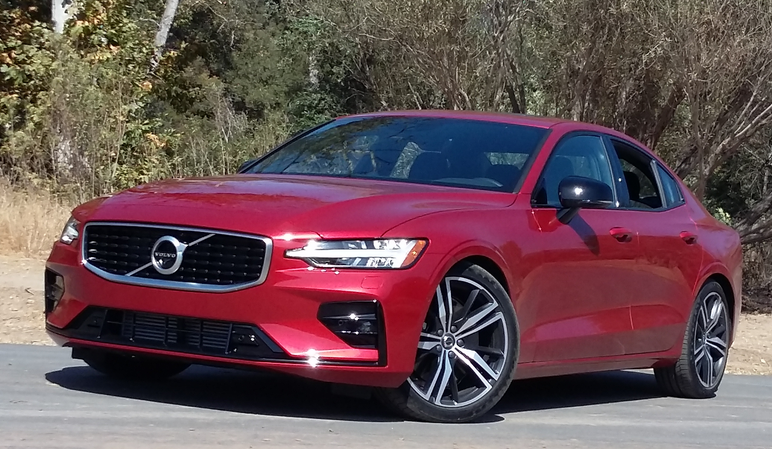 As one of the oldest members of Volvo's reinvigorated – and fast-growing — lineup, the S60 premium midsize sedan was due for an update. And boy, did it get one.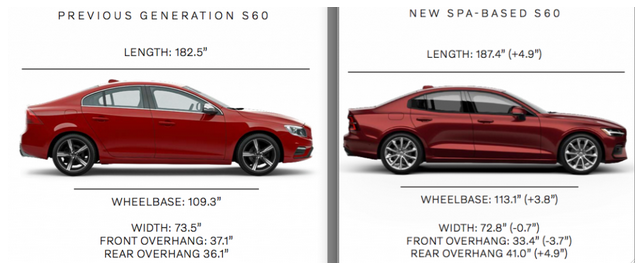 While still clearly a Volvo by looks, the new S60 and companion V60 wagon take on a decidedly more modern and sculptured appearance. Although front-drive cars that are also offered in all-wheel-drive form, their proportions now mimic those of rear-drive rivals, with a shorter front overhang, longer rear one, and a visibly longer hood. The wheelbase has also been stretched by almost four inches, the length by nearly five, so the car is also notably larger. And pronounced side sculpturing gives it a more dynamic profile. They are also the first Volvos to be built at a new manufacturing facility in Charleston, South Carolina, the first U.S. plant for the Swedish-based, Chinese-owned company. While the S60 is due on sale later this calendar year, the V60 wagon won't be available until the first quarter of 2019.
Test Drive: 2018 Audi A5 Sportback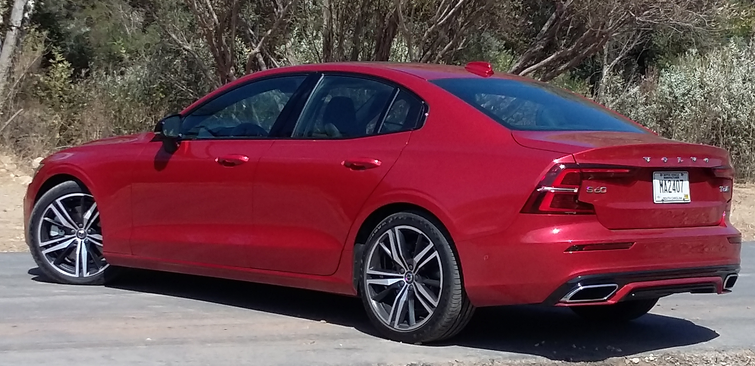 Model choices continue much as before, with a couple of exceptions. The base T5 is powered by a 250-horsepower turbocharged 2.0-liter 4-cylinder engine mated to an 8-speed automatic transmission, but it now comes only with front-wheel drive; an all-wheel-drive version was offered last year. The step-up T6 again has a turbocharged and supercharged version of that engine rated at 316 horsepower and comes only with all-wheel-drive. Also having standard AWD is the new T8 plug-in hybrid, which uses the T6 engine but adds a motor to drive the rear wheels, a combination good for 400 horsepower.
Reviving a name from the past is the T8 Polestar Engineered – the hot rod of the bunch – which carries a "tweaked" T8 powertrain good for 415 horsepower, along with upgraded brakes and suspension. But there's one caveat: Only 20 (yes, twenty) will be built this year, and all are already spoken for, though more are on the way for next year. All were sold under Volvo's subscription program, where one monthly payment covers virtually everything from maintenance to insurance, essentially making gas the only "out of pocket" expense. The program was started last year and applied to certain Volvo models, and this year includes the new S60 and V60.
Within the T5 and T6 lineups are three trim levels — Momentum, sporty R-Design, and "luxury" Inscription, with the T8 only offered in R-Design and Inscription form — along with several individual options and option packages. Note that while we briefly drove a V60 wagon, we won't get pricing for those models until closer to their early 2019 on-sale date.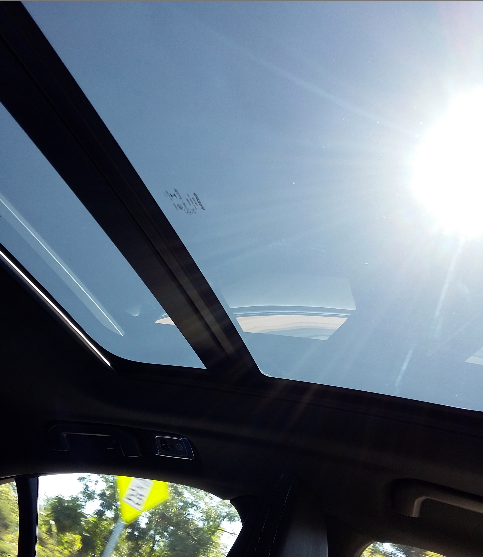 Standard on the T5 Momentum ($36,795 including $995 destination) are a host of safety features, including forward collision warning and mitigation with pedestrian/cyclist/large animal detection, lane-departure warning and mitigation, oncoming traffic mitigation (it sounds a warning and steers the car away if a vehicle moving in the opposite direction is coming toward you), road-sign identification, and Volvo On-Call telematics with remote-start capability. Other standard features include a panoramic sunroof, heated windshield wipers and washers, rain-sensing wipers, 10-way power front seats (including lumbar adjustment) with driver-seat memory, satellite radio, Apple CarPlay/Android Auto functionality, dual-zone automatic climate control, and power-folding rear-seat outer headrests. An optional $2050 Premium Package adds automatic-dimming exterior mirrors, Homelink transmitter, compass in rearview mirror, blind-spot and rear-cross-traffic alert with auto braking, front and rear obstacle detection, keyless entry, and hands-free trunklid. A $2500 Multimedia Package brings a navigation system and Harman Kardon sound system. The $2500 Advance Package nets you a head-up display, 360-degree camera, adaptive headlights that turn with the steering wheel, and Volvo's Pilot Assist semi-autonomous drive system with full-speed (works at both city and highway speeds) adaptive cruise control. Individual options include heated front seats and steering wheel.
Added on the $42,895 R-Design are the contents of the Premium and Multimedia packages along with unique interior and exterior trim, steering-wheel paddle shifters, and front fog and cornering lights, with the Advance Package being optional, along with Volvo's Four-C adaptive suspension and a Bowers and Wilkens audio system.
Jumping up to the $43,895 Inscription gets you leather upholstery, 4-zone climate control, and a cooled glovebox. Options include the Advance Package along with a $2200 package that includes Nappa leather upholstery and ventilated/massaging front seats with extendable cushions.
Feature content is similar on T6 versions, of which the Momentum starts at $41,295, the R-Design at $47,395, and the Inscription at $48,395. Meanwhile, the T8 plug-in hybrid starts at $55,395 for the R-Design, and $56,395 for the Inscription.
What we mostly drove at the preview in California was a loaded S60 T6 Inscription, but most of this evaluation would apply to any S60 T6. And the V60 driven was a T5 Momentum, and powertrain comments should hold for the S60 T5s.
Test Drive: 2017 Mercedes-Benz CLA250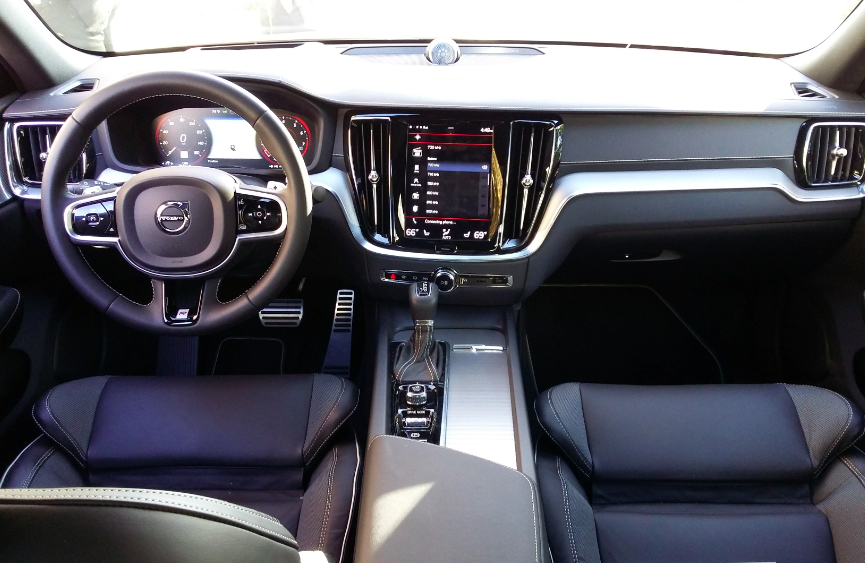 Upon entering the tested S60, we were greeted with a combination of two-tone interior and ritzy trim (rich-looking wood available) that clearly labeled it as a "premium" vehicle. Visibility is good to the front, poor to the sides (due to close, thick roof pillars), and just fair to the rear corners, though our tester was equipped with power-folding rear headrests, a wide-angle 180-degree rearview camera, and 360-degree cameras, all of which help when backing.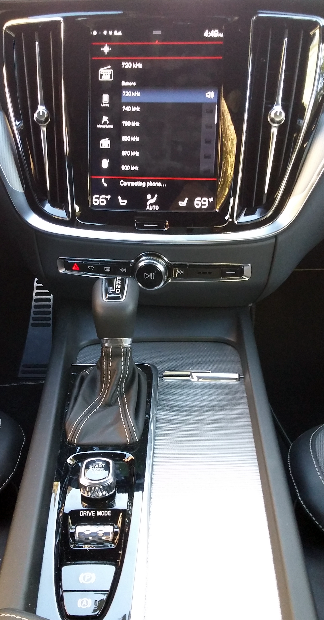 Audio and climate controls are now the same as those used on other Volvos, with most features being adjusted through a huge, vertically oriented center touchscreen with cell-phone-like swipe capability. Although not our favorite due to the complexity of accessing some features quickly, it's something that probably gets easier the more you use it.
Interior storage space is average at best. There's a good-size glovebox, but otherwise just a couple of covered cupholders, two modest-size covered console bins, and map pockets with cupholders in the doors. (Note that a T8 Polestar Engineered we drove briefly had even less interior storage space due to a smaller glovebox and smaller console bins.)
Better is passenger space. There's very good headroom and legroom available in front, and the driver of our T6 Inscription could enjoy 4-way power lumbar adjustment along with position memory. However — unlike in some premium cars — the tilt/telescopic steering wheel has manual adjustment, which means it can't be included in the seat-and-mirror memory settings. Note that the paddle shifters (for manual transmission-gear selection) behind the steering wheel were so close to the rim that my co-driver hit them accidentally a few times, which made the transmission refuse to upshift through the gears for no apparent reason.
There's likewise good room in back. Six-footers should find sufficient headroom, and they'll only be short on legroom if the seat ahead is pushed all the way back — and only the very tall would need to do that. Note, however, that the center floor tunnel is quite large, meaning a center passenger is going to be short on foot space.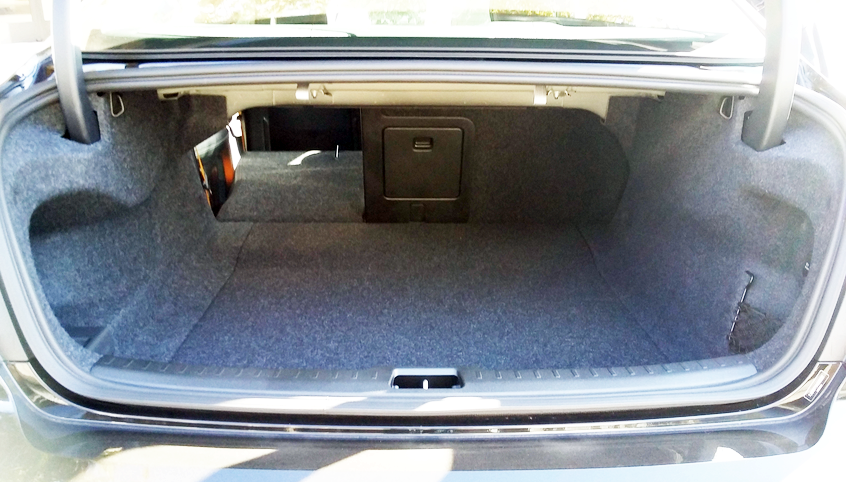 It's in cargo room, however, where the S60 shines — or perhaps more accurately, in cargo versatility. While most sedans have folding rear seat backs, few have seat backs that fold level with the trunk floor; instead, they usually rest a few inches above the trunk floor, forming a "step" that makes it difficult to slide long items forward. But while the S60's folded seat back isn't completely level with the cargo floor, it's close enough that sliding long items forward shouldn't pose any problem. While the trunk is also wide at the rear and reasonably spacious, note that sickle-shaped trunklid hinges dip into the load area, and there's very little hidden storage under the floor (and virtually none in the T8 Polestar Engineered driven). Minus the sickle-shaped hinges complaint and with far more cubic cargo space, the above also applies to the V60 wagon.

While many premium-midsize rivals still offer larger 6-cylinder engines, 4-cylinder turbos are increasingly becoming standard. Particularly in standing-start acceleration, most of those small turbos don't have the kind of instant throttle response of a six, which is one reason people might move up to a premium sedan (over a "regular" one) in the first place. Volvo's 4-cylinder engine sort of sits between the two, at least in T6 form. Why? Because while the T5's engine has only a turbocharger — like all other turbo fours in the class — the T6's has both a turbocharger and a supercharger, a unique combination. As such, it has better low-end response than most rival fours, (and even the T5 is quite good in terms of throttle response), making it a fine "tweener" choice. Unfortunately, the 8-speed automatic transmission is not always quick to downshift to a lower gear when the throttle is floored at speed, though — for some reason — it's better if you just dip into the throttle a bit.
Test Drive: 2018 Buick Regal TourX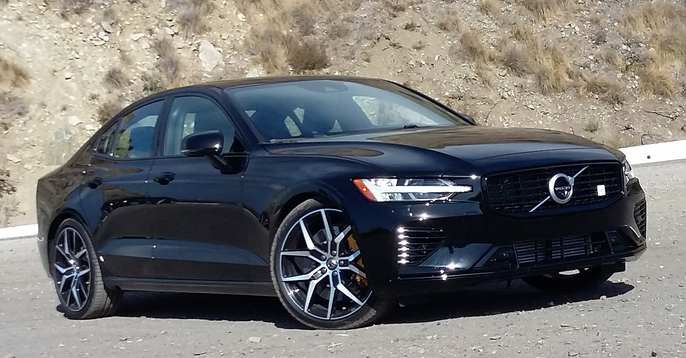 Then there's the T8. Unlike some others of the ilk, the car's plug-in hybrid technology is not aimed at fuel economy as much as it is at power. And if the Polestar Engineered driven is any indication of what the only-slightly-less-powerful T8 will do, it should be able to rival many of the big "sport sedan" names in terms of performance.
Although our Southern California test route didn't offer much in the way of potholes to judge ride comfort, it seemed as though this is an S60 strength. Handling felt to be on par with others in the class, which is to say, quite good.
While Volvo built its reputation on safety, the T6 version of the S60 in particular — with its stronger engine, all-wheel drive, and good feature-per-dollar equation — comes off as a bit of a performance-sedan bargain. That makes it an appealing entry in the class and the most compelling choice in Volvo's midsize lineup … at least until the rakish V60 wagon appears.
Listen to the very entertaining Consumer Guide Car Stuff Podcast

Listen to the very entertaining Consumer Guide Car Stuff Podcast
2019 Volvo S60