The full-size pickup market in the U.S. remains dominated by Ford, Ram, Chevrolet, and GMC (in that sales order), with sales of Toyota's Tundra typically running less than half the fourth-place GMC Sierra's tally. Significantly, Tundra hasn't received a ground-up redesign since way back in 2007—consider that since that second-generation Tundra debuted, Ford redesigned its F-150 in 2009, then again in 2015, and for a third time in 2021. Now, for 2022, Toyota is finally introducing a clean-sheet, third-generation Tundra. It features new twin-turbocharged and gas-electric hybrid turbo V6 engines, and it rides on a redesigned steel frame with fresh front and rear suspension designs. All-new styling and the introduction of the Toyota Audio Multimedia system are further highlights.
Toyota has elected to retain the Tundra's existing trim-level hierarchy; the 2022 lineup starts with the base SR model and progresses through SR5, Limited, Platinum, and top-of-the line 1794 Edition (1794 is a reference to the founding year of a cattle ranch in Texas, which is now the location of Toyota's truck-manufacturing plant). Also available is the off-road-oriented TRD Pro model. As before, two four-door cab configurations are available: Double Cab models are shorter and have less rear-seat legroom, and can be had with 6.5- or 8.1-foot beds; the roomier CrewMax cab is offered with the traditional short 5.5-foot box or a newly available 6.5-foot bed.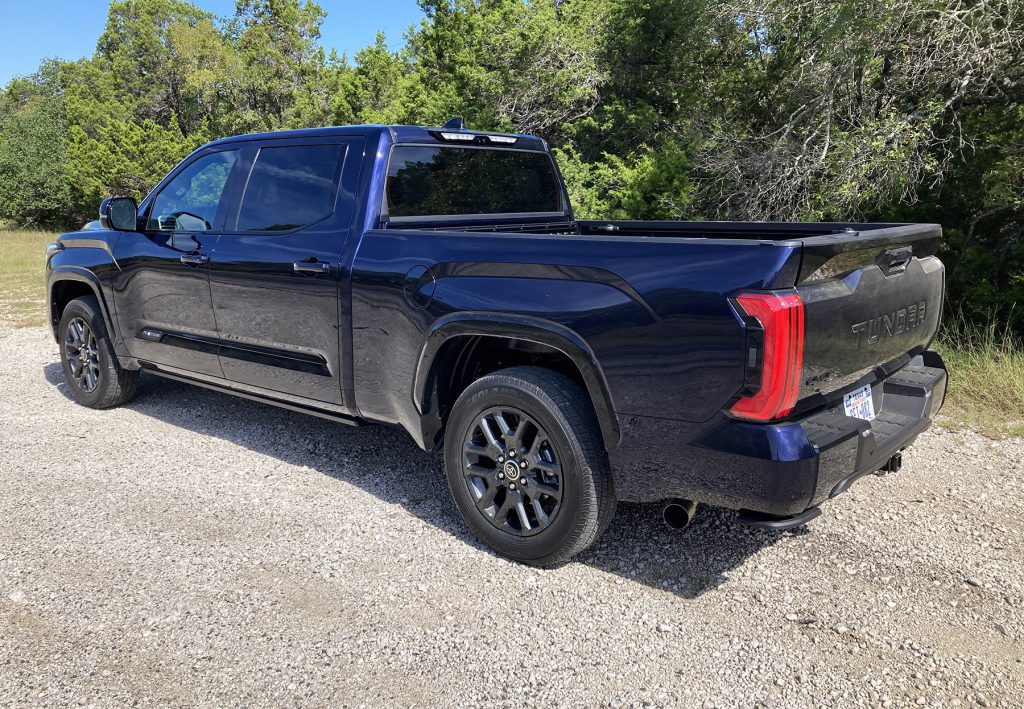 The outgoing 2021 Tundra was available with a single powertrain: a 381-horsepower 5.7-liter V8 paired with a 6-speed automatic transmission. Arguably the biggest news for the 2022 Tundra is that it offers two new powertrains, each using a 3.5-liter twin-turbocharged V6 engine mated to a 10-speed automatic transmission.
The standard setup is dubbed i-FORCE—in most Tundra models, it is rated at 389 horsepower and 479 lb-ft of torque. The exception is the base SR trim, where the engine is tuned for 348 horsepower and 405 lb-ft of torque. The 348-hp version delivers its peak horsepower at a substantially lower 2400 rpm and maxes out available torque by 2000 rpm, compared to 5200 rpm and 2400 rpm respectively for the 389-horsepower mill.
5 Cool Things About the 2020 Toyota Tundra

Regardless of version, the i-FORCE engine's manufacturer-estimated fuel economy is 18 mpg city/23 highway/20 combined for rear-drive models, and 17/22/19 for the 4x4s—a significant improvement over the 2021 Tundra's dismal EPA ratings of 13/17/15 with rear-wheel drive and 13/17/14 with 4-wheel drive. Perhaps more importantly, those estimates fall just short of the 2021 Ford F-150's 400-horsepower 3.5-liter EcoBoost V6, which is rated at 18/24/20 with rear drive and 18/23/20 with 4-wheel drive.
Optional for Limited, Platinum, and 1794 Edition crew-cabs and standard on the TRD Pro is the Tundra's first hybrid powertrain, dubbed i-FORCE Max. It combines the 3.5-liter twin-turbocharged V6 with a 48-horsepower electric motor/generator that's mounted between the engine and transmission, along with a 1.87 kWh nickel-metal hydride battery pack mounted under the rear seat. This full-hybrid system allows for electric-only low-speed driving, but the gas engine is always on at speeds above 18 mph. The i-FORCE Max is rated at an impressive 437 horsepower and 583 lb-ft of torque, but as of this writing Toyota hasn't provided any fuel-economy estimates. All 2022 Tundra powerplants run on regular-grade gas.
Test Drive: 2021 Ford F-150 PowerBoost Hybrid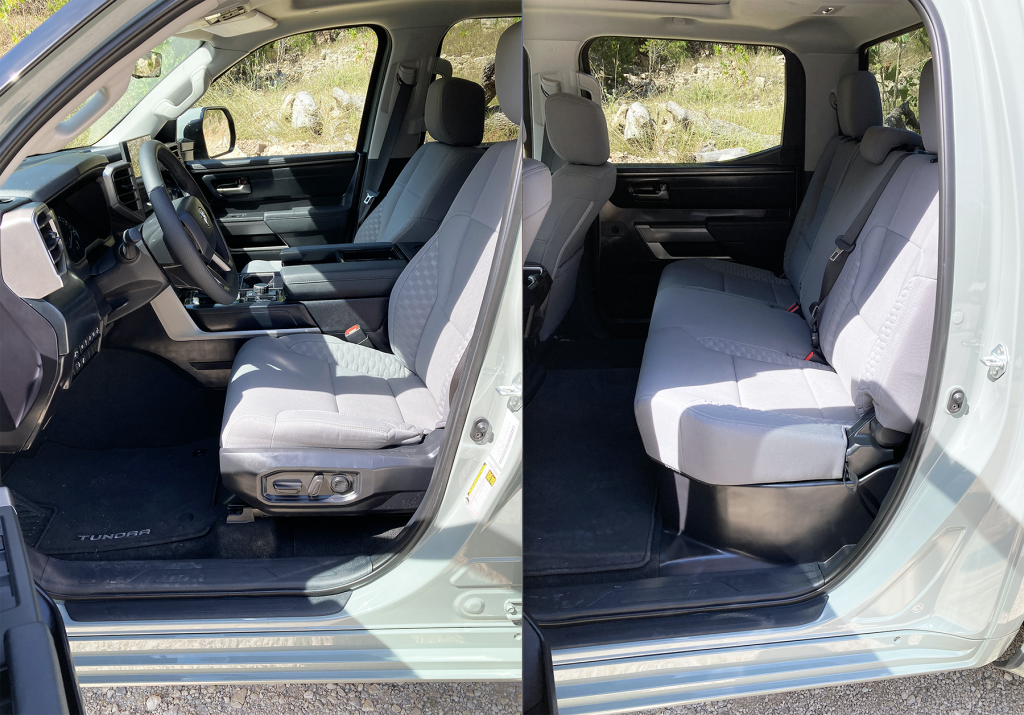 Toyota's i-FORCE Max is remarkably similar in concept to Ford's F-150 PowerBoost hybrid, which also pairs a 3.5-liter twin-turbocharged V6 with an electric motor. The Ford is rated at 430 horsepower and 570-lb ft of torque, and uses a 1.5 kWh lithium-ion battery pack. EPA-estimated fuel economy for the F-150 hybrid is 25 mpg city/26 highway/25 mpg combined with rear-drive and 24/24/24 with 4-wheel drive. We'd wager the Tundra hybrid's numbers will at least be in this ballpark.
The Tundra's new frame is fully boxed; it uses a complex assembly method that combines many small metal stampings that are welded together using a newly developed automated laser-welding system. Toyota says this new way of making a frame has allowed the engineers to add material thickness and strength only where it is needed—the company claims a 10-percent reduction in mass while achieving a 20-percent improvement in rigidity. In the near future, the Tundra's new frame will evolve for use under the next-generation versions of Toyota's smaller (and more popular) Tacoma pickup and Sequoia full-size SUV.
Test Drive: 2021 Honda Ridgeline HPD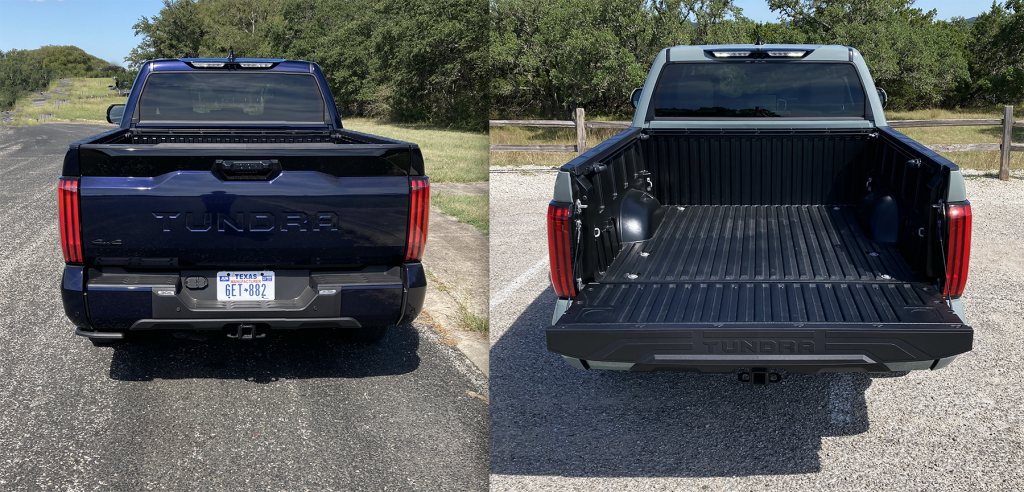 The new frame also boasts new front and rear suspension designs: a double-wishbone setup up front, and a multi-link suspension with outboard-mounted coil springs out back. Toyota also offers optional load-leveling Rear Height Control air suspension and an available Adaptive Variable Suspension system that automatically adjusts the damping force based on driving conditions.
The redesigned Tundra wears all-new bodywork with an in-your-face exterior styling motif that Toyota calls "Technical Muscle." Different exterior trim colors and grille patterns help provide visual differentiation between the various models. The pickup bed is made of SMC (Sheet-Molded Compound, a strong, lightweight composite material) that is strengthened with aluminum crossmembers. Toyota says this bed construction offers dent and corrosion resistance in addition to reduced weight.
What is the Lordstown Endurance?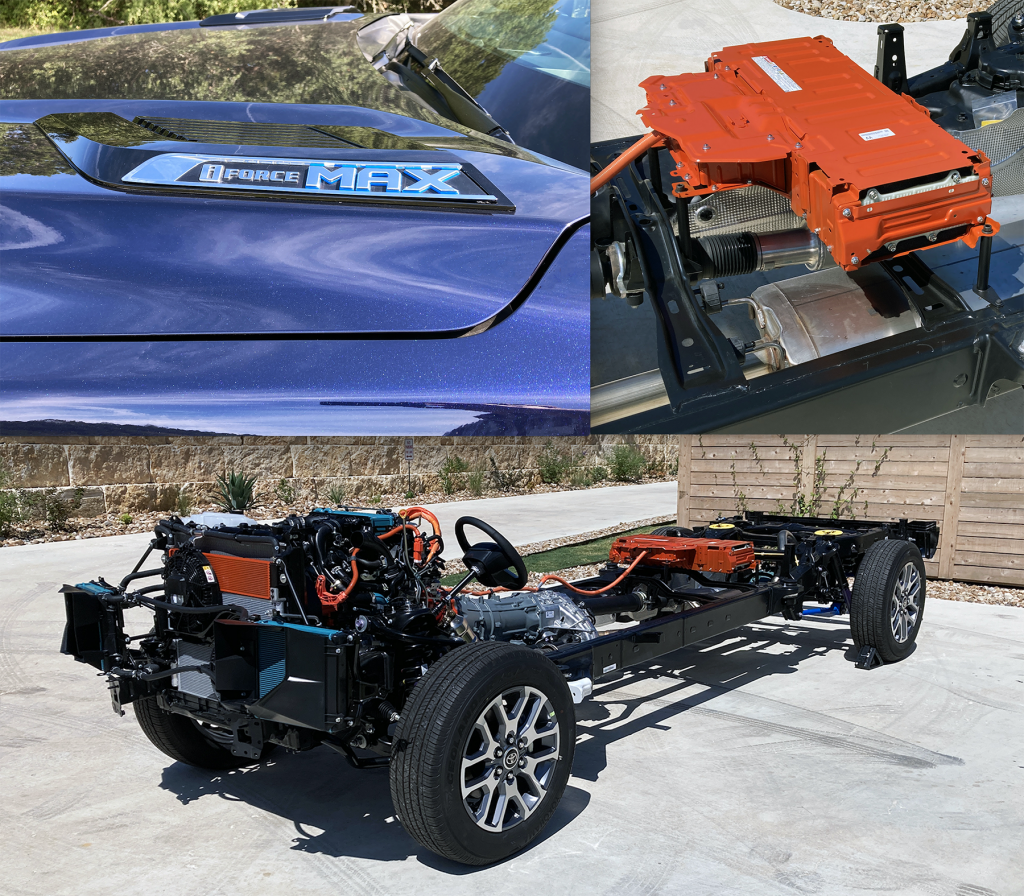 The Tundra's rear bumpers do not include corner step pockets, but a power deployable step plate that's mounted below the driver's side taillight is available on Platinum and 1794 Edition models. A 120V 400W AC electrical outlet in the bed is standard on Platinum, 1794 Edition, and TRD Pro models, and is optional on the SR5 and Limited. Limited models and above include a handy pushbutton integrated into driver's-side taillight to release the tailgate latch.
Tundra curb weights with the standard engine range from 5095 to 5720 pounds, and maximum payload capacity is 1940 pounds. The rear-drive SR5 Double Cab is Tacoma's towing champ, with a 12,000-pound rating. Most variants are rated to tow between 10,890 and 11,400 pounds, but certain SR models have an 8300-pound tow rating. Hybrid models have curb weights that range from 5710 to 6185 pounds, and maximum towing capacity that's a bit better than the base engine's—it spans from 10,960 to 11,450 pounds, depending on the model.

The TRD Sport package, available on rear- or 4-wheel-drive SR5 models with either cab configuration, includes a sport-tuned suspension with a half-inch lower ride height and 20-inch wheels, along with TRD-specific grille and shifter designs. The TRD Off-Road Package for SR5, Limited, and 1794 Edition models adds an off-road suspension, Bilstein-brand shocks, skid plates, and mud guards, along with a TRD-design grille and shifter. When the package is added to 4×4 models, it also includes an electronic rear-differential lock, along with Toyota's Multi-Terrain Select system and CRAWL Control (Toyota's low-speed, off-road cruise-control system).
The TRD Pro model includes the features in the TRD Off-Road Package and adds forged 18-inch BBS-brand wheels, Fox-brand shock absorbers, a TRD front stabilizer bar, a front skid plate, red-painted suspension parts, and Falken all-terrain tires. It also wears a specific grille with bold TOYOTA lettering and a unique tailgate skin with recessed "TRD Pro" lettering.
In-cabin technology features and infotainment systems are key areas in which the previous-generation Tundra had fallen behind its class rivals. The 2022 Tundra aims to correct that—it serves as the launch vehicle for the all-new Toyota Audio Multimedia system, a more up-to-date touchscreen-based interface that includes voice activation for certain features, along with wireless Apple CarPlay and Android Auto connectivity. Two high-resolution touchscreens are available: An 8-inch unit is standard in SR and SR5 models, and a large 14-inch unit is available on SR5 and standard in Limited. A version of the 14-inch display that comes with a JBL premium audio system is standard in the Platinum, 1794 Edition, and TRD Pro, and available in Limited.
Test Drive: 2020 Ford F-350 Tremor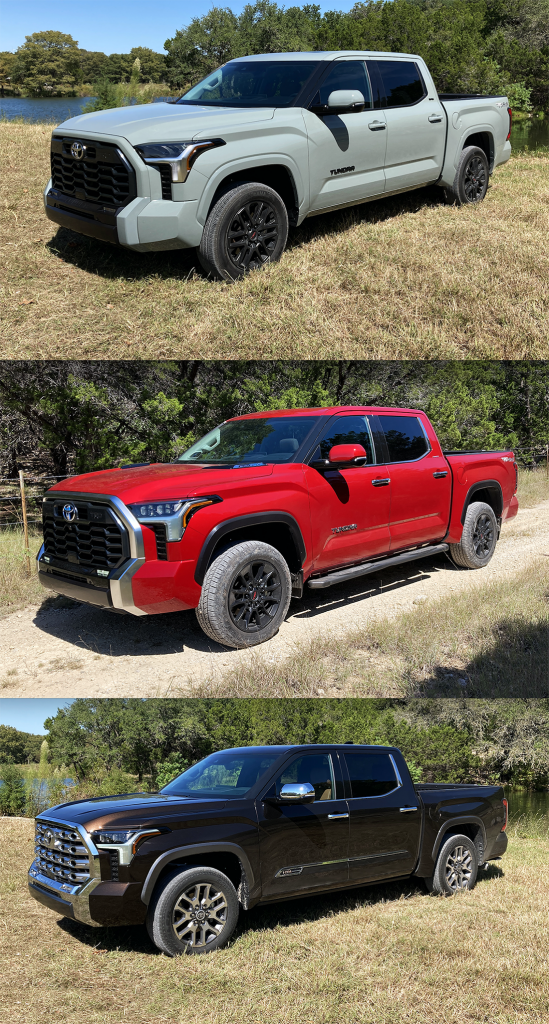 In addition to its touchscreen- and voice-command functions, the Toyota Audio Multimedia system also interacts with smartphones via its User Profile feature and the Toyota App. Once a User Profile is created in the app, the driver's favorite audio and climate settings are stored online, where they can be accessed in any Toyota Audio-equipped vehicle.
The 14-inch touchscreen comes with a one-year trial subscription for Drive Connect, which adds connected services including Cloud Navigation, Destination Assist, and Intelligent Assistant. The navigation system uses real-time over-the-air updates for navigation information and also to provide Google-supplied point-of-interest information relevant for the area the vehicle is traveling in. Also included is an off-line mode that detects when the Tundra is near or about to enter areas with low cellular connectivity—in these circumstances, map data is cached while the vehicle remains connected. The Intelligent Assistant allows voice-command access of navigation and audio features, and Destination Assist provides 24/7 access to a live agent who can help drivers use the navigation system to find an address or point of interest.
After a 30-day free trial, Tundra owners can subscribe to WiFi Connect, which turns the vehicle into an AT&T hotspot that is able to support as many as ten devices. WiFi Connect also makes it possible for owners to link their separate Apple Music and Amazon Music accounts to the Tundra's Integrated Streaming feature.
The Tundra also includes a trial subscription to Toyota Connected Services. These include Safety Connect (which provides access to a 24/7 emergency-response agent who can request that local emergency services be dispatched to the vehicle's location and also assist authorities in locating a stolen Tundra), and Service Connect (which provides a vehicle health report, along with maintenance reminders and notifications).
All Tundra models come standard with the Toyota Safety Sense 2.5 suite of safety features, which includes a pre-collision system with pedestrian detection, dynamic radar cruise control, lane departure alert, lane tracing assist, automatic high-beam headlamps, and rear seat reminder. A blind-spot monitoring system is also standard. Available safety features include rear cross-traffic alert and parking support brake, which will implement brake control when the system senses a possible collision while the truck is being parked.
At the 2022 Toyota Tundra's press-preview event in San Antonio, Texas, we got behind the wheel of several early Tundra prototypes, and also took a short factory tour where we were able to see some of the newly developed laser welding processes that are used to construct the new Tundra's frame. The prototype trucks we drove were a step or two shy of being showroom-floor ready in terms of things like interior-panel texturing and final fit and finish, so we will withhold judgement on cabin appearance until we are able to evaluate production models.
Stepping up into the cab requires a bit of a stretch on SR5 TRD Sport, but a grab handle on the windshield pillar helps. The available step plates on Limited and the optional power-deployed running boards on Platinum and 1794 Edition make entry and exit easy. There was ample room behind the wheel for our 6'2" frame, and we quickly settled comfortably into the power-adjustable driver's seat.
Two different instrument clusters are available. The standard analog panel includes a handy 4.1-inch digital multi-information screen that can display various features, including navigation-system data, audio controls, off-road features, towing functions, and vehicle diagnostics. The traditional gauges are large, easy-to-read units that have a visually interesting three-dimensional appearance. Platinum, 1794 Edition, and TRD Pro models, along with all hybrids, come with a high-resolution 12.3-inch digital gauge panel. Included in the user-customizable virtual readouts are tow gauges and a pitch-and-roll info display for off-road driving. Platinum and 1794 Edition models are available with a helpful 10-inch head-up display that projects speed and other information onto the windshield in the driver's line of sight.
All the Tundras we drove were equipped with the available 14-inch Audio Multimedia touchscreen display; it boasts sharp, clear graphics and features smartphone-like pinch-and-zoom functionality. Certain features, including navigation and audio functions, can be accessed via the voice-controlled Intelligent Assistant. For example, you can say "Hey Toyota, take me home" and the navigation system will route you to your saved home address. Say "Hi Toyota, I want to listen to 80s on 8" and that satellite-radio station will start playing.
Test Drive: 2020 Nissan Titan PRO-4X Crew Cab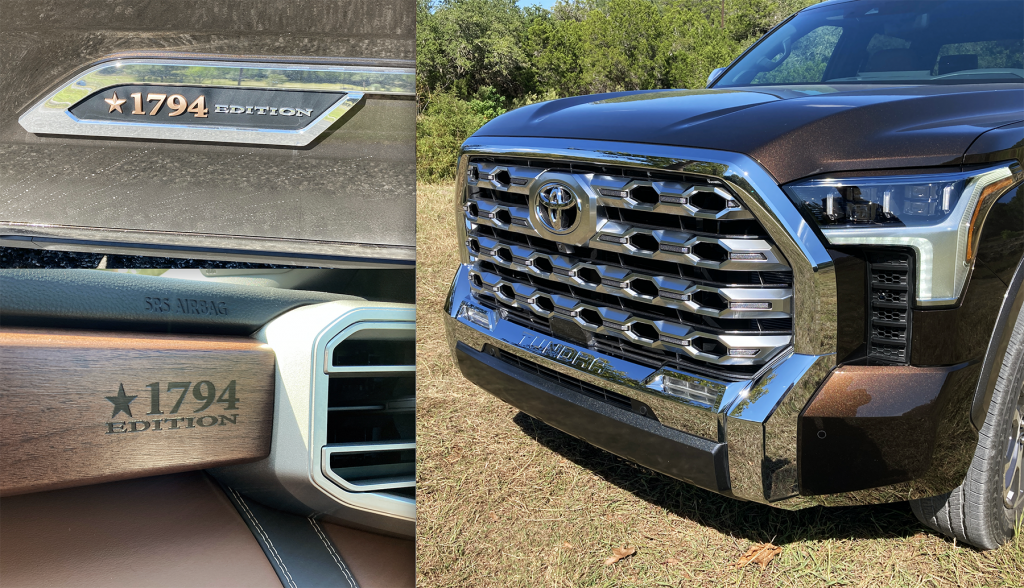 Directly below the touchscreen is an easily accessible USB-A port, along with a thin horizontal display screen and a row of physical switches and pushbuttons that govern climate control and other functions. The screen is clearly legible, and the switches themselves are satisfyingly simple up-and-down "flipper" levers. However, the markings above the switches are on a surface that curves away from the driver, and they don't have enough color contrast with the background, which rendered them very difficult for us to see. We hope this is a quirk of the prototypes that will be addressed on the production models.
A vertical section of the console rises up to meet the center of the dash, and it houses an oddly-shaped cubby bin that proved to be one of our favorite Tundra interior features. The bin is small, but its front wall has been thoughtfully angled to cradle a smartphone set upright; that surface is the wireless charging pad in Tundras so equipped. The console's wide armrest lifts up to reveal a large storage bin that houses a USB-A port and a USB-C port. A small shelf at the front center of the armrest slides back to provide access to the USB ports without raising the entire armrest.
Quick Spin: 2020 Ram 1500 Rebel EcoDiesel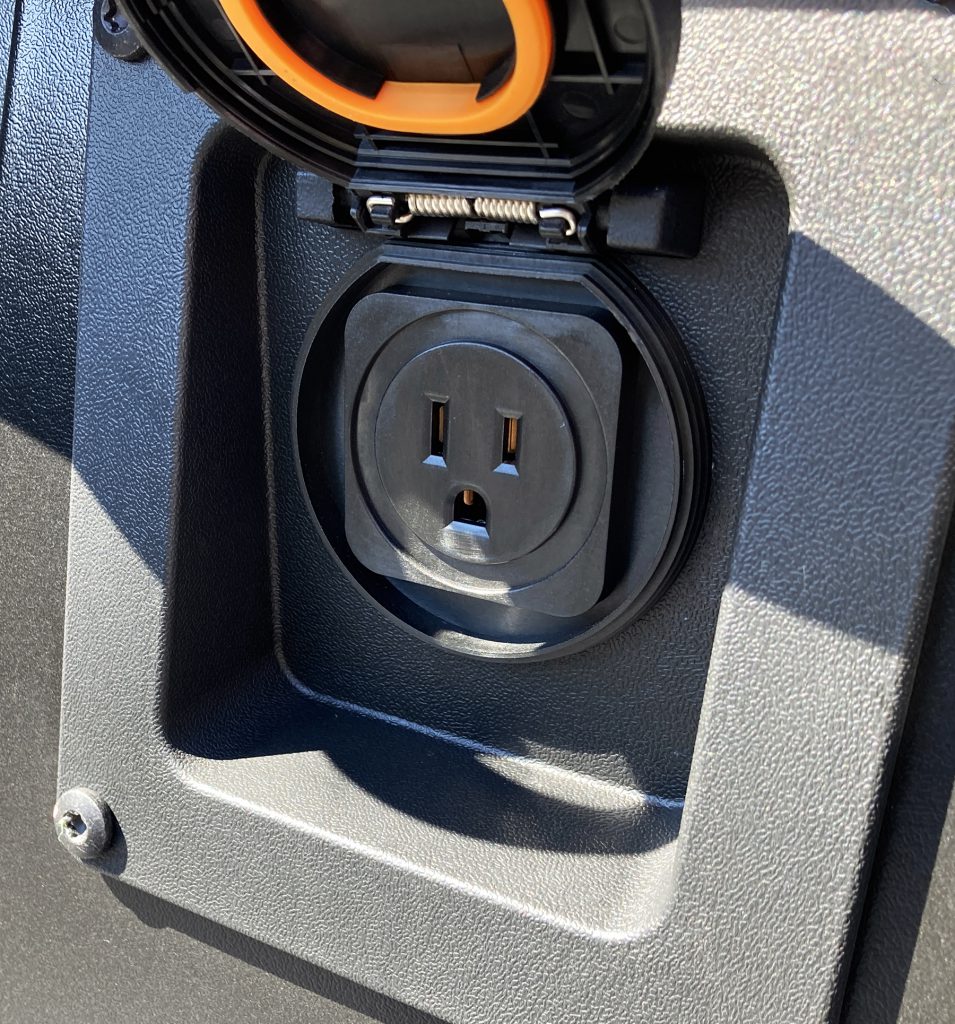 Climbing in and out of the CrewMax cab's rear seat is easy, especially with the optional power running boards. We had ample rear-seat legroom and plenty of headroom, even under the available panoramic sunroof and its power-sliding sunshade. The seat's bottom cushion is split 60/40 and lifts up to reveal hidden storage bins.
We tested the 389-horsepower version of the i-FORCE engine and found it to be very refined, relaxed, and nearly silent in most situations. With more liberal use of the throttle pedal, the engine delivers ample power, along with a satisfying exhaust growl. The new 10-speed automatic transmission is a smooth operator—it does an excellent job with gear selection, and it downshifts promptly when more muscle is summoned.
We also drove a Platinum CrewMax long-bed 4×4 with the i-FORCE Max hybrid powertrain. This combination is also very smooth and refined. It's powerful too, but our seat-of-the-pants impression is that it's not obviously more muscular than the non-hybrid V6, despite its 48-hp advantage on paper. The hybrid powertrain's electric motor, battery pack, and associated equipment weigh approximately 500 pounds (Toyota's specs don't give the exact weight of the configuration we drove, but it is among the heaviest Tundras, weighing between 6095 and 6185 pounds). The hybrid's added mass was immediately obvious from behind the wheel, so in spite of the added torque and horsepower, our first impression is that real-world acceleration is something of a wash between the two powertrains. Since Toyota hasn't yet provided any i-FORCE Max fuel-economy estimates—or any 2022 Tundra pricing—we'll have to take a wait-and-see approach for now regarding the hybrid's fuel-economy upside versus its expected price premium over a base-engine Tundra.
The Limited, Platinum, and 1794 Edition models feel very similar on the road. The ride is smooth, comfortable, and controlled—a big improvement over the outgoing Tundra. In addition, the trucks give a satisfying sense of overall refinement and have relatively quiet cabins. The steering is very accurate, with road feedback and effort/weight that was well suited to our tastes. We also drove a SR5 CrewMax 4 x 4 short-bed with the "street-look" TRD Sport package. The modestly lowered sport-tuned suspension largely retains the comfortable ride, but the rear end audibly crashed over one bumpy section of road. We drove a 1794 Edition with the optional Advanced Package (which includes the load-leveling rear air suspension and adaptive variable suspension) over that same bumpy section and noticed no clunkiness or noise at all.
We also sampled a Limited CrewMax short-bed 4×4 equipped with the TRD Off-Road Package on an off-road trail prepared by Toyota. The most challenging section was a rock-strewn hill. With the part-time four-wheel-drive system's two-speed transfer case set in low and the Multi-Terrain Select system in the "Rock" mode, the package's CRAWL Control system applied the throttle and powered us smoothly over the rocks while we followed a spotter/guide's directions and handled the steering. And, the included Downhill Assist Control feature did an effective job of limiting our Tundra's speed while we descended the course's steep slopes.
The 2022 Tundra i-FORCE trucks are slated to begin arriving in Toyota dealerships this December, but the i-FORCE Max hybrids won't be available until Spring 2022. Until we see complete pricing and hybrid fuel-economy info, our jury is still out on just how competitive the 2022 Tundra will be. This much is clear, however: The new truck's overall refinement, power, ride quality, infotainment and connectivity features, and base-engine fuel economy are all vastly improved over the aged outgoing Tundra. Toyota hasn't broken a lot of new ground for full-size pickups here—and has chosen not to challenge any of the clever cargo-storage solutions or gee-whiz in-cabin convenience features available on the latest domestic full-size trucks—but the redesigned Tundra is better positioned to attract new customers in this brutally competitive class.
Quick Spin: 2020 GMC Sierra 1500 AT4 Diesel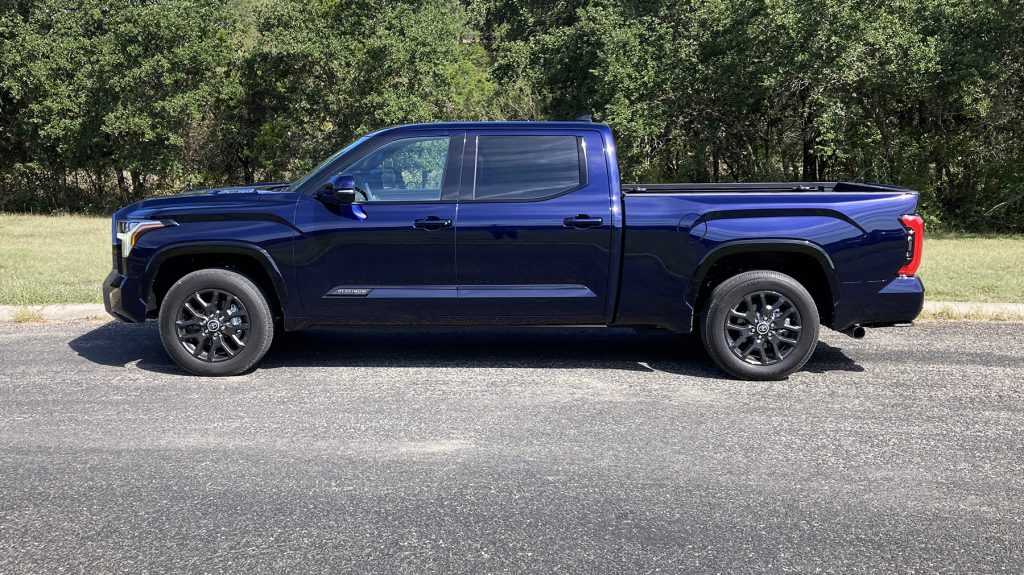 Check out the Consumer Guide Car Stuff Podcast
2022 Toyota Tundra Gallery
(Click below for enlarged images)