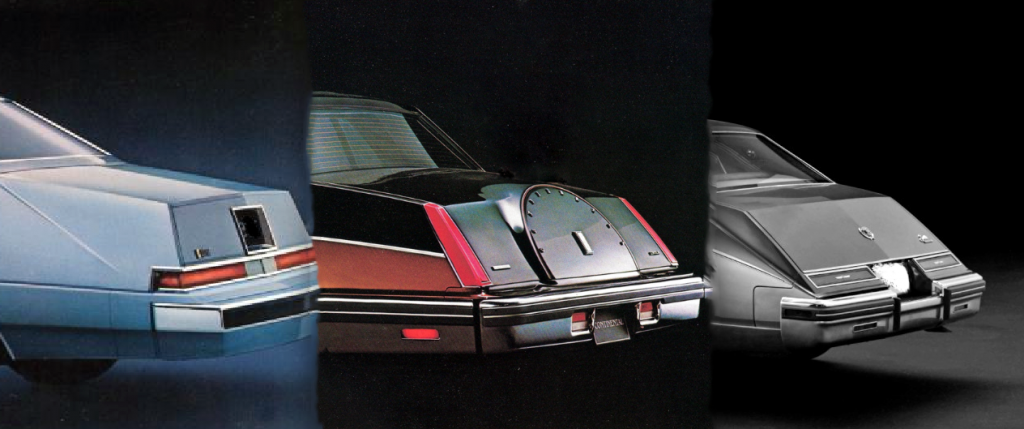 When it comes to automotive styling trends, few movements match the thickly padded vinyl half-roof movement of the late Seventies and early-to-mid Eighties.
Confined to American-brand vehicles, the padded-roof fad become so popular that makers were selling vinyl-roof-specific models in many linups. Trim levels including Salon, Landau, and Brougham often included unique roof treatments along with a nice set of faux wire-wheel covers.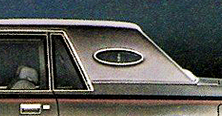 Unlike the padded-roof craze, which included vehicles in multiple classes and body configurations, the bustleback (BB) movement was far more tightly focused. Indeed, the BB phenomenon was limited to just three cars, each of which were about the same size and price, and each of which served as flagships for their respective brand or companie.
We chose 1982 for this list because it was the first model year all three bustleback models would be available at the same time. As the Imperial would disappear after 1983, these three uniquely styled luxury rides would only coexist for two model years, after which the Seville would live on in bustleback form through 1985, and the Continental through 1987.
Note that the Imperial was NOT officially a Chrysler-brand vehicle this go round. Instead, the car was treated as a brand unto itself, positioned in price and content well above vehicles in that lineup.
As always, we invite any comments you might have regarding time spent with these vehicles. The place for comments is underneath the last vehicle below.
10 Most-Expensive American Sedans of 1980
Cadillac Seville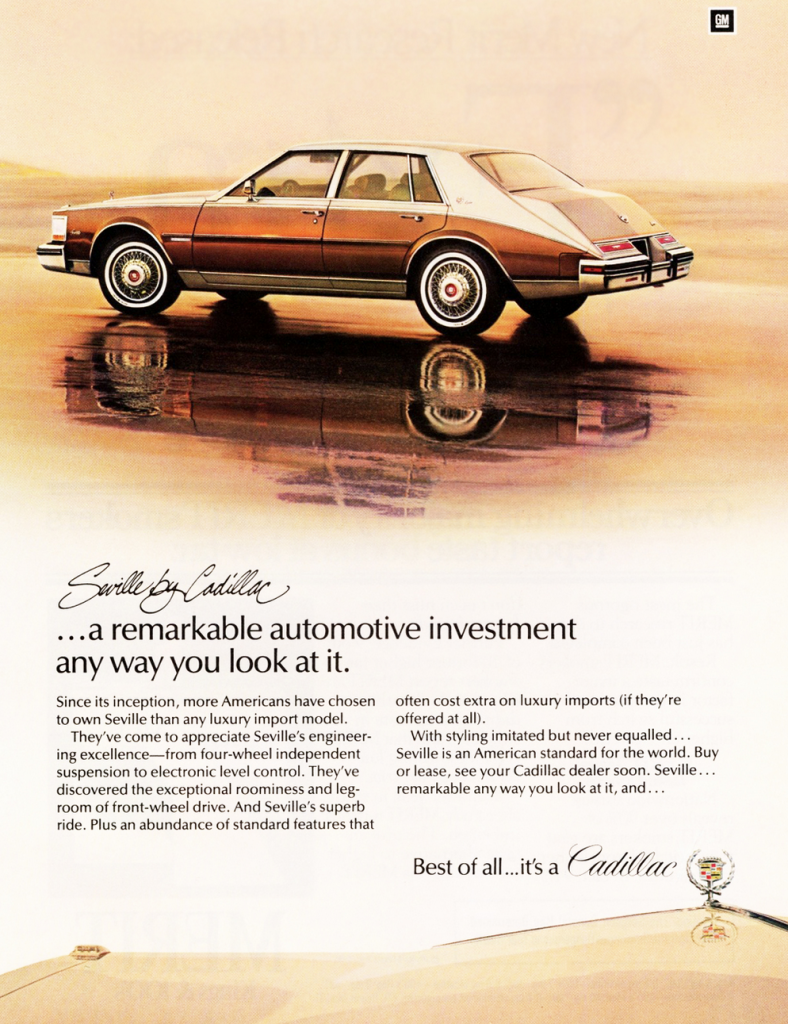 Base Price: $23,433
Most-Expensive Option: Elegante Package ($3095)
1982 Sales: 19,998
Base Engine: 125-horsepower 4.1-liter "HT4100" V8
Optional Engine: 125-horsepower 4.1-liter V6 ($165 credit)
Optional Engine: 105-horsepower 5.7-liter diesel V8 ($351)
0-60 mph (with 4.1-liter V6): 16.8 seconds
Unlike the Imperial and Continental, the Seville featured a front-wheel-drive layout. Also unlike the other two cars on this list, the Seville could be had with any of three available engines. Standard for 1982 was Cadillac's 125-horsepower "HT 4100" 4.1-liter V8. Though smooth, the smallish V8 was not especially potent, and proved less than reliable. The Seville tested by Consumer Guide for 1982 came equipped with the optional 4.1-liter V6. A $165-credit option, the big V6 proved no less capable of moving the Seville than did the V8, and was slightly more fuel efficient according to the EPA.
Also available was General Motors' 5.7-liter diesel V8. This engine had been the standard Seville powerplant for 1981, but buyer resistance to the noise and slow-revving mill bumped it to the options list for '82.
Model-Year Madness! 10 Luxury-Car Ads From 1979
(Chrysler) Imperial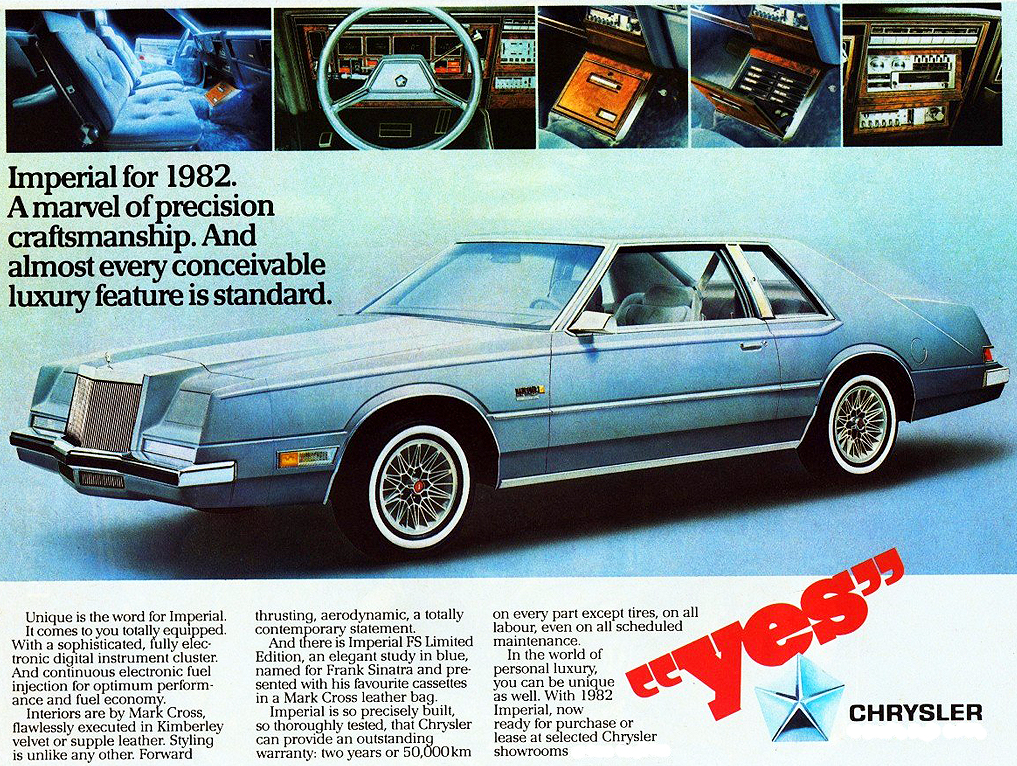 Base Price: $20,998
Most-Expensive Option: Frank Sinatra Edition ($1078)
1982 Sales: 3466
Base Engine: 140-horsepower 5.2-liter V8
Optional Engine: None
0-60 mph: 16.5 seconds
The 1980 Imperial (not Chrysler Imperial this go-round) was meant to reassure the American public that the financially struggling company was still capable of designing and building great cars.
Indeed, the Imperial was packed with modern and high-tech equipment. Instrumentation included digital readouts and a trip computer, and the familiar 5.2-liter (318-cubic-inch) V8 was fitted with cutting-edge digital fuel injection.
Unlike the other cars on this list, the Imperial was a coupe. The rakishly handsome Imperial featured the least committed bustleback treatment, with less rake to the rear sheetmetal. That said, well-placed diagonal rear-fender creases go a long way towards enhancing the overall bustleback effect.
The Imperial is by far the least common of the bustleback trio. Sales of this luxury coupe totaled just 12,385 during its 1981-1983 run. Running examples today are most likely equipped with a 4-barrel carburetor in place of the digital fuel injection. Sadly the injection system proved problematic, and the factory would eventually recall the cars and swap the setup for the more reliable carbs.
Model-Year Madness! 10 Classic Ads From 1957
Lincoln Continental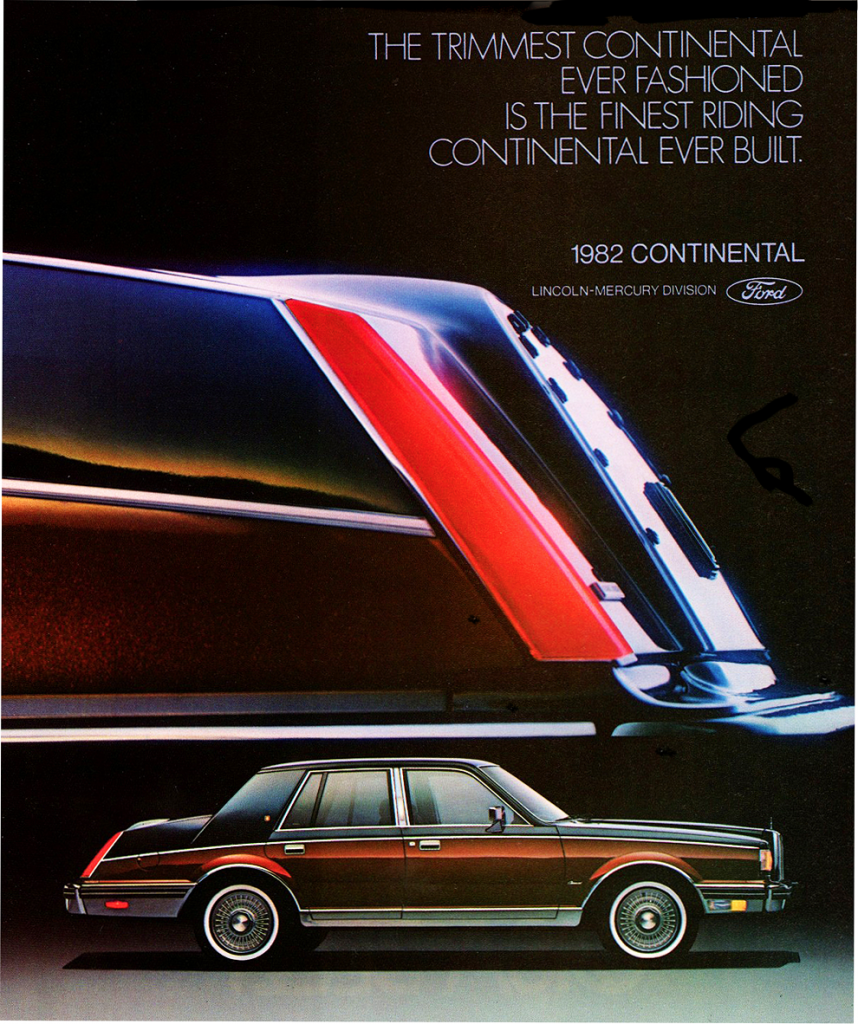 Base Price: $21,302 (Signature and Givenchy trim levels listed for $24,456 and $24,083 respectively)
Most-Expensive Option: Power glass moonroof ($1259)
1982 Sales: 23,098
Base Engine: 126-horsepower 5.0-liter V8
Optional Engine: None
0-60 mph: 13.5 seconds
Like the Cadillac Seville, the Continental was positioned as the flagship of its respective brand. As such, the Continental must be considered a success, averaging more than 22,000 sales annually over its 1982-1987 run.
Like the Imperial, the Continental was available for 1982 with a single V8 engine. The Conti's 5.0-liter V8 cranked out just 126 horsepower yet produced the best 0-60 mph time of the bustleback trio.
High-end Signature and Givenchy trim levels brought the Continental near $25,000. Loaded with every available option, the Continental Givenchy listed for a cool $26,717, a lofty price for an American passenger car in 1982.
Cheap Wheels: 2006 Lincoln Zephyr