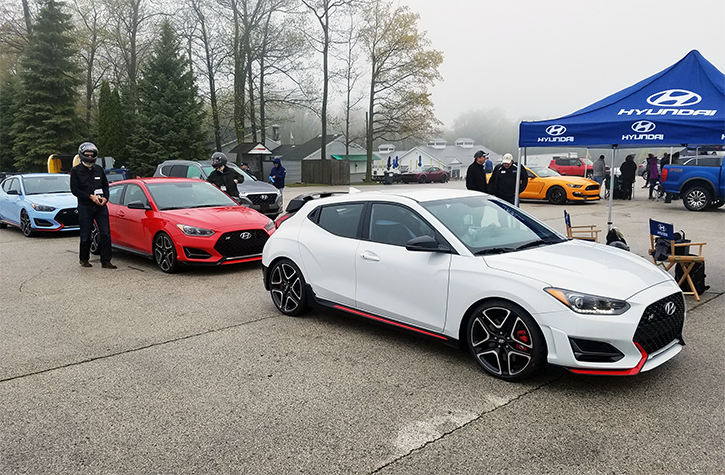 Like many auto journalists, the editors of Consumer Guide Automotive attend manufacturer-hosted press events to get our first look at the newest vehicles hitting the market—that's how we produce most of our First Spin test-drive reviews. However, we also attend "smorgasbord-style" press events that allow us brief access to a broad variety of new vehicles from a host of manufacturers, for quick-take impressions and helpful back-to-back comparison drives.
One such event is the Midwest Automotive Media Association's Spring Rally, which is held annually at the Road America race course in Elkhart Lake, Wisconsin. The MAMA Spring Rally is a journalist-only event that typically features 80 to 90 examples of the auto industry's freshest new products. It offers plenty of opportunities for both street and off-road driving, as well as controlled track driving and an autocross course for select vehicles. Here are a few of our impressions from this year's event.
More Consumer Guide test drives
11 Hot New Vehicles
2020 Acura TLX PMC Edition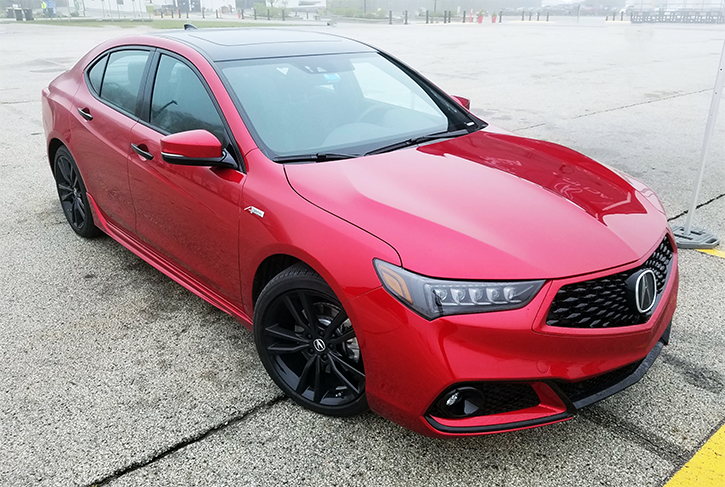 Damon Bell: What a novel experiment this car is! The "PMC" in the title of this specially trimmed, limited-production TLX stands for Honda's Performance Manufacturing Center—the highly specialized assembly plant where the Acura NSX supercar is built. Acura is building just 360 of these cars, hand assembled by the same elite technicians that build the NSX, and all of them will be finished in dazzling Valencia Red Pearl paint with "nano-pigment" technology. We were amazed at the quality of this finish… even in foggy morning light, the depth of the color was impressive and the reflections were glass-smooth. It's like Acura has made one of its one-off Prototype show vehicles that you can actually buy and put in your own garage. Acura says the PMC Edition will cost around $50K when it goes on sale this summer—that strikes us as a reasonable premium for the incredible paint job and the bragging rights you'll get over a TLX 3.5L Advance model, which starts at around $46K.
2019 BMW X7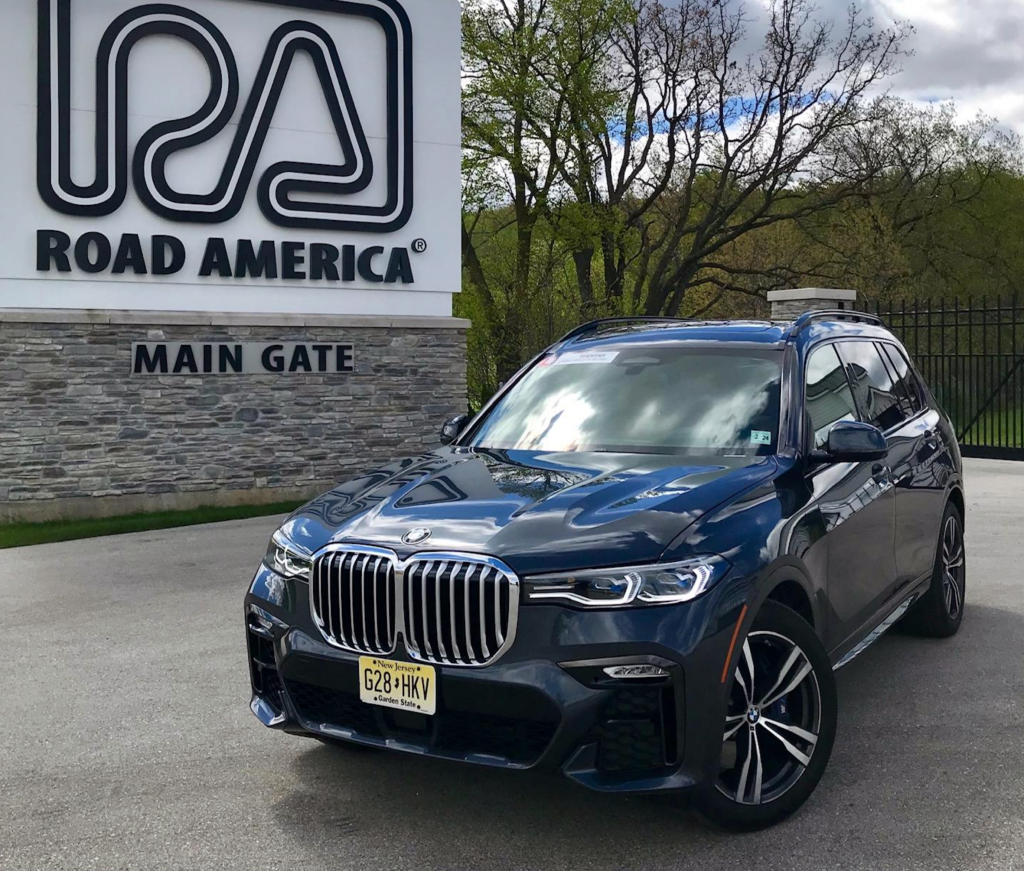 Rick Cotta: While "brawn" is an expected descriptor of a BMW, "cushy" may not be. Yet set in Comfort mode, the big SUV floated over bumps with unusual aplomb, while Sport mode firmed things up for a feel more expected of the marque. Of note were the upscale interior furnishings (including a crystal gearshift lever) and huge 12-inch screen for the rearview camera.
Tom Appel: Having just spent time in BMW's excellent X5 two-row midsize SUV, I was impressed by just how much this three-row big rig feels like its junior stablemate. That said, the interior appointments here are expectedly upscale of the X5, and the cabin notably quieter at speed.
2019 Cadillac XT4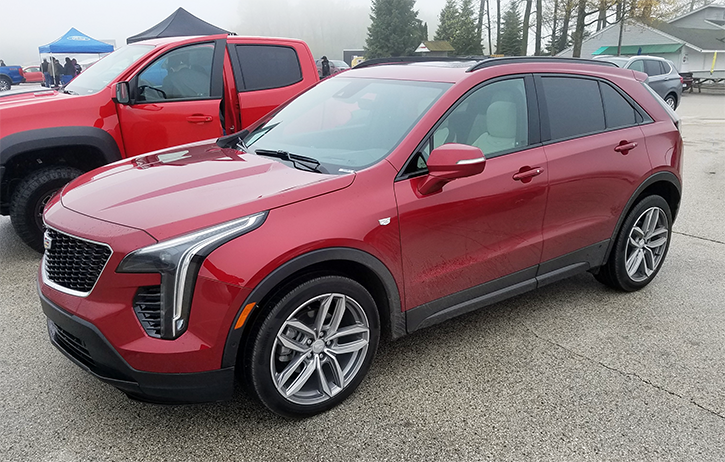 Damon: Though Consumer Guide Managing Editor Rick Cotta has driven the Cadillac XT4 and written our full First Spin review, the 2019 MAMA Spring Rally was my first opportunity to sample Cadillac's long-awaited entry into the premium compact SUV segment. Consider me… ehhh… whelmed. I appreciate the pert bobtailed look, but that means the XT4's cargo volume isn't quite as good as most of its class rivals'. The 237-hp turbocharged 2.0-liter four is paired with an alert 9-speed automatic transmission—the combination provides willing power, but its raspy exhaust note and overall character don't quite feel Cadillac-appropriate to me. Maybe I just need to catch up with the times.
More Cadillac news and reviews
2019 Chevrolet Silverado with 4-Cylinder Engine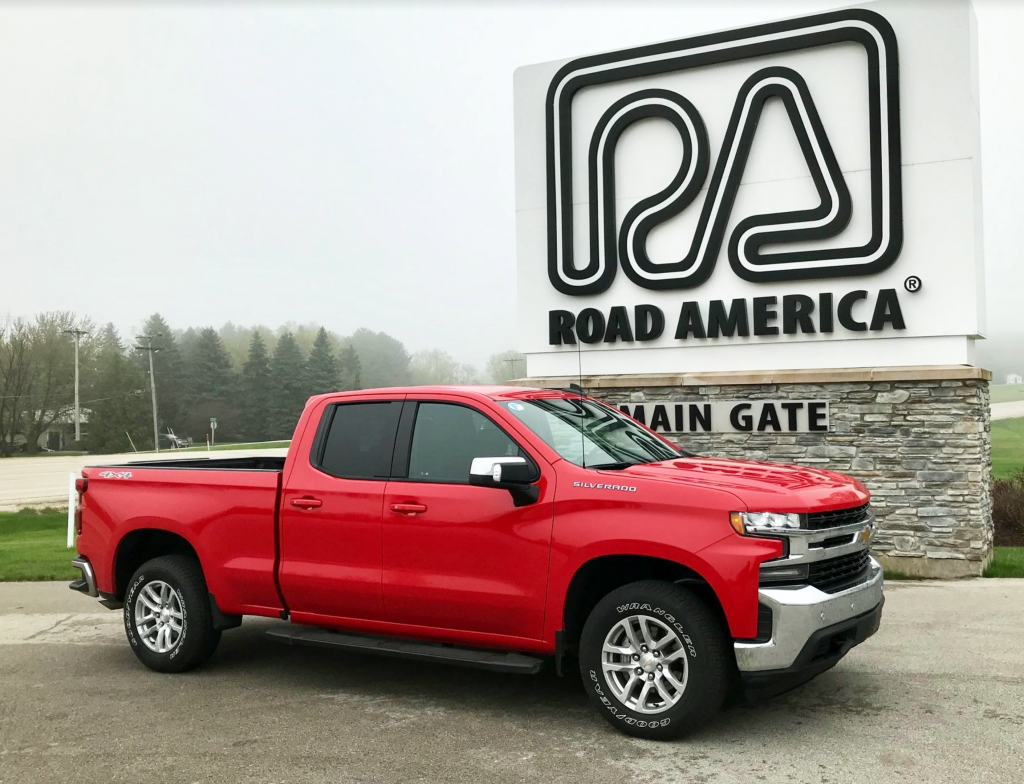 Damon: Like many of our colleagues, we're still scratching our heads a bit at Chevrolet's strategy in offering the redesigned-for-2019 Silverado with a turbocharged 2.7-liter four-cylinder engine—the biggest issue being EPA fuel-economy numbers that don't impress compared to the "eco" engines available in the Ford F-150 and Ram 1500 (or, for that matter, the highway numbers for the Silverado's V6 and V8 engines). However, after taking a brief street drive in one, we can say this much: this 4-cylinder is surprisingly smooth and tractable, and it provides way more right-on-tap power than you'd ever expect a four banger pulling a full-size pickup to manage (at least when it's unladen by heavy cargo). In fact, the 2.7's horsepower and torque ratings of 310 and 348, respectively, top the Silverado 4.3-liter V6's 285 hp and 305 lb-ft rating. We hope to get a 4-cyl Silverado into our office test fleet to do our own fuel economy testing—we suspect that we'll record real-world numbers in city driving that will top most class competitors'.
Tom: Have heard mixed reviews of the 4-cylinder Silverado, but I am mostly impressed. The power delivery is not quite V8 linear, but the robust torque curve affords snappy acceleration. The engine does not sound like a V8, a thing many consumers may need time to adjust to. I suspect the EPA numbers (22 mpg combined) undersell the real-world economy potential.
More Silverado news and reviews
2019 Ford Ranger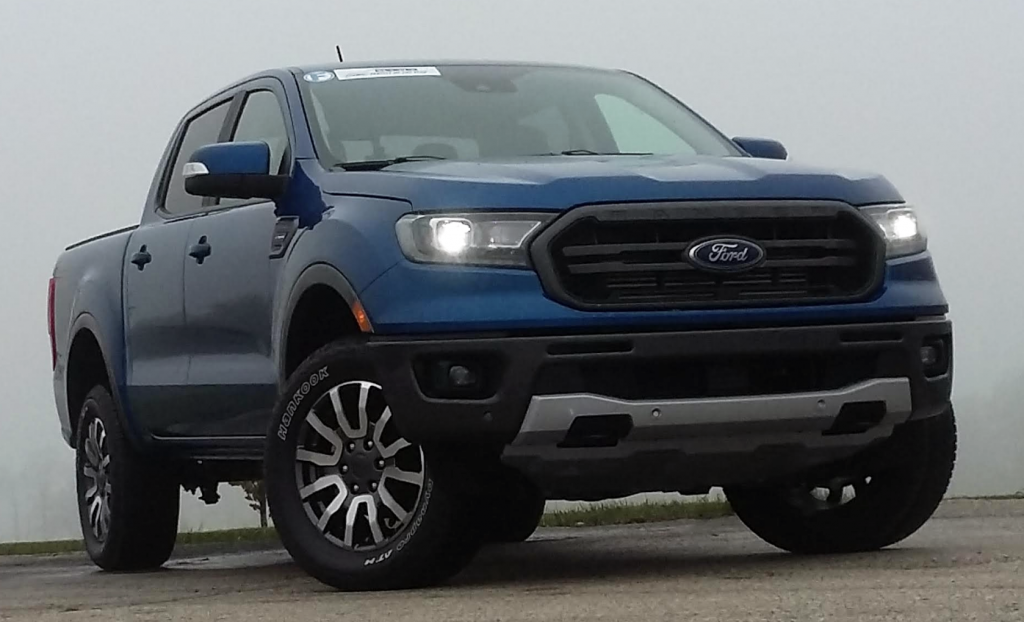 Rick: Ford returns to the U.S. compact-pickup segment after a seven-year hiatus with a truck that for the past few years has been built and sold in other countries. The 2019 Ranger revives a name from the past in a pickup that seems thoroughly modern if not really exceptional, though Ford claims the standard turbocharged 2.3-liter EcoBoost engine offers more torque than is available in any rival, and that the Ranger also leads the class in fuel economy.
2019 Hyundai Veloster N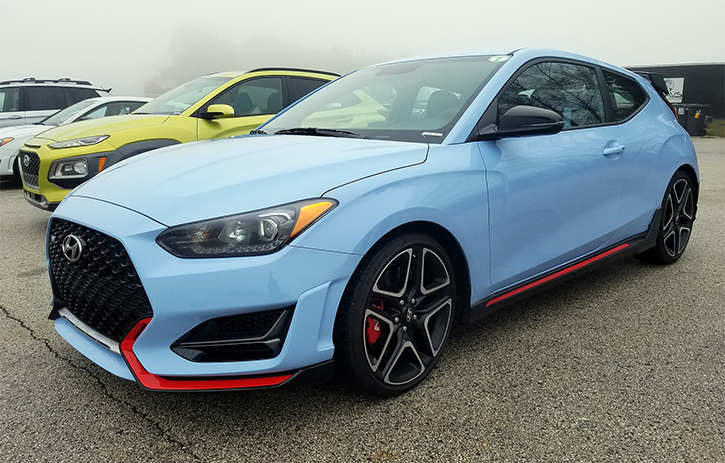 Damon: I'm a sucker for snarky hot hatches, and the Veloster N does not disappoint. Its turbocharged 2.0-liter 4-cylinder engine makes 250 horsepower in the base Veloster N, but the car we drove was equipped with the optional Performance Package, which bumps the base price up to about $30K and, among other upgrades, adds 25 hp for a total of 275. Previous sporty Hyundais have been a step or two behind most of their direct rivals in terms of overall suspension refinement and shifter/steering feel, but the Veloster N—the inaugural vehicle in a planned line of N-badged Hyundai performance vehicles—closes the gap in a big way, all while maintaining Hyundai's strong value-for-the-dollar quotient. I'm crossing my fingers that the more practical Hyundai Elantra GT hatchback is next in line to get the N treatment.
2019 Lincoln Nautilus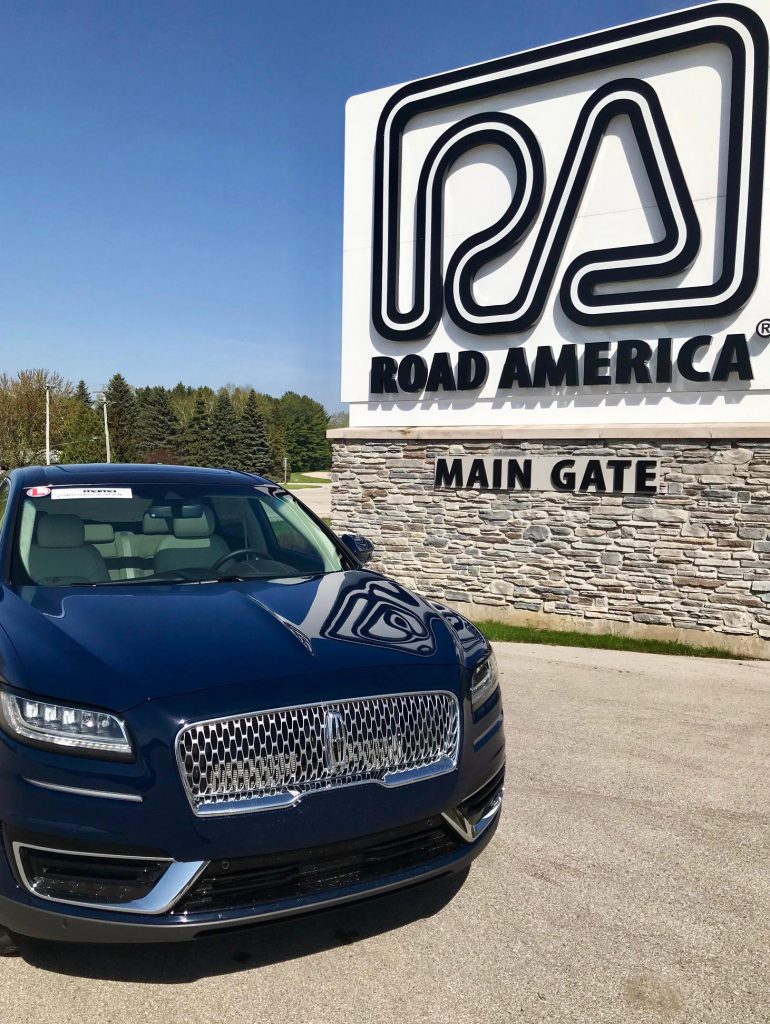 Tom: For 2019 the Lincoln MKX becomes the Nautilus, but the surprises end there. This luxury midsize crossover should feel familiar to anyone who's spent time in a late-model Lincoln. Cabin décor impresses, and I am among those that really appreciate the push-button transmission operation. The optional turbocharged 2.7-liter V6 (not branded EcoBoost in Lincoln applications) provides plenty of hustle, though transmission shifts seem a little aggressive given this vehicle's soft-luxury mission.
2020 Kia Soul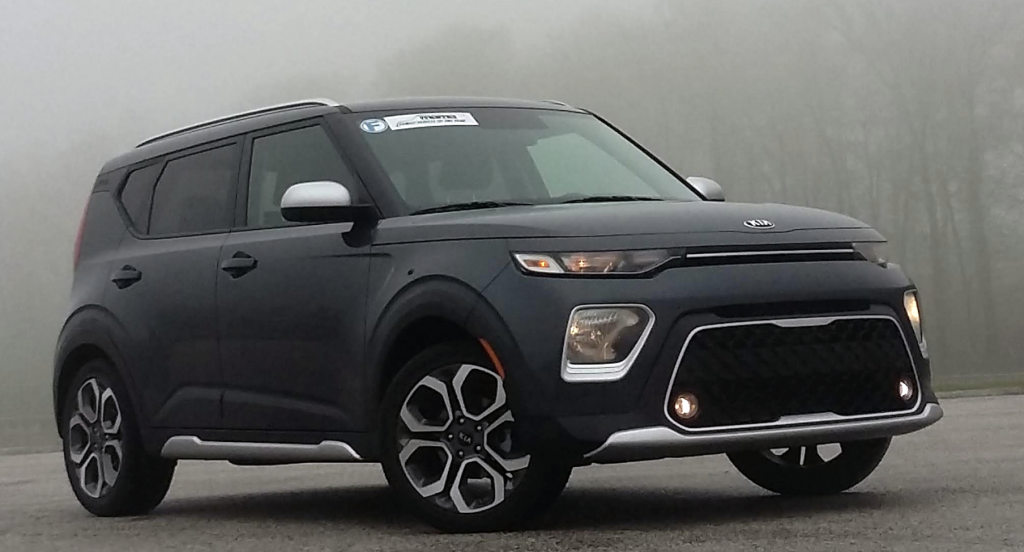 Rick: Best known for its impressive passenger space, ample cargo room, and strong value equation (and maybe some memorable hamster histrionics), the redesigned 2020 Kia Soul retains all those values while updating its distinctive looks.
2020 Kia Telluride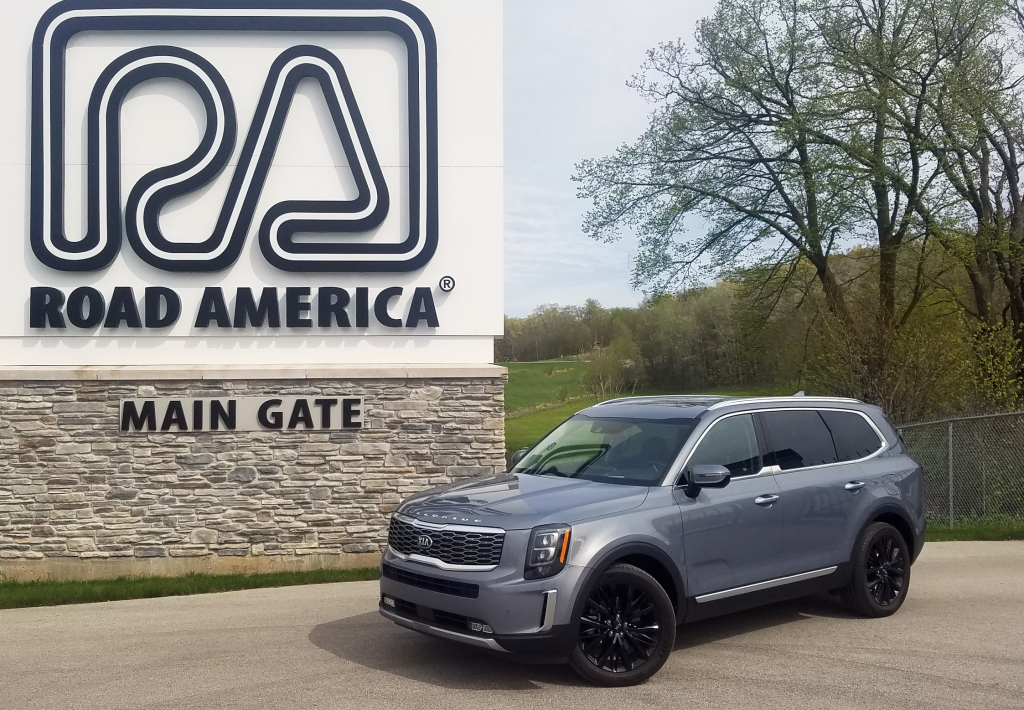 Rick: Kia's first venture into the "plus-size" 3-row SUV market looks like a winner. Great power, an impressively absorbent ride in Comfort mode, and generous room for up to eight passengers are obvious; less so are some really neat features, such as right- and left-side cameras that automatically turn on when you activate the turn signal. The former has been offered in some Hondas in recent years, but the left-side one I haven't seen before. Seems it would be particularly useful when barreling down an expressway on-ramp in order to see traffic coming up in the lane into which you'll be merging. A local test will confirm whether that's the case.
More crossover news and reviews
2019 Toyota RAV4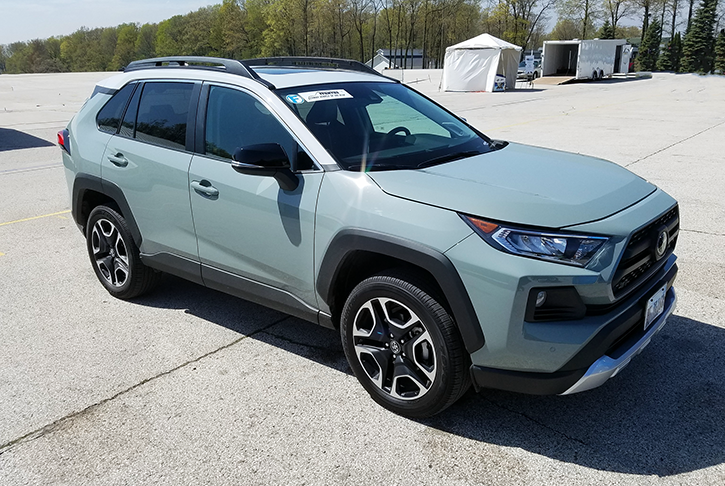 Tom: Toyota's insanely popular compact crossover is completely redesigned for 2019. New, more-aggressive styling and additional safety equipment come as part of the update. The Adventure trim level seen here includes raised ride height for added ground clearance, and an upgraded AWD system. The standard engine for the new RAV4 is a 203-horsepower 2.5-liter four which provides plenty of off-the-line oomph.
2019 Volkswagen Arteon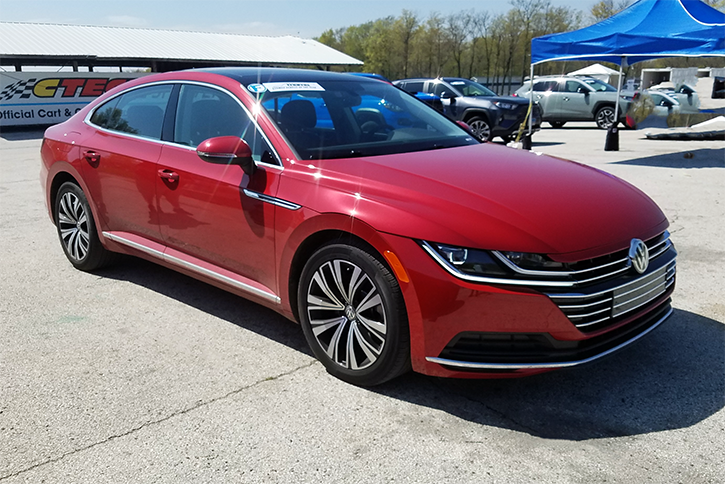 Damon: Volkswagen sure seems to have taken its sweet time getting the Arteon out on the market, but it looks to have been worth the wait. I've long been a fan of Volkswagen's recently departed CC, an upscale "swoopy roof" variant of the Passat midsize sedan that always managed to look and feel more expensive than it was. Based on my brief test drive, the Arteon is a more-than-worthy successor that improves on the CC formula in most every way. Its styling looks even more dynamic and distinctive than the CC's, and the sloping roofline doesn't compromise headroom as much as I was expecting—my 6'6" frame fit reasonably well in the back seat. The 268-hp turbo 2.0-liter four supplies satisfying power as well.
More Volkswagen news and reviews
Hot New Vehicles