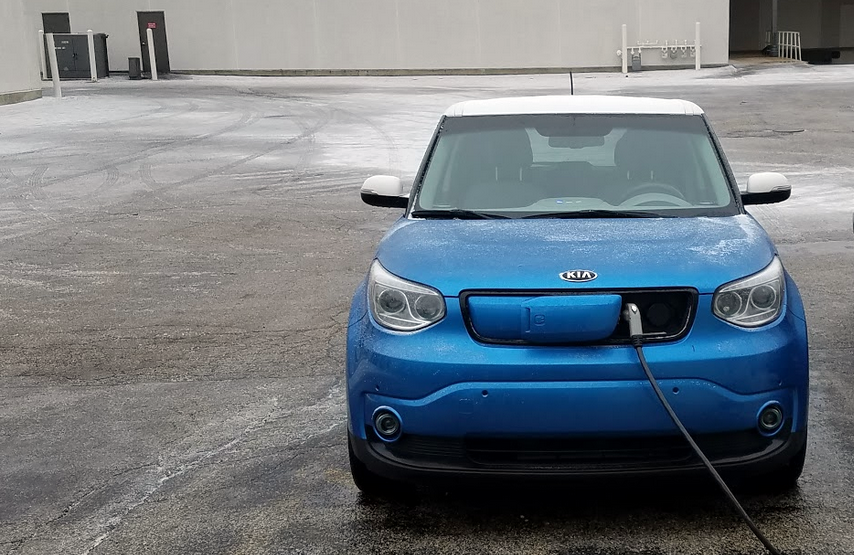 According to the calendar, spring has officially arrived, and we can consign the winter of 2016-17 to the history books. Aside from one early March blast of snowy weather, our Chicagoland stomping grounds got off pretty easy in terms of frozen precipitation this season—but we still had our fair share of days where the thermometer didn't get above single digits. Since the bone-chilling temperatures and snowstorms are (hopefully) in our rearview mirror now, it's a good time to review our winter testing experience with our long-term Kia Soul EV. 
The biggest issue with driving the Soul EV (or any other pure-electric vehicle) during frigid weather is a significant drop in driving range. During optimum driving conditions, (i.e., ambient temperatures of around 55-65 degrees), our indicated estimated driving range in the Soul EV—as displayed on the vehicle's dashboard readout—would regularly top 100 miles. (For comparison, the EPA's official range estimate is 93 miles.) However, when the temps dropped down into the teens and low twenties (or below), our driving range took a serious hit—the worst estimated driving range we ever saw displayed on our Soul's dashboard was 58 miles, and during the coldest weeks of January, we typically saw reported ranges in the low to mid 60s.
Livin' Electric: Welcome Extended-Use Kia Soul EV
Kia Soul EV Long-term Update #1: Mild Weather Brings Excellent Range
Kia Soul EV Long-term Update #2: Warmer Weather brings a Modest Drop in Range
Kia Soul EV Long-term Update #3: Holding Steady in the Heat
Kia Soul EV Long-term Update #4: Doing the Math
Kia Soul EV Long-term Update #5: Breaking the 3-cents-per-mile Barrier
Cold Impact on Range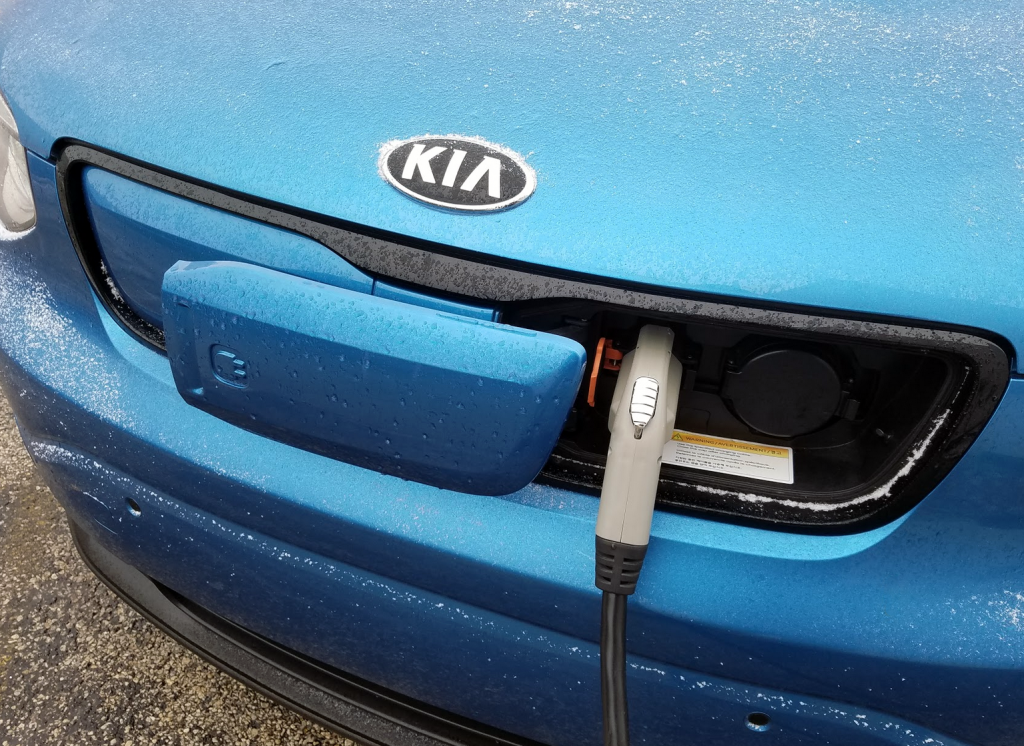 Using the climate-control systems (namely the cabin heater, heated seats, and heated steering wheel) typically cost us around 10 percent of the total reported range—if the dashboard readout said 77 miles on a full charge with the climate control off, that number would drop to 70 with it turned on. So, we could have eked out a few more miles if we were willing to turn the heater off completely (and shiver and see our breath inside the vehicle as a result). We didn't do that, but we did often turn the heater down to a lower setting and rely a bit more than normal on the heated seats and steering wheel to keep our teeth from chattering. The other reason for that strategy may have been the heater's slightly unpleasant smell… since the Soul EV's heater is a pure electric unit (as opposed to the heater in an internal-combustion-engine vehicle, which operates off of the engine's cooling system), it often emits a semi-acrid odor when it's on high. The scent is not bad enough to be truly offensive, but it's noticeable nonetheless.
Obviously, the precipitous drop in driving range when the cold weather comes can put a real crimp in the Soul EV's versatility… and necessitate some careful planning and a bit of math to ensure you don't end up stranded. One of our editors chronicles a late-January test run below:
John Biel
Here's a little wintertime experiment I tried with the Soul EV: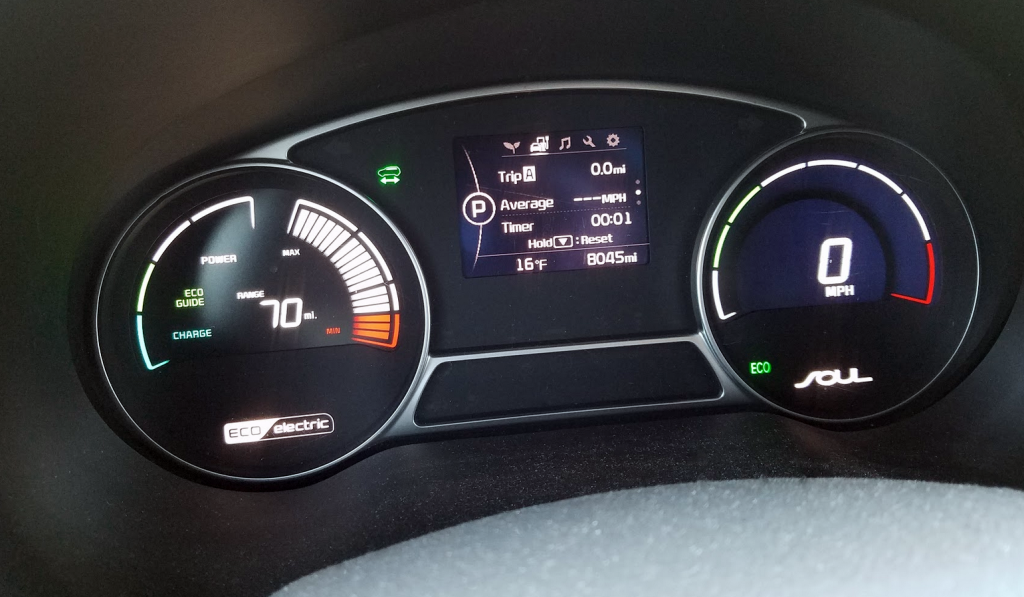 Started with a full charge. Indicated range was 66 miles. My plan was to drive the car as much as possible in full-power mode to see effects on range to a single charge. (Usually I am in Eco.) Given the time of year, with temps persistently in the 20s, I would be using lights, heat, and radio—plus brief bursts of seat heat and steering-wheel heat. The car would sit out overnight. As much as possible (when I remembered) I would put the gear selector in "B" mode to pick up some regenerative braking in surface-street driving, or when bogged down in stop-and-go in expressway traffic jams.
My usual round-trip commute comes in at 57 miles, and in recent winter drives in Eco mode has been leaving me with around 40 percent of charge remaining and 24 miles of indicated range. In this drive, though, I was commuting around a weekend, with the expectation of doing some additional driving for local errands in between, all with an eye toward saving enough charge for the return trip of roughly 29 miles.
On the homebound leg, driving with lights and heat, I used approximately 30 percent of available power with 43 miles of remaining range indicated. Additional daytime use on the following Saturday and Sunday left me with 51 percent remaining charge but an indicated 24-mile range upon leaving for work on a 20-degree Monday morning. Fluctuating between congested stop-and-go and "normal" free-flowing highway speeds, by the time I reached approximately 57 miles on the trip odometer (my usual two-way round-trip distance), I had an indicated 16 miles of range remaining, and 33 percent charge. At this point I switched into Eco mode, having seen the differences in range and charge over a roughly equivalent distance.
Though I drove another 15 miles to the office (final trip odometer was 72 miles), six miles of indicated range remained and 14 percent of charge remained. As reported on the vehicle-info readout, total running time was 3 hours, 19 minutes at an average speed of 21 mph. Indicated full-recharge time on our level-2 charger was 3 hours, 55 minutes.
Tested vehicle: 2015 Kia Soul EV
Base price: $35,700 (Before federal or state incentives)
Price as tested: $36,625, including floormats ($125) and destination ($800)
EPA city/highway/combined ratings: 120/92/105 (MPGe)
EPA estimated range: 93 miles
First Spin: 2017 Chevrolet Bolt