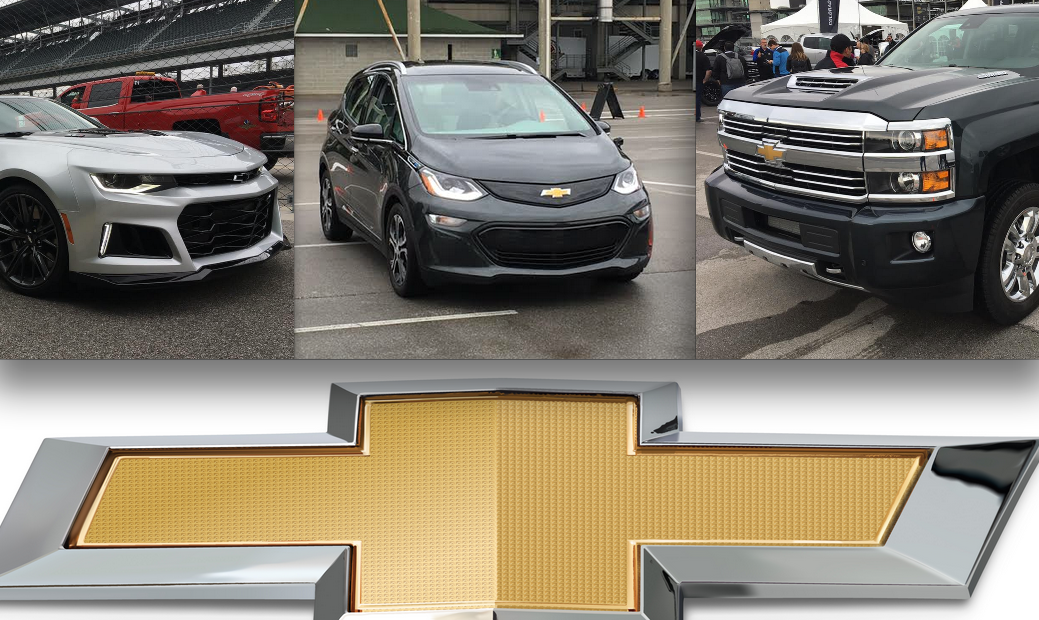 There's a lot on the minds of Chevrolet sales and marketing people, judging by the diverse array of new products the brand has placed on the market in 2017. New vehicles being added starting in the spring include a pure-electric subcompact, a compact crossover, performance cars, and compact and large pickups.
When the division makes these vehicles, it's got to be sure to bring its dealers up to speed on what's arriving in their showrooms. A series of five "Find New Roads" programs around the country is designed to give those dealers different kinds of hands-on experience than they might ordinarily get. In early April, Chevy invited some Midwestern automotive journalists to partake of an abridged version of the presentation at the historic Indianapolis Motor Speedway, where dealers from the brand's North Central sales region would gather for their information sessions.
Perhaps the most intriguing of the new Chevys is the Bolt, the pure-electric subcompact hatchback with an estimated range of 238 miles and a sub-$30,000 starting price when federal EV tax incentives are factored in. The vitally important high-volume compact-crossover field is addressed through a new generation of the Equinox—as a 2018 model. There are big jumps in horsepower and torque for the substantially reworked 6.6-liter Duramax diesel V8 in Silverado 2500 HD pickups. Meanwhile, the off-roading prowess of the Colorado compact pickup improves with the addition of a ZR2 model. For full-bore excitement, Camaro adds a ZL1 version with a 650-horsepower supercharged V8 while Corvette revives the Grand Sport with some of the features from the ultra-high-performance Z06 model.
The morning media session wasn't designed as a test-drive opportunity per se (a couple of pace-controlled laps in a Grand Sport on the 2.5-mile Indy oval was the single longest behind-the-wheel experience). It was more of a peek at some of the vehicle highlights the dealers would learn about in greater detail. Following are some of the impressions that Consumer Guide® came away with from the event:
2017 Bolt
Aside from being the first "low-cost" long-range all-electric car in the U.S. market, the Bolt is a nimble handler that may be a little more fun to drive than some drivers might expect. There's good rear-seat room for a subcompact, too. Drivers may cotton to "one-pedal" driving: In low-speed operation and with the transmission set in "Low," merely letting off the accelerator will bring the Bolt to a complete stop, and pressing the regenerative-braking paddle on the steering wheel makes this happen even faster.
First Spin: 2017 Chevrolet Bolt
2018 Equinox
The restyled and lightened 2018 Equinox crossover rides well—it stepped smartly over speed bumps placed in a slalom course—and offers good rear legroom for up to three adults in a pinch. Rear seats fold almost flat to expand cargo room. The standard 1.5-liter turbocharged 4-cylinder engine is lively off the line. Front- or all-wheel-drive is available; the latter disconnects from the rear axle when not needed in order to improve fuel economy.
First Spin: 2018 Chevrolet Equinox
2017 Silverado HD
A substantially reworked 6.6-liter Duramax diesel V8 brings 445 horsepower and 910 lb-ft of torque to the Silverado 2500 HD pickup. The engine is stronger than it's ever been. With an 8000-pound load hitched to it and the accelerator floored, the Silverado was an eager accelerator, and lifting off the pedal let the diesel brake bring the truck and trailer to an orderly and prompt slow-down without further help from the service brakes.
First Spin: 2017 GMC Sierra HD Duramax Diesel
2017 Colorado ZR2
The Colorado ZR2 adds a wider track, raised suspension, beefier suspension control arms, 31-inch off-road tires, and Multimatic shock absorbers. It is the only Colorado available with full-time four-wheel drive, and front and rear differentials can be locked electronically. In sample drives over a series of obstacles at different speeds, there was prompt suspension rebound and a secure sense of vehicle control. The ZR2 can be had as a two-door extended cab or four-door crew cab.
2016 Los Angeles Auto Show: 2017 Chevrolet Colorado ZR2
2017 Camaro ZL1
The Camaro ZL1 provides brutal acceleration from its 6.2-liter supercharged V8. The 650-horse mill can be paired with a 10-speed automatic in place of the standard 6-speed manual. In a ride-along demonstration of ZL1 acceleration, a launch-controlled straight-line blast pressed us back into the secure grasp of standard Recaro bucket seats with grippy microfiber inserts.
2016 New York Auto Show: 2017 Chevrolet Camaro ZL1
2017 Corvette Grand Sport
They weren't exactly hot laps—more like warm laps—but a couple of loops around the Indianapolis Motor Speedway in a Corvette Grand Sport at as much as 101 mph happened without car or driver havingto breathe hard. The Grand Sport boasts the 460-horsepower adaptive-exhaust engine available in the base Stingray as well as dry-sump oiling, suspension pieces, and aerodynamic body elements from the top-line Z06.
Future Collectibles: 2015 Chevrolet Corvette Z06