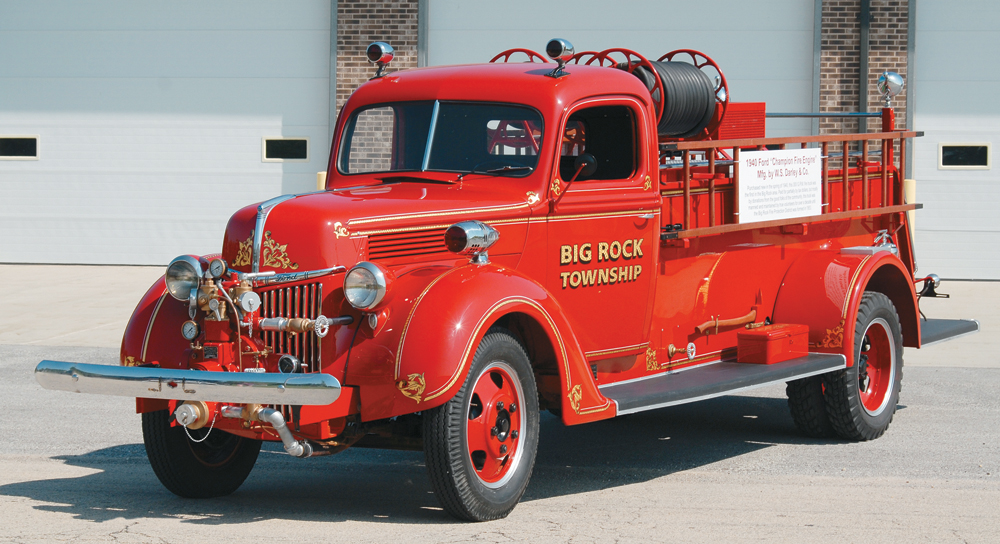 by Don Sikora

Note: The following story was excerpted from the February 2013 issue of Collectible Automobile magazine.
The residents of Big Rock Township, Illinois, bought their first fire truck in spring 1940. They—and their descendants—still have it.
Big Rock's new fire engine was a Champion model mounted on a Ford 1 1⁄2-ton Regular-series chassis. It's now a keepsake owned by the Big Rock Fire Protection District, successor to the volunteer force that first used the truck to serve residents of the small community about 50 miles due west of Chicago.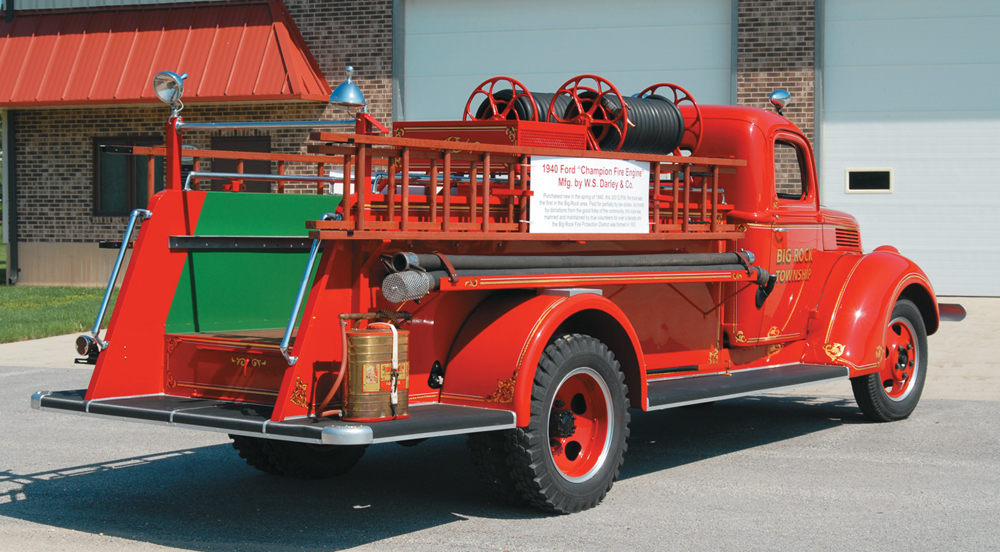 The 1940 Regulars featured further improvements in a series of changes that Ford trucks had been undergoing since 1938. That year, the brand abandoned its traditional transverse-leaf "buggy-spring"-and-radius-rod front suspension on new factory-built cab-over-engine trucks, replacing it with longitudinally mounted semi-elliptic leaf springs. This then-modern suspension was extended to Ford's conventional models of 3⁄4-ton and heavier for 1940. In the meantime, hydraulic brakes were added in 1939.
Other underskin changes made in 1940 included adjusting cab-to-axle measurements and reducing the overhang at the back of the frame on certain 1 1⁄2-ton Regulars. These changes were made according to standardized measurements that were recommended to manufacturers by the Society of Automotive Engineers. Also new was a larger radiator and the availability of power-assisted brakes.
More Collectible Automobile Photo Features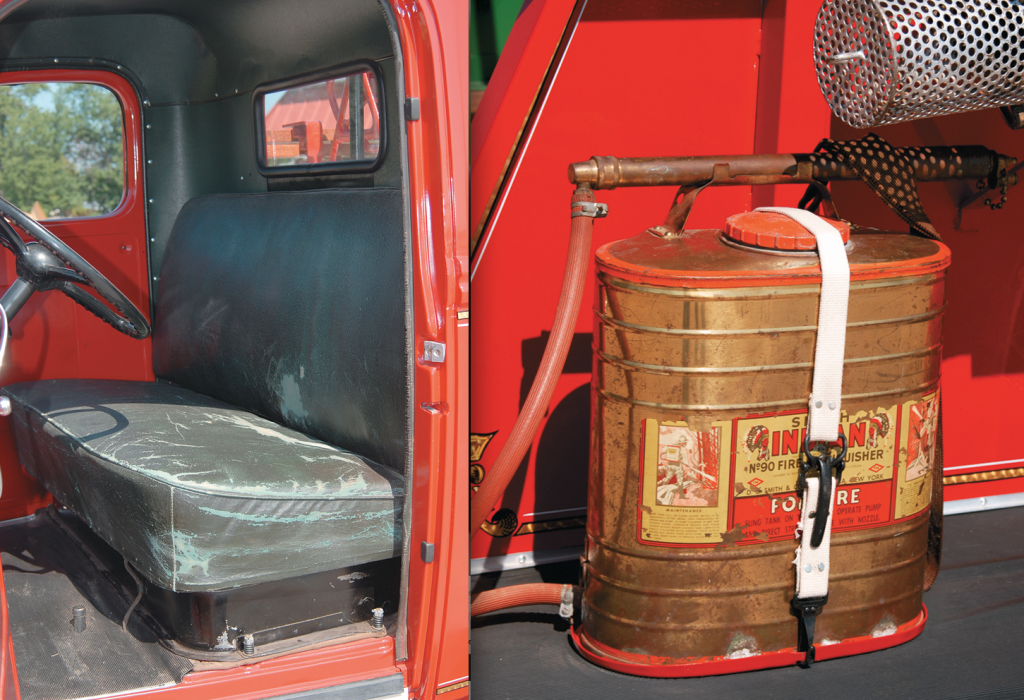 Visually, the most obvious of the 1940 updates were sheetmetal changes. The cab received a new one-piece stamping that incorporated the cowl top, windshield pillars, and roof, replacing several smaller stampings for these elements. The change meant that the windshield no longer opened for ventilation; a pop-up cowl vent took over that task. Also, windshield wipers on 1⁄2-ton Commercials and heavier Regulars were relocated from above the windshield to the cowl, as on Ford's 1940 passenger cars. Beltline moldings were revised, and there was a new instrument panel.
Up front, Regulars showed a new "coffin-nose" hood atop a tall vertical-bar grille. These pieces nestled between carryover front fenders. The headlight pedestals were recycled too, but the lamps they supported were the new sealed-beam type adopted by most of the industry that year.
Bulldog Madness! 10 Classic Mack Truck Ads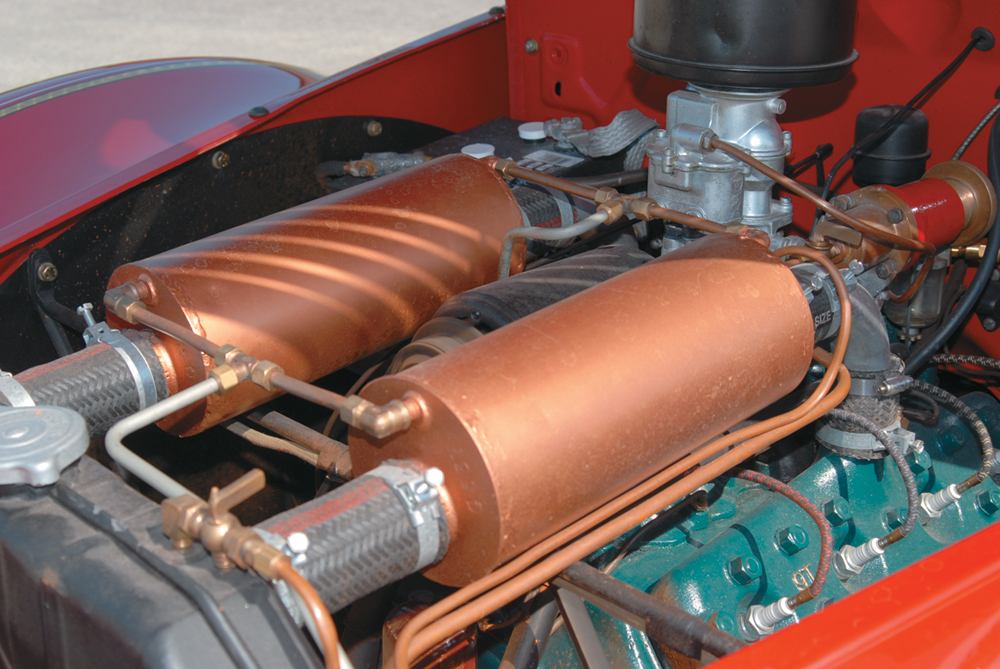 The standard engine in Ford Regulars was Dearborn's familiar 221-cid "flathead" V-8 rated at 85 hp. The only optional engine was a 95-horsepower 239-cubic-inch V-8—essentially the same one found in Mercury cars.
Ford Regular chassis-and-cab units were adapted to many uses, not the least of which was firefighting. The unit that Big Rock Township residents bought 73 years ago with a mix of tax money and community donations was converted into a fire truck by W. S. Darley & Company of Chicago. The firm was founded in 1908 and originally was a distributor of municipal supplies, including firefighting equipment like hoses and nozzles. 
Darley entered the fire-apparatus business in the late Twenties, when the company began building Champion-brand pumpers on low-cost Ford chassis. The company was able to sell them for under $1000, significantly undercutting competitors' machines with custom-built chassis.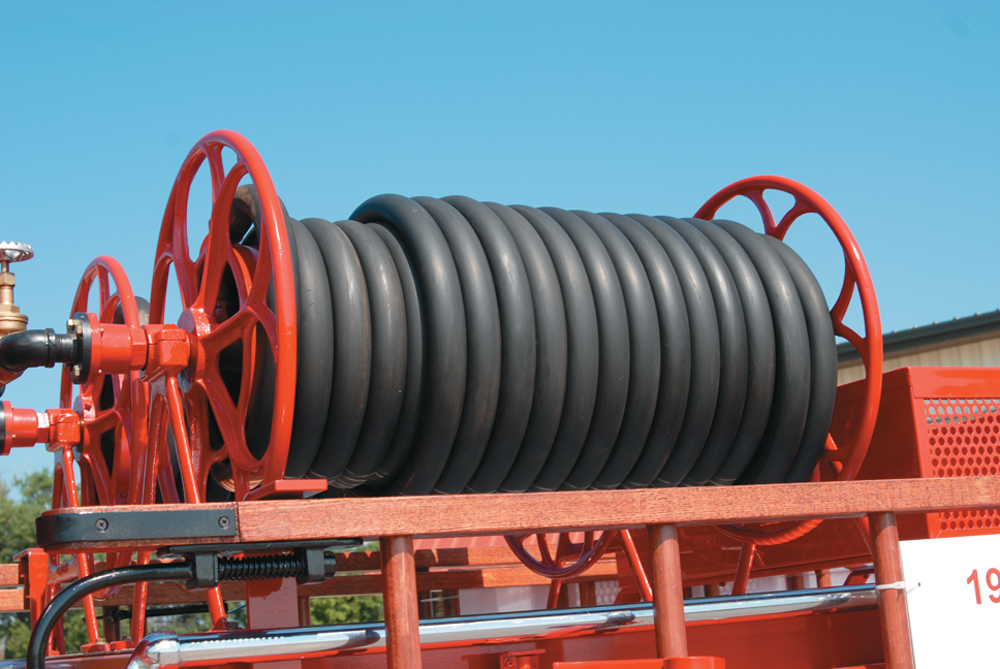 By 1932, Darley's affordable apparatus was very popular with cash-strapped Depression-era fire departments. According to the company, Champions sold so well that other fire-truck makers were pressuring pump manufacturers to stop supplying Darley. Within a few years, Darley responded by designing its own pumps and manufacturing them at a new plant in Chippewa Falls, Wisconsin. Like the trucks, the pumps were sold under the Champion brand name.
The 1940 Champion pumper that Big Rock purchased was fitted with the 95-hp engine and a dual-rear-wheel axle. Naturally enough, it was equipped with a front-mount Darley Champion pump that was driven off the engine and could move 300 gallons of water a minute.
The truck was manned and maintained by a team of volunteers who provided fire service until the Big Rock Fire Protection District was organized in 1953. It is still owned by the district and has been restored. When photographed in 2007, it had about 2700 miles on it.
W. S. Darley is still around, too. A third generation of the family runs the company now. The firm is no longer located in Chicago, but it remains in the area, with headquarters in suburban Itasca, Illinois. The company continues to distribute equipment and produce fire apparatus, and its fire pumps are still manufactured in Chippewa Falls.