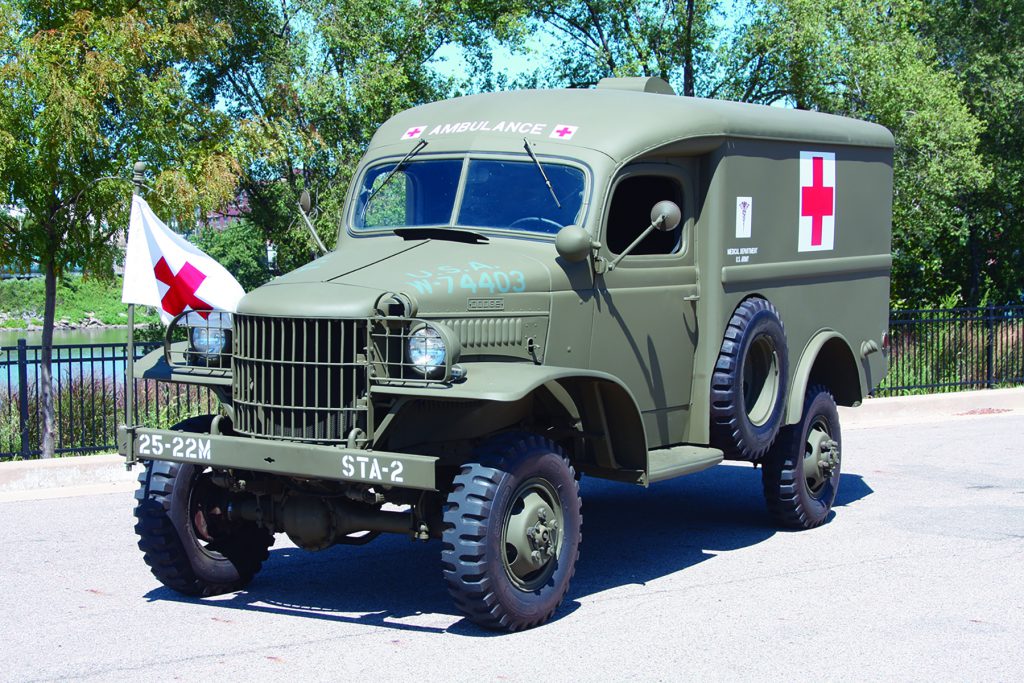 Note: The following story was excerpted from the August 2012 issue of Collectible Automobile magazine
Of the many things Chrysler Corporation manufactured for American and Allied military services during World War II, perhaps the ones most likely to be still seen today are four-wheel-drive trucks produced by Dodge. They were manufactured in an array of body types for myriad battlefield tasks, and military-vehicle collectors still covet and preserve examples that have survived the ravages of war and time. 
More from Collectible Automobile
Dodge had been a steady supplier of trucks to the U.S. Army throughout the Thirties, especially after it developed a transfer case that could be shifted in or out of four-wheel drive via a convenient in-cab control lever. With war clouds darkening by the end of the decade, the army wanted to expand both the numbers and types of trucks at its disposal. Dodge was approached to apply its 4×4 experience to a new line of "light-duty" vehicles. Thus, between 1940 and 1945, the division turned out almost 340,000 of these ½- and ¾-ton trucks in five series. Body styles eventually included pickups, panels, a "carryall" wagon, open-cab weapons carriers, command reconnaissance units, emergency repair, telephone installation, ambulances—even an antitank gun carriage.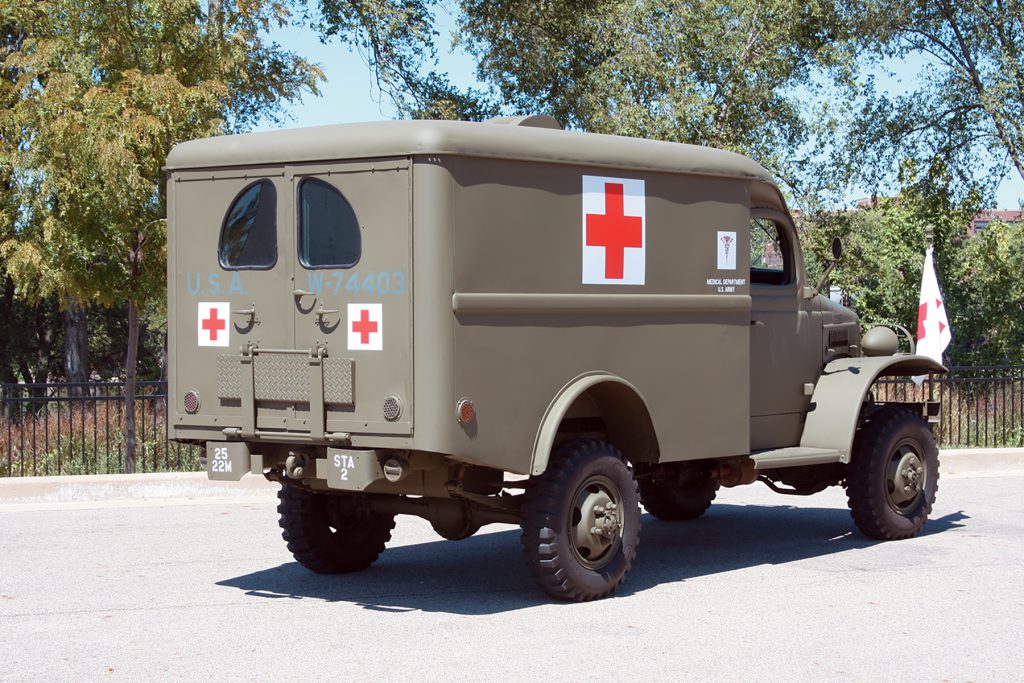 The first of these light-duty military trucks corresponded to the 1940 Dodge VC civilian-market ½-tons. Built under engineering code T202, they came with essentially stock front sheetmetal and cab designs behind a heavy grille guard. Similarly, their 116-inch wheelbase and 201-cubic-inch L-head six-cylinder engine were standard VC fare, and even the unsynchronized four-speed transmission specified for the military trucks was an option for retail-market vehicles. Fewer than 5000 Dodge VC military trucks were made, but manufacture of the successor WC series—from which our featured vehicle springs—would increase exponentially.
Quick Look: 2000 AM General Hummer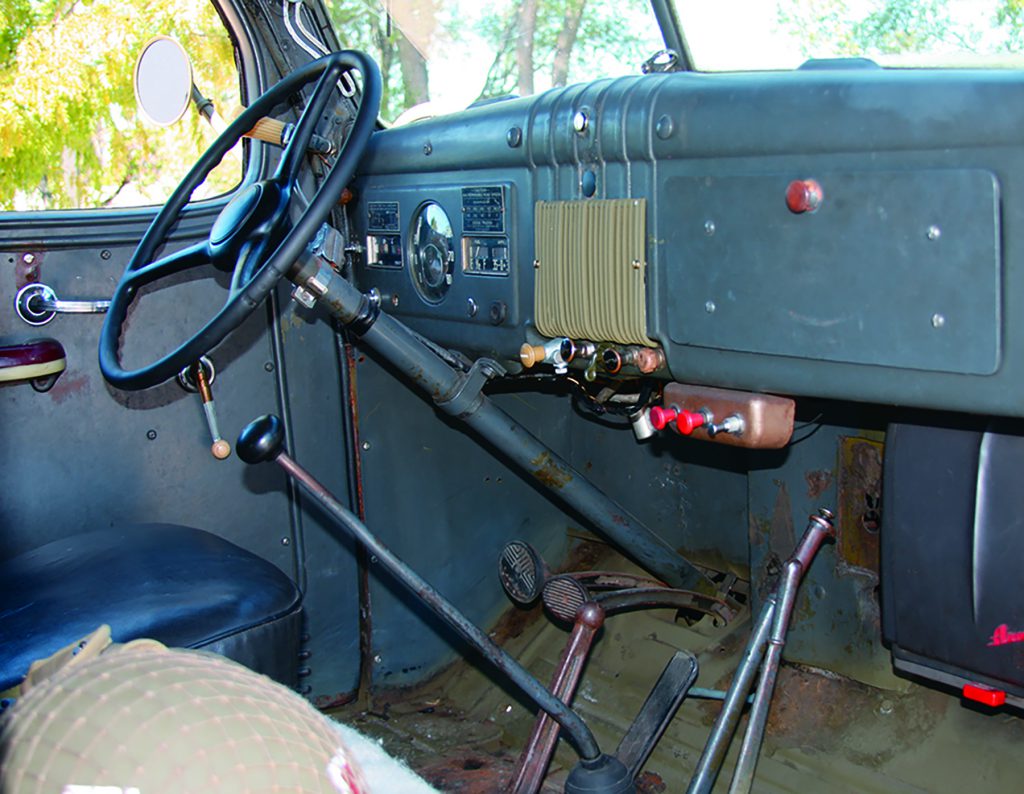 Production of WC trucks began in September 1940. This time, the military versions were substantially changed from their civilian compatriots. While the stock cab, which had been new for 1939, was retained, it was strengthened. The bulbous stock fenders and sheetmetal ahead of the cowl were replaced by flatter, simpler, and stronger military-specification bodywork—indeed, the fenders were now little more than broad steel mudflaps. The former free-standing brush guard was incorporated into the front-end design, essentially becoming the radiator grille. 
Photo Feature: 1950 Mack A20 Tow Truck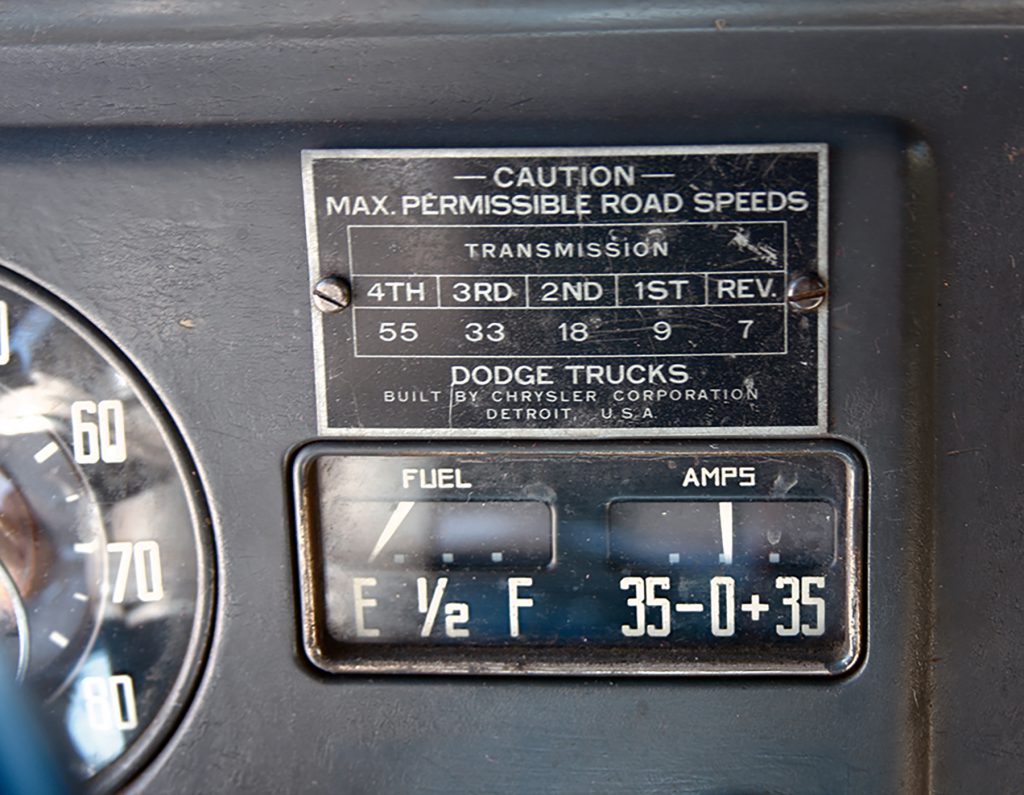 Coded T207 at the start of production, the new trucks adopted the 217.8-inch L-head six that was standard in civilian-market ¾- and one-ton Dodge models. The full-floating rear axle was beefed up, too. In mid 1941, a T211 series with larger rear brakes started coming off the assembly lines. Very late in its run, the T211 switched to a 230.2-cube "flathead" six. This engine would be continued in the T215, the last iteration of the WC ½-ton military truck, which was built into June 1942. By then the much-improved ¾-ton Dodge WC had already embarked on a production run that would last more than three years and top 250,000 copies. (This was the vehicle that would inspire the postwar 4×4 Power Wagon pickup.)
Among the new body types that came in with the ½-ton WC series was an ambulance. While other trucks of the line continued on the 116-inch wheelbase, the ambulance had a 123-inch stretch. Built to T207 specifications, it was model WC-9; the T211 version was WC-18; and the T215 type was designated WC-27. Of the 6422 ½-ton military ambulances Dodge built, just 1555 were WC-18s like the one seen here.
Photo Feature: 1948 GMC ACR 723 Tractor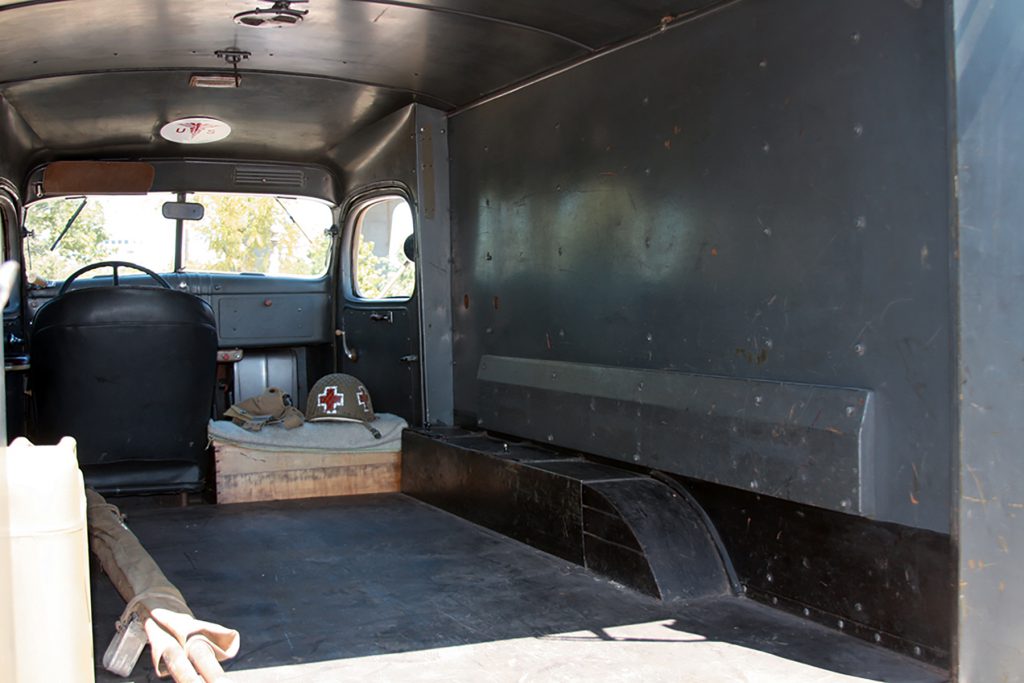 John Hamann, of Bloomington, Illinois, has owned this restored example since 2008. He reports that he's only the second private owner of the vehicle; the previous holder purchased it as government surplus in 1955. According to the truck's build card, it was manufactured on September 13, 1941, with a body supplied by Wayne—famous as a maker of bus bodies—from Richmond, Indiana. It could transport up to four patients on litters or as many as seven seated personnel.
Power comes from a 217.8 six good for 85 horsepower at 3000 rpm. A single-speed transfer case links the front and rear hypoid drive axles. Five-hole Budd wheels are shod with 7.50×16 tires. Other equipment includes a heater and specialized "blackout" lighting for when use of regular headlights would be prohibited. Hamann says the blue registration numbers on the hood and rear doors were a specification that was used until 1942; numbers on the bumpers identify the vehicle as ambulance number 2 assigned to the 22nd Station Hospital, 25th Infantry Division at Schofield Barracks, Hickam Field, Hawaii.
Photo Feature: 1933 Dodge HC Station Wagon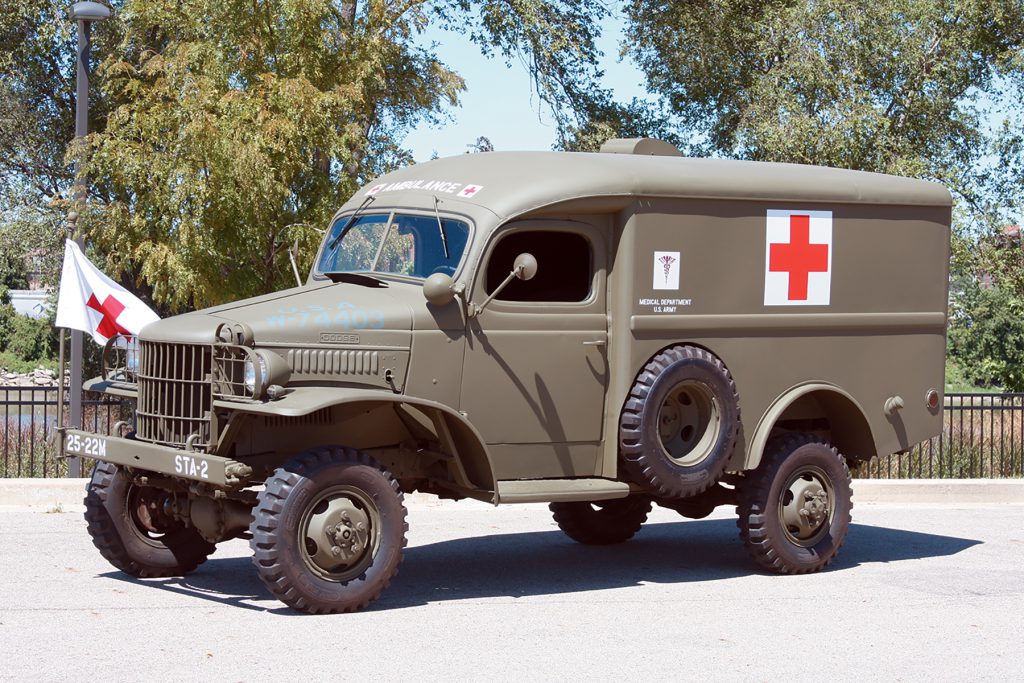 Listen to the Consumer Guide Car Stuff Podcast
1941 Dodge WC-18 Ambulance Gallery
(Click below for enlarged images)