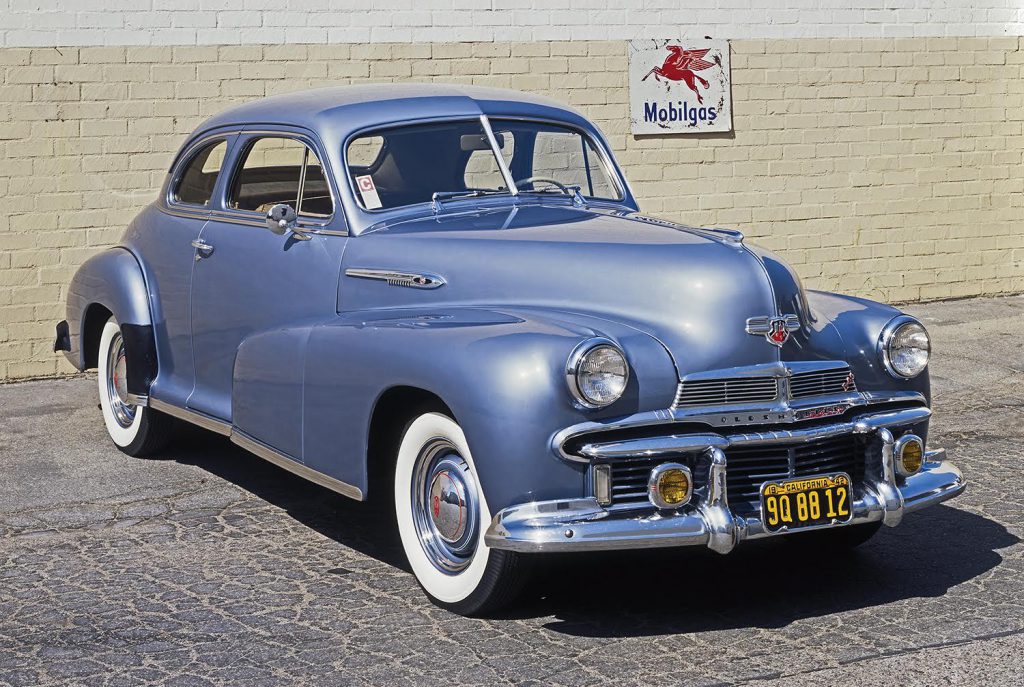 Note: The following story was excerpted from the February 2019 issue of  Collectible Automobile magazine
The 1942 Oldsmobile brochure proclaimed that the cars were "Better Looking . . . Better Lasting . . . Better Built Than Any Oldsmobile In Forty-Four Years." Playing off the "B" in "better" and 44 years, all 1942 Olds wore a B-44 badge. This '42 Series 66 Special, owned by Dave and June Simon of Gardena, California, confirms Olds's boast of quality and durability. The club coupe has covered 76,000 miles and is mostly original. It has been repainted in its original Metallic Mist Blue, although the engine compartment and trunk retain the factory paint. The tan ripple-weave Bedford-cloth-and-broadcloth interior is original. 
More from Collectible Automobile Magazine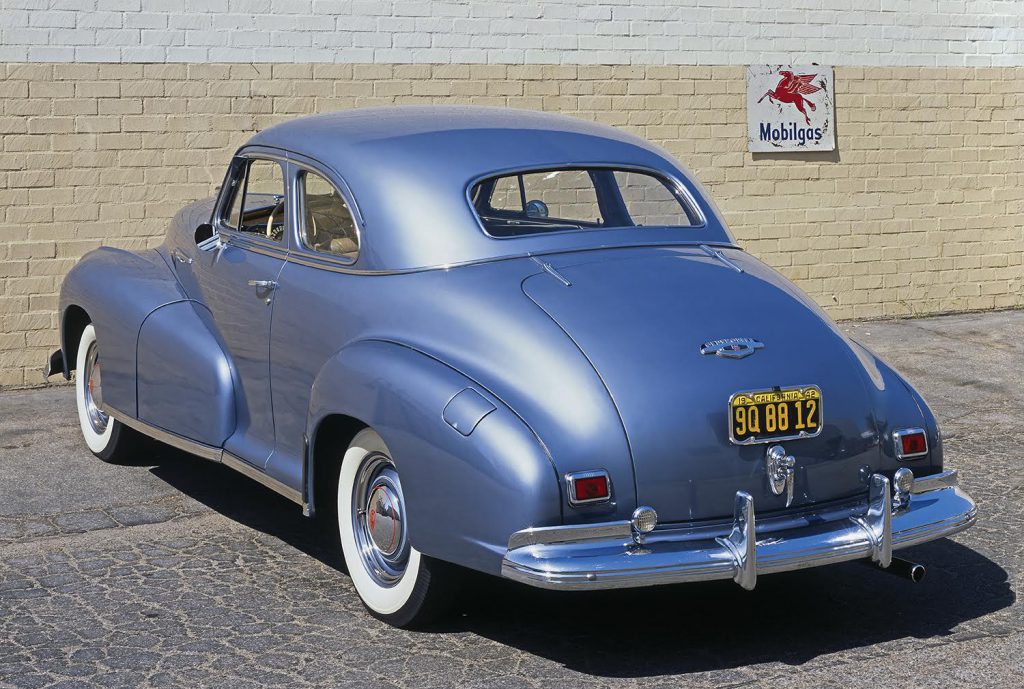 Dave Simon says he enjoys driving the Olds and that it is "a nice, simple car." As a six-cylinder member of the Special Sixty series, it was dubbed a 66. (A straight-eight Series 68 was a less common choice for the Specials.) Plus, the original owner took a pass on Oldsmobile's popular Hydra-Matic automatic transmission in favor of the standard three-speed manual. The only options on this car are fog lights and a package that consisted of clock, deluxe instrument cluster and steering wheel, glove-box light, and hood ornament. It lacks a heater and radio. A basic coupe would have been a common sight in the Forties and this Olds has appeared in Forties-set films such as The Aviator that told the story of Howard Hughes. Today, it can been seen at Cornwell and Sheridan Motor Cars in Gardena.
Photo Feature: 1939 Delage Aerosport Coupe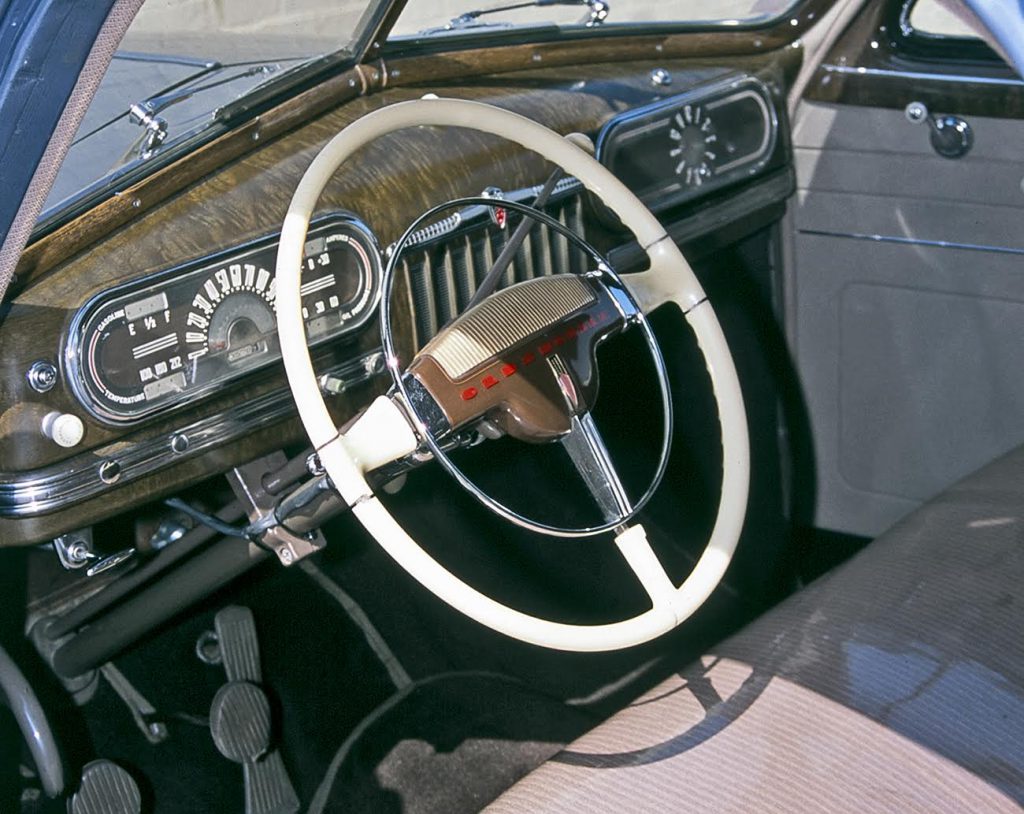 For 1942 Oldsmobile facelifted its new-for-1941 design with fresh front-end styling that featured "Double-Duty" bumpers with an upper bumper bar supported by vertical bumper guards. The rather busy grille was designed by Roy Brown, who later designed the front end of the 1958 Edsel. In common with most 1942 General Motors cars, the front fenders were extended back into the front doors. This was a more modern look that would serve Oldsmobile well in the postwar years when the '42 design returned with the addition of a much cleaner grille. 
Photo Feature: 1960 Studebaker Hawk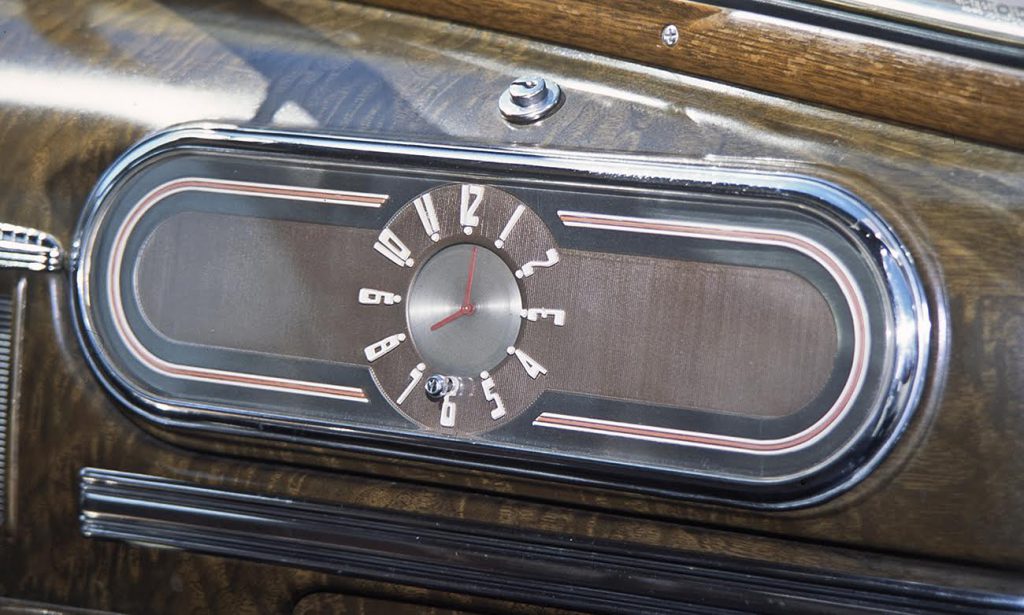 Oldsmobiles rode on a sturdy X-braced frame with coil springs at each corner. In front was GM's "Knee-Action" independent suspension. Three wheelbases were offered: 119 inches for the A-body Special, 125 inches for the B-body Series 70 Dynamic Cruiser, and 127 inches for the Series 90 Custom Cruiser on the corporate "C" body.  Specials and Dynamic Cruisers offered a choice of a 100-hp, 238-cid six or 110-hp, 257-cid eight, both L-heads. The smoother eight cost only $42 or $43 more, but the country was still feeling the effects of the Depression and, perhaps, anticipating gas rationing. The vast majority of Special and Dynamic Cruiser buyers chose the more fuel-efficient six. The Custom Cruiser came solely with the eight, effectively making it the 98 that long served as the division's prestige nameplate. 
Photo Feature: 1931 Ford Model A Ice Cream Truck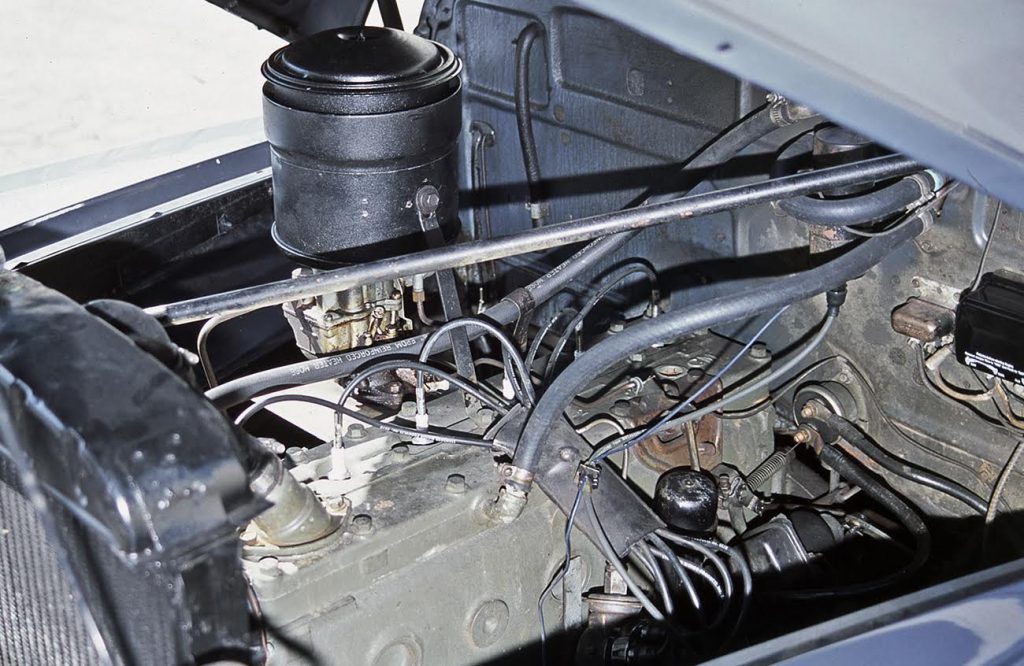 Olds customers were more likely to spring for the optional Hydra-Matic. Oldsmobile introduced this fully automatic transmission in 1940. Other makes offered semiautomatics, but only Hydra-Matic totally eliminated the clutch and shifting between high and low gear ranges. Cadillac offered Hydra-Matic starting in 1941, but in the medium-price field, Olds was the only self-shifting game in town. Besides ease of operation, the four-speed Hydra-Matic was said to deliver better gas mileage than the manual, helped by a numerically lower axle ratio. Nearly half of Oldsmobiles in 1941 had automatics and the percentage was probably similar for '42. Olds sales hit a high of 270,038 cars in 1941. Only 67,999 Oldsmobiles were built for war-shortened 1942—including 3803 Special Series 66 club coupes. 
Photo Feature: 1938 Studebaker State Commander Four-Door Sedan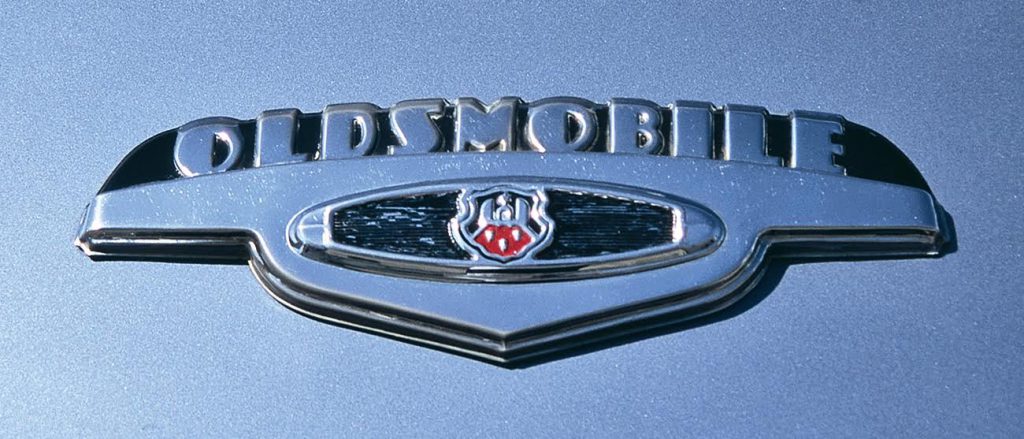 1942 Oldsmobile Special 66 Club Coupe Gallery
Click below for enlarged images.