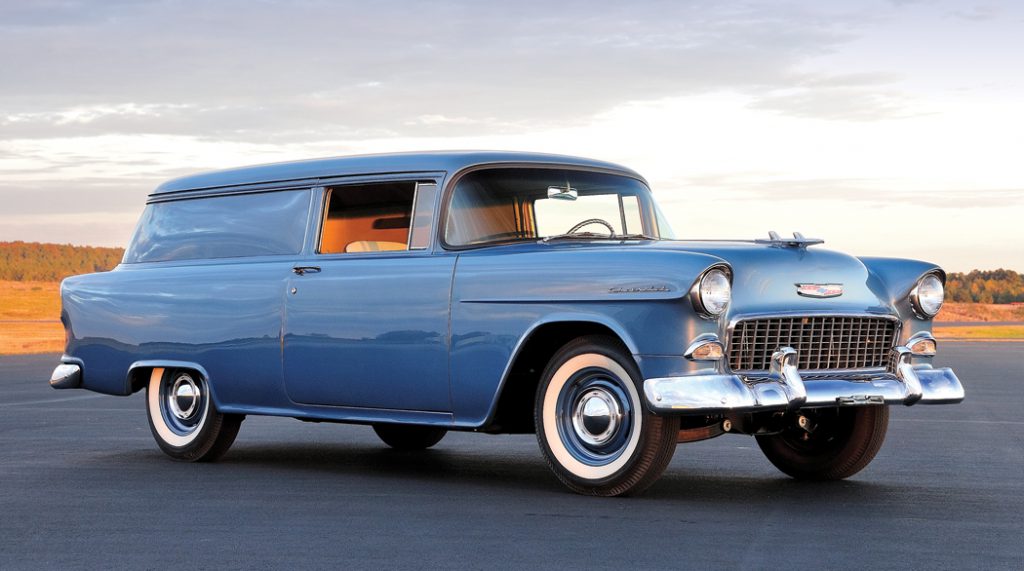 photos by Al Rogers

Note: The following story was excerpted from the October 2016 issue of Collectible Automobile magazine.
Part car and part truck, the sedan delivery had been on the American motoring scene since the late Twenties. It was a convenient and fairly economical vehicle for tradesmen and small-business operators whose hauling needs didn't warrant the use of a large truck or required a more genteel presence.
More Collectible Automobile Photo Features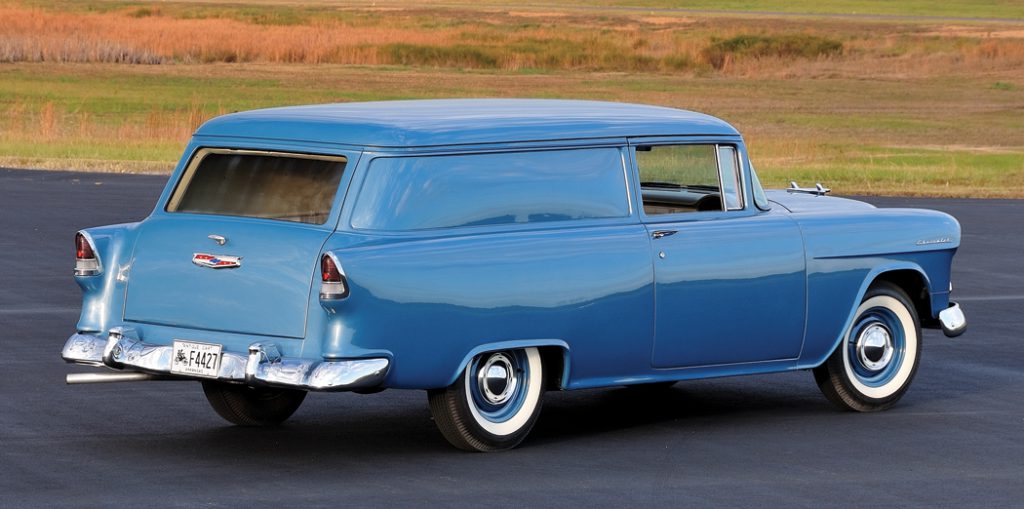 However, by the mid Fifties, the sedan delivery was entering into a decline pushed along by a growing market for pickup trucks that were getting better looking and more comfortable, and more space-efficient forward-control vans. Given that, the 1955 Chevrolet sedan delivery seen here is quite a rarity.
Three times in the years after World War II Chevrolet turned out more than 20,000 sedan deliveries in a year. As recently as 1953 production exceeded 15,000. However, the total for '55 was just 8135. That was a very slight decline from the year before—but demand would never be that good again. In 1960 Chevy left the sedan delivery market save for some subcompact Vegas in the Seventies.   
Photo Feature: 1960 Plymouth Fury Hardtop Coupe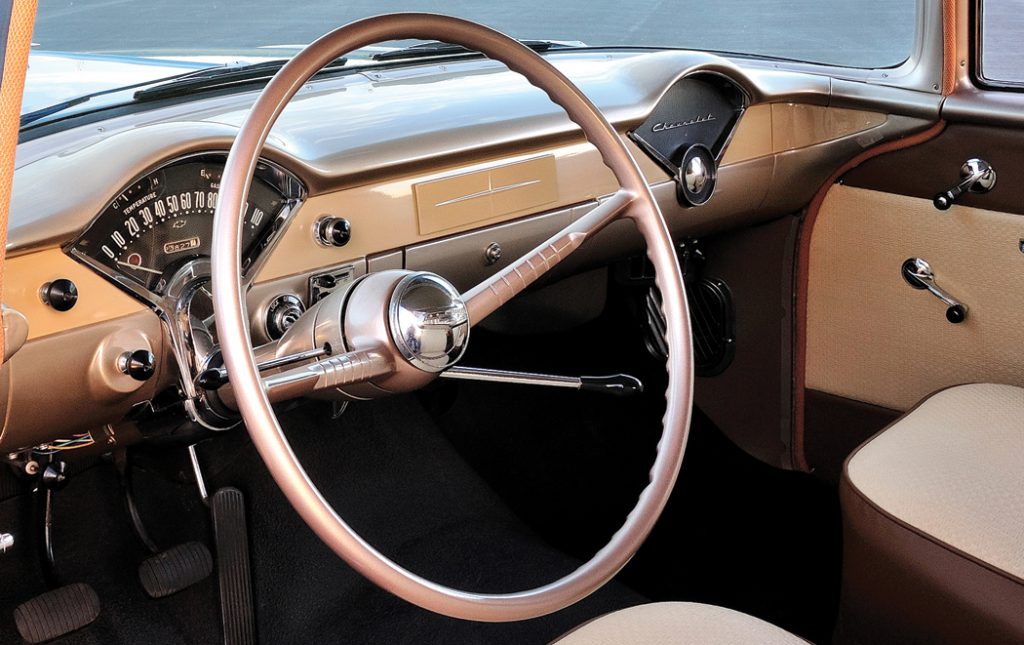 Regardless of its sales prospects, the mid-decade sedan delivery was quite a vehicle just by virtue of being a 1955 Chevy. This was the year of sleek new styling, a switch to ball-joint front suspension and an open driveshaft, and a sensational V-8 engine. 
As a de facto member of the entry-level One-Fifty series right down to its internal model number (1508), the sedan delivery shared in the new passenger-car features—or at least most of them. It even boasted an improvement of its very own. Where previous Chevy deliveries had a cargo door hinged on the left side (to promote curbside loading and unloading), the '55 went to a top-hinged liftgate.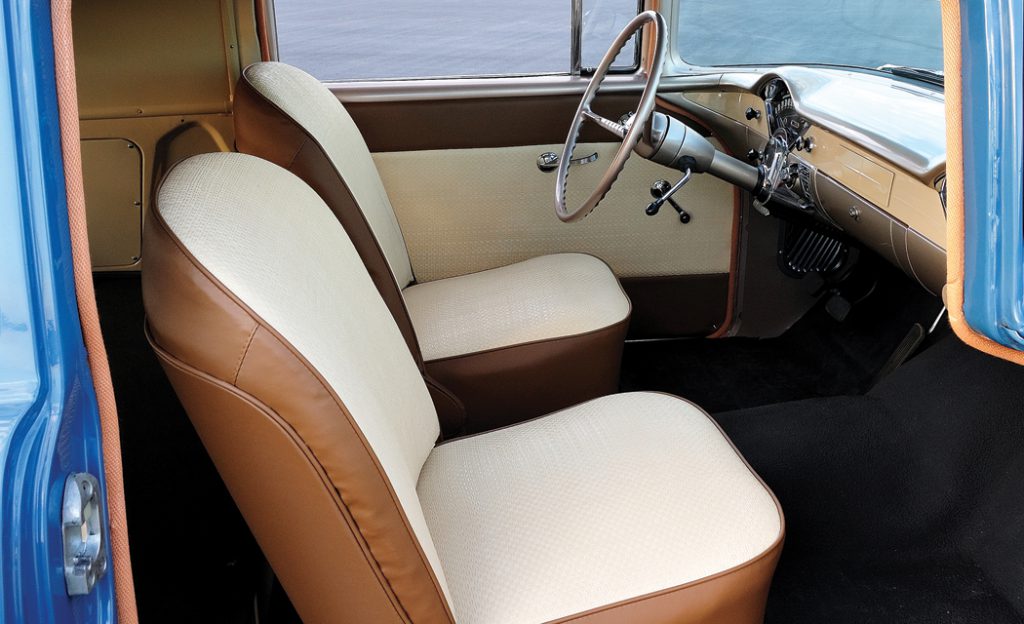 In terms of profile and dimensions, the sedan delivery matched up with Chevy's new Handyman two-door station wagons. They were 197.1 inches long and stood 62.1 inches tall unloaded. The wagons and delivery shared side-door length, too. 
The sedan delivery's plywood load floor was 81.8 inches long and 62 inches across at its widest point. With an internal height of 36 inches, cargo capacity was approximately 91 cubic feet. This, however, marked a loss of 1.5 cubic feet compared to the '54 model that was narrower but had a 1.1-inch-longer floor and four inches more vertical load space.
From the '55 Chevy's 12 available solid-color lacquer paints, deliveries could be sprayed in a choice of eight hues, though two of them—Neptune Green and Gypsy Red—were special-order colors. There was just one interior color scheme: Navajo Tan on the upper and lower dashboard, steering wheel, and column, with a band of Shoreline Beige through the middle of the dash. As for the seats (only the driver's seat was standard) and door panels, they were covered in smooth Brown vinyl and patterned Beige vinyl. Above was a Beige vinyl headliner. Beige-painted fiberboard protected the sides of the cargo compartment. 
Photo Feature: 1952 Crosley Pickup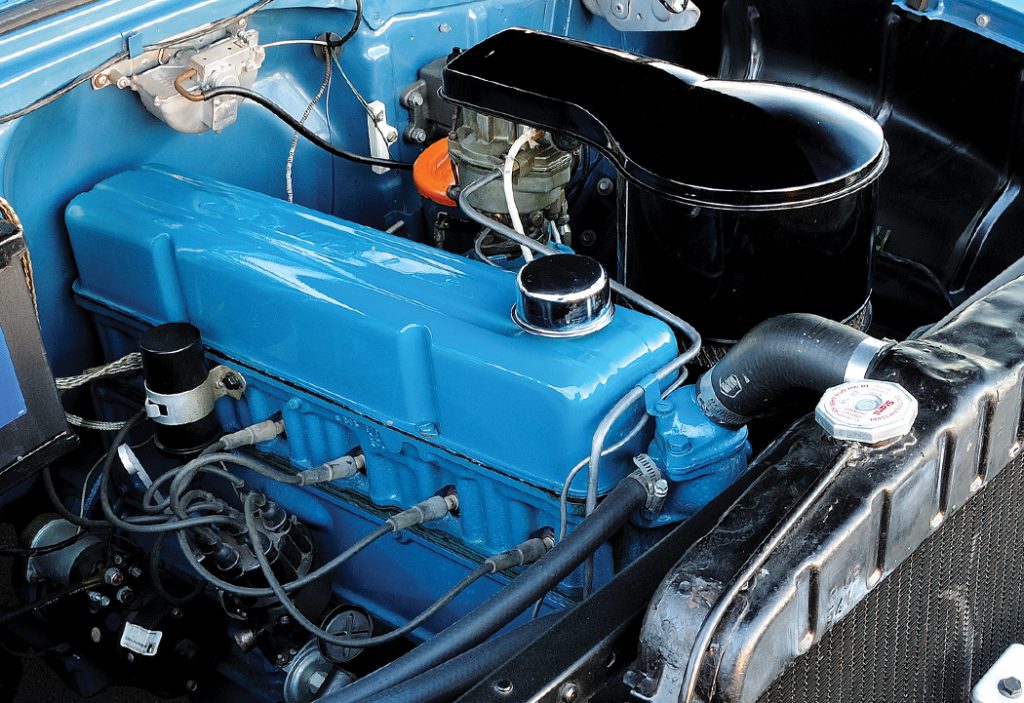 With the standard drivetrain of six-cylinder engine and three-speed manual transmission, the sedan delivery had a shipping weight of 3110 pounds, and a gross-vehicle-weight rating of 4100 pounds. The '55 Chevy chassis rode a 115-inch wheelbase with coil-spring independent front suspension. Semielliptic leaf springs were employed in back; wagons and the delivery used five leaves. The hypoid-gear rear axle came with a standard 3.70:1 ratio but different gearsets were paired with the Powerglide automatic transmission or the new overdrive option. Four 11-inch drum brakes handled the stopping.
Many a '55 Chevy sedan delivery was either modified or parted out and scrapped after its working days ended. Gordon Watson's Glacier Blue delivery was purchased from a junkyard in North Dakota in complete but non-running condition. Watson, of Spencer, Iowa, began an off-frame restoration in 1994, which was completed in 1999. 
The businesslike sedan delivery has the base 235.5-cid inline six-cylinder engine, rated at 123 hp at 3800 rpm, and three-speed stickshift. Factory options that would have padded the $1699 starting tab are a passenger seat, heater, tinted windshield, oil filter, and 6.70 x 15 whitewall tires.