By the time Consumer Guide's review of the 1989 Chrysler Fifth Avenue was published in the Consumer Guide 1989 New Car Buying Guide, production of the car itself had already ended. A completely redesigned front-wheel-drive Fifth Avenue would be introduced as a 1990 model, marking the end of Chrysler's run of rear-drive luxury and near-luxury vehicles—at least for a while. As noted in the review, there were still cars on dealer lots, but maybe not for long.
For many luxury-car shoppers, the Fifth Avenue represented a comforting reprieve from the downsizing and modernizing coursing through the industry at the time.
Not only had most of Buick's and Cadillac's lineups been downsized by the late Eighties, the product had grown expensive as well. While a front-drive Cadillac DeVille started at about $25,000, a well-equipped Fifth Avenue could be had for little more than $20,000. And while the Buick Park Avenue started for a little less than $20,000, it was not available with a V8 engine—something traditional buyers expected, and could find as standard in the Fifth Avenue.
Though not quite a large car, the Fifth Avenue boasted broad shoulders and an unapologetically upright and slab-sided profile. For many traditional American car buyers, the Avenue's rigidly old-school styling was like a rolling protest, pushing back against the soulless aerodynamic design campaign being waged by most other carmakers.
Despite its relatively humble roots—it shared its M-Body architecture with the Plymouth Gran Fury, Dodge Diplomat, and versions of the Chrysler LeBaron—the Fifth Avenue was a surprisingly strong seller. Credit the car's perceived value and old-school appeal for sales over 100,000 units in 1985 and 1986.
With the M-Body's retirement at the end of 1989 came the conclusion of the ubiquitous Chrysler 5.2-liter V8's run in passenger-car service. The engine would soldier on for a number of years, but only in Dodge and Jeep trucks.
It would not be until the 2005 arrival of the redesigned 300 sedan that a V8-powered rear-drive car would return to the Chrysler lineup. Interestingly, with its boxy, upright styling and bold front façade, the 300 was not unlike the Fifth Avenue, serving as a sort of design protest against a world of cars that had grown a little too sleek and amorphous.

Goodbye Gran Fifthlomat: The Chrysler M-Body Cars of 1989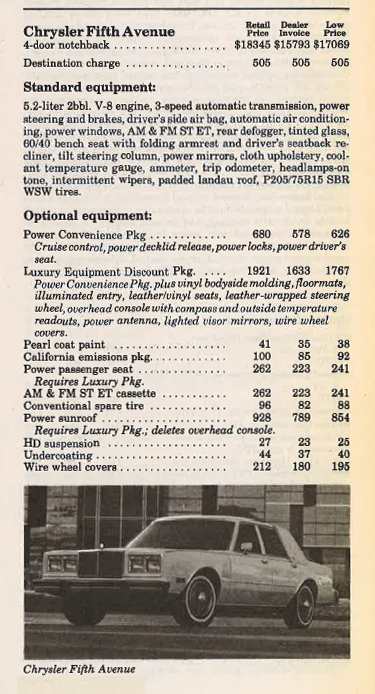 Goodbye Leaning Tower of Power: The Slant 6 Chryslers of 1983